RALEIGH, N.C. — Lenovo today announced the North American edition of Work For Humankind, a bold initiative that uses technology for volunteers to make a positive, long-lasting difference while working from remote, tech-enabled locations.
The Work for Humankind Research Report found that nearly 90% of U.S. respondents find giving back to the community vital when "Working from Anywhere." Work For Humankind North America extends the legacy started on Robinson Crusoe Island, allowing North American skilled individuals to use tech for good and make a positive impact while working from anywhere.
In partnership with the non-profit, BirdLife International, Lenovo created a mobile tech lab and living space that will road trip through Canada and the United States, collecting birdsong data along the way to support wildlife protection efforts.
The mobile workspace, enabled with 5G connectivity, equips volunteers to do their day jobs while monitoring wildlife using seminal data collection software in partnership with Cornell University's Lab of Ornithology.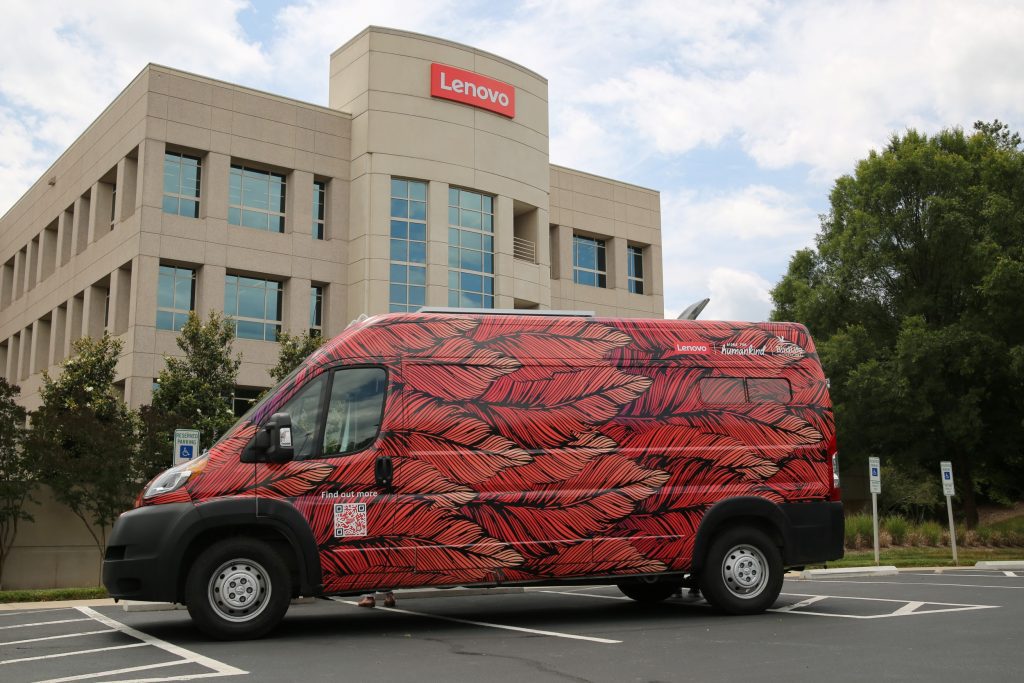 The Americas are home to three of the nine major migratory bird flyways in the world, making this region pivotal to global biodiversity and climate change mitigation. BirdLife and its local partners identified specific Important Bird and Biodiversity Areas (IBAs) within North America where Work for Humankind can bolster its efforts to protect the flyways and migratory species who depend on these special places. IBAs are places of greatest significance for the conservation of the world's birds and wildlife.
Volunteers will drive between designated IBAs along the route and stop at wildlife refuges in South Carolina, Maryland, Delaware, New York and Ontario. The van's path was designed to visit IBAs with high priority nesting species, such as the endangered Saltmarsh Sparrow, where data is much-needed by both BirdLife International and their partners. Capturing this birdsong data, along with visual identification of birds, is crucial to conservation efforts to protect the bird species and biodiversity in each local ecosystem.
The van is designed to meet all volunteers' living and working needs, with the highest quality "van life" and workspace amenities. Volunteers will work their day jobs remotely via Lenovo's technology hub. The van itself will be a 'smart home' with a Lenovo Smart Tab M8 Gen 3 mounted to the van's side, serving as a control panel for the technology throughout the vehicle. The mobile setup will also include an integrated Lenovo ThinkSmart Camera, ThinkSmart Bar, ThinkPad P1 mobile workstation laptop, and ThinkVision P40w-20 monitor. Volunteers can work wherever it's most convenient for them.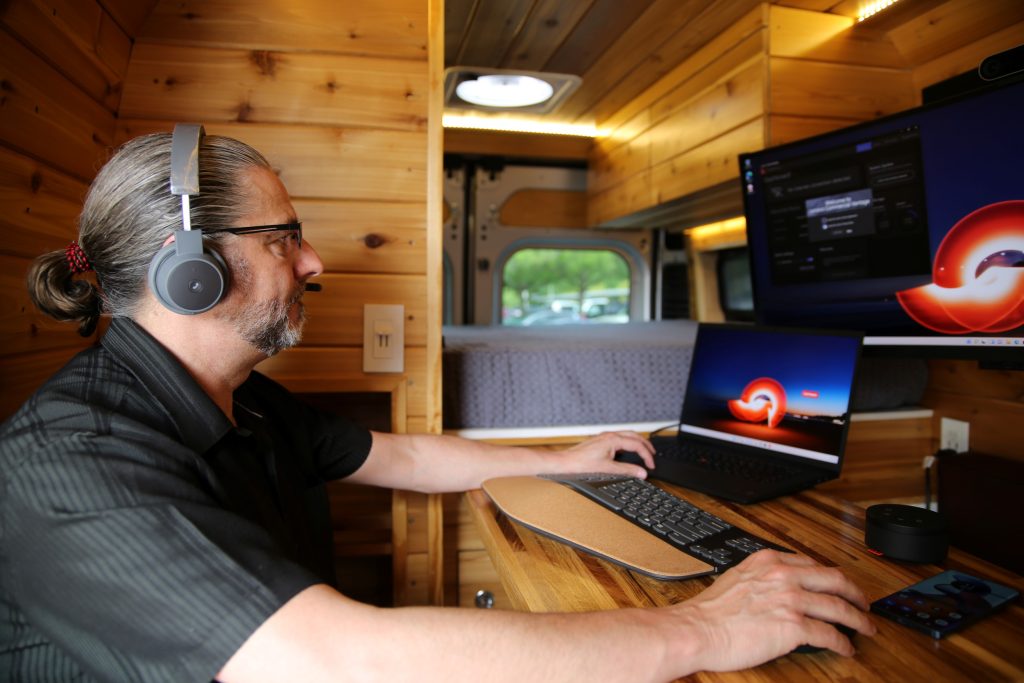 Emily Ketchen, Vice President and CMO of Intelligent Devices Group and International Markets, Lenovo, comments:
"Building off the success of Work For Humankind in South America, we were inspired to bring its mission to more parts of the globe. Lenovo is committed to using technology to build more meaningful experiences for all and we look forward to continuing to demonstrate the power of using tech for good."
Gerald Youngblood, Chief Marketing Officer North America, Lenovo, comments:
"We jumped at the opportunity to bring Work For Humankind's inspiring mission to North America. We have a duty to make a positive impact wherever we do business, and Work For Humankind exemplifies this. The van traveling North America will extend BirdLife International's ability to capture and analyze birdsong data – showcasing how technology can be a force for good."
E.J. McAdams, Executive Director, Friends of BirdLife International, comments:
"BirdLife International is excited to partner with Lenovo on this compelling application of data collection science. The data collected by these volunteers will provide important insights for nature conservation in BirdLife's Important Bird and Biodiversity Areas and will inform how we work to protect bird species for the next generation. Running on Lenovo's computing power, the van has become a tool of citizen science and research, greatly increasing the number of datapoints we can capture."
Upon completion of this journey, Lenovo will donate the Work For Humankind van to BirdLife so that future generations of conservationists can benefit from the use of this mobile technology lab.
Learn more about Work for Humankind North America here.
About Birdlife International
BirdLife International is the world's largest nature conservation partnership, representing more than 115 national partner organizations worldwide. BirdLife and its partners use seminal bird science to design and implement practical tools for conservation, bringing together birds, nature, and people to tackle the underlying causes of the destruction of our planet and ensure our children's and grandchildren's future. For more information, visit https://www.birdlife.org.
About Lenovo
Lenovo (HKSE: 992) (ADR: LNVGY) is a US$62 billion revenue global technology powerhouse, ranked #171 in the Fortune Global 500, employing 77,000 people around the world, and serving millions of customers every day in 180 markets. Focused on a bold vision to deliver smarter technology for all, Lenovo has built on its success as the world's largest PC company by further expanding into growth areas that fuel the advancement of 'New IT' technologies (client, edge, cloud, network, and intelligence) including server, storage, mobile, software, solutions, and services. This transformation together with Lenovo's world-changing innovation is building a more inclusive, trustworthy, and smarter future for everyone, everywhere. To find out more visit https://www.lenovo.com, and read about the latest news via our StoryHub.