RMB 100 million (~ US$15 million) personal donation supports scientific research and innovation capabilities to help tackle humanity's common challenges
Shanghai, China, April 14, 2021 – Lenovo Chairman and CEO Yuanqing Yang today announced that he will make a personal donation of RMB 100 million (~ US$15 million) to Shanghai Jiao Tong University (SJTU) to mark its 125th anniversary. Yang's donation will be used to build a state-of-the-art green liquid-cooling high-performance computing (HPC) center at his alma mater, where he graduated from the Department of Computer Science in 1986. The center will improve the University's computing capabilities, facilitate basic research and innovation, support the cultivation of talent, and help tackle the common challenges faced by humanity.
According to the donation agreement, the HPC center will be built and delivered by Lenovo Group, adopting Lenovo's most advanced HPC products and technologies, and unleashing the high performance of Intel's latest technologies. The center will utilize Lenovo Neptune™ liquid-cooling technology. Compared with traditional air-cooling systems, Lenovo Neptune™ technology can reduce energy costs by over 40 percent, enhancing computing power whilst contributing to China's carbon neutrality goals.
Yang said at the donation ceremony that building a first-class HPC center for his alma mater is a gift for SJTU's 125th birthday. He said that this is not only an expression of his warm feelings towards his alma mater, but also an acknowledgment of the importance of HPC in supporting scientific research and innovation to address issues that are faced by people around the world.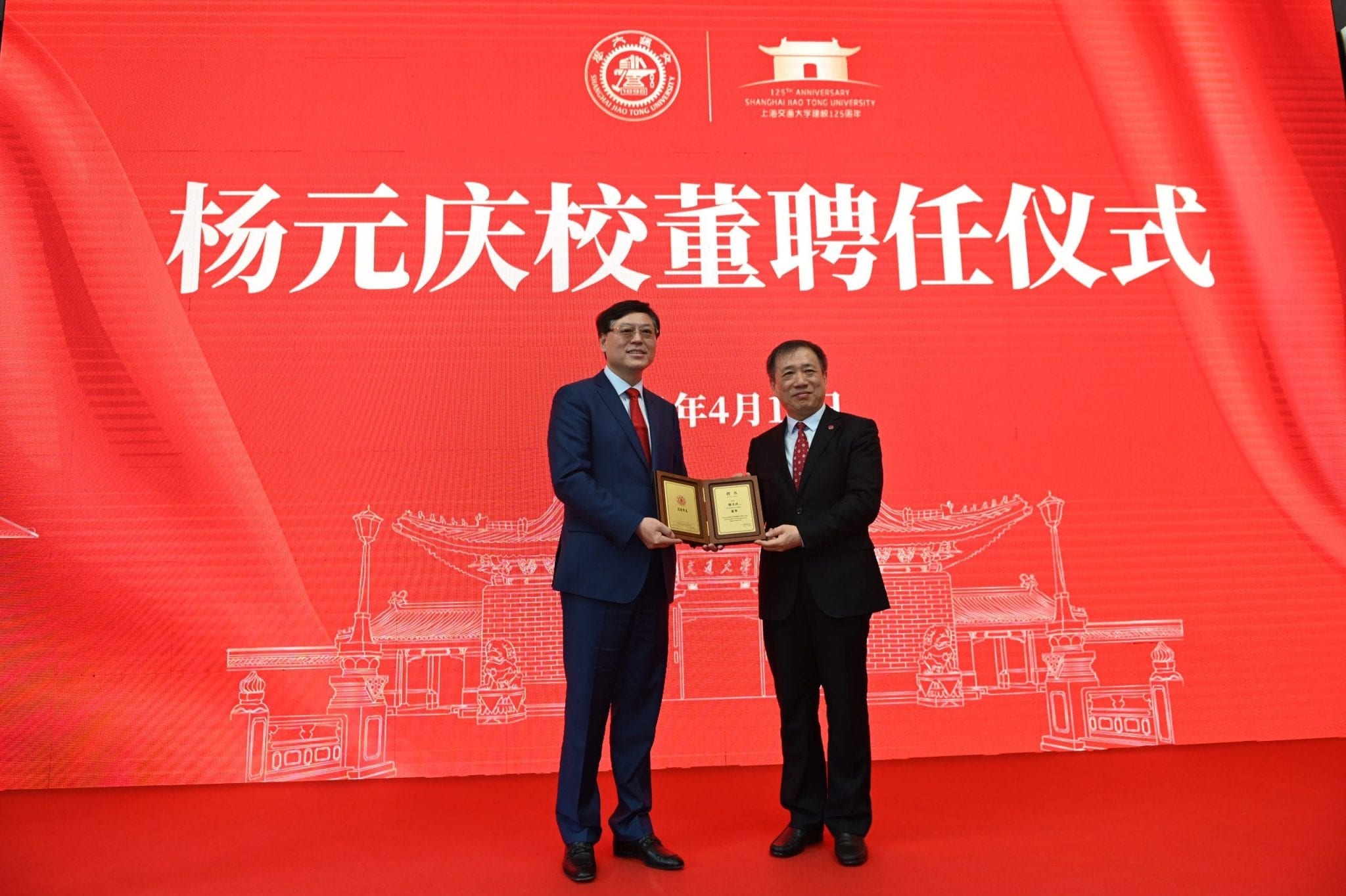 "Shanghai Jiao Tong University is the place where my dreams started, and it provided the foundation for my career in computer engineering and IT," said Yang at the ceremony. Though Yang only studied at SJTU for a few years, the impact of his experiences have been life-long, and Yang remains deeply appreciative for the journey he experienced there.
He recalled that the only computer in his department was donated by SJTU alumnus Dr. An Wang, whose generosity provided students with unlimited prospects. At that time, Yang was determined to emulate Dr. Wang's example and give back to his alma mater in the future. Dr. Wang was a famous Chinese-American scientist, inventor and entrepreneur. He graduated from SJTU with a major in electrical engineering in 1940 and received his PhD in applied physics from Harvard University in 1948. In 1951, he founded Wang Laboratories and was later known as "King of Computers."
Yang articulated that personal computers were a significant driving force of the third industrial revolution, now shifting from "one per family" to "one per person". "I am pleased that Lenovo was a key contributor to this major achievement. However, as we enter the fourth industrial revolution, or the intelligent transformation era, computing power, especially HPC, has become on the one hand an important driving force along with big data and algorithms, and on the other a considerable bottleneck for technology breakthrough and application innovation. Particularly in universities and research institutes, advanced HPC is essential and imperative for basic scientific research and the cultivation of talent. I hope to contribute to overcoming some of the barriers of scientific research and teaching, and to the accessibility and popularization of computing power," he said.
Zhongqin Lin, President of Shanghai Jiao Tong University, said during his speech at the ceremony that Yuanqing Yang has always cared deeply for the education and development of his alma mater. Lin praised Yang for acting as a role model for the students of SJTU, providing them with inspiration through his outstanding achievements in pursuing excellence, acts of giving back to his alma mater, and his noble character.
At the ceremony, Yang was also appointed to the board of directors of SJTU. Zhenbin Yang, Chairperson of the University Council, presented the appointment letter to Yang and expressed his gratitude to Yang for always caring for and supporting the development of SJTU, adhering to SJTU's motto of "Gratitude and Responsibility". He pointed out that the University will make good use of this donation to accelerate the development of the HPC center and bring the University's teaching and scientific research to a new level. He voiced his belief that this cooperation between Lenovo and SJTU will inject new life into the development of the University.
HPC has become an indispensable technical solution and infrastructure for advanced research in basic science, especially in the fields of climate change, advanced energy, astrophysics, life science, materials science and other disciplines that involve intensive computing and massive data processing. With the support of "faster and stronger" computing power, researchers can better utilize their ingenuity and achieve more innovative breakthroughs.
In the era of intelligent transformation, high-performing computing power is also a catalyst for the industrial intelligent transformation that empowers socio-economic development.
As a global leader in HPC, Lenovo has a comprehensive portfolio of products that deliver the highest levels of performance at the lowest cost and carbon impact thanks in part to industry unique warm water cooling technology Today, Lenovo provides these advanced technology solutions to support the transformation of industries in areas such as manufacturing, meteorology and oceanography, education and scientific research, life science and image processing. In the past few years, Lenovo has successively built HPC centers for universities in China, including Peking University, Xiamen University, Qinghai University, South University of Science and Technology and Nanjing University. Lenovo's HPC technology is at the majority of the world's top research universities, including Tsinghua University, Peking University, Oxford University, Harvard University and New York University.
"I hope that this computing center built for my alma mater will adopt some of the most advanced technologies and be both beautiful and environmentally friendly. I hope that it will incorporate the fashion and tone of Shanghai to make it a unique scenic feature of Jiao Tong University campus," said Yang.
After graduating from SJTU in 1986, Yang received his master's degree in computer science from the University of Science and Technology of China (USTC) in 1989. Since Yang joined Lenovo in 1989, the company has developed into a global and diverse high-tech manufacturing enterprise.
Yang is passionate about higher education. In 2015, he donated RMB 10 million to SJTU to establish the Yang Yuanqing Education Fund and the 1985 CS Graduates Education & Development Fund. In 2017, he donated RMB 10 million to establish an education fund at USTC. In March 2020, Yang donated a further RMB 10 million to support COVID-19 research at USTC and the development of the University's Health Services Research Center and Public Health and Preventive Medicine discipline. In 2015, Yang donated to the University of North Carolina (Chapel Hill), setting up the Yang Scholars program, at the UNC School of Medicine. The program recognizes individuals that have made significant scholarly contributions to their field while also receiving national recognition for their research.