The term "smart city" conjures up a vision of futuristic landscapes, driverless cars and sky gardens, so it might come as a surprise to find out that you may already live in a smart city powered by Lenovo. Smart cities use technology coupled with data analysis to manage infrastructure and allocate resources efficiently and thereby enable better outcomes for their citizens. Lenovo has extensive experience delivering holistic technology solutions that have enabled cities from Beijing to Barcelona to become smarter, safer, and more sustainable.
Now, Lenovo is embarking on a nine-month project with the Hong Kong SAR Government to deliver essential smart mobility technologies that underpin the comprehensive Hong Kong Smart City Blueprint 2.0 – and even lay the foundation for driverless vehicles in the future.
This month, Lenovo announced a new partnership with the Hong Kong Applied Science and Technology Research Institute (ASTRI), the government's leading research and development centre for information and communications technologies. Together, they will launch the first, nine-month phase of a project to test a new smart mobility technology called Cellular Vehicle-to-Everything (C-V2X). This ground-breaking technology allows information to be shared in real time between vehicles, traffic infrastructure, pedestrians, and networks.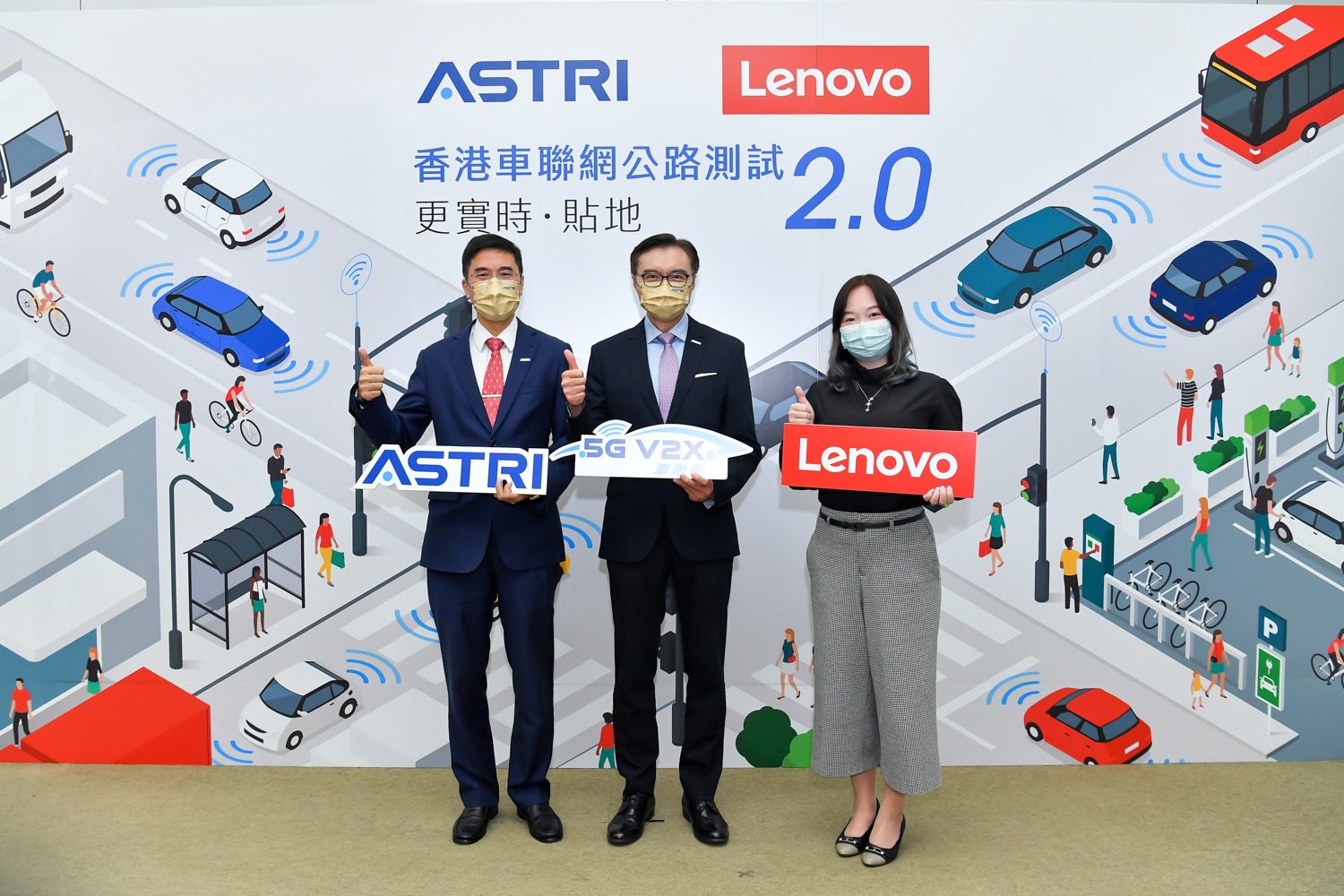 This will be one of the largest C-V2X tests ever conducted globally and represents a milestone in C-V2X technology development. Ken Wong, President of Lenovo Solutions and Services Group explains, "Through our collaboration, Lenovo hopes to contribute to improving the quality of life for people of Hong Kong. Lenovo's end-to-end solutions enable cities around the world to become smarter, safer, and more sustainable. We look forward to working closely with ASTRI to enhance Hong Kong's urban mobility through development such as C-V2X, which will bring better road safety and travel efficiency for all."
Mobility is an essential part of the smart blueprint for Hong Kong. While its extensive public transportation handles the bulk of passenger journeys on a daily basis, the city also has a high density of vehicles on the road – contributing to both traffic congestion and poor air quality. As a result, road accidents and high transport CO2 emissions are commonplace.
C-V2X already has real-world applications, deepening the interoperability of vehicles and roadside device technology. C-V2X currently enables real-time road status and warnings which enhances road safety and assists drivers and can help to solve traffic congestion caused by urbanization. By managing congestion, C-V2X also has the potential to improve air quality. In the future, this revolutionary technology will help support systems for driverless vehicles including cars, taxis and buses.
Lenovo and ASTRI will aim to improve the performance of C-V2X with a view to expanding the technology into other regions and into the Greater Bay Area. Together, they will research and test scenarios, required networks, and related infrastructure for the C-V2X technology on Hong Kong roads. This testing phase will last for nine months and cover a 14-kilometre length of road from the Science Park to the city centre of Shatin. Public transport vehicles have been asked to take part in the test, and Hong Kong residents will see ASTRI stickers along the road which are used to transmit information and collect data.
Lenovo is committed to making a positive contribution to society through the introduction of revolutionary technologies such as C-V2X. As a technology leader operating in more than 180 markets around the world, Lenovo has expanded into growth areas such as infrastructure, mobile, solutions and services with the vision of Smarter Technology for All. Lenovo empowers the intelligent transformation of both industry and cities, by combining innovation and experience.