Lenovo ThinkSmart Hub allowed leading Japanese recruitment services firm, AiDEM, turn ordinary meeting rooms into smart offices, giving sales representatives the ability to connect with colleagues no matter where they were
Recruiting top talent is critical to the success of any business and finding the strongest candidates for job openings is a key step in the hiring process. AiDEM, one of Japan's leading recruitment services providers, knows this better than anyone else. The company provides a comprehensive range of recruitment services for businesses and individuals across the country, publishing approximately 150,000 vacancies per day through its printed magazines and digital properties on behalf of more than 50,000 companies in Japan each year.
With the business growing rapidly, AiDEM looked to Lenovo to solve several business challenges that would enable its employees to better focus on recruiting the best talent and serving its client's needs.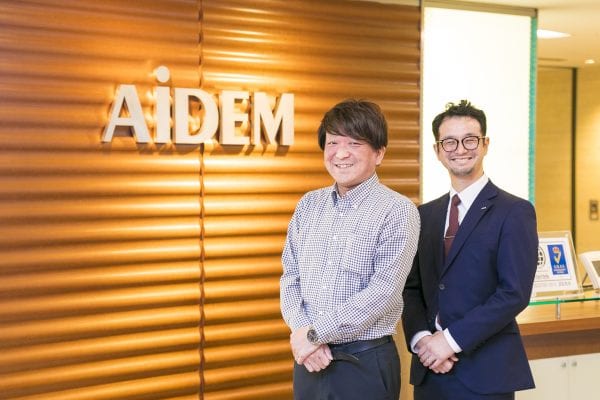 Helping sales representatives work more effectively in a digitally connected environment
To action customer requests to book or edit recruitment advertisements, AiDEM's sales teams needed to quickly provide feedback from a client's office to the in-house production team. While a cloud-based collaboration platform was the first step in creating a more connected workforce, this digital experience was further enhanced with the Lenovo ThinkSmart Hub 500 for Microsoft Teams.
An all-in-one video conferencing solution enabled office workers to communicate with field sales teams to deliver more responsive services to customers. With the onset of the pandemic, this solution also allowed AiDEM to enhance collaboration capabilities further as some employees transitioned to a remote working arrangement while others remained in the office. Lenovo was able to provide insights into remote working while the company was conducting its internal proof-of-concept exercise.
Enabling cost-effective digital collaboration and connection
With AiDEM's previous Microsoft Office 365 distributor, sales representatives had to follow a complicated process when adding new licenses, which led to additional manual tasks and a significant drain on time and resources. AiDEM turned to Lenovo as its new distributor to provide highly flexible and cost-efficient software licensing of Office 365.
As well as offering an immediate 10% reduction on operational spending, Lenovo's solution also provided greater flexibility, with an intuitive dashboard giving employees the ability to create or remove licenses where necessary easily. This solution allowed sales representatives to save time and more efficiently meet their client's requirements. Providing the option of a rolling monthly contract was also crucial in helping AiDEM to ensure that costs were always tightly aligned to actual business requirements.
Lenovo also demonstrated a commitment to customer experience with the provision of a dedicated customer support manager – a "Lenovo Expert" who provides timely and valuable guidance that best suits the needs of the business.
Lenovo has proven to be a valuable partner and advisor to AiDEM in building the company's digital collaboration capabilities, enabling it to deliver quality services to clients and promote high levels of operational efficiency even amidst the changes brought about by the COVID-19 crisis. In the future, there is potential for Lenovo to play an essential role in enhancing the company's automated management and information security.