I'm obsessed with the concept of a "smart home". Considering I live in a one-bedroom apartment one might contend that my level of automation is excessive, but I'd argue I'm just living my best (and most convenient) life. What started with "okay google, turn on/off the living room lights." quickly evolved over time into a well-oiled machine with routines and nicknames for everything. My friends can't help but "set the mood" every movie night with appropriately colored backlights with ambient tunes, and I can't help but smile like a proud tech-parent who has "taught them well". With all that said, there's only so many smart speakers and switches I can install in my ~900 square foot abode, and eventually I knew I would need to look to broader horizons. That's why when given the opportunity to review Lenovo's new Smart Clock, I knew exactly what to do with it.
My girlfriend and I have been living together for quite some time now, and that's offered plenty of time for her to adjust to life within the DCOM future of Smart House technology. It wasn't immediate, but the smart speakers, displays, and clocks have definitely grown on her and by extension garnered a decent amount of attention from her family. Visits from her parents often involve an impromptu showcase of my new gadgets and bless their hearts they entertain my little show. Over the years, I've started to win them over on how convenient it is and considering their home is actually a house, it made even more sense to start integrating. When offered a Lenovo Smart Clock for review I knew her parents house was the perfect place to start.
I did have one hurdle to overcome with her parents…and it's something you run into a lot when discussing smart technology with new-comers; privacy. Understandably the "always listening" aspect can be a scary pill to swallow in the midst of today's news cycle. Thankfully the Lenovo Smart Clock is specifically designed with simplicity and security in mind. For one thing, no camera means no worries which is great, especially since a lot of us are going to put these things on our bedside tables. It's utilitarian in purpose and honestly, at its price point, it's a perfect addition to any room.
The first question you must always ask when adopting smart tech is "Where should it go?", something usually closely followed with "Which room do I spend the most time in?". After trying out a few locations in her parents house, we decided the living room made the most sense (after all, who hasn't lost track of time binging Netflix). Once decided, I walked them through set-up which is easily accomplished using the Google Home App with clear, simple instructions. From there on, it was time to show them just how handy this adorable little device could be.
Our first real test was turning on the lights, and thankfully we also had a Lenovo Smart Plug and Bulb close at hand. We quickly got them added in using the Lenovo Link app, and decided which lamps needed the most attention. One lamp got the routine treatment, turning on and off every night and morning automatically, and the other responding to a simple "Hey Google" query. Nothing ever beats that first "let there be light" moment, and this time was no exception.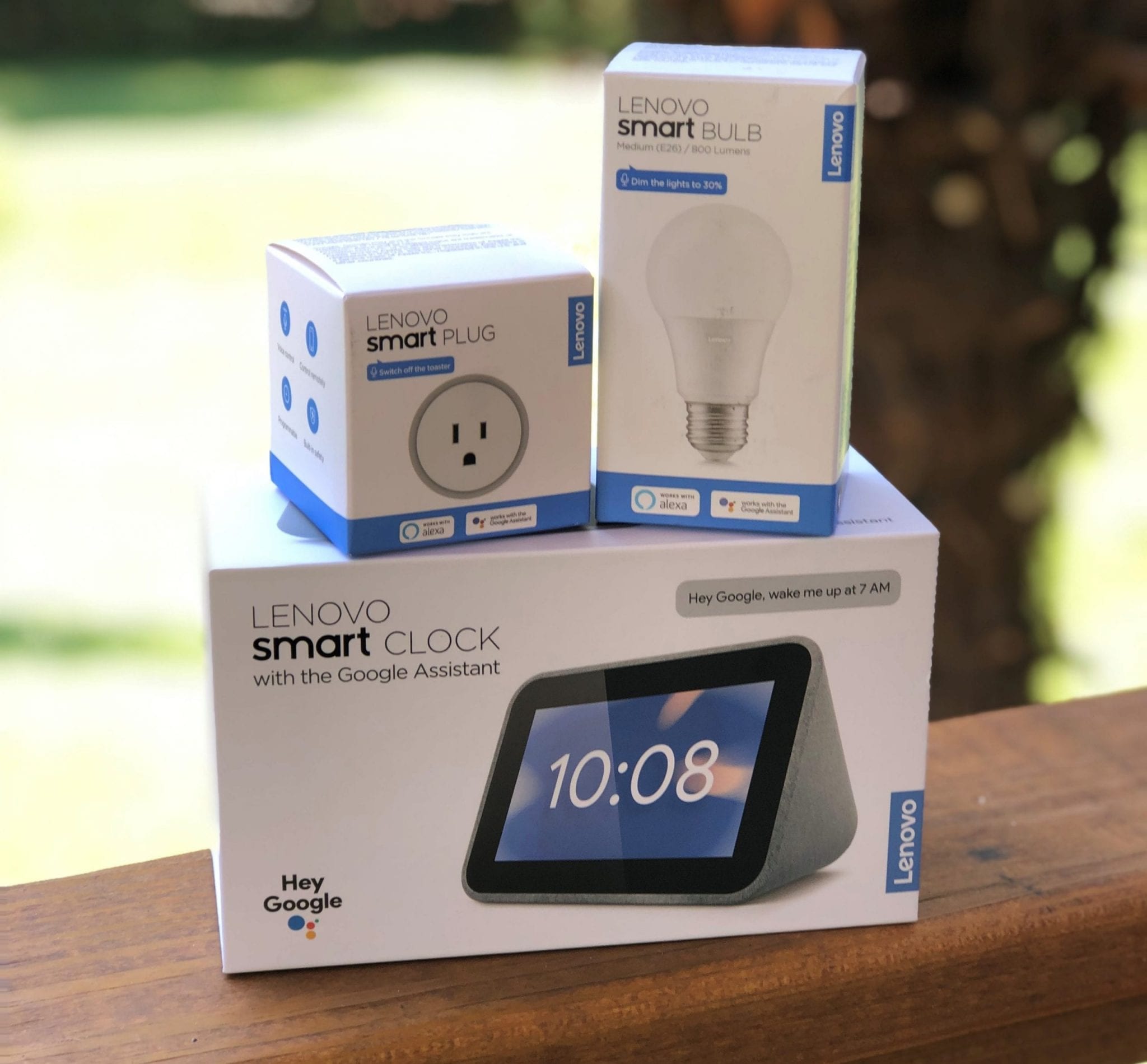 Did someone say something about "time"? Oh yeah, I did…but seriously, it's easy to forget that this handy little guy is a clock at heart. One complaint I commonly hear about smart devices is that they're overwhelming or too complicated, and therefore not worth the hassle. Thankfully, the Lenovo Smart Clock is an affordable entry point that strips things down to the perfect combination of features. It retains the Smart Display's visual advantage over speakers, but at such a small size that it can fit just about anywhere (not to mention the soft-touch cloth design blends in nicely as a cute little item of decor). It's an unobtrusive purpose driven addition to their home, and I'm happy to say they seem to really like it.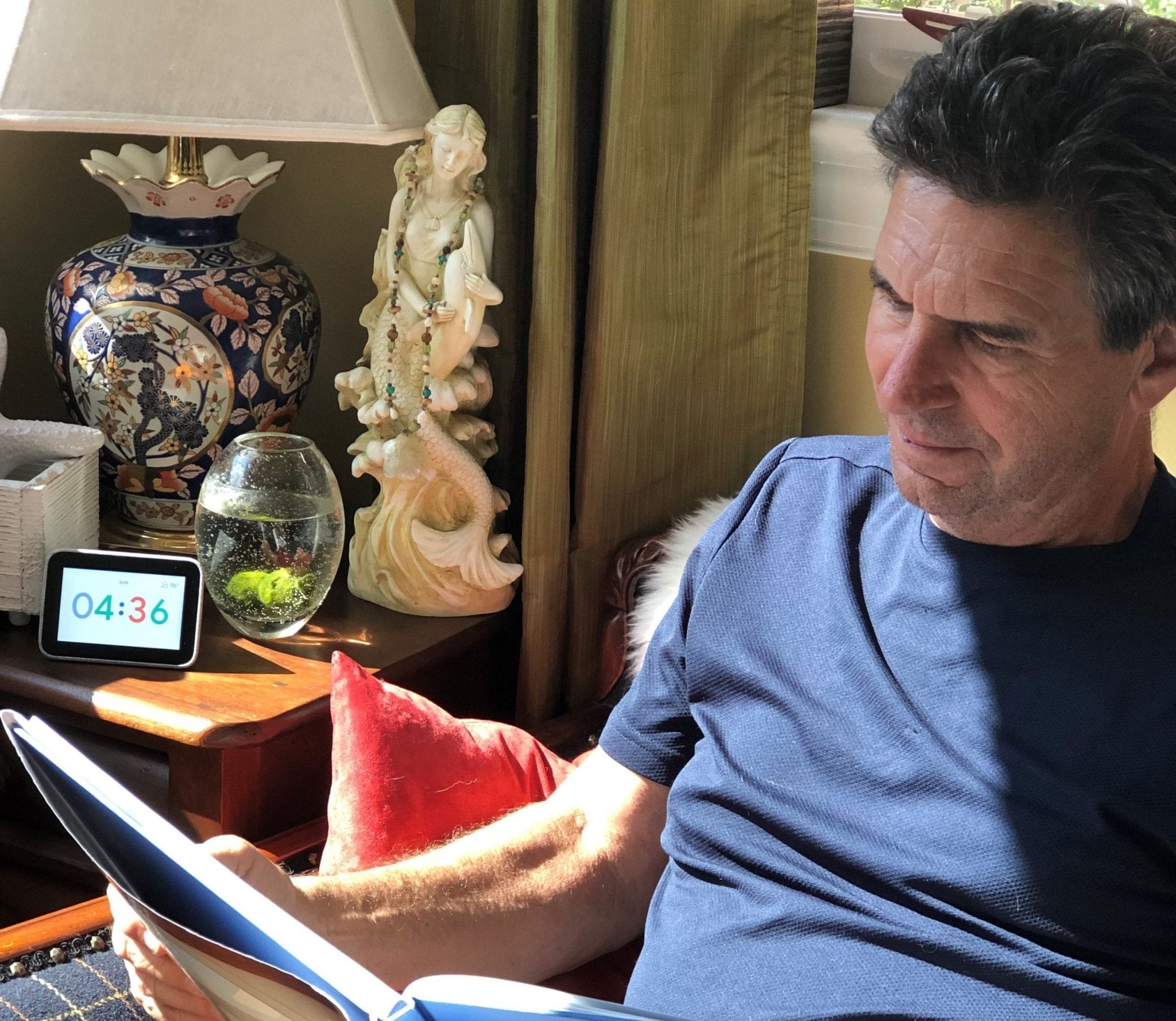 It's safe to say that this experience has been a success. My girlfriend's parents have really loved the ability to easily check the weather or ask random facts. They've told me they're impressed that so much functionality is contained in such a small package, one that doesn't clutter up the room or distract from her mother's carefully crafted interior design aesthetic. Although they were a little hesitant at first, it seems smart technology has a place in their home after all.
More about Bryan
I'm Bryan Custer and I work as Lenovo's Global Social Media Community Manager. I get to show our fans on social that Lenovo means it when we say "customers first", and to ensure we retain a sense of humanity and authenticity while doing so. Sometimes it's a reply with a funny GIF, and other times it's digging in and solving issues for our fans in need. There's a ton of incredibly interesting people out there using our products and supporting our brand; I get the amazing opportunity to make friends with them, and to show them the support they truly deserve.