At Lenovo, we are proud to have ambassadors that embody our mission of creating Smarter Technology for All. One such advocate is Kate FitzGerald, ISO Customer Sales Transformation, Global Solution Selling Program Manager at Lenovo, who has been working tirelessly to improve the lives of children with profound multiple learning difficulties.
Kate has been working with The Ridgeway School to refurbish their new sensory room using technology to create a safe, immersive experience for pupils. She first worked with the Surrey-based school—that caters to pupils between the age of 2 and 19 years who have severe and/or profound multiple learning difficulties—in September 2021 as part of our annual Global Month of Service. Leading a team of volunteers, they built a Wild Immersion VR experience and a virtual fish tank on site.
Wild Immersion, which is endorsed by renowned primatologist Jane Goodall, is designed to raise awareness of the natural world through the power of VR. Videos were recorded in wildlife reserves around the globe, using 360-degree cameras to see the animals up close in their own environments.
Wearing a headset, students could fly alongside flamingos, sit in a tree with giant pandas and sloths, wallow in the mud with buffalos, and swim amongst tropical fish.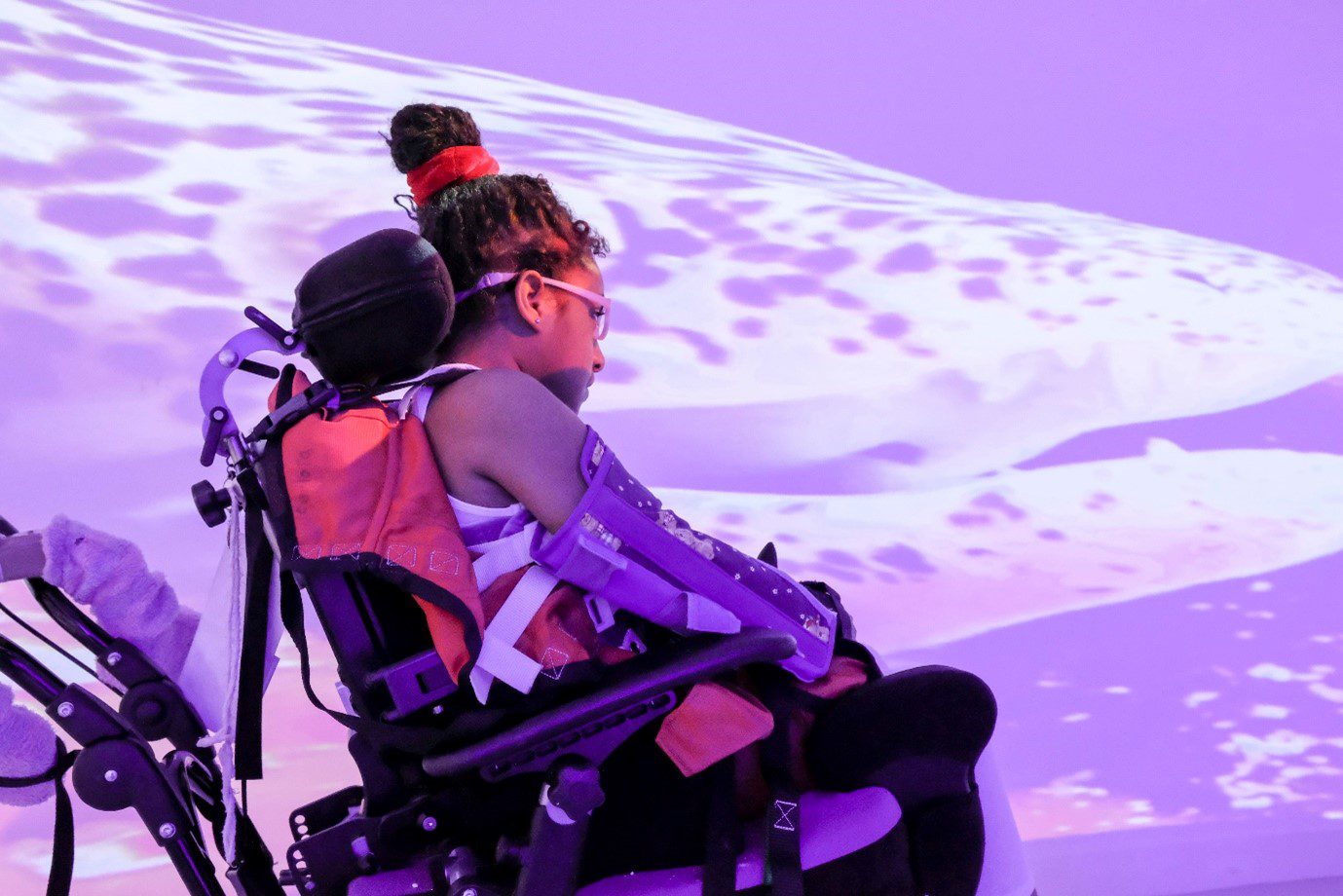 "Research has suggested that virtual reality-based therapy can greatly improve the lives of neurodivergent children, by bringing science and technology into their world in the capacity they can understand," Kate said.
"I saw first-hand the impact VR can have on children back when I worked with The Ridgeway School in 2021. Children who didn't normally engage, engaged. Non-verbal children made noise, and some even spoke. Children with little eye movement were actively tracking the movement of the animals in the headset where staff had thought they could not see."
Now, supported by the Lenovo Foundation, Kate has been back to The Ridgeway School and worked closely with Deputy Head Teacher, Tom Byrne and Julian Hitchin, on revamping the school's sensory room with the replacement of key pieces of equipment, enhancing its functionality.
Complete with floor-to-wall and kaleidoscope projectors, bubble tubes and multicolour LED lighting, the room will combine a range of stimuli to help students develop and engage their senses.
"I was thrilled when Kate approached me about revamping our sensory room. It's a subject that is close to my heart having written a dissertation on the impact of virtual reality technology on students' engagement within a special educational needs setting as part of my Masters," Tom said.
"We've already seen great results from our use of VR in the classroom. For example, we had one pupil who never waits for anything, however, was prepared to wait for 20 minutes for his turn on the VR. Another child who found it very hard to verbalize and put sentences together in a normal classroom setting was able to communicate clearly what he was watching when using VR as there were no distractions or people that he could see.
"The knock-on effect for children using VR cannot be underestimated in a special learning development setting."
As well as positive results from the students, the sensory room has also been met with encouraging feedback from parents who have commented on the clear impact of VR on their children.
Looking to the future, the school has big ambitions for how it will continue to use technology to support students. This includes creating its own content to help prepare children for school events, such as going to the local church for Harvest Festival, which would make these events even more accessible for pupils.
With over 1.3 million pupils with special educational needs in England alone, sensory rooms are vital for providing a safe and impactful learning environment for those with developmental disorders.
The Ridgeway School and Lenovo are leading the way in using immersive technology to support students with nonverbal, verbal, and social skills.
"We know that technology is central to how we live, work, and play but to see how new Lenovo technology can impact children's development is inspiring. Working with Ridgeway School has shown me the power of AR and VR technology to improve our lives and I look forward to seeing where we can go next," Kate said.