When Lenovo's technology solutions meet Ducati's mastery of motorcycle design, the result is unstoppably fast. Insights from big data and AI plus efficiency gains from ever-smarter modeling, riders and their bikes are more flexible and agile than ever before.
Imagine flying down a track at 225 miles per hour. The world whips past you every sixteen seconds. You're going faster than many of the world's high-speed trains – but you are just one person. One person, on a 346-pound machine, going impossibly fast.
This is how fast Johann Zarco was going when he broke the MotoGP speed record at the Losail Circuit in Qatar back in March.
Back in 1949, the first motorcycle race under modern-ish rules was won with a lap time of about 87 miles per hour. To sum up the story since then — in seven words: The bikes keep getting faster – way faster. In 2019, Andrea Dovizioso accelerated his Desmosedici GP upwards of 215 miles per hour — three times faster than a cheetah can run. Now, two years later, that speed isn't even in the top three (all of the top 10 current record speeds were set on Ducati bikes).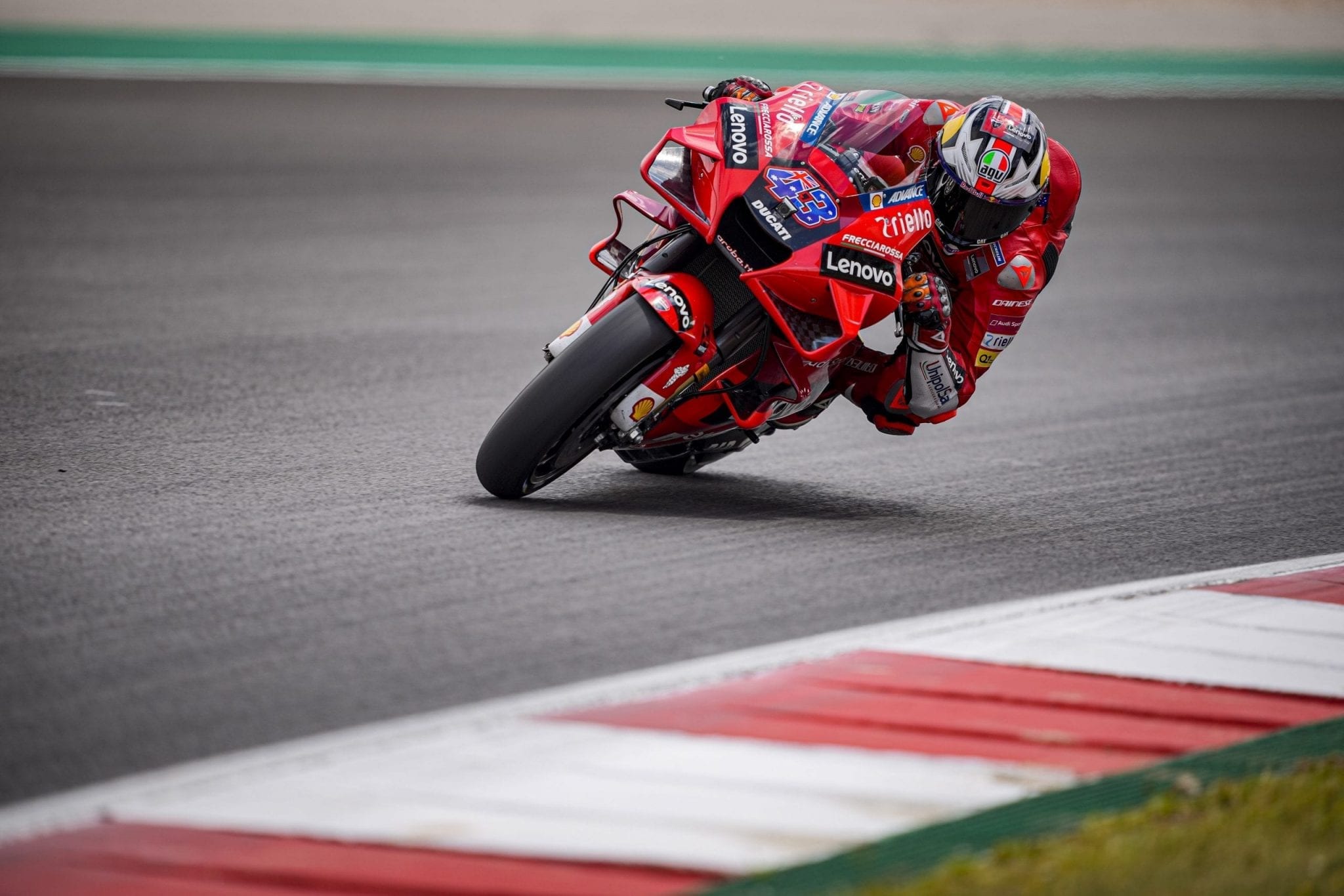 MotoGP bikes flirt with defying the very laws of physics. The two-wheelers must clock in at 346 pounds to meet sporting regulations, but their carbon-fiber frames hold staggeringly powerful 1,000cc engines with more than 250 horsepower.
To most people, a MotoGP rider's job is unthinkable. He must not only keep his body balanced on the beast — using immense physical strength — but also pilot it through punishing turns, all while keeping its tires glued to the road.
Here's where technology comes in. MotoGP bikes are evolving at a breakneck pace. They've morphed into Internet of Things-enabled devices flooding the racer and his pitstop teams with intel on everything from the bike's gear changes to the stickiness of the track. Some call it a Fourth Industrial Revolution for transportation technology.
Ducati, a leader in motorcycle innovation, is heading up this revolution, too. To stay on top of the tech race Ducati works closely with Lenovo. AI, big data, high-performance computers and servers are all helping Ducati lead the pack as MotoGP burns rubber heading into the future.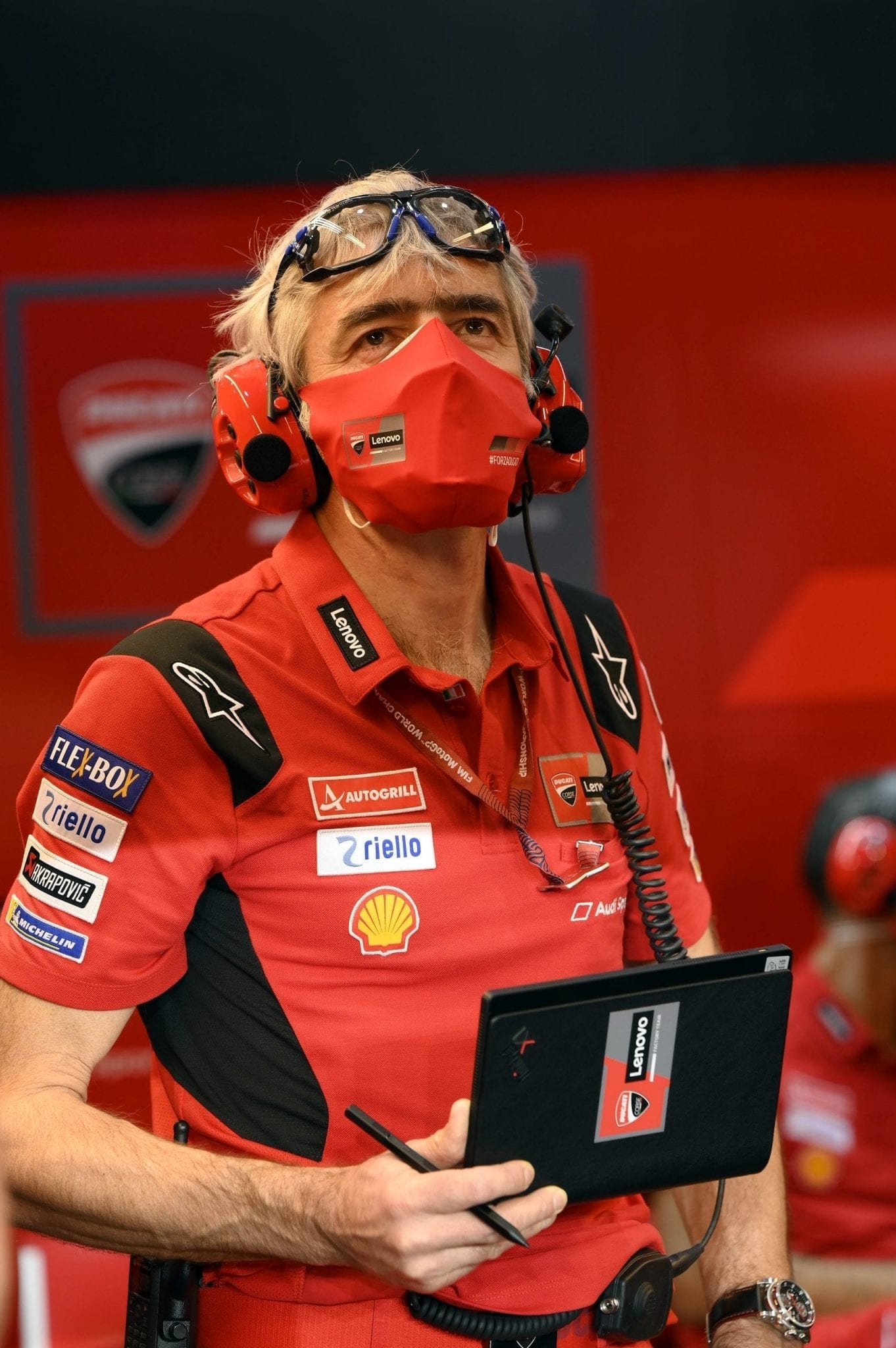 It's not just a metaphor: These bikes are fast, powerful and agile. The team's finesse in making the sharp turns of a course, like the one in Qatar, is bolstered by a secret weapon: data. Data gleaned from sensors and transmitted to Lenovo ThinkPad P1s off the track allow the teams to provide riders real-time, robust feedback on optimal lean angle, the speed needed to round corners, and more.
That's important, because power can be tricky to wield. Engines as powerful as Ducati's come with their own challenges with cornering, braking and accelerating, explains Stefano Rendina, IT Infrastructure Manager at Ducati Corse.
Maintaining power on the ground without losing tire grip is especially difficult.
The digital intelligence offered by Lenovo technology has helped Ducati achieve things recently considered impossible – all while keeping riders safe.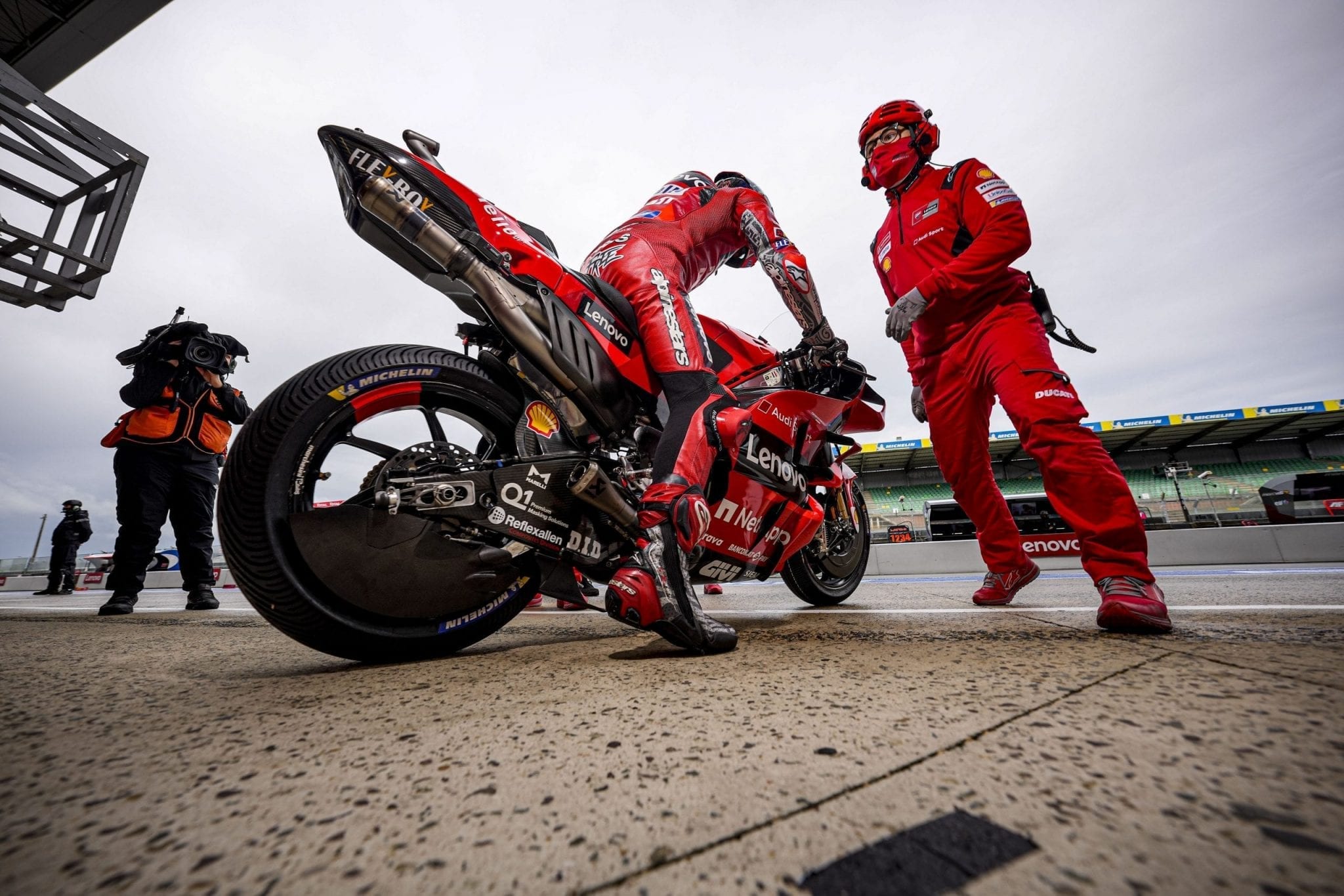 Beyond providing teams with data from the track — and the servers required to securely store it — computer modeling systems enable Ducati to develop comprehensive simulations that can predict a bike's behavior before it leaves the garage. Smarter tech means smarter simulations means speed.
Additionally, simulations using Lenovo ThinkPad laptops to test configurations have improved bike efficiency by 25 percent. That's a critical edge. The better a team's technology, the higher the ceiling for performance.
ThinkPad P1s are especially well suited to the job, with vibrant 100% Adobe color gamut and 400 nit displays. Like Ducati's Desmosedici GP, the computer balances power and performance with six physical cores and 12 threads equipped with a thermal design power of 45-watts.
But MotoGP racing is visceral. Some things can't fully be modeled. Human skill, for instance. And courage. What's first recreated on a computer takes on a life of its own when tire meets track.
"Riders will still need to independently decide when to speed up, slow down and overtake," Rendina said. "They will still need to be self-disciplined, smart, bold and lucky."
Technology gives riders the tools for smart decisions and for breathtaking speed. But it's still the rider who needs to climb into the saddle and fly.