Innovations in big data and AI have led to major gains thanks to ever-smarter modeling that helps riders and their bikes tap into a new level of flexibility and agility. Lenovo's technology solutions have sharpened Ducati's mastery of motorcycle design, leading to superior performance on the track.
The year was 1949, and the first motorcycle race following modern rules was won with a lap time of about 87 miles per hour. These days, the bikes are faster – much, much faster. In 2022, Ducati's Pecco Bagnaia made history with record-breaking lap times at numerous race circuits. On his Desmosedici GP, he travels at speeds of up to 225 miles per hour, ringing several race victories, pole positions, and best race laps.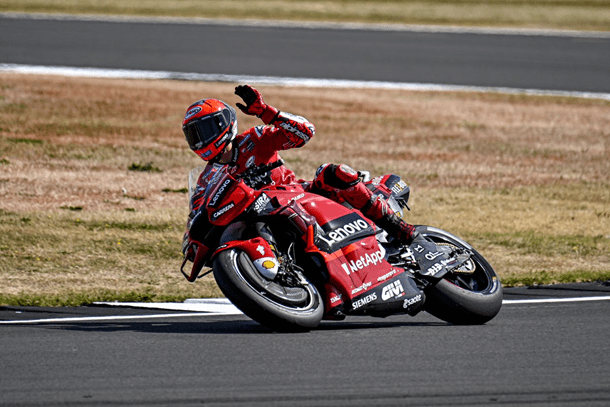 MotoGP bikes flirt with defying the laws of physics. The two-wheelers must clock in at 346 pounds to meet sporting regulations, but their robust, lightweight frames hold staggeringly powerful 1,000cc engines with more than 250 horsepower.
To most people, a MotoGP rider's job is unthinkable. He must not only keep his body balanced on the beast — using immense physical strength — but also pilot it through punishing turns, all while keeping the bike's tires glued to the road.
Ducati, a leader in motorcycle innovation, is leading this revolution of speed and style, with help from technology partner Lenovo. AI, big data, and high-performance computers and servers are all helping Ducati lead the pack as Moto GP races into the future.
All of this is not solely a metaphor: these bikes are fast, powerful and agile. And the team's finesse in turning sharp corners and zipping past its competitors is bolstered by a secret weapon: data. This data, gleaned from sensors and transmitted to Lenovo ThinkPad P1s off the track, allow the team to provide its riders robust, real-time feedback on everything from the optimal lean angle to the speed required to round corners.
This is important because power – that mercurial force needed to move the bike – can be tricky to wield. Engines as ground shaking as Ducati's come with unique challenges when the rider needs to corner, brake and accelerate, said Stefano Rendina, IT Infrastructure Manager at Ducati Corse.
But the digital intelligence offered by Lenovo technology has helped Ducati achieve feats that many—until recently—considered impossible.
"It is possible to access the data a few moments after the bikes have returned to the garage," Rendina said. That data then remains "available for the entire racing season, as well as historical data for the following years."
In all, eight Ducati-manufactured bikes that race in MotoGP have led to more top-five finishes across circuits, which gets more points for Ducati as a manufacturer (AKA constructor). The more points Ducati wins, the higher its chances of winning the Constructors' World Championship title.
Ducati snagged the Constructors' World Championship title in both 2020 and 2021 – and successfully defended their title, at Aragon, in 2022. Before that, they were world champions in 2007.
The data gleaned from each racing bike can also be shared across teams, thanks to the agility of Lenovo computers and servers. The teams then use this data to find the best bike set-up and a winning strategy.  That means a win for one bike is a win for all.
Beyond providing teams with data from the track—and the servers required to securely store this intel—computer modeling systems enable Ducati to develop comprehensive simulations that can predict a bike's behavior before it leaves the garage. Smarter tech means smarter simulations, greater speed and more races won.
Additionally, using Lenovo ThinkPad laptops to model and test configurations have improved bike efficiency by 25 percent. That's a critical edge. The stronger a team's technology, the higher the ceiling for performance.
ThinkPad P1 device are especially well-suited to the job, with vibrant 100% Adobe color gamut and 400 nit displays. The computers balance power and performance with six physical cores and 12 threads equipped with a thermal design power of 45-watts.
But MotoGP racing is visceral. Some facets can't be entirely predicted. There's human skill, for one. And then there's courage. When the tire meets the track, the simulations created with computers take on a life of their own.
"Riders will still need to independently decide when to speed up, slow down and overtake," Rendina said. "They will still need to be self-disciplined, smart, bold and lucky."
Technology gives riders the tools for smart decisions and for breathtaking speed. But it's still the riders who must climb into the saddle and fly.