We take pride that innovation is a part of everything we do. As a global company, we understand the importance of change, resilience, and growth – and this past year has proven how important it is to be equipped with those traits. COVID forced everyone across the globe to overcome, adapt and look beyond their day-to-day boundaries.
We responded to this challenging environment with what we know best – innovation. This ranged from areas you might expect (our products) to the less predictable but equally important (such as enabling our employees to work remotely, making commitments to improve the climate, and pivoting our manufacturing to ensure we continued delivering for customers).  As we move forward in a post-COVID world, a quote that rings true for many of us at Lenovo is: "It's not what happens to you, but how you react to it that matters."
In light of our journey, we were interested to see how other businesses had adapted, and how attitudes to innovation are evolving across the globe. This is why we commissioned 'Beyond Boundaries,' to temperature check the global state of innovation and provide businesses with the tools they need to prepare for and embrace what we see as being the next 'golden age' of innovation. The report features a survey of 300 global senior business leaders and insights from leaders at the forefront of innovation at global businesses such as Boston Consulting Group, Jaguar Land Rover, Fung Group and more.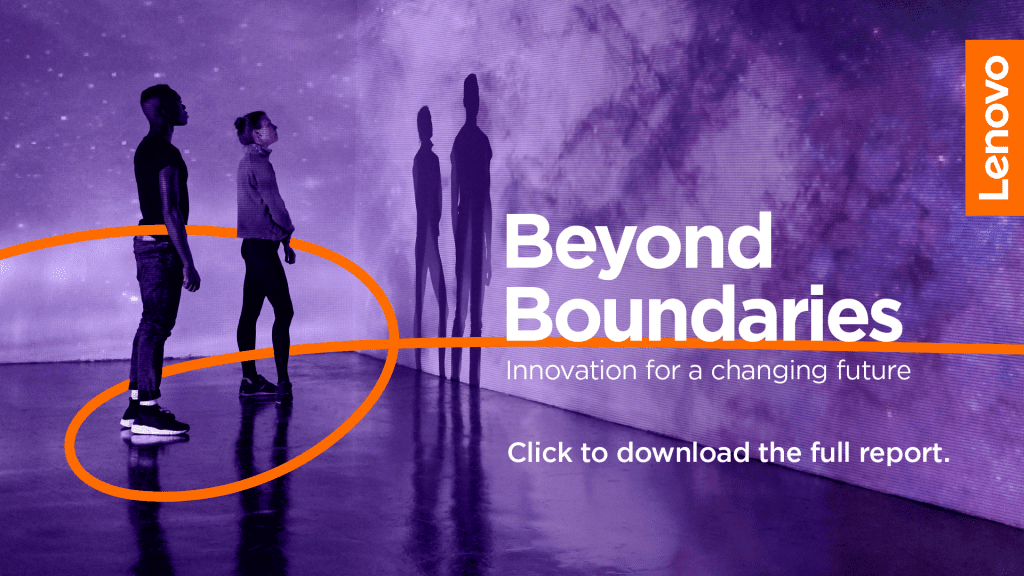 At its heart, this research is a framework that maps out how innovation can support businesses in the next normal. At Lenovo we will use this to drive our transformation from a global devices company to a technology leader in global devices, solutions and services, and software. We think others will also find it a useful tool to think about the levers that catalyze innovation and apply it to their own businesses.
Download the full report and visit stories below outlining the key findings and insights from Lenovo and third-party business leaders.