"Everyone can participate in innovation, but not everyone is innovative. But the most innovative are not the most practical. So, within our teams, we have a range of personalities"


– Daryl Cromer, CTO of PCs and Smart Devices at Lenovo
For many, the first thing they think of when they hear the word "innovation" is "product": the latest laptop, the fastest phone, the newest technology. At Lenovo however, the first word that comes to mind for us is always "people". It's our people, after all, whose sparks of inspiration power innovation in our business and products, and our people who work to bring them to life.
Recognizing that we are in a uniquely fertile period of societal and business development born from the pandemic, we recently commissioned a piece of research among business leaders worldwide. We sought to understand the strategic drivers, approaches to and challenges around innovation within their organizations. The result is our Beyond Boundaries report.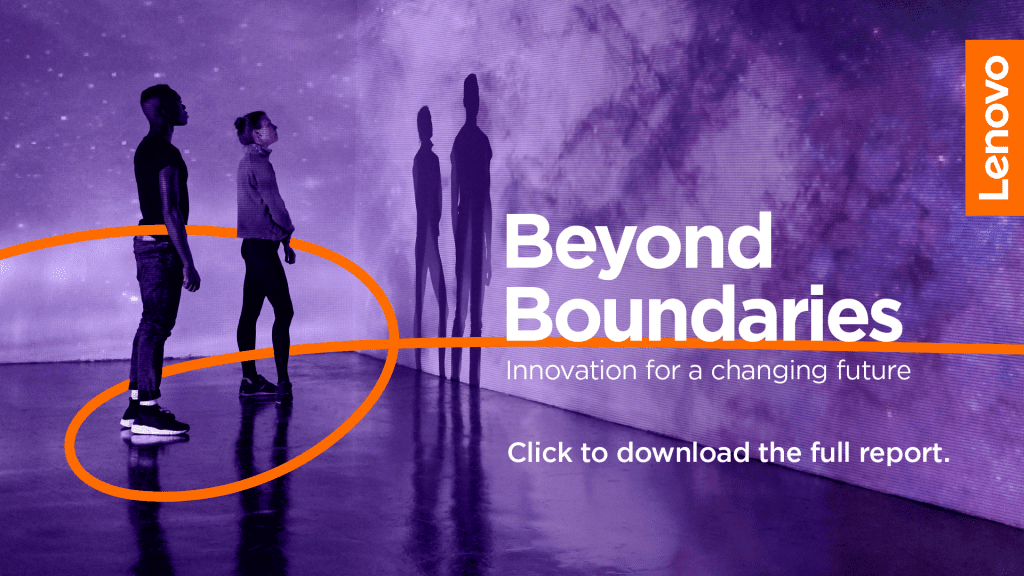 We were heartened to see widespread awareness of the importance of a diverse workforce in driving innovation. The majority of business leaders surveyed recognize the importance of diverse voices and perspectives on innovation. Better still, that they have a broad understanding of the term "diversity". 59% of our respondents agreed that they strive to engage diverse individuals – in terms of gender, age, neurodiversity, physical ability, and ethnicity – in innovation practices.
At Lenovo, we passionately believe that innovation must be powered by a truly diverse workforce. And that progress often comes from the collision of ideas between people from different backgrounds, with diverse ways of thinking. We're proud to work with Haben Girma for example, the first deafblind graduate of Harvard Law School and advocate for people with disabilities. Haben's unique expertise and perspective is helping us develop more accessible, smarter technology products for all, creating greater awareness for the disabled community and helping promote a more inclusive society.
However, our research showed that there is still more to be done before individuals can be who they want to be at work. 64% of respondents say they hire maverick thinkers but admit that the business reins them in as soon as they become too disruptive. Additionally, 59% admit that it's easier to break the rules and disrupt the status quo if you fit the mold of what is expected in a traditional corporate environment.
It's clear that businesses need to empower every employee to contribute authentically and in a way that truly allows them to apply their unique expertise to their work, or risk hampering the true potential of a diverse workforce.
Adopting a global mindset will also be key for businesses looking to drive innovation. With 71,500 members of the Lenovo family worldwide, collaborating in over a hundred different languages, fostering a strong collaborative culture across geographies is a key driver of our innovative practices.
Gareth Davies, Head of Global Logistics at Lenovo, describes in the Beyond Boundaries report how he holds calls twice a week with every region, as well as running an employee action group with representatives from key regions, for example.
The power of global collaboration is widely recognized among those surveyed, 61% say their ability to innovate has been improved by developing a more global mindset. The challenge for business leaders now will be to keep up the momentum and continue to use technology to create opportunities for cross-market collaboration, even as restrictions lift in many countries and some employees return to in-person working.