Julissa Santos lost all sense of normalcy when the COVID-19 pandemic shuttered schools around the world. When she shared her story—using the selfie cam on her phone—colorful 'Congratulations' mylar balloons floated in the corner of her room, signifying the end of eighth grade, and the beginning of the next big chapter of her life: high school.
Julissa is a 14-year-old student who immigrated to the US from Honduras less than one year ago. Through the U.S. Committee for Refugees and Immigrants (USCRI)—an organization that protects the rights of and provides services to persons in forced or voluntary migration—she enrolled in school and embraced a path toward integration. But the coronavirus outbreak and an abrupt shift to remote learning introduced new and unprecedented challenges to Julissa and countless others.
"Distance learning is much more difficult, and really weird because [my friends and I] are used to being together all the time, playing together, learning together," Julissa said.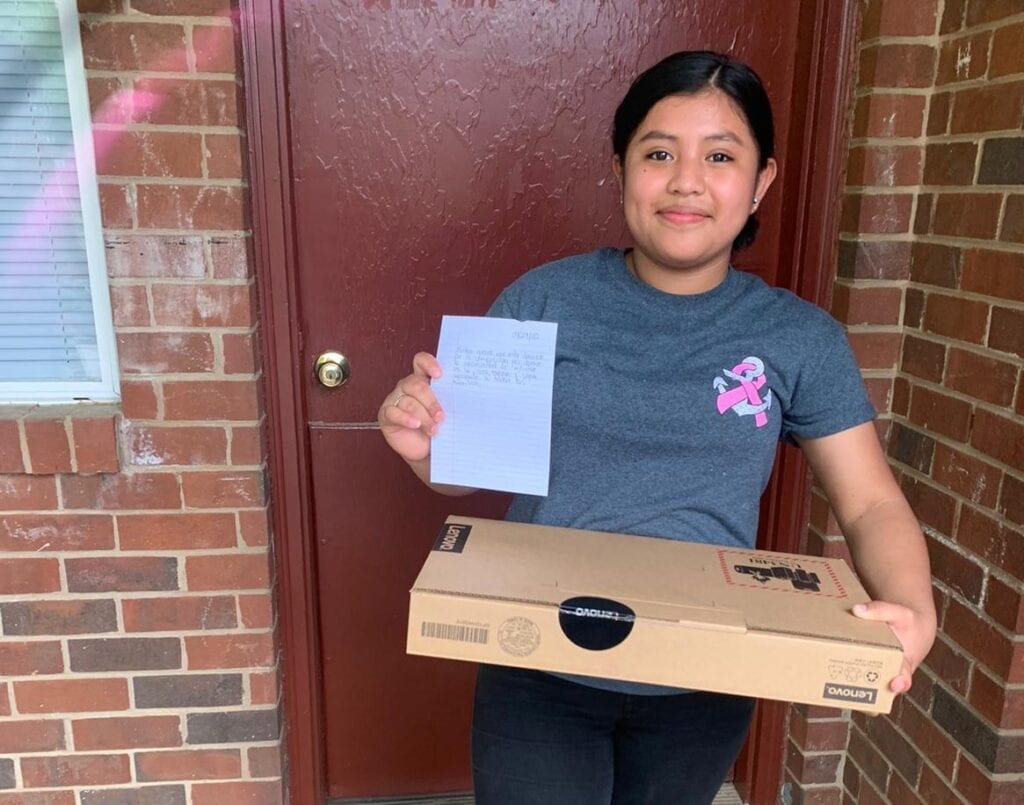 [When I spoke with Julissa, Clinical Case Manager Ginger Lechner volunteered her time, expertise, and sensitivity to translate between English and Spanish.]
As counties across North Carolina (and around the world) raced to provide students with computers, gaps were inevitable. Many USCRI students, who already enter school systems at a disadvantage, needed a way to complete the rest of the school year online.
In April, Lenovo answered the call from USCRI and quickly donated 15 laptops to help students transition to digital learning as smoothly as possible. Julissa said that without having a laptop of her own, participation would be impossible. She recalled with a smile the moment USCRI hand-delivered the computer to her home.
But the transition remained challenging. Julissa especially misses her English as a Second Language (ESL) class because she loved learning from her teacher, who always ensured everyone was engaged and having fun. Outside ESL, those close friends were invaluable in helping translate lessons conducted entirely in English into Spanish for Julissa. Fortunately, they continue to help during the pandemic.
Julissa was unfamiliar with using the laptop, and the initial learning curve was steep, but she said the tech worked perfectly and she adjusted well.
"A partnership with Lenovo is amazingly helpful to support this process, be it through technology, or access, or an opportunity to learn," said Scott Phillips, who leads the USCRI North Carolina office. As his team works to meet ongoing needs of the refugee and immigrant community, he knows there is more that companies like Lenovo might do to increase access and opportunity  for the youth of migrant families.
"We are grateful for the chance to help these students and to make an immediate difference," said Sydni Collins, Lenovo Foundation Program Manager. "While we have miles to go—and are committed to doing more—it's inspiring to see how technology can empower students like Julissa."
As we look for ways to create lasting change—and to learn from Julissa and others—there's an opportunity for Lenovo to assist in digital literacy beyond the PC. Empowering communities who have less experience with technology due to a lack of access complements Phillips's vision of what USCRI can provide its clients. He explains:
"Communication and interconnectivity is critical. When people, including children,  in a community who are already facing issues of marginalization are even further isolated by the pandemic . . . a lack of  access to the correct technology dramatically exacerbates that marginalization. We need to make sure that our families and the children are definitely connected. Technology provides a sense of order and stability. It helps to engage these students in opportunities for integration and empowerment."
In addition to USCRI providing educational support for children of migrant families, the organization oversees services including educating newcomers about where to obtain medical and mental healthcare; supporting them to obtain housing, food, and clothes; guiding people through the employment search and job placement process to ultimately achieve self-sufficiency; assisting them through complex legal situations; and more.
As for Julissa, who loves spending time with her family and teaching others about her Honduran culture, she gives advice to other children who may be in a similar situation: "The first days of school were hard, especially with the language barrier, but it got much better during the year. Take advantage of everything you can. This country has a lot of opportunity, and you can really better yourself and help your family."
To support USCRI and students like Julissa, visit their national homepage or get involved directly with the North Carolina Field Office. USCRI NC spends everyday working on behalf of refugees and immigrants. If you want to join us in our efforts please do not hesitate to reach out to learn more about donating your time, your energy, your voice, or your resources.
Lenovo remains committed to supporting communities during COVID-19 and beyond. Working with USCRI and other organizations around the world is part of Lenovo's mission to provide Smarter Technology for All—and we're eager to find new ways to help.