When Julia Kocs and Brigetta Koepke individually signed up to participate in a mock job interview through a community nonprofit, neither knew their pairing would lead to them working side-by-side at Lenovo on an innovative global project.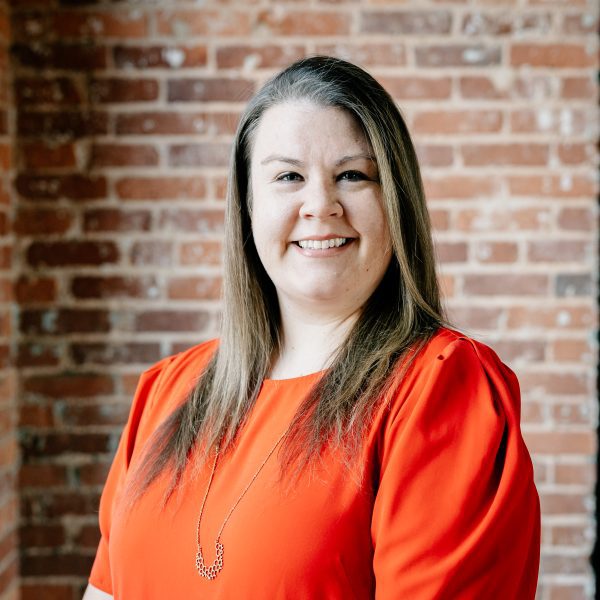 Brigetta first came to Lenovo after looking for an employer that had a clear commitment to community and outreach. Lenovo's philanthropy initiatives and emphasis on community welfare impressed Brigetta, leading her to pursue and ultimately accept her current position as Lenovo's Director of Global Integrated Channel Communications.
Brigetta went searching for a way she could best give back to others using her experience and skills. She found an opportunity on Lenovo's internal "Love On" platform to work with the local Raleigh chapter of Dress for Success by conducting mock interviews and providing resumé advice to women seeking to jumpstart or change their careers. Dress for Success stood out to Brigetta because of the organization's commitment to the empowerment of women and its implementation of modern technology practices to best serve the current generation of job seekers.
Through the Dress for Success mentorship program, Brigetta met Julia Kocs, a meeting both women now describe as serendipitous.
Connection and Community
Julia is no stranger to hard work and success. A first-generation Hungarian immigrant, Julia was the first in her family to go to college and graduate school. It was in graduate school that Julia became drawn to the communications field. She would ultimately go on to excel in her career working in the technology communications sector in Silicon Valley.
After many years working on the West Coast, Julia set her sights East and made North Carolina her home. In a new city and on the hunt for her next opportunity, Julia was recommended to Dress for Success as an organization to network with other women in business.
At first she was hesitant about participating in mock interviews, concerned to be taking time and resources from women who may face more complex barriers than she was facing. She eventually agreed to participate and signed up for the interviews, thinking it would bolster her interview skills and help her meet new people in the Research Triangle Park business community.
More Than Clothes
Through her experience, Julia quickly became aware that Dress for Success offered valuable opportunities and resources that women could benefit from at any stage of their careers.
"It was an inspiring experience," Julia said. "Women need support and camaraderie and access to development resources at every level, regardless of their career path. Dress for Success provides that by helping a job seeker's experience from a holistic point of view."
Julia was impressed that the organization provides women with everything from career coaching and resume building to access to professional clothing and yoga sessions — all with the goal of helping women prepare for and grow within their careers.
Julia was also thankful that Dress for Success is passionate about equity and meeting every participant where they are in their career. For Julia, this meant getting interview prep at an executive level. Enter: Brigetta Koepke.
A Chance Meeting
It was through the mock interview process that Brigetta and Julia met. Brigetta was instantly impressed with Julia's positivity and professional experience. During their initial conversation, the subject turned to Brigetta's experience at Lenovo, and Brigetta expressed that what sets Lenovo apart for her is the company's commitment to the community. At that point, Julia was not necessarily considering another role with a technology firm; however, she found herself impressed by Lenovo's dedication to not only improve society through innovation, but also through service.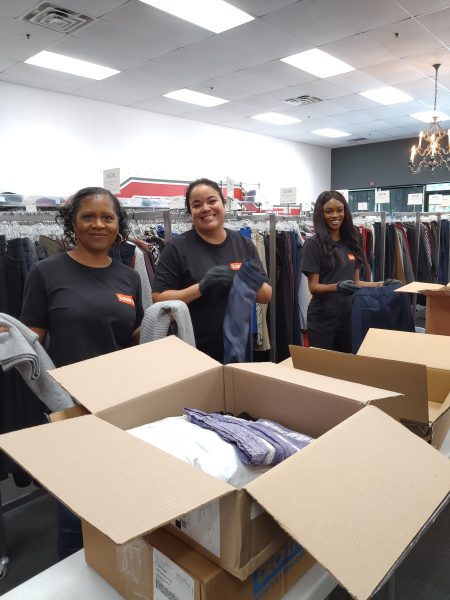 Shortly after meeting Brigetta and utilizing the tips she had provided to revise her resume; Julia began actively pursuing a new communications position. Scanning through the many job listings available in the area, Julia came across a j listing for a position at Lenovo. Considering the praise Brigetta had shared about her employer, Julia decided to take a chance and submit her resume. It didn't take long before Brigetta realized Julia was applying for a role on her team.
Brigetta was working diligently to build out Lenovo's new global channel communications team to be a multi-cultural and international team with the ability and skills to advance conversations in a way that unites Lenovo partners. She interviewed several candidates for the Integrated Channel Communications Manager position but didn't find the right fit for this role on the growing team. From their first meeting, Brigetta knew Julia would be an excellent candidate for whatever she applied for and was overjoyed when she decided to apply for the role on her own team.
Using the skills acquired through her Dress for Success experience, Julia advanced through interviews where Brigetta and others were taken by her knowledge, experience, determination, and warmth. Julia was offered the position of Global Integrated Channel Communications Manager in May of 2022. The first phone call she made after she accepted the offer was to Dress for Success, thanking them for their services and encouragement. Ten months later, Julia says her role at Lenovo so far has been "an incredible journey" that "provides a global work community where I am challenged and inspired to grow, collaborate, innovate and thrive every day."
Paying it Forward
Both women are grateful to Lenovo for providing the connection to Dress for Success and the ability to prioritize time to continue their relationship with the organization. Alongside Brigetta, Julia now volunteers with Dress for Success for mock interviews and provides career mentorship to women.
Using her own experience as inspiration, Julia works to ensure women in her new community have the same access to resources, experiences, and opportunities to progress their own careers.
Julia's advice to women who might steer away from asking for career help: "Seeking support at any stage of one's career is a statement of strength. Imagine how strong we can be together if we are not afraid to ask!"