Everything from inclement weather to spending time with in-laws can keep you from getting home for the holidays. However, there are still plenty of ways you can be a part of the festivities. While nothing can replace seeing your family in person, recent advancements in technology allow you to enjoy the season "virtually." The video capabilities of modern phones, laptops, and other smart devices, as well as new virtual reality technology, make it possible to bring your family to you.
Whether for work or personal use, chances are you're already familiar with video calls. The great thing about smart technology is that video conference calls aren't limited to desktops and laptops. With more and more smart devices at home, having a video chat is as simple as saying "answer call." Smart displays and tablets make using video calls as easy as possible, especially for those less tech-savvy family members.
A large portion of smart displays come with built-in home assistants, so when you are missing your family, all you have to do is ask and the device will take care of the rest. When you find yourself far away at the holidays, a smart display can bridge the gap in minutes. Calling home to greet the smiling faces of your family this season is a delightful gift.

Group Messages and Phone Calls
Group messages are another great way to fill the void when you can't make it home in person. If you're not already in a group chat with your family, you should start one this holiday. It's a great place to share photos and stay connected. It's also an excellent way for you to not miss out on the festive fun.
While it may seem obvious, calling your loved ones on the phone is always a welcome holiday treat. Physically hearing the voices of your family members has a tangible and immediate impact. According to a study from the University of Wisconsin-Madison's Child Emotion Lab, a phone call from your mom has the same stress-reducing effects as that of a hug. So, if you're feeling alone on the holidays, call someone you love to feel a little better this season.
You can't be there in person, but you'd love to take it to the next level by being there in more than just spirit. Seeing your family during the holidays can help you feel at home for the holidays, even when you can't be. Virtual Reality (VR) technology now makes this possible.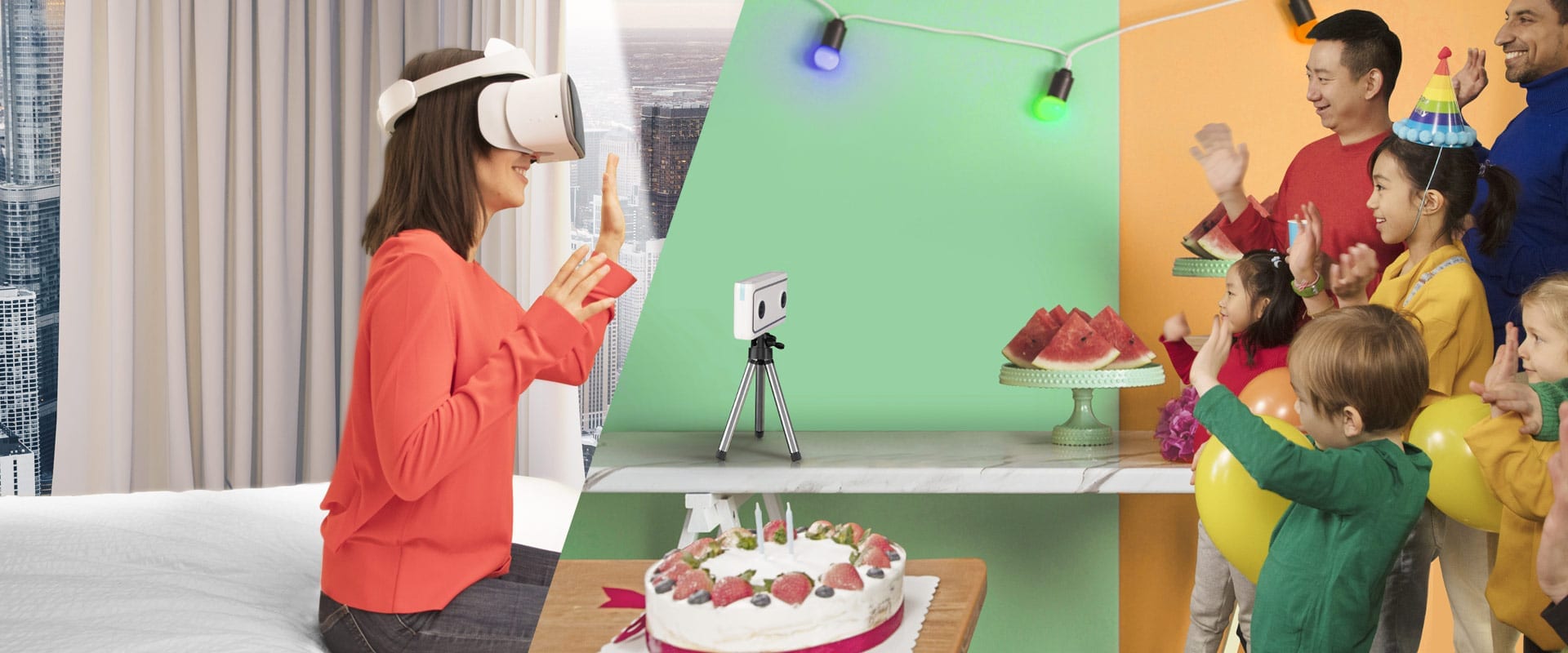 With VR becoming more common, VR travel has become an industry in itself. There are now virtual "rooms" where users with VR can meet with one another and can even let families interact with one another in a virtual space that can be any destination they choose.
VR is the option for the tech-savvy family. It makes a big difference when a loved one can't make it home for Christmas. VR can even combat the loneliness of the seasons. Seasonal Affective Disorder affects 10 million Americans, and it usually hits around the holidays. Studies have shown that VR technology can lead to feelings of awe that are socially connecting and combat the effects of seasonal depression.
The truth is none of these are complete solutions to being away during the holidays. They are, however, an excellent alternative to missing your family and loved ones. Seeing their faces and hearing their voices can make you feel more fulfilled and at ease during the holiday. Even if you were there in person, using technology like VR is a great way to entertain the family and bring everyone closer.