Although enjoying a cup of coffee is an essential daily ritual for millions around the world, few realize the painstaking quality control that goes into ensuring their morning brew tastes right. Augmented intelligence developed by researchers in Taiwan and Peru with Lenovo AI Innovation Center promise to revolutionize this process through deep learning.
Coffee has changed the course of world history since it came on the scene in the fifteenth century, and it has become no less essential in the years since. The world consumed 22 billion pounds of coffee in 2019, according to the International Coffee Organization.
As old and deep as the roots of this beverage are, the tedious quality control process it requires has been long overdue for an upgrade – one that has been developed by researchers in Taiwan and Peru with the help of Lenovo technology and support.
Although more than 150 million people drink coffee every day in the United States alone, few know how easily the process that brings their beans from farm to cup can go awry.
There are as many different potential flaws in a bean as there are delicious flavor profiles in a finished, quality-controlled cup of coffee. A given bean might be withered, chipped, or greenish and unripe. It might be perforated by insect bites, marred by fungus, or contaminated by foreign matter.
All these defects and more must be carefully screened out by the manufacturer, and existing products that have been built to aid in the process can only make comparatively rudimentary discriminations based on color and shape.
Until recently, this has meant an exhausting manual process with imperfect results. That's a problem, especially since in the case of some types of defects, a few troubled beans can foul the taste of a whole batch.
Now, though, researchers at Yuan Ze University in Taiwan and collaborators in Peru have developed a way to bring the power of augmented intelligence to the rescue, with advancements powered by Lenovo's high-performance computing system and scaffolded by support from Lenovo's AI Innovation Center.
"It's very difficult and tedious work," said Professor Yun-Chia Liang, Yuan Ze University. "We are not trying to replace workers but trying to develop a system to help them."
Peruvian collaborators Prof. César Beltrán Castañón and Dr. Christian E. Portugal Zambrano helped lend insight into the arduous bean-sorting process.
"Every time they have the harvest for the coffee beans, they have an intensive labor over there. Everyone just sits in a row and tries to pick the defective ones manually. So, we were thinking, if we have a chance to develop a system like this, we definitely can help them to enhance the quality of inspection," Liang explained.
Though complex to develop, the system is relatively simple to understand. Beans go into a feeder where their images are captured by a camera. Next, deep learning AI is used to label them, quickly determining with high levels of accuracy and precision whether a bean is usable or flawed. This process of inspection and classification uses a single algorithm.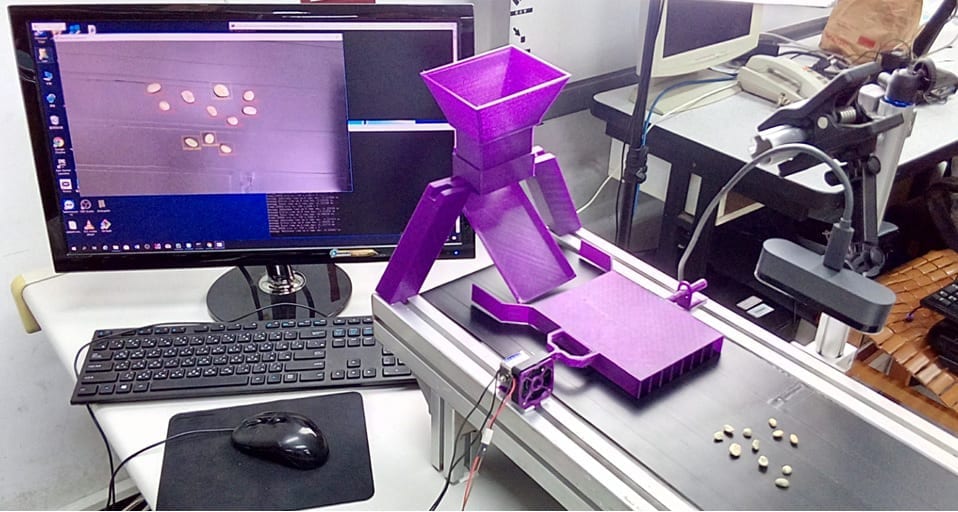 Existing coffee bean data from Central de Cooperativas Agrarias Cafetaleras de los Valles de Sandia, Peru, was used to train the deep learning model topology that makes it easier than ever before to separate the good beans from the bad.
Lenovo's high performance computing systems, like ThinkSystem, have helped the complex process speed along.
"We had the chance to use the Lenovo ThinkSystem and that is booming our computing power a lot," said Liang.
Since imperfections can come up across phases ranging from harvesting to transport and delivery to roasting, technology to make bean-screening easier will certainly make things smoother for a range of people all along the supply chain.
And the potential results are powerful. Successfully controlling for quality issues in coffee beans can mean the difference between a cup of coffee with balanced acidity and one that's like vinegar; it can mean the difference between a cup with aromas of warm, rich chocolate and one that smells and tastes like mold.
This simple but powerful distinction is just one way that artificial intelligence is leading to smoother production for businesses, less grueling labor for workers, and better products for consumers – so millions of people around the world can start their mornings with that perfect cup of coffee.