Nelson Mandela once said, "Education is the most powerful weapon which you can use to change the world." During the month of October, Lenovo employees around the world are hosting projects to advance this mission and meet the unique needs of their communities. We're profiling the efforts of two project leaders in North America and South Africa, Zacaria Harris and Jane Govindsamy, and how they're empowering women in their communities through access to technology and STEM education.
Zacaria Harris, a Lenovo Mid-market Account Executive and first-time GMOS project leader, is leading a virtual project with Dress for Success to invest in the professional development of unemployed and underemployed women in Raleigh, North Carolina. Almost 10 million women in the United States are living below 50% of the federal poverty line, with women of color disproportionately represented among this group. Compared to their male counterparts, women in the US are more likely to live in poverty, earn less pay, and work in low wage jobs.
Dress for Success provides the tools women need to succeed in the workplace, achieve economic independence, and break the chains of generational poverty. They've helped more than 16,000 women in the Raleigh-Durham area by providing professional attire, cover letter and resume writing workshops, career counseling, and employment retention services. Lenovo began partnering with Dress for Success in 2012, supporting the organization through donations and employee volunteerism, including in-person mentorship panels lead by Lenovo's employee resource group, Women in Lenovo Leadership (WILL).
The COVID-19 pandemic has led to increased economic uncertainty and job insecurity for many of Dress for Success's clients. To ensure the safety of employees and Dress for Success clients, Lenovo will be continuing their partnership with Dress for Success through a live-streamed mentorship panel. While planning the panel, Zacaria knew the importance of featuring a diverse group of Lenovo female executives who reflect the racial, ethnic and cultural diversity of Dress for Success clients. Over the course of two sessions on October 9th, these leaders will discuss professional development topics including: interview preparation and professionalism, leadership skills and taking risks in the workplace, owning one's personal brand, and building confidence.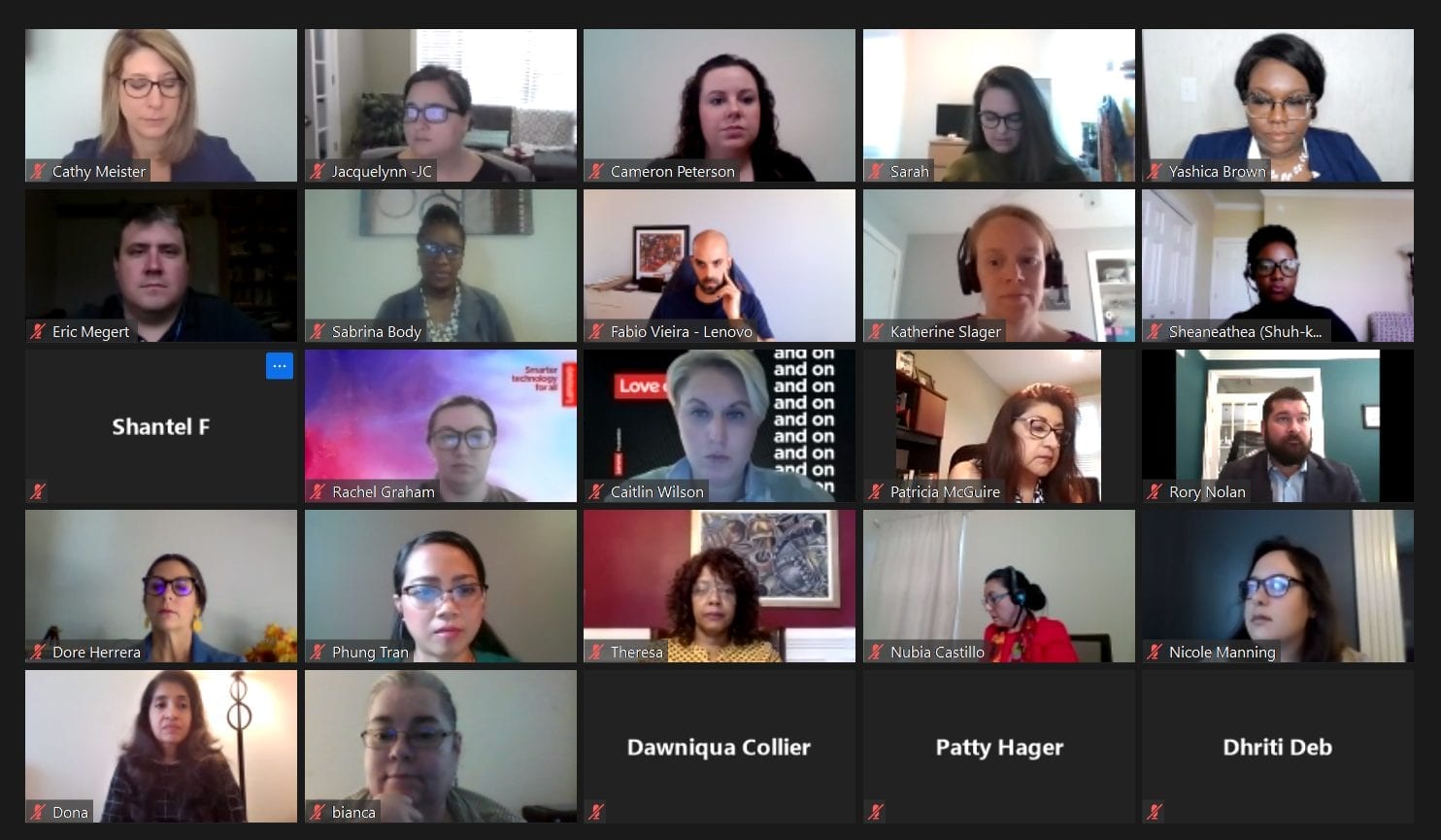 Building one's confidence is a skill of particular importance to Zacaria. "[This project will] help women get to the next level by pushing them and saying, 'they got this'," says Zacaria. "If they have aspirations, we [Lenovo] want to be a company that gives back in that way, to help women get to [the] next level."
By providing a network of support and professional development tools during this GMOS project, Lenovo is empowering these women to overcome the barriers of generational poverty and build brighter futures for themselves and their families.
With this same passion of giving back to her community, Jane Govindsamy, Executive Project Analyst for Lenovo South Africa and a third year GMOS leader, is leading multiple projects to support women and children through education. Jane was enthusiastic about sharing details of the Sanitary Project.
Like the United States, female minorities in South Africa experience a higher rate of poverty than their male minority counterparts, or non-minority female counterparts. However, the rates of poverty are much higher in South Africa, where almost half of the adult population lives in poverty. The likelihood of living in poverty is almost three times higher in rural areas, and people living in these areas struggle with lack of access to basic needs such as clean water, clothing, and shelter. For women experiencing rural poverty, the inability to access monthly feminine hygiene products is an additional challenge.
Due to the stigma around having a monthly cycle, young girls on their period who cannot afford sanitary pads are often met with ridicule by their peers, leading many girls to stay home from school when menstruating. In fact, it is estimated that almost 30 percent of girls enrolled in school miss classes while on their period, and high absence rates can lead some girls to drop out of school entirely.
To empower young women in South Africa to attend school confidently year-round, Lenovo's Sanitary Project is providing personal hygiene packs, sanitary pads, and hygiene awareness training to more than sixty young women during a two-day event at St. Monica's Child and Youth Care Center, a nonprofit in Johannesburg, South Africa, that provides a safe environment for abandoned and at-risk youth. The first day of the event was Heritage Day, a national holiday commemorating the cultural wealth of South Africa. Lenovo employees and the youth at St. Monica's Home came together to celebrate with cultural ceremonies and a Lenovo-sponsored meal for 120 members of the community in advance of educational programming.
Lenovo is proud to not only provide donations and training to these women so that they can return to school, but, as project leader Jane puts it, to restore the confidence of these young girls. "These kids are the successors of the community…This token of support from Lenovo will encourage [them] to build confidence and will enable them to have no disruptions in their schooling attendance."
As part of the project, Lenovo donated hygiene products to two other non-profits, St. Francis Care Center and Cape Town Child Welfare Society. St. Francis Care Center is a non-profit providing hospice and palliative care to women suffering from threatening or life-limiting conditions, and Lenovo donations were designated to women with cervical cancer. Lenovo also donated hygiene products and sanitary towels to 100 young girls at the Cape Town Child Welfare Society, South Africa's oldest and second-largest child welfare organization that supports young women that come from the under-resourced Cape Flats.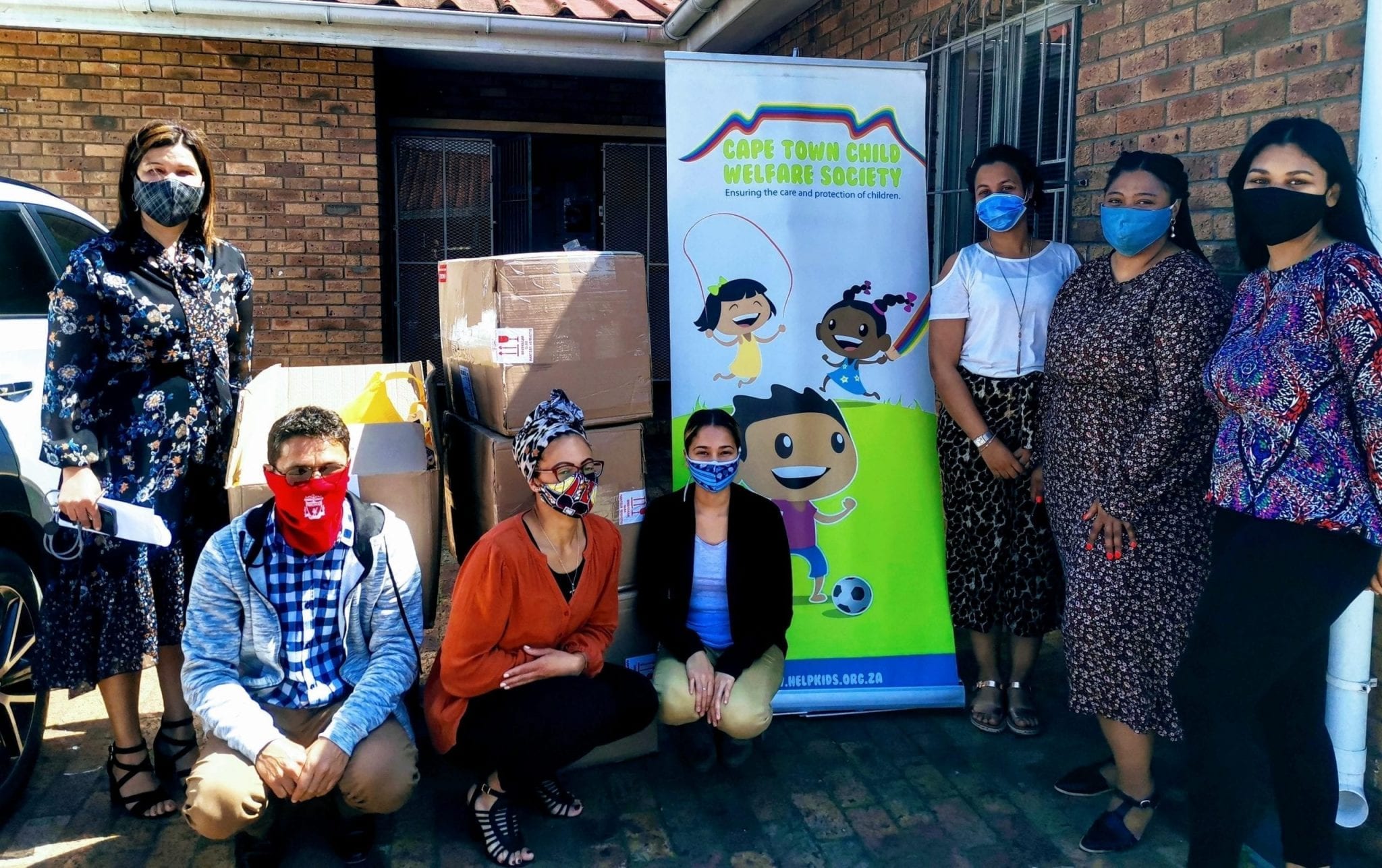 By donating these products, Lenovo is not only meeting an immediate need for sanitary pads but is addressing a larger systemic issue regarding women's education in South Africa. Girls who do not complete secondary school are more likely to experience child marriage, face domestic abuse, and suffer from long-term heath complications. Ensuring that girls have the supplies they need to continue education through their natural menstruation may seem like a small and simple solution for such strong consequences. By providing sanitary pads, Lenovo is breaking down barriers that prevent women from educational attainment and contributing towards their long-term social and economic empowerment.
In reflecting on her project, Jane explains that, "It is not about giving the sanitary products. It is about how we do it, with love and passion. Making these young women feel that they matter, that they are important, and together, we can make a better South Africa."
During this Global Month of Service, the Lenovo Foundation, Lenovo employees, and project leaders like Zacaria and Jane are directly impacting the lives of women in multicultural communities around the world. Steadfast in its powerful message to Love On, Lenovo is equipping, supporting, and empowering these women to succeed as part of its diverse and strong global community.
You can read more about Lenovo South Africa's efforts to give back with St. Monica's here.