In September 2021, Lenovo hosted its fifth annual Love on Global Month of Service, engaging employees around the world in volunteerism aligned to Lenovo's philanthropic mission to empower underrepresented populations with access to technology and STEM education. Lenovo is extremely proud to announce that its employees grew their annual service event by number of volunteers, participating offices, and beneficiaries in 2021, despite the challenges of the ongoing Covid-19 pandemic.
"We know our employees get excited about the chance to give back to their communities and we love supporting them and amplifying their efforts each year," said Calvin Crosslin, Lenovo Foundation President. "We're particularly humbled by the participation this year, as we know that many employees, their families, and their communities continue to face daily challenges caused by the pandemic."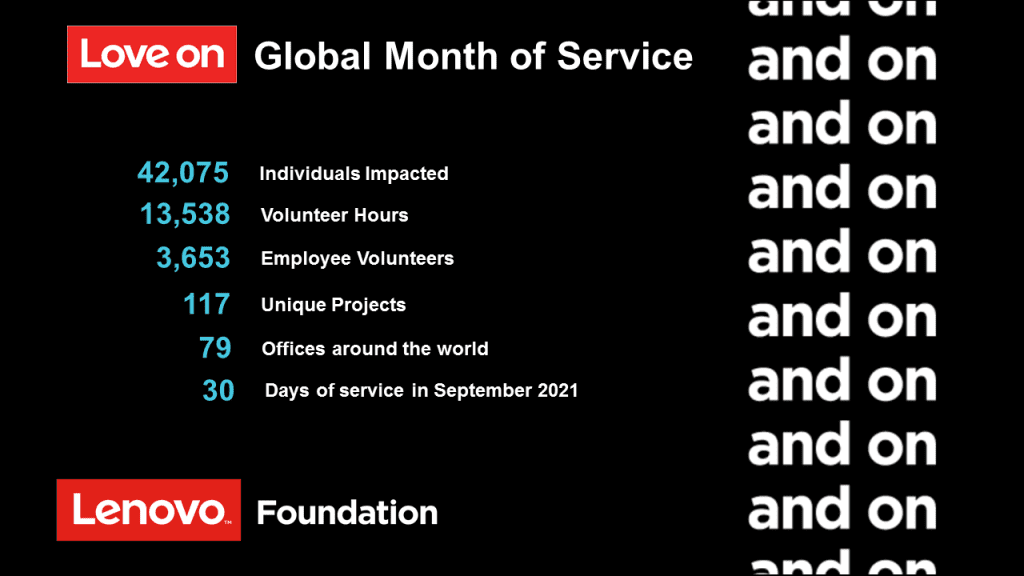 Lenovo's Love on Global Month of Service started in 2017 as a week-long event. While the program has grown from thirty-two Lenovo and Motorola offices around the world to seventy-nine, it is still driven by passionate project leaders who go above and beyond their day jobs to lead their colleagues in service while addressing the unique needs of their community.
"This is one of my favorite things about Lenovo. Global Month of Service is such a positive experience for both the community and employees. I look forward to it every year," said Anahid Avakian, an employee based in Lenovo's Santa Clara, California offices who has been leading a project for the past three years.
In 2021, the majority of projects (66%) impacted the high-school age group of students in alignment with the Foundation's focus to ensure tech literacy and pique an interest in science, technology, engineering and math topics for the next generation. However, meeting the unique needs of communities also meant staying safe in each communities' fight against Covid-19.
In Chicago, employees were able to engage Project Syncere students in a virtual classroom, while outside of London, employees "masked up" and engaged with students in-person, taking them on virtual field trips with the use of Lenovo's virtual reality headsets.
Other examples of volunteerism included mentoring women in training programs with Laboratoria across Latin America, and hosting a month-long global innovation challenge with Junior Achievement impacting students in Russia, Indonesia, the United States and Mexico. Employees also helped to respond to natural disasters in Germany, and helped communities prepare for natural disasters through the popular 'Missing Maps' virtual volunteer activity from the American Red Cross.
In addition to volunteerism focused on education and disaster response, some of the year's activities were part of larger partnerships being led by Lenovo's global employee resource groups. The partnerships deliver on both Lenovo's diversity and inclusion and philanthropic strategies, demonstrate the extraordinary value of inclusion in our workplaces and communities, and empower passionate employee leaders to give back to underrepresented populations.
"There is a growing intersection between groups from underrepresented racial and ethnic backgrounds, populations with lack of access to technology and education, and communities disproportionately impacted by natural disasters," said Crosslin. "While the issues our employees addressed through volunteerism might seem different on paper, all too often, they are just a few of the compounding challenges endured by under-represented communities around the world."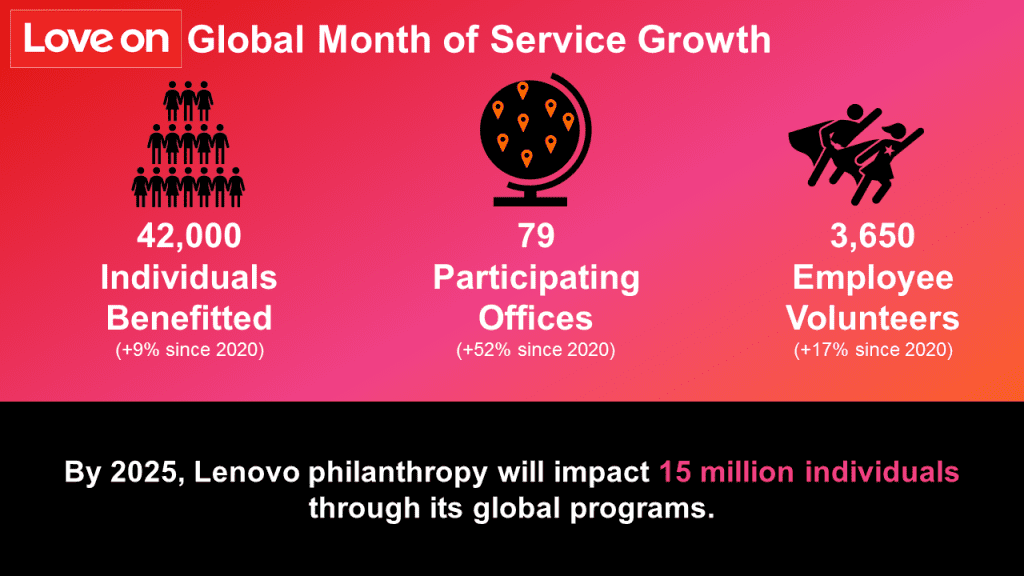 While Lenovo employees hope to host a fully in-person Love on Global Month of Service in 2022, they can take comfort that they are meeting the needs of organizations that have worked so hard to serve communities over the past 20+ months.
"We're so happy to have Lenovo helping Panti Sosial Asuhan Anak Putra Utama 3 (PSAA)," said Sekolah Rakyat, PSAA leader, an NGO from Jakarta, Indonesia. "During the pandemic we have lost most donors – companies and individuals as well – who usually helped PSAA."
Lenovo's Love on Global Month of Service contributes to the organization's goal to impact 15 million people through its philanthropic activities by 2025. With the month of service impacting more than 42,000 individuals in just 30 days through the hands-on work of employees, it is a meaningful and engaging opportunity for employees to deliver on Lenovo's vision to provide smarter technology for all.