Since 2006, Lenovo has been technology sponsor for Women's Forum for the Economy and Society, a leading platform that elevates women's voices and perspectives on pressing global issues ranging from sustainable development and economy to culture and media. Through this partnership, Lenovo supports the Forum's annual series of global events and meetings that demonstrate their mission to empower women.
I have spent all my career in the tech industry and have seen a lot of positive change in the workplace over the course of those 25 years.  Either through naivety or optimism, I used to believe that gender, race or background were not barriers to success – instead it was down to individual hard work and perseverance.  However, the longer that I have spent building my career and managing multi-cultural teams, I realise that the situation is significantly more challenging than I once thought.  Sitting in a minority group as a woman in a traditionally male-dominated industry is a lonely place to be. It opened my eyes to the other gaps that existed from a diversity perspective. It was clear to me that work needed to be done to make the industry more inclusive, which is an issue I've been passionate about for many years.
This year's Women's Forum Global Meeting will be held virtually on 18-19 November, under the theme of 'designing an inclusive world'. The event gathers a global community of ambassadors, including business and political leaders, along with international organisations, experts and civil society, to pioneer in promoting the increasing role of women in the economy and society at all levels.
This year's theme rings particularly true for Lenovo. We operate with the mission of delivering Smarter Technology for All, and 'for all' means for everyone. We cannot possibly create products or solutions for a diverse global customer base if we are not developing our workforce to reflect that diversity.  So, we strive to create an inclusive environment so that everyone can bring their best self to work in order to enable us to design our products with inclusivity in mind at every step of the way.
The evolving nature of D&I
The concept of diversity and inclusion has seen many rebirths over the past 60 years or so. Initially, businesses focused on representational diversity: getting people through the door to represent different genders, cultures or races. It was about quantitative value and the appearance of the company. Now, the conversation has rightly shifted from representation to the ideal of inclusion, with more focus on the behaviours of the organisation.
Diversity and inclusion initiatives are not about ticking boxes. Rather, they should be part of a core business strategy for organisations. Choosing not to address inequalities and injustices is not only bad for business; it is morally indefensible. How can we create products that meet diverse market needs if we, consciously and unconsciously, exclude swathes of the population from our workforce? How can we motivate our employees to produce truly transformational work if, inside, they feel no sense of connection or belonging?
For me, the key is allyship, which is a critical vehicle to call out inequalities, drive change, and foster a sense of belonging for all. Inclusion is about creating a sense of belonging, acceptance and equality for all employees. In order to realise this change, the majority must help to support and advocate for the minority and act as allies. As the focus shifts from diversity to inclusion, companies need to grow in their approach. It is no longer enough to simply have a programme that shows your company looks diverse; you need to ensure that all employees feel safe, heard and integrated, no matter what gender, ethnicity, culture or background they come from.
So, how are we ensuring that Lenovo is playing a role in designing an inclusive world?
A company as large as Lenovo has a responsibility to set the precedent for businesses when it comes to diversity and inclusion. This year, we have announced several programmes and initiatives that further our commitment to delivering greater value products and solutions for a diverse world. This includes developing our accessibility guidelines, forming ABLE (PwD in EMEA), our new employee resource group for those living with, or caring for people with, disabilities, and launching a product diversity office to ensure that our commitment accessibility, diversity and inclusion is reflected in our product development process.
Technology's role in realising true global diversity
Tech can help address inequalities. It facilitates human connection, understanding and, ultimately, empathy, while also enabling dynamic and flexible work environments to improve connectivity with the inclusion of minorities and better gender balance.  To see the power of technology in supporting real change, have a look at the inspiring women featured in our New Realities program – a dynamic artistic project celebrating women who are using smart technology to showcase and solve global social issues and empower empathy.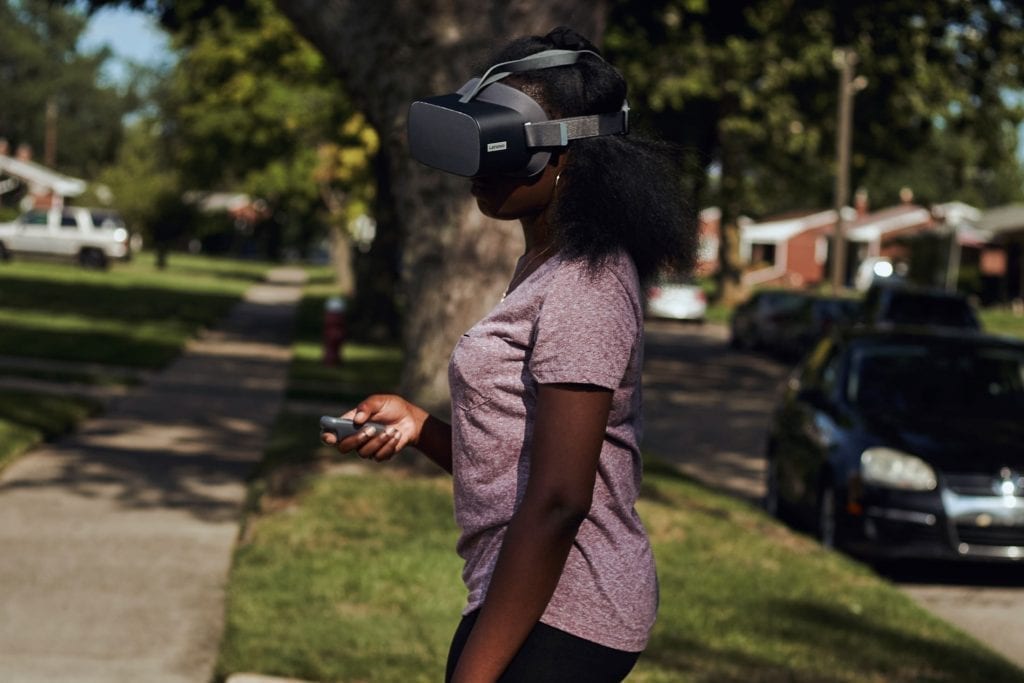 This year, we have two employees featuring as speakers at the Women's Forum. John Gordon, Lenovo VP and President  Commercial IoT, will be speaking in a debate around why technology will save the world. His participation is an excellent display of allyship as a male spokesperson advocating for female empowerment.
Emily Ketchen, CMO and VP, PC & Smart Devices, will also be taking part in an informal discussion on how businesses can contribute to an inclusive recovery from COVID-19. This will look at how we can reimagine stereotypical, hetero-normative gender roles in the home and provide wraparound benefits, such as childcare, to help families redistribute labour between genders.
While we are constantly striving to improve our diversity and inclusion, we still have a way to go. In 2018, we outlined several key goals across executive representation and global impact for which we are on track to achieve by the end of this year, but there are always more targets to be set.
The case for D&I is more important than ever. Companies who have fostered diverse talents and perspectives are more resilient and likely to better navigate disruption by redesigning and adapting to the frequently cited 'new normal'. The Women's Forum offers a space for us to learn from other companies and individuals to ensure we are always supporting our employees and finetuning the Lenovo ecosystem where everyone feels empowered to achieve their fullest potential. Through our partnership with the Women's Forum, Lenovo is also proud to be a signatory of the G20 Private Sector Alliance for the Empowerment and Progression of Women's Economic Representation (EMPOWER) Alliance Pledge in support of greater recruitment and advancement of women in leadership in the private sector in each of the G20 countries and invited guest countries.
As a uniquely global business, diversity is one of Lenovo's greatest strengths. Our leaders throughout the world hold a deep commitment to innovation and a far-reaching mindset fuelled by a sense of our long-term responsibility. Find out more at: https://www.lenovo.com/us/en/about/diversity.