Forbes China recently released the "Women in Tech" list, paying tribute to women who break ground in science and technology in China. Two Lenovo leaders joined the 50 unranked women on the first Chinese list: Dr. Qianying (Jane) Wang, Vice President and General Manager of Technical Strategy and Innovation Platform of Lenovo Research, and Dr. Feiyu Xu, Vice President and Head of the AI Laboratory of Lenovo Research.
Dr. Wang and Dr. Xu appear alongside visionary founders, corporate executives, first-line R&D scientists and engineers, and pioneers of technological innovation. The list showcases the extraordinary achievements of women and demonstrates how gender diversity drives technological innovation, sustainability, and China's economic growth.
We interviewed the two Lenovo innovators, exploring their views on technology and singular experience as woman. Dr. Wang and Dr. Xu both offer encouragement and inspiration to a new generation of women in tech and mentioned the important support of their families. They prove that for women in tech, achieving successes both at home and at work are no longer a dream.
Read Dr. Xu's interview below and Dr. Wang's story right here.
Women in the field of science and technology should believe in themselves, and break through the bias against women in a mindful way.

How did you get interested in technology, especially when not many women are in the field?
As a child, I was enchanted by numbers. I was very gifted in mathematics and natural science. Beyond that, I liked languages as well. They are fascinating. The computational linguistics I studied later combines language, mathematics, and computer science, which fits my strength.
After I got my master's degree, I went to the German Research Center for Artificial Intelligence (DFKI), and headed the largest team in the language technology lab. Later, I was one of the few awarded Research Fellows by DFKI, which was the highest distinction given to outstanding researchers working there.
All these came very naturally to me. I never felt I was different from other scientists including male scientists; instead, I was one of them, part of the scientific world we shared. And my curiosity in the things and people I worked with have always helped me in my career.
Who encouraged you? Did you have a role model?
My parents created a very harmonized and encouraging environment for my younger brother and me and developed our reading and study habits and curiosity about the world. My sweet family would spend their evenings reading at their desks every day after dinner.
Madame Curie is my lifelong role model, who was the first person to win the Nobel Prize twice. I admired her so much. As a passionate and open-minded scientist, she made tremendous contributions to both science and society and set up a great example for all women of her time who lived in a very unfavorable social environment.
In Germany, my master's thesis supervisor was a very down-to-details great scientist who insisted I rewrite my dissertation more than 10 times. By doing this, I learned how to write scientific works in a precise and vivid way.
When I joined the DFKI, the lab head was Professor Hans Uszkoreit, who is now Lenovo Research's Chief AI Advisor. I owe my sincere thanks to him for helping me become a real scientist with creative and critical thinking. He always encourages me and the team to become challengers and to enjoy the adventure in research and development.
You joined Lenovo in March 2017—why did you give up your comfortable life and stable work in Germany to return to China after 26 years?
I left China before I graduated from university and stayed in Germany for decades. 2016 was an extraordinary year for me. In 2016, I received invitations from many Chinese companies to lead their AI research. My long-held passion to make real contributions to my home country in AI triggered my decision to move back to China.
In March 2017, I decided to accept the invitation from Dr. Yong Rui to develop the first AI Lab in the history of Lenovo in Beijing.
What project are you most proud of and why?
I always believed that the precondition for the success of AI is to build an innovation ecosystem, which I designed at Lenovo. So what is it? In essence, on the one hand, our AI lab will keep and build even stronger collaboration with academic partners to stand on the latest developments and trends of technology and do further development, enhancement, and adaptation of core AI technologies and solutions. On the other hand, our AI lab works as one team with our business partners who have a lot of customer insights and domain expertise and data to empower our intelligent devices, clouds, and services, and put our vision – "smarter technology for all" – into practice.
Project examples that I am proud of in terms of core technologies and solutions are:
MOLI (a smart conversation agent for customer care) is an overall AI solution for enterprise customer service and is a globally leading product. MOLI organically combines AI customer service robots with human customer service representatives to provide customers with friendly services 24/7, anywhere, and in the manner and language they like. We will gradually expand MOLI's service languages, as it is being deployed globally.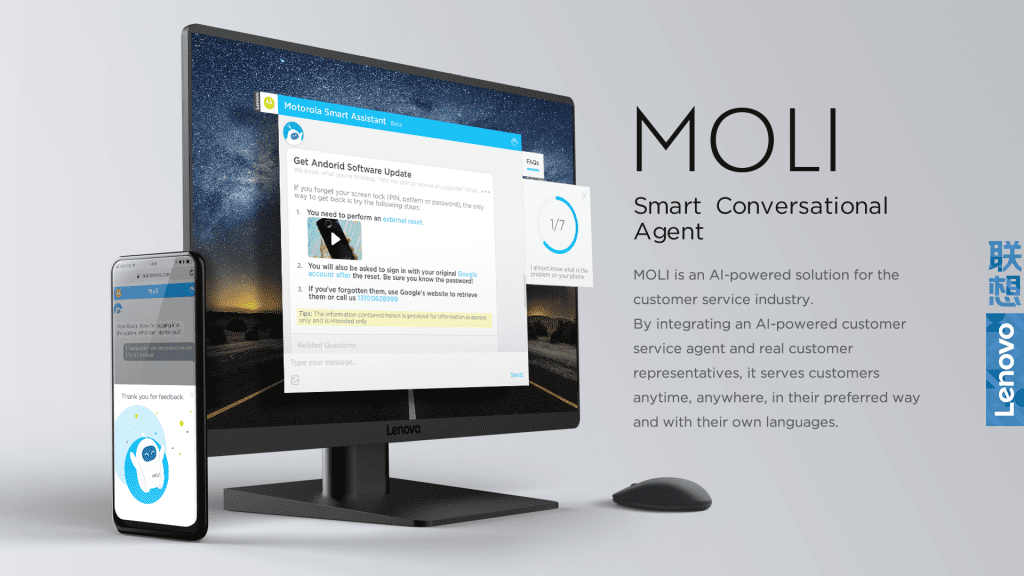 Automatic forecasting of service parts demand. This is a smart service supply chain platform that we developed to guide the procurement of service parts and distribution of inventory, and to dynamically optimize cost and efficiency of enterprises. Compared with humans, the system is 7 percent more accurate in forecasting service parts demand. It has already achieved cost savings in Lenovo's service supply chain and increased customer satisfaction.

How will the AI lab drive the implementation of Lenovo's Intelligent Transformation strategy in the AI field? What does it bring to China and the world's AI market?
Intelligent transformation is essential for a technology company in the current global trend of rapid development. We are consolidating technology development and have built a Lenovo Brain to empower the company's development strategy. The AI lab's mission is to infuse intelligence across Lenovo's businesses and drive its intelligent transformation. I believe that Lenovo will finally achieve true intelligent transformation centering around Smart IOT, Smart Infrastructure, and Smart Verticals. The AI lab can play a central role in it.
Did you ever want to quit? What makes you stick with it?
No, I never thought about quitting. I do enjoy scientific research and development very much. It is intriguing. In fact, being scientist is a vocation to me. The mindset to embrace failures and challenges and to be persistent in our research and development is essential to be a qualified scientist.
What do you think is the best part of being a woman in the tech industry?
It is true that men outnumber women in science and technology, in particular in AI. But it does not bother me. It is true I am one of the few women in the field of AI. But it does not make me feel so different. I have been always been confident in my professional ability in my area. My professionalism and confidence have won me a lot of recognition and respect in Germany, and also in the international scientific community.
How can AI help society be more inclusive of gender and as a whole?
On the one hand, data size and its quality and diversity will constantly improve. This enables AI algorithms and technologies to be more inclusive. On the other hand, AI has helped the development of social diversity and inclusiveness in applications. It allows machines to talk, so that deaf people can "hear" and understand, and mute people can "talk" and communicate through the AI voice system. Although you cannot travel around the world freely, AI technology helps you experience the world with virtual reality technologies. AI is the combination of human and machine. It possesses some human abilities and can even enhance and extend human perception and cognition abilities.
Why do you think it's important for women to be engineers or enter STEM fields? What advice would you give to a woman considering a career in the tech industry?
As scientists, we have to work tirelessly in the field of science. Because science—especially scientific areas like AI — is developing and growing very fast. Sometimes, in particular, in some special phases of our life, career development of women is more challenging than it is for men. However, self-discipline and self-improvement are what I want to share with every woman in the field of science.
People's growth is a complex process. I like a saying from the Book of Changes (by Laozi): A noble person is constantly striving for self-improvement. No matter male or female, people should cultivate themselves. In the face of social pressure, we, as women, can pay more attention to ourselves, take good care of ourselves, and listen to our own voices. We are stronger than we think. We can achieve more successes and enjoy more happiness.