May 17th, 2022 – Today, to mark International Day Against Homophobia, Transphobia, and Biphobia (IDAHOBIT), Lenovo has signed the Declaration of Amsterdam, confirming its commitment to fostering an inclusive workplace for its LGBTIQ+ employees.
Developed by Workplace Pride in 2011, the Declaration of Amsterdam was created to make meaningful progress for LGBTIQ+ people worldwide and eliminate the discrimination, harassment, and discomfort these employees may face in the workplace. In addition to Lenovo, organizations that have previously signed the declaration include Accenture, IBM, Cisco, Deloitte, and Microsoft, amongst others.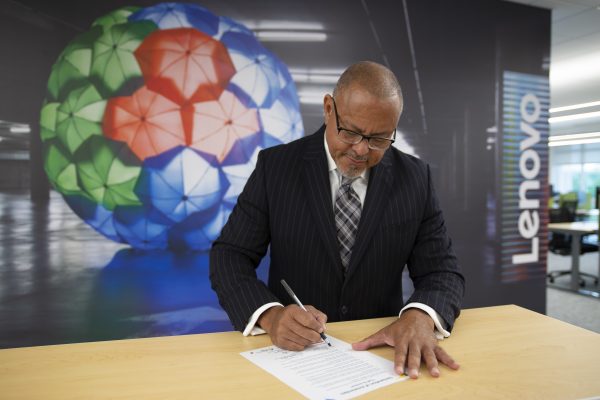 "We applaud Lenovo for this step as they now join other leading organizations who make LGBTIQ+ workplace inclusion a priority. Such a commitment is inspirational for all employees and a transformative step in the right direction" said David Pollard, Executive Director, Workplace Pride.
Organizations signing the Declaration of Amsterdam commit to 10 core principles, including creating safe and inclusive workplaces, committing to ongoing measurement to identify the level of progress of LGBTIQ+ inclusiveness, and funding LGBTIQ+ programs and Employee Resource Groups. The Declaration also includes evaluation and opportunities for organizations to identify areas for improvement.
"Signing the Declaration of Amsterdam on IDAHOBIT demonstrates Lenovo's continuing commitment to building an equitable and inclusive workforce," said Calvin Crosslin, Chief Diversity Officer, Lenovo. "Partnering with Workplace Pride will help ensure we're continuing to transform our organization and continually measuring our performance and progress."
Lenovo's LGBTQ+ Employee Resource Group, Lenovo PRIDE, is active across multiple regions with chapters across many countries across North and South America and Europe that aim to help members grow professionally through networking, and mentorship.
Signing the declaration demonstrates Lenovo's commitment to excellence in corporate citizenship, including diversity, equity, and inclusion, which has been recognized externally by several accolades bestowed on Lenovo by the Financial Times, the Bloomberg Gender Equality Index, and the Human Rights Foundation.