February 28, 2022 – Today Lenovo™ is thrilled to announce an all-new ThinkPad™ X13s developed in collaboration with Qualcomm Technologies, Inc., and Microsoft, as the world's first laptop powered by the premium Snapdragon® 8cx Gen 3 compute platform1, running up to Windows 11 Pro. The ultra-slim, ultra-light fan-less design delivers the next level of silent always-on, always-connected PC experiences in addition to incredible multi-day battery life rated up to 28 hours2, AI accelerated experiences, enhanced 5G connectivity options including mmWave3, and application support through the Microsoft App Assure program for seamless productivity, security, and collaboration.
Built with 90% certified recycled magnesium in the top and bottom covers, 97% PCC plastic in the battery Printed Circuit Board (PCB) cover and battery frame, and with recyclable carton and bumpers in the packaging4, ThinkPad X13s is designed to consume less energy. ThinkPad X13s includes low power 13.3-inch 16:10 display configurations, with touch or Eyesafe® low blue light options. The reduced need for AC power can help reduce energy consumption.
Delight Users
Hybrid workers, global travelers, field technicians, and front-line workers will relish the light 1.06kg (2.35 pounds) laptop, and the virtual elimination of daily power anxiety and connectivity issues as they roam between work-from-anywhere locations. Wi-Fi 6E5 provides a more stable high-speed connection and when unavailable, or a public hotspot is not secure enough, the device can switch to 5G mmWave or sub6 Wireless WAN for lightning fast, highly secure, on-the-go connectivity.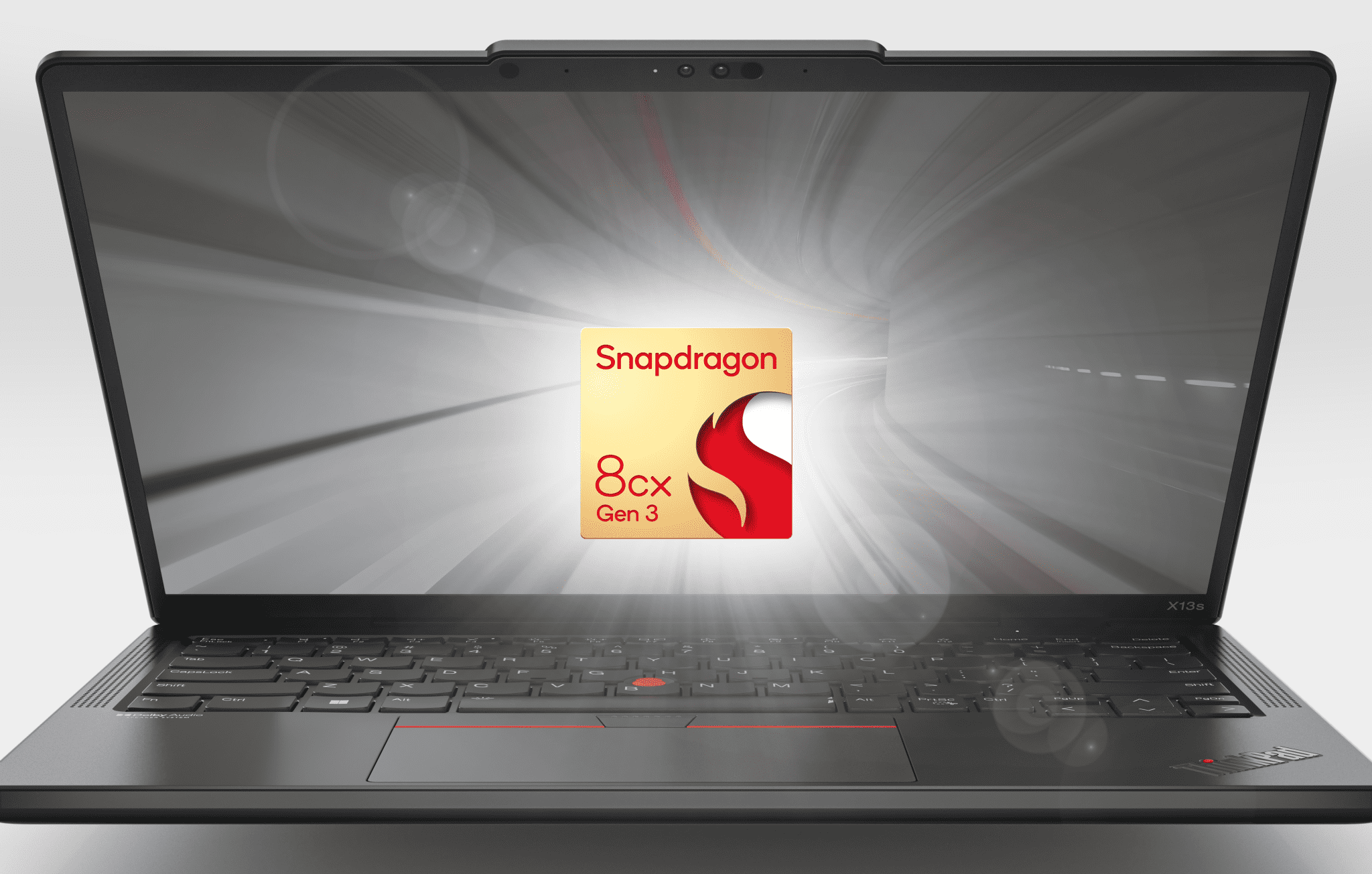 Technology innovation should be seamless and addressing customer insights for a smarter and more productive collaboration experience is paramount. ThinkPad X13s integrates a communications bar with a 5-megapixel camera with AI-based auto framing plus Infrared (IR) camera option and standard triple-array microphones providing intelligent noise suppression during conference calls. Snapdragon 8cx Gen 3 introduces a Computer Vision processor featuring major user experience improvements, from smarter human presence detection for a more convenient user authentication experience to added security, privacy, and power saving by automatically turning off or dimming the display when the user looks away.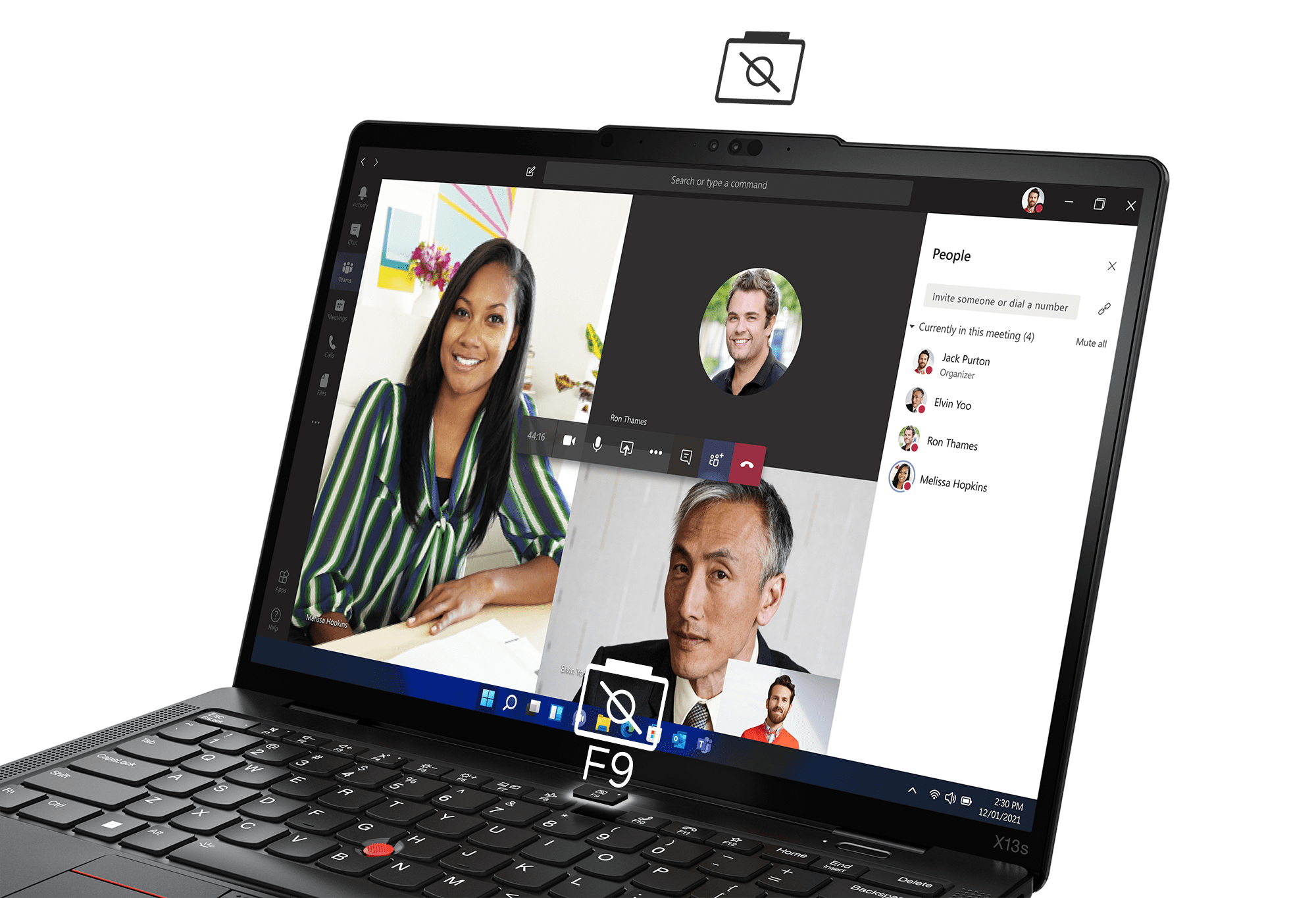 The Snapdragon 8cx Gen 3 compute platform delivers exceptional battery efficiency with the performance expected for a premium business laptop. The world's first 5nm platform for Windows PCs, Snapdragon 8cx Gen 3's superior architecture makes it Qualcomm Technologies' most powerful and efficient connected platform. Designed for use in premium, truly mobile PCs, it delivers processing speeds with system-level performance boosts of up to 57% and handles multi-tasking up to 85% faster for incredibly smooth, responsive performance6. Staying always on and always connected is possible with seamless switching between Wi-Fi and ultra-fast 5G mmWave or 5G sub6, or 4G LTE networks. AI accelerated audio and camera capabilities create immersive video conferencing experiences that help users stay productive and engaged.
Delight IT Staff
Hybrid workstyles are here to stay. ThinkPad X13s has the tools to delight end-users, however IT departments need to ensure their endpoint devices meet the strict needs of a diversified business environment. Lenovo Services7 can assist in end-to-end lifecycle needs of the transformation to optimized Modern IT through planning, configuration, deployment, management, support and disposal of assets.
Lenovo, Qualcomm Technologies, and Microsoft continuously collaborate with top tier ISVs (Independent Software Vendors) through the Microsoft App Assure program for Windows on Arm to support native compatibility and enhanced experiences of business-critical applications such as Microsoft 365, Zoom™, Sophos™ and many more, critical to the productivity and collaboration, device and data security, zero trust network access, and virtualization needs of many enterprise customers. Improved x64 emulation in Windows 11 offers a better experience for legacy applications, allowing software developers to incrementally transition apps to run natively using ARM64EC application binary interface (ABI).
Furthermore, the ThinkPad X13s is equipped with advanced hardware and software threat protection through ThinkShield8 end-to-end security platform, and Snapdragon 8cx Gen 3 integrates layered secure boot and Microsoft Pluton architecture implemented on the Qualcomm® Secure Processing Unit  for chip-to-cloud protection of user identity, data and applications on Windows 11 PCs that meet the Secured-core PC standard.
Forging Ahead to a Brighter, more Sustainable Future
In addition to recycled materials and efficient manufacturing processes, Lenovo also offers bulk packaging which can reduce packaging waste. And by enabling businesses to contribute to specific ecological projects through Lenovo's CO2 Offset Service9, customers have offset more than 500,000 metric tons of carbon dioxide across their purchases of Think PCs (desktops, workstations, laptops). That's the equivalent of the amount of greenhouse gases emitted from more than 100,000 passenger vehicles driven over the course of one year10.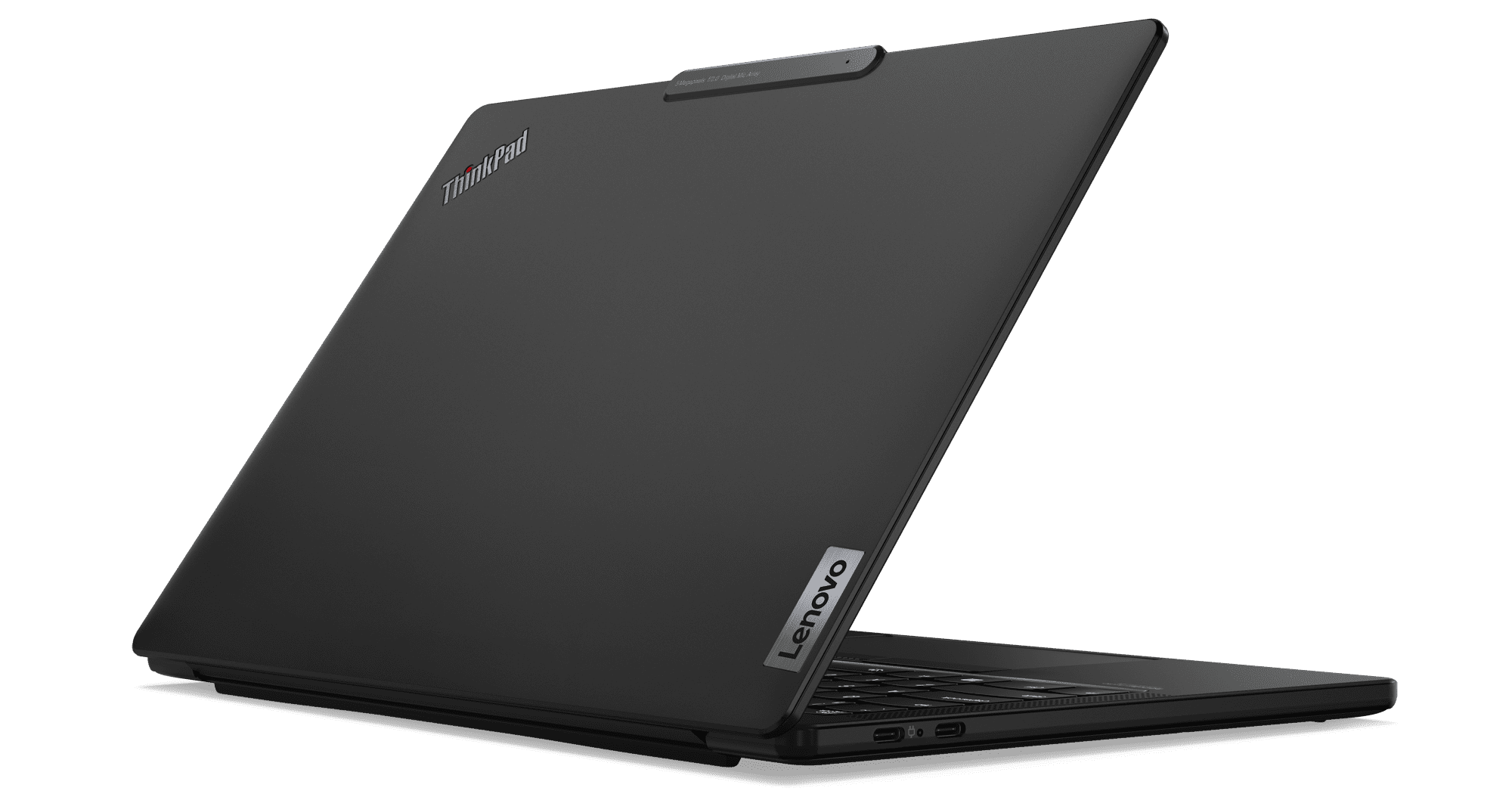 Quotes
"Thanks to our collaboration with Qualcomm Technologies and Microsoft, we are excited to bring a new generation of work-from-anywhere device with the flexibility, mobility and security that enterprise customers need," said Jerry Paradise, vice president, Global Commercial Product Portfolio, Lenovo PC and Smart Devices. "ThinkPad X13s promises to end power anxiety and delight users with AI accelerated collaboration experiences and hyper-speed connectivity wherever they happen to be."
"ThinkPad X13s will revolutionize enterprise PCs, built to deliver out of the box security, lightning-fast connectivity, and immersive videoconferencing and collaboration experiences powered by AI technology," said Miguel Nunes, vice president, product management, Qualcomm Technologies, Inc. "We are proud to work with Lenovo and Microsoft to drive the next generation of enterprise-grade PCs for hybrid work, advancing enterprise experiences that will increase productivity while helping protect and manage their corporate fleet of devices from virtually anywhere."
"Protection from advanced attacks is a top business priority for today's hybrid workforce. No matter where work takes place, Windows is designed to offer protection from the chip to the cloud. We are proud to have integrated the Microsoft Pluton security architecture with Snapdragon 8cx Gen 3 compute platform on ThinkPad X13s. This integration will add even more security for identities, data and applications on Windows 11 PCs." – David Weston, Director of Enterprise and IS Security, Microsoft.
Visit the Lenovo StoryHub newsroom for images, full specs and the following sites for more information: Lenovo ThinkPad, Lenovo's MWC Event Page, and Lenovo's MWC Virtual Showcase.
Pricing and Availability11:
ThinkPad X13s will be available starting May 2022, starting from €1399.
In the U.S., the ThinkPad X13s will be available on AT&T, and on Verizon later in 2022. More specific availability and pricing will be shared later.
Product Specifications
ThinkPad X13s
Processor
Snapdragon® 8cx Gen 3 compute platform
Operating System
Up to Windows 11 Pro
Memory
Up to 32GB LPDDR4x
Storage
Up to 1TB PCIe SSD
Graphics
Snapdragon® 8cx Gen 3 compute platform with Qualcomm® Adreno™ GPU
Display
13.3-inch 16:10
-WUXGA IPS 300nit
-WUXGA IPS 300nit on-cell touch
-WUXGA IPS 400nit, Low Power, Low Blue Light
Audio
User-facing Dolby® Audio speaker system
Qualcomm® Voice and Audio Communications Suite
Camera
-5.0MP camera, optional IR sensor, optional Computer Vision
-5.0MP RGB camera
Battery
49.5Whr, (video playback up to 28 hours)
Security
Qualcomm® Secure Processing Unit with Microsoft Pluton, dTPM, Fingerprint Reader, Windows Hello (IR camera), Camera shutter, Kensington Lock
Ports
2 x USB-C 3.2 Gen 2, Audio, SIM
Keyboard
ThinkPad TrackPoint keyboard, backlit
Glass-like 3-button TrackPad
Wireless LAN
Qualcomm® FastConnect™ 6900 Subsystem
Wi-Fi 6 or Wi-Fi 6E
Bluetooth® 5.2
Wireless WAN
Optional Snapdragon® X55 5G Modem-RF system
5G mmWave and sub-6 eSIM and Nano SIM
Colors/Materials
Thunder Black, Certified 90% recycled magnesium on A and C covers
Dimensions
298.7 x 206.4 x 13.4mm
11.76 x 8.13 x 0.53in
Weight
1.06kg – 2.35 lbs
About Lenovo
Lenovo (HKSE: 992) (ADR: LNVGY) is a US$60 billion revenue Fortune Global 500 company serving customers in 180 markets around the world. Focused on a bold vision to deliver smarter technology for all, we are developing world-changing technologies that power (through devices and infrastructure) and empower (through solutions, services and software) millions of customers every day and together create a more inclusive, trustworthy and sustainable digital society for everyone, everywhere. To find out more visit https://www.lenovo.com ,and read about the latest news via our StoryHub.
1 Based on internal research conducted as of February 2022 of all major laptop manufacturers shipping more than one million units worldwide annually
2 Up to 28 hours based on ongoing testing using local video playback conditions. Battery life will vary and depend on numerous factors including product configuration and usage, software, operating conditions, wireless functionality, power management settings, screen brightness and other factors. The maximum capacity of the battery will naturally decrease with time and usage
3 Requires 4G or 5G network service and separately purchased cellular data plan that may vary by location. Additional terms, conditions and/or charges apply. Connection speeds will vary due to location, environment, network conditions and other factors
4 Recycling capabilities may vary by user location
5 Requires separately purchased Wi-Fi router and plan that may vary by location. Additional terms, conditions and/or charges apply.  Connection speeds will vary due to location, environment, network conditions and other factors.
6 vs. Snapdragon 8cx Gen 2 as measured by PCMark 10 Applications. Performance testing based on Geekbench 5 multi-thread test comparing Qualcomm Technologies reference platforms and commercial competitive devices. Performance and power tests were conducted by Qualcomm Technologies on Qualcomm Technologies reference platforms and commercial competitive devices
7 Additional terms, conditions and/or charges may apply.
8 Additional terms, conditions and/or charges may apply.
9 Additional terms and conditions apply. Pricing is based on the CO2 emissions calculated per device across its average lifecycle and may vary in different countries based on the cost of carbon offsets. Availability dates may vary by geography and service may only be available in select markets.
10 According to the United States Environmental Protection Agency's Greenhouse Gas Equivalencies Calculator
11 Prices may not include tax, shipping or options and are subject to change without notice; additional terms and conditions apply. Reseller prices may vary. On-shelf dates may vary by geography and products may only be available in select markets. All offers subject to availability. Lenovo reserves the right to alter product offerings, features and specifications at any time without notice.
LENOVO, THINKPAD and THINKSHIELD are trademarks of Lenovo. Qualcomm, Snapdragon, FastConnect and Adreno are trademarks or registered trademarks of Qualcomm Incorporated. Snapdragon, Qualcomm Adreno, Qualcomm Voice and Audio Communications Suite, Qualcomm Secure Processing Unit, and Qualcomm FastConnect are products of Qualcomm Technologies, Inc and/or its subsidiaries. Wi-Fi is a trademark of Wi-Fi Alliance. Zoom is a trademark of Zoom Video Communications, Inc. Sophos is a registered trademark of Sophos Ltd. All other trademarks are the property of their respective owners. ©2022, Lenovo Group Limited.