Six Reasons Why the new Lenovo Chromebook Duet is a Perfect Union of Chromebook and Tablet.
The wait is over. The Lenovo Chromebook Duet, one of the thinnest, lightest and most hotly anticipated Chromebooks in the world, hits the North America market today.
Designed for mobile productivity, the 2-in-1 detachable Lenovo Chromebook Duet has a 10.1-inch screen and comes with an ultrathin, detachable laptop-grade keyboard to help you get work done from the kitchen, to the home office or couch. The Lenovo Chromebook Duet runs Chrome OS — the powerfully simple operating system that boots up fast, and stays secure with seamless automatic updates for up to eight years1.
Here are the top reasons why the Lenovo Chromebook Duet offers the best of tablet entertainment and Chromebook productivity in an ultra-mobile design: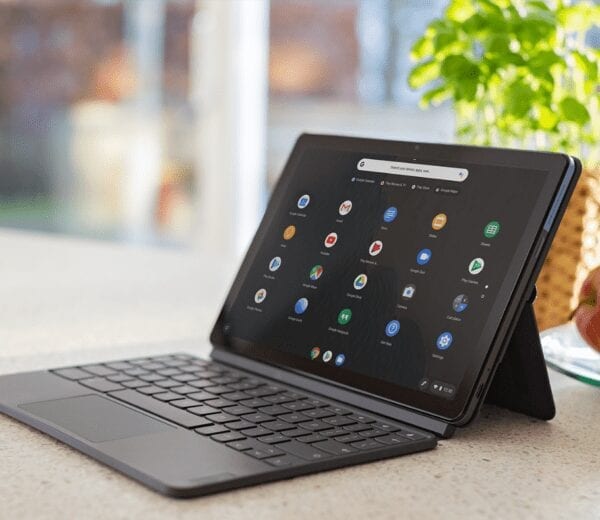 Three Intuitive Modes for Typing, Watching and Browsing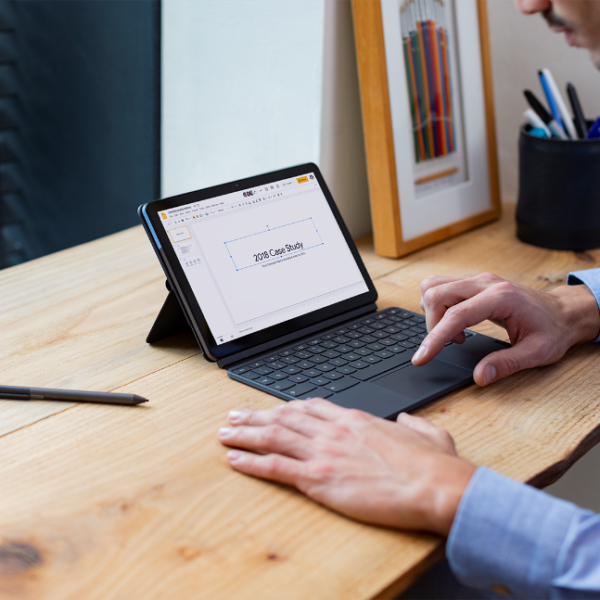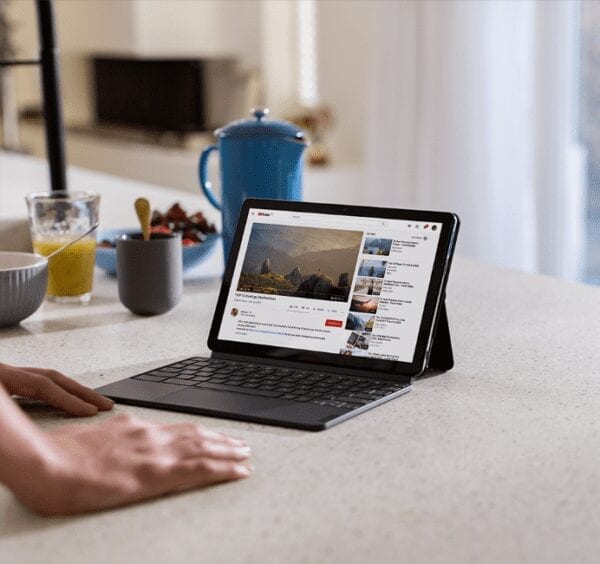 Made from aluminum alloy, the device sports an adjustable stand cover in a unique, ultra-mobile, contemporary design that incorporates a removable back cover of fabric featuring a hidden kickstand with a 135-degree free stop. Combined with a detachable keyboard, this smart configuration allows for three separate modes designed for typing (with the keyboard); watching (with the stand cover); or just browsing (holding in your hands like a tablet by detaching the keyboard).
More Seamless Switching from Laptop to Tablet Mode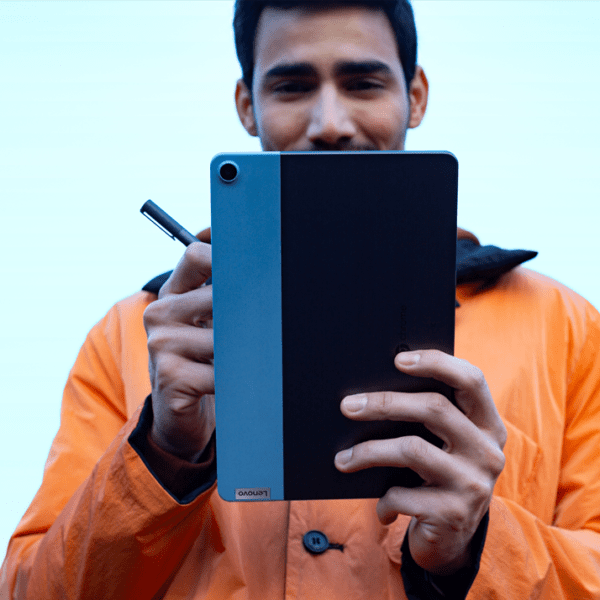 Switching from laptop mode to tablet mode on the Lenovo Chromebook Duet is as simple as detaching the keyboard. And with the latest Chrome OS update, the Lenovo Chromebook Duet is even easier to navigate with touch, while further improving on its multitasking functionality. Updates such as the new "tab strip" on Google Chrome will be coming to the Lenovo Chromebook Duet first — and with good reason. The Lenovo Chromebook Duet is also compatible with USI Stylus pens for when you want to take notes or sketch. With these tablet mode improvements, Lenovo and Google have moved one step closer towards harmonizing everything that makes Chromebooks and tablets great — and all at an affordable price.
Detachable, Ergonomic Keyboard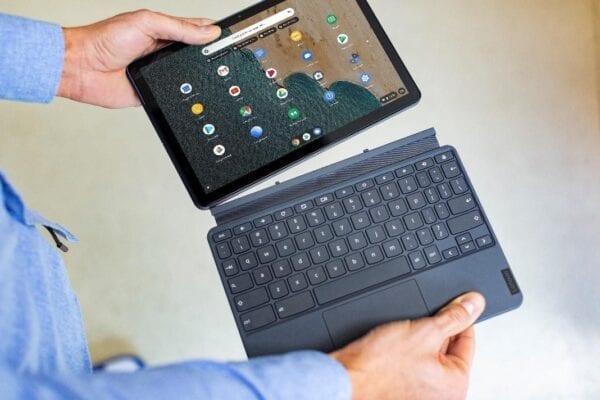 But it's the ergonomic detachable keyboard and trackpad that makes the Lenovo Chromebook Duet what it is: A great productivity device that lets you switch from getting entertained to getting stuff done in a matter of seconds. And it's easy to type on as well. The tactile and responsive keys feature an ample 1.3 mm of key travel, along with one of the longest pitches (18mm) on a 10-in device keyboard, so you won't feel cramped as you type. The one-piece trackpad is also a nice size at 87mm x 49mm.
Experience Touch-first Entertainment across a Universe of Android Apps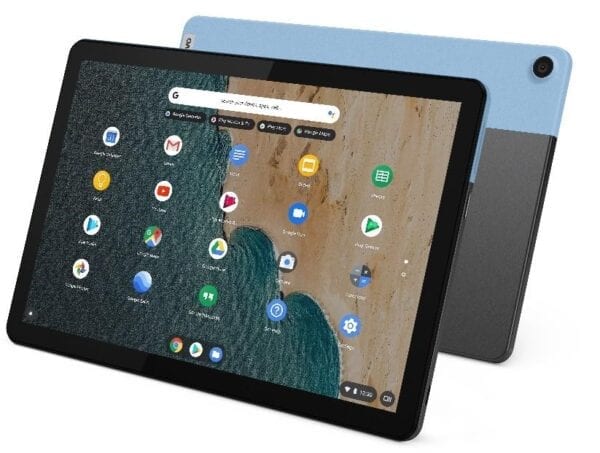 Taking away the keyboard and activating tablet mode makes the Lenovo Chromebook Duet a touch-first device with its 10.1-inch high-density, high-definition display and four-sided narrow bezels. Meanwhile, the 1920×1200 IPS all-screen FHD display with 400 nits, dual speakers and dual mics make watching shows, browsing and gaming a much more engaging experience. What makes the Lenovo Chromebook Duet compelling is the universe of Android apps and games you can access via the Google Play Store.
Effortlessly Lightweight and Portable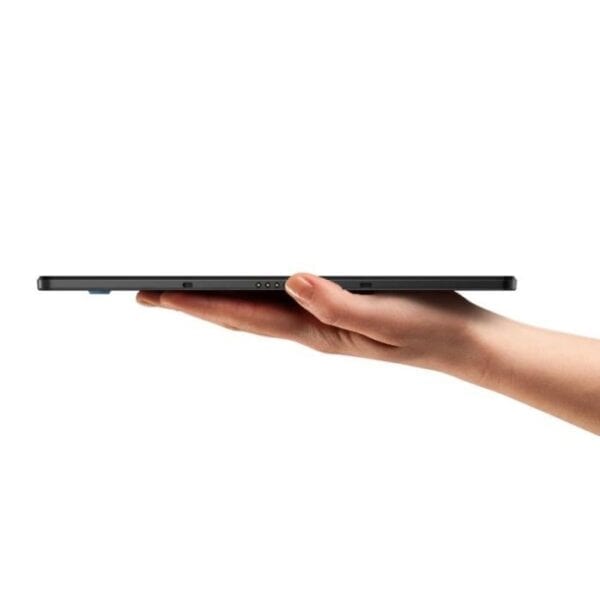 This is a Chromebook that'll fit into your handbag. The Lenovo Chromebook Duet takes Chromebook portability and battery life to a whole new level. Weighing in at less than a pound and 0.29 inches thick, this device is lighter and thinner than many tablets, while staying effortless to hold and carry around. And with up to 10 hours of battery life2, you can take it nearly anywhere without low power anxiety.
Smarter Traits for Seamless Productivity and Entertainment
The Lenovo Chromebook Duet also comes with a number of smarter attributes, such as Instant Tethering to your phone and offline access to productivity applications. And the newest Chrome OS update extends the "picture-in-picture" feature to all Google Play Store apps. That means you can minimize any video app (or other app) such as YouTube™ and Prime Video™, and work on something else while continuing to watch the minimized video. And everything just keeps getting better – you'll receive automatic Chrome OS updates up to eight years1.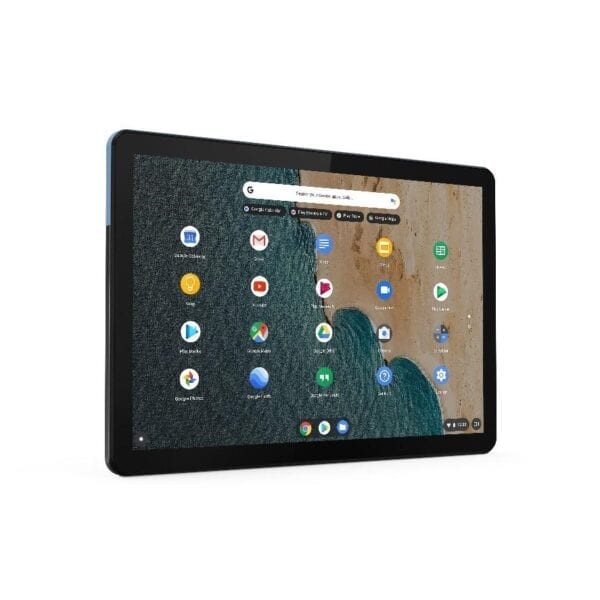 The Lenovo Chromebook Duet is available now starting at $279.993 on www.lenovo.com, Best Buy and soon at Walmart.3
1Updates end June 2028 in accordance with Chrome OS AUE policy.
2 Battery life claims are approximate and based on internal testing with Power Load Test (PLT). Actual battery life will vary and depends on numerous factors including product configuration and usage, software, operating conditions, wireless functionality, power management settings, screen brightness and other factors. The maximum capacity of the battery will naturally decrease with time and usage.
3 Prices do not include tax and do not include shipping or options and are subject to change without notice; additional terms and conditions apply. Reseller prices may vary. All offers subject to availability. Lenovo reserves the right to alter product offerings, features and specifications at any time without notice.
LENOVO is a trademark of Lenovo. ANDROID, CHROME OS, CHROMEBOOK, GOOGLE, GOOGLE PLAY and YOUTUBE are trademarks of Google LLC. PRIME VIDEO is a trademark of Amazon Technologies, Inc. All other trademarks are the property of their respective owners. ©2020, Lenovo Group Limited.