Stuttgart, Germany, July 11, 2023 – Lenovo and Darmstadt University of Technology today unveilled the next expansion stage of the Lichtenberg II supercomputer. Equipped with the latest technology, it represents a milestone in the development of sustainable high-performance computing and, supported by Lenovo solutions, sets new standards in energy efficiency and performance. Lichtenberg II is also part of the Network for National High Performance Computing (NHR) and supports the nationwide provision of computing power for science in a sustainable and resource-efficient way.
"We are proud that Darmstadt University of Technology has selected Lenovo together with pro-com DATENSYSTEM GmbH to build the expansion stage 2 of Lichtenberg II to further advance cutting-edge research in Germany," said Andreas Thomasch, Director HPC & AI DACH, France, UKI. "Our shared commitment to sustainable and efficient high-performance computing solutions demonstrates that we can support innovation and scientific discovery while reducing our impact on the environment. Lichtenberg II, Expansion Stage 2, is an impressive example of how our technology is helping to successfully meet tomorrow's challenges."
Pioneer in technology and sustainability
Lichtenberg II, Expansion Stage 2, is one of the world's first HPC clusters with 4th generation Intel Xeon Scalable processors (Sapphire Rapids) and Intel Xeon Max Series (Sapphire Rapids HBM). Equipped with 576 Lenovo ThinkSystem SD650 V3 HPC nodes, nearly 60,000 CPU cores, and 297.98 TB of RAM, the new expansion stage of Lichtenberg II offers tremendous computing power to support researchers in a wide range of scientific disciplines.
The Lichtenberg II, Expansion Stage 2, utilizes Lenovo's highly efficient Neptune™ warm water cooling system, which enables processors such as the Intel Xeon 8470Q to run even more efficiently through higher water temperatures to further increase performance. In doing so, special heat exchangers and CDUs (Coolant Distribution Units) enable high return temperatures of over 45 degrees Celsius to enable useful energy reuse. In addition, water-cooled rear doors are installed to prevent heat from entering the data center. This results in a significantly improved energy balance and underscores the commitment to sustainability.
The future viability of the system is also ensured by a development rack for upcoming CPU and GPU systems, allowing TU Darmstadt to continuously expand its research infrastructure. TU Darmstadt also plans to further expand energy-efficient use, e.g. by using the Energy Aware Runtime to further increase the sustainability and efficiency of software. Users can thus choose whether calculations should be executed as quickly as possible or as energy-efficiently as possible. In addition, an extension with Intel Data Center GPU Max (Ponte Vecchio) is already planned.

Versatile usage scenarios for cutting-edge research
The Lichtenberg II supercomputer already supports a wide range of research areas and will contribute even more to accelerating scientific discoveries in the future.
"With the new high-performance computer Lichtenberg II, TU Darmstadt has another building block to create excellent conditions for research that seeks answers to socially relevant questions of the future, e.g. on climate change, energy transition or resource use, with the help of computationally intensive methods," says Professor Dr. Tanja Brühl, President of Technische Universität Darmstadt. "I am pleased that we can provide scientists at the TU Darmstadt and other research institutions in Hesse and throughout Germany with such a forward-looking computer system, which meets the most modern demands for efficiency and sustainability, in an energy-optimized building."
In battery research, for example, the use of Lichtenberg II has helped to gain deeper insights into the complex processes in lithium-ion batteries: During charging, lithium is extracted from the cathode materials, which undergo several phase transitions during the process. The study of such processes is crucial to better understand the chemo-mechanical degradation of battery materials and to develop more resistant and powerful batteries in the future.
In metals research, Lichtenberg II can also make an important contribution to addressing humanity's biggest problems, because metals, as chemical stores for renewable energy, have the potential to reduce global CO2 emissions by more than 30%. The Clean Circles project is investigating iron as an energy carrier. CO2-free combustion of iron powder releases the previously stored renewable energy and uses it to generate heat and electricity. The resulting low energy density iron oxides are reduced back to iron with renewable energy, thus closing the cycle.
Lichtenberg II enables high-resolution simulations of complex iron dust combustion. As with a microscope, scientists gain insight into the multiphase processes – from micrometer-sized individual particles to meter-sized flames in combustion chambers – and can analyze the interaction of fluid mechanics, heat transport and particle combustion. With this knowledge, the next generation of highly efficient and clean combustors for iron can be developed.
Lichtenberg II has also been able to make important contributions to the study of viruses such as SARS-COV-2. For example, new simulations have confirmed that the coronavirus spike protein is susceptible to electric fields, regardless of the virus variant. Interestingly, it also shows that the structure that the spike protein adopts after the virus has joined the cell, known as viral fusion, remains very stable despite electric fields. This increased understanding of the virus, particularly its susceptibility to electric fields prior to viral fusion, could potentially aid in the development of new therapeutic approaches in the future.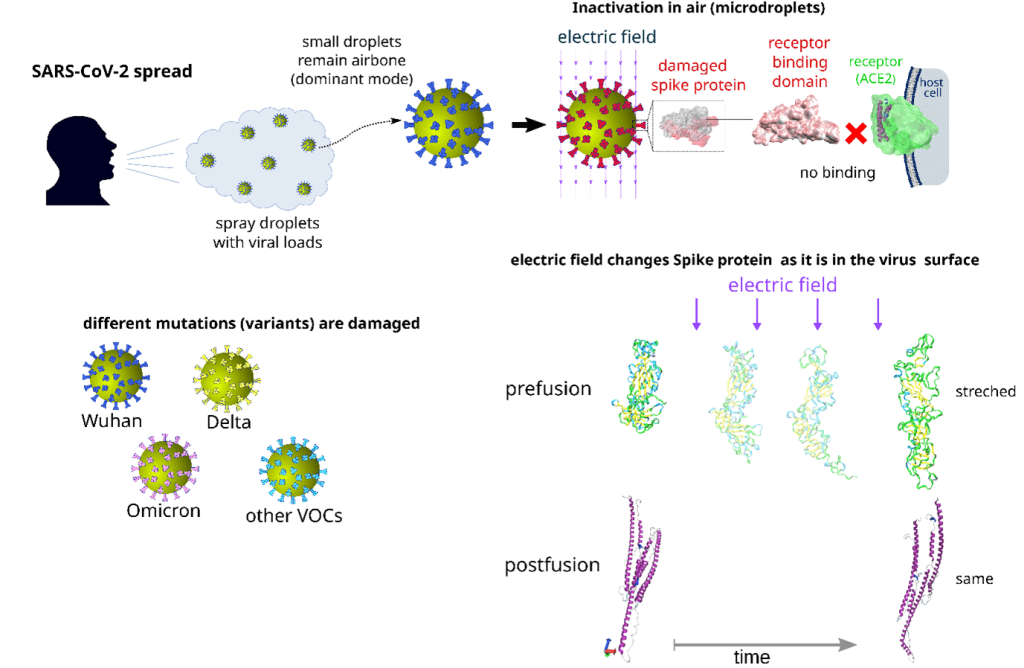 Funding and network: a milestone for national high-performance computing
The financing of the investment costs for the Lichtenberg II supercomputer is provided in equal parts by the Federal Government and the State of Hesse within the framework of the Federal-Länder research funding. This joint investment underscores the importance of high-performance computing infrastructure for the scientific community and promotes cutting-edge research in Germany. In total, the entire Lichtenberg II system was funded by the federal government and the state of Hesse to the tune of around 15 million euros.
Lichtenberg II will be incorporated into the National High Performance Computing Alliance (NHR Alliance), which aims to further expand high-performance computing capacities for research and development in Germany. The collaboration and networking of high-performance computing centers in the NHR-Verbund will increase efficiency and access to high-performance computing infrastructure for scientists and researchers throughout Germany. Lichtenberg II will play a significant role in this network and help establish Germany as an international innovation leader in high-performance computing. Under this program, Lichtenberg II will continue and the Lichtenberg System will be further expanded.
"TU Darmstadt is one of nine centers of the National High Performance Computing (NHR)," explains Professor Christian Bischof from the Department of Scientific Computing. "The NHR4CES (NHR for Computational Engineering Sciences) center, which TU Darmstadt is driving together with the RWTH Aachen NHR Center, supports the simulation of technical products that are of central importance for developments in industry and society." The focus of NHR4CES at TU Darmstadt is on engineering and materials sciences as well as engineering-oriented physics and chemistry, he said. Methodological approaches such as numerical simulation or artificial intelligence would be dovetailed with integrated solutions for high-performance computing and research data management.
Opening Ceremony
The expansion stage of the Lichtenberg II supercomputer at TU Darmstadt was inaugurated in a ceremonial act on July 11, 2023. Guests included State Secretary Ayse Asar, Hessian Ministry of Science and the Arts (HMWK); Professor Dr. Tanja Brühl, President of TU Darmstadt; Prof. Dr.-Ing. Peter Pelz, Vice President for Digitization, Sustainability and Infrastructure, TU Darmstadt.