For years, Motorola has been at the forefront of innovation, and our commitment to bringing meaningful and thoughtful experiences to our consumers remains unwavering. We've embedded AI features in many areas of our devices, like camera, battery, display and device performance. But the modern smartphone experience is going through a transformative shift, with AI at the center, serving as both a personal assistant and a tool to enhance everyday tasks, improve performance, and create more meaningful experiences for our users.
That's why, this year at Lenovo Tech World '23, Motorola is taking its AI endeavors to another level and showcasing innovations that redefine the possibilities of flexible hardware and also introduced exciting new AI features. These features range from generative theming to a sophisticated personal assistant.
Unveiling an adaptive display concept that molds to our consumer needs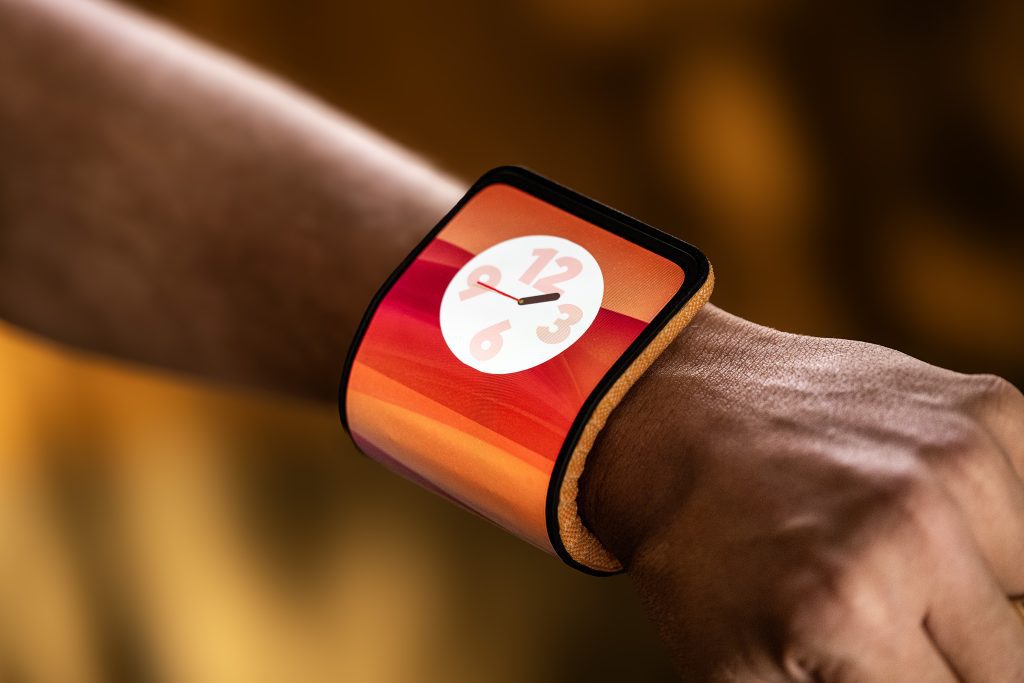 Motorola continues to push boundaries and invest in flexible display technology and devices. This new conceptual device uses a FHD+ pOLED display that can be bent and shaped into different forms depending on users' needs. This adaptive display concept further builds upon the display and mechanical innovations from our foldable and rollable devices in both the smartphone and PC categories.
The adaptive display concept can be adjusted from a standard Android phone experience in a flat position to being wrapped for a wrist-worn experience or positioned in several stand modes. When laid flat, the 6.9″ display runs a full Android experience, just like any smartphone. In the upright position, the device can be adjusted into a self standing position, running a more compact form of full Android on a 4.6″ display. Users can also wrap the device around their wrist for a similar experience to the external display on motorola razr+ to stay connected while on the go.
Introducing a new set of Motorola AI concepts
Motorola understands the importance of personalization for consumers. That's why we're committed to exploring how AI can enhance device customization to provide users with a truly one-of-kind experience. Motorola has developed a generative AI model that runs locally on the device to allow users to extend their personal style to their phone. With this concept, users can upload or capture a picture of their outfit to produce multiple unique AI-generated images that reflect their style. These images can then be used as a custom wallpaper on their device.
MotoAI
Lenovo is developing a personal assistant for both PCs and smartphones. This AI model never stops learning. It has a foundational model uniquely personalized to the user while still protecting their privacy. It also has a knowledge base that adapts to patterns and usage with natural voice or text interaction capabilities.
The MotoAI concept is an innovative approach to the latest trend in AI with large language models (LLMs). Users can engage with their personal MotoAI assistant to answer questions, draft messages, schedule tasks, and so much more. While most LLMs run cloud-based operations, MotoAI can process data and run tasks locally on-device. which offers users enhanced data privacy. MotoAI also features an on-device knowledge base where the user's patterns and preferences inform their experience, making it more dynamic, personal, and helpful over time.
2.0 Mobile Doc Scan
Recognizing the growing demand for real-time document scanning on the go, Motorola has introduced an AI concept model that enhances the Doc Scanner capability currently integrated in Motorola camera systems. This innovation aims to improve final image quality by minimizing wrinkles and shadows to ensure documents or images appear as crisp and clear as possible.
AI Text Summarization
Motorola is dedicated to helping users boost productivity through various applications and solutions. Our AI Text Summarization, takes longform chats, emails, or reports, and distills them down to key messages for quick comprehension.
Privacy Content Obfuscation
In an era of social sharing, safeguarding user data remains paramount. Motorola's Privacy Content Obfuscation concept leverages AI to seamlessly protect user information and privacy by intelligently identifying and blurring areas containing profile pictures and names in social posts.
Looking into the future
In a bold step toward the future, Motorola has unveiled four AI concepts that promise to redefine consumers' daily experiences. From generative AI wallpapers that breathe life into your device's screen, to advanced AI privacy features like blurring out sensitive information, and even the magic touch of transforming crinkled receipts into pristine documents, it's clear convenience is at the forefront of innovation. Moreover, with the ability to effortlessly summarize notes, emails, and chats, Motorola continues to forge ahead in its mission to deliver innovative, on-the-go solutions that enhance mobility, pocketability, and overall ease for consumers. The future has never looked brighter.
MOTOROLA, the Stylized M Logo, MOTO and the MOTO family of marks are trademarks of Motorola Trademark Holdings, LLC. LENOVO is a trademark of Lenovo. Android is a trademark of Google, LLC. All other trademarks are the property of their respective owners. ©2023 Motorola Mobility LLC.