June 23, 2021 – Today Lenovo is expanding the portfolio of Lenovo Go accessories from the new sub-brand announced last month. The broad portfolio of purpose-built PC accessories is conceived to address common productivity pain-points such as multitasking on several devices, low battery anxiety when on the move or frustrating audio quality on conference calls.  Designed to inspire and empower users in a new hybrid working world, Lenovo Go accessories offer a one-stop-shop for input, power and audio functionality that help improve efficiency and overall workspace experience.
For example, the Lenovo Go Wireless Multi-Device Mouse, announced last month, is the perfect companion for the multitasking user who frequently switches between devices. Bluetooth 5.0 supports easy connection with Microsoft Swift Pair in Windows 10. Link up to three devices and effortlessly cycle between them with a push of a button. Remote professionals who constantly move between workspaces at home or the office will relish the Lenovo Go USB-C® Wireless Charging Kit. Operating on a unique Power-by-Contact (PbC) technology, it can wirelessly charge typical 13" and 14" laptops. Simply plug the mat into a 45 to 65-Watt charger and connect the receiver base to a USB Type-C on the laptop. With a wider adoption of collaboration software solutions, many more hours are spent wearing headsets, often not optimized to today's unified communications platforms. Lenovo Go Wired Speakerphone liberates ears from headset pressure and offers flexibility and excellent sound quality. Perfect for a home office or huddle room, the speakerphone works with Microsoft Teams, includes two omni-directional microphones for beamforming and far-field pickup to improve voice clarity.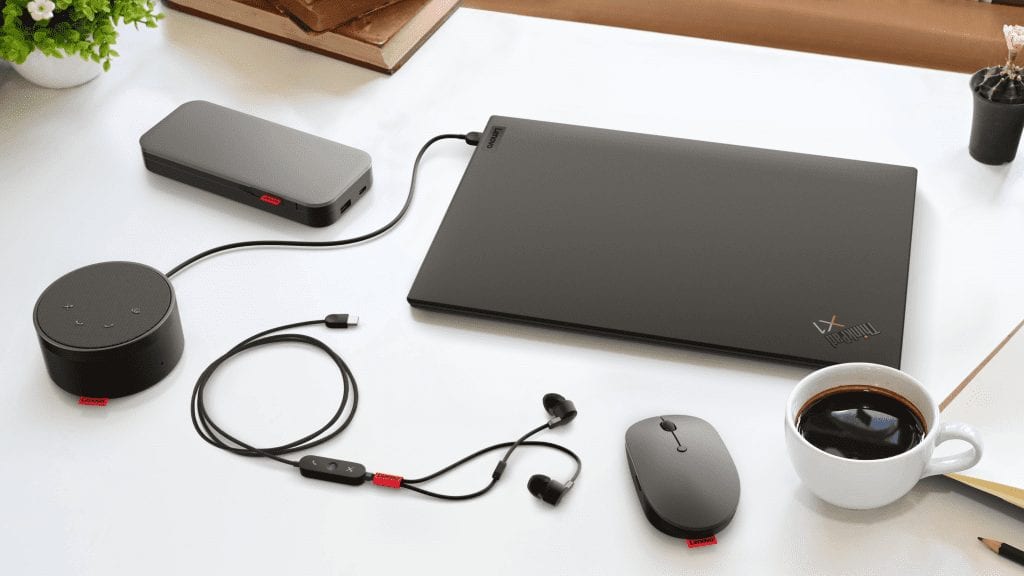 Offering a portfolio of remote-first products designed from customer insights, Lenovo Go accessories help users achieve their potential by reducing technology barriers to productivity. The sub-brand will offer a suite of accessories to confront the most common challenges of flexible working:
Power: Low battery anxiety is a widespread challenge highly mobile workers face every day. Lenovo Go's power solutions tackles the concerns with a range of wired and wireless charging solutions. Adding to the Lenovo Go USB-C Laptop Power Bank announced last month is the Lenovo Go USB-C Wireless Charging Kit. Providing freedom of frequent movement between workspace and other locations, the wireless charging kit eliminates the need to disconnect and reconnect a power cord. Capable of charging 13" or 14" notebooks up to 65W, the kit operates through Power by Contact patented technology from Energysquare. Completing the power line-up is the Lenovo Go Wireless Mobile Power Bank. With 10,000 mAh capacity users can simultaneously charge up to 30W of devices, one via wireless Qi and two via USB-C. By eliminating the need for multiple cables and offering power passthrough, the power bank minimizes battery life concerns of highly mobile workers.
Input: Enabling dynamic work environments and offering ergonomic designs for maximum productivity, Lenovo Go family is introducing new input devices essential for a variety of workspaces. The Lenovo Go Wireless Multi-Device Mouse announced last month is joined by four additional input devices. Lenovo Go USB-C Wireless Mouse provides vital point and click functionality in a lightweight, travel-friendly solution. The rechargeable battery offers up to three months1 of use with the precision blue optical sensor able to work on almost any surface. A programmable utility button and adjustable DPI sensitivity gives users better control. With many remote workers engaged with their PCs for longer hours, extended use can literally be a major pain-point. The Lenovo Go Wireless Vertical Mouse offers an optimized angle and curvature, with a natural "handshake" position that reduces wrist pressure and forearm strain. Designed in a comfortable UV-coated cork material, it is also easy to wipe and clean. The optical mouse can be wirelessly connected and delivers precise pointing accuracy with up to 2400 dots per inch (DPI) and six programmable buttons for personal configuration. Designed with similar human-inspired forms, the Lenovo Go Wireless Split Keyboard brings ultra-responsive tactile key feeling with vertical tenting for more natural typing and a negative tilt to reduce wrist stress. Like the Ergonomic Mouse, the keyboard is treated to a UV-coated cork material palm rest. Also available is highly portable, wirelessly connected and rechargeable Lenovo Go Wireless Numeric Keypad, perfect for number crunchers and spreadsheet wizards.
Audio: The Lenovo Go Wired Speakerphone, that works with Microsoft Teams, frees ears from prolonged headset wearing, however open office environments, public locations and juggling family and work life in the home do not lend themselves to speakers. Lenovo Go includes a selection of headset and headphone offerings that meet various audio needs for conference and video calling. Lenovo Go Wired ANC Headset and Wireless ANC Headset deliver the same outstanding on-ear audio experience in two different packages. One is wired via USB Type-C or Type-A, and the other is wireless with dual Bluetooth connectivity allowing simultaneous pairing across two devices and easy connection through Swift Pair in Windows 10. Alternatively, it can be connected by USB Type-C and will be charged at the same time. Both headsets work with Microsoft Teams and offer advanced active noise cancellation with a customizable audio experience through software. Lenovo Go ANC In-ear Headphones bring the same high-quality active noise cancelling audio experience in a highly portable in-ear package, yet users can switch to an ambient "talk-through" mode at the tap of a button. Designed to work universally with any USB Type-C device, the in-ear headphones include in-line buttons for quick control of playback and calls, and three sizes of silicone ear tips are included for the best fit.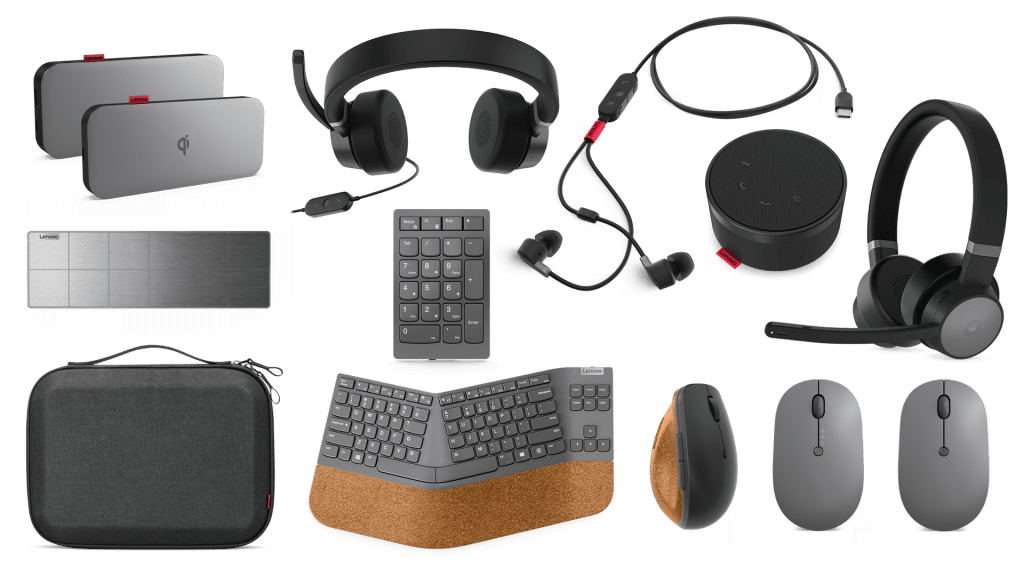 Managing personalized settings can often be a chore, especially if it requires opening multiple applications to adjust different criteria. Lenovo Go Central software helps users manage and control compatible accessories from a single application. Adjust mouse settings or manage audio configurations for headsets are easily achieved through the intuitive interface. Travelling long distance or just between home and office locations can be a frustrating experience with often needed accessories. Throwing a smartphone, headset, mouse and power bank into a carry case along with a laptop can cause damage with scratched screens, split cables or broken buttons. Storing essential accessories in the sleekly designed Lenovo Go Tech Accessories Organizer protects them with compression-molded compartments and splash-proof zippers. With dedicated sections for mouse, power bank, ear buds and power cable, the organizer also includes space for a smartphone and pens, so everything has an easy to reach place.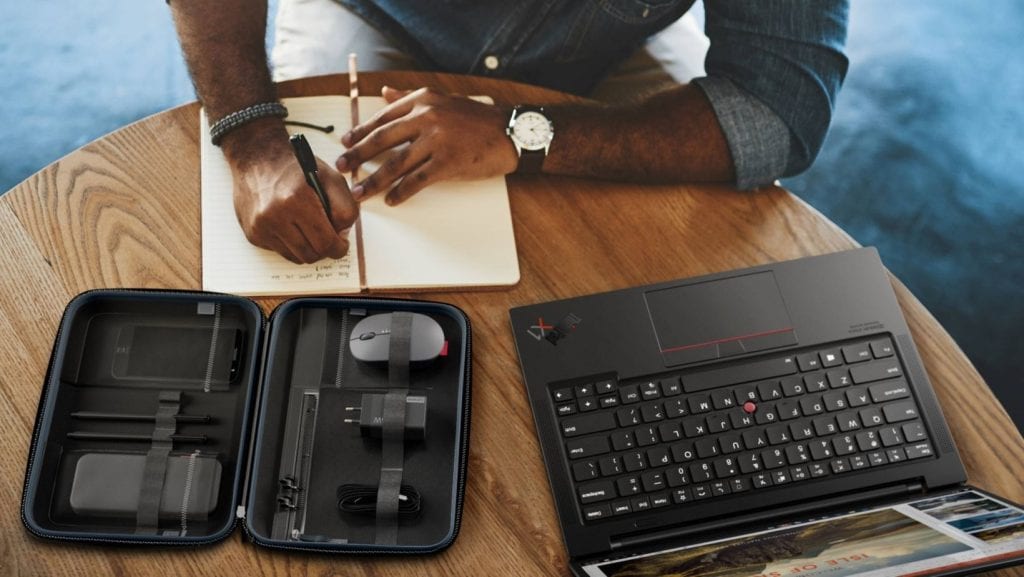 Visit the Lenovo StoryHub newsroom for images/full specs and Lenovo's MWC homepage and  Lenovo Go for more information.
EMEA Pricing and Availability2:
 
Available starting
Price from (VAT included)
Input
Lenovo Go Wireless Multi-Device Mouse
July 2021
€49
Lenovo Go USB-C Wireless Mouse
July 2021
€36
Lenovo Go Wireless Vertical Mouse
Aug 2021
€49
Lenovo Go Wireless Split Keyboard
Oct 2021
€89
Lenovo Go Wireless Numeric Keypad
Oct 2021
€49
Power
Lenovo Go USB-C Laptop Power Bank (20,000 mAh)
July 2021
€80
Lenovo Go Wireless Mobile Power Bank (10,000 mAh)
Jan 2022
€69
Lenovo Go Wireless Charging Kit
Oct 2021
€139
Audio
Lenovo Go Wired ANC Headset
Nov 2021
€99
Lenovo Go Wireless ANC Headset
Nov 2021
€159
Lenovo Go ANC In-ear Headphones
Nov 2021
€79
Lenovo Go Wired Speakerphone
Oct 2021
€99
 
Lenovo Go Tech Accessories Organizer
Sep 2021
€45
About Lenovo
Lenovo (HKSE: 992) (ADR: LNVGY) is a US$60 billion revenue Fortune Global 500 company serving customers in 180 markets around the world. Focused on a bold vision to deliver smarter technology for all, we are developing world-changing technologies that power (through devices and infrastructure) and empower (through solutions, services and software) millions of customers every day and together create a more inclusive, trustworthy and sustainable digital society for everyone, everywhere. To find out more visit https://www.lenovo.com, and read about the latest news via our StoryHub.
1 Actual battery charging performance will vary and depend on numerous factors including product configuration and usage, software, operating conditions, wireless functionality, power management settings, screen brightness and other factors. The maximum capacity of the power bank will naturally decrease with time and usage.
2 Prices may not include tax and do not include shipping or options and are subject to change without notice; additional terms and conditions apply. Reseller prices may vary. On-shelf dates and color options may vary by geography and products may only be available in selected markets. All offers subject to availability. Lenovo reserves the right to alter product offerings, features and specifications at any time without notice.