January 16, 2023 – RESEARCH TRIANGLE PARK, N.C. – Today, at the NRF 2023 Retail Conference, Lenovo (HKSE: 992) (ADR: LNVGY) outlined its vision for the future of retail, based on an end-to-end Retail Solutions portfolio spanning hardware, software and services to enhance the shopping experience. Lenovo is showcasing its Scan-n-Go Self-Service Kiosk, as well as new AI, infrastructure, and digital storefront solutions.
Lenovo has seen a surge in demand for self-service solutions that integrate digital experiences into brick-and-mortar retail operations. Self-Service Kiosks offer customers an integrated, contactless shopping experience at checkout, freeing up employees to focus on high-value tasks. Lenovo's new Scan-n-Go Kiosks provide valuable customer data and ensure retailer cost-optimization while reducing customer queues that diminish the shopping experience. Lenovo Retail Solutions has already deployed over 1,000 installments of its Scan-n-Go Kiosks in major retailers globally – helping to increase fulfillment rates by 40% at 99% accuracy.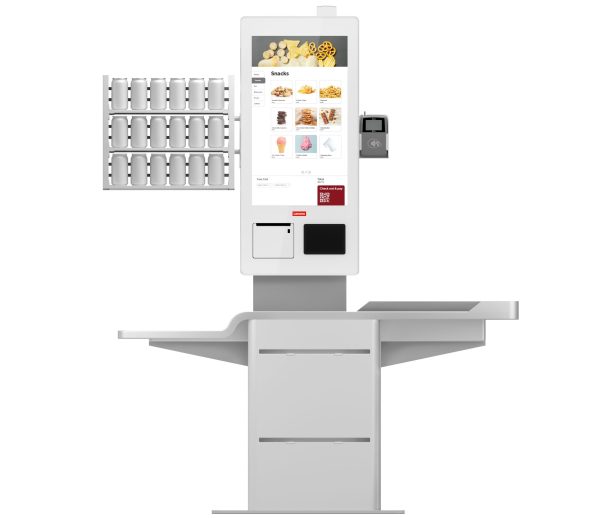 "Since the launch of our Retail Solutions portfolio, businesses from supermarkets, convenience stores, beauty stores, and food and beverage outlets, many of whom are among the top 250 global retailers, are using Lenovo's Self-Service Kiosk and Staffed-POS systems," said Lawrence Yu, General Manager, Lenovo Retail Solutions. "With the retail landscape constantly evolving, success means innovating with new technology to enhance the customer experience. From the checkout lanes, to the sales floor, and all the way to the backend systems, Lenovo's goal is to provide retailers with technologies and solutions that address their pain points."
Major retailers such as Kroger, which operates more than 2,800 supermarkets across the United States, use Lenovo's technology and solutions to provide a seamless customer experience. "We are working with Lenovo to deliver new experiences in self-checkout for our customers. With Lenovo's Retail AI Solutions, we are just starting to scratch the surface of what's possible with our retail operations," said Chris McCarrick, Senior Manager of Asset Protection Solutions & Technology, Kroger.
Lenovo's growing ecosystem of retail-oriented solutions provide a host of new customer experiences, including virtual shopping in the Metaverse, that seamlessly integrate digital services as part of existing store operations. With the help of AI and natural language processing, retailers can now also offer more efficient digital customer service options able to transcend common language barriers or access difficulties. These products include turnkey solutions across the following retail categories:
Store Operations and IT Support: By putting aside low-value tasks and instead focusing on maximizing return on IT investment, retailers can deploy mobile and static digital POS solutions, electronic labels, and digital displays that empower associates, improve efficiency of day-to-day operations, and provide more payment flexibility to customers.
Store Infrastructure: Cloud costs are one of the biggest reasons that businesses hesitate to adopt new digital technology. Lenovo's edge-based infrastructure minimizes cloud costs while offering secure access via high-quality hardware devices.
Retail Analytics: Deriving insights from customer and employee touchpoints, including inventory scanning, behavior analytics, and loss prevention, allows businesses to optimize costs, identify new retail opportunities, and improve customer experiences inside the store and online.
Services: The Lenovo TruScale solutions portfolio allows retail businesses to scale up and down operations and deploy new cloud-based software with a push of a button. Retailers also have the option to tap hardware and software solutions that offer the highest level of security and reliability so there is no unplanned downtime in their business systems.
Sustainability: In light of increasing energy costs and environmentally focused consumers, Lenovo offers retailers the ability to deploy, operate, and recycle assets more effectively and efficiently.
Lenovo and its partners also offer retail customers a robust ecosystem of continuous innovation and dynamic technology through the Lenovo AI Innovators program, which is helping to advance a wide variety of truly immersive and intuitive retail solutions.
At NRF 2023, Lenovo will showcase its portfolio of retail solutions through a real shop of Lenovo Smart Retail experience. In addition, Lenovo will host two speaking sessions during the conference:
Tuesday, January 17 at 11:30 am ET: "Kroger transforms in-store experience for customers with simulation, Edge and AI," featuring Lenovo, Kroger and NVIDIA
Tuesday, January 17 at 1:00 pm ET: "From restaurants to retail: How new tech is changing the experience" featuring Lenovo and Vistry.
Stop by Lenovo's booth #3665 or visit the exhibitor page to see how Lenovo's products are powering the new future-ready storefront.
Find out more about Lenovo's retail solutions here.
About Lenovo
Lenovo (HKSE: 992) (ADR: LNVGY) is a US$70 billion revenue global technology powerhouse, ranked #171 in the Fortune Global 500, employing 82,000 people around the world, and serving millions of customers every day in 180 markets. Focused on a bold vision to deliver smarter technology for all, Lenovo has built on its success as the world's largest PC company by further expanding into key growth areas including server, storage, mobile, solutions and services. This transformation together with Lenovo's world-changing innovation is building a more inclusive, trustworthy, and sustainable digital society for everyone, everywhere. To find out more visit https://www.lenovo.com, and read about the latest news via our StoryHub.