Stay entertained and engaged with the new Lenovo™ Yoga™ Tab 13, Lenovo Yoga Tab 11, Lenovo Tab P11 Plus and the Lenovo Smart Clock 2
While at home the past year, many have turned to their tablets for streaming, gaming, learning and more screen time.1 As the lines separating our relaxation time from hours spent working or learning start to blur, Lenovo is helping consumers rediscover their happy place with mobile experiences that make adapting to today's new hybrid lifestyle much easier.
Introducing smarter devices capable of restoring the balance with strong multi-purpose performance: the new expertly-crafted Lenovo Yoga Tab 13 and its family-friendly sibling, the new Lenovo Yoga Tab 11, the powerful Lenovo Tab P11 Plus Android™ tablet, and the Lenovo Smart Clock 2 that's optimized to transform your day by simplifying your nightstand.
Home Entertainment Just Got Better –  Yoga Tab 13 and Yoga Tab 11
Treat yourself to the next level of digital me-time with the new premium tablet from Lenovo that's practically a portable home-cinema, the new Yoga Tab 13. Use its large mobile display to jumpstart new hobbies, perhaps you've been wanting to learn to bake: all you need are the right ingredients, and time to watch a couple of how-to videos on a tablet that's designed to work virtually anywhere – on the kitchen counter, gripped in your hands, or hanging from a pot rack thanks to its new stainless steel kickstand.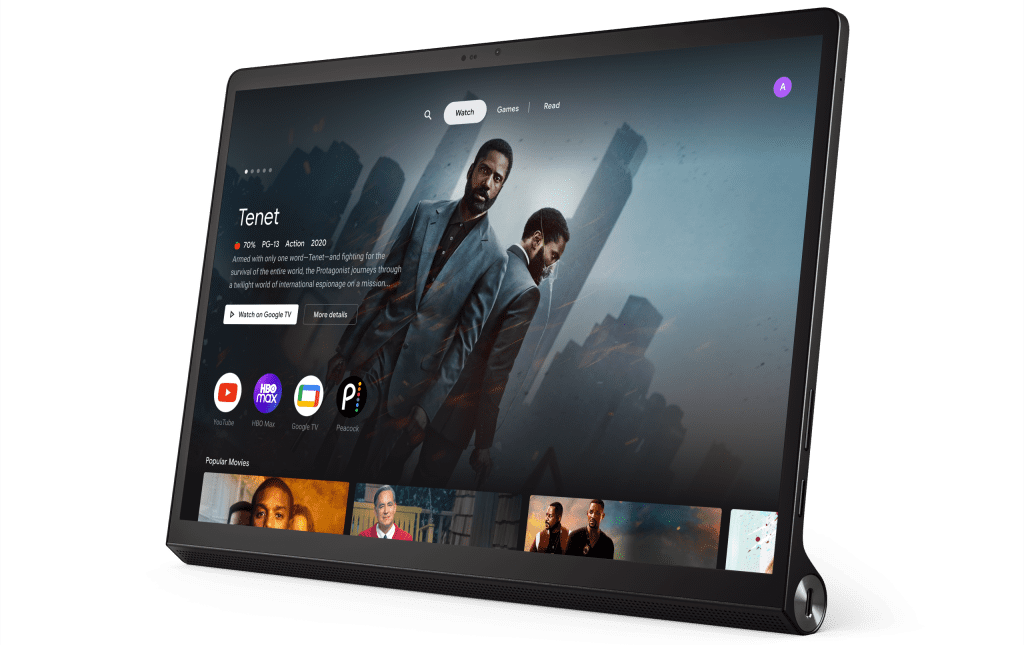 Coated in an anti-fingerprint coating, the kickstand doubles as a sturdy hanger and its innovative rolled edge design enables multiple modes and angled positions for truly hands-free viewing, from any room. Prop it on its base in landscape mode and watch shows in the bedroom, hang from a door hook to glance, or just tilt to type, write, and draw with the optional Lenovo Precision Pen 2.2 The tablet's hands-free offerings extend to smarter log-in via its front 8MP camera for superb video calling with background noise reduction.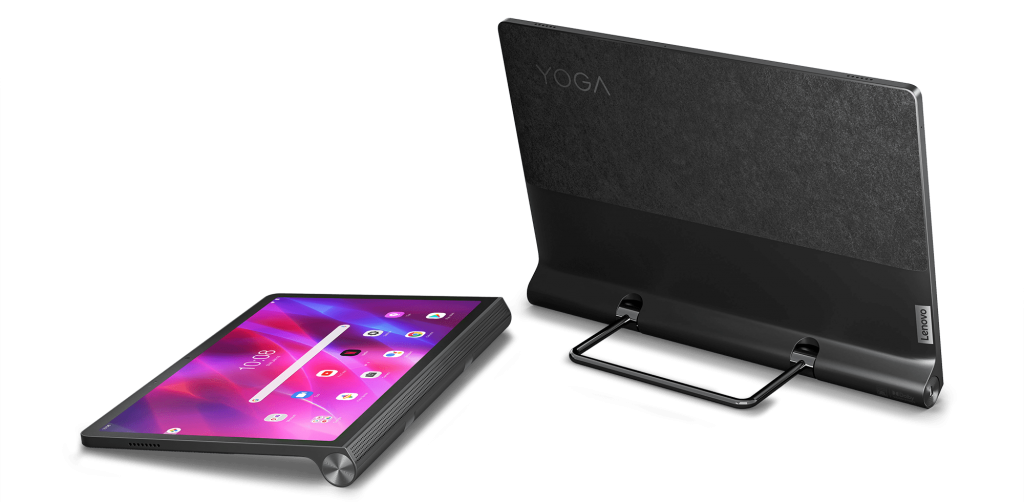 Lenovo caters its Yoga products to the distinct needs of trendsetters and go-getters, and as our sub-brand's name implies, its portfolio provides substance, flexibility, and standout style. The Yoga Tab 13's Shadow Black exterior is covered in Alcantara, the innovative soft-touch material made in Italy for a unique and luxurious touch – it's no wonder Lenovo's team of engineers and designers recently received a prestigious Red Dot Award for the Yoga Tab 13 and its winning design excellence. Alcantara brings more than just an upgraded style and sensory experience. Since 2009, it has been certified 'Carbon Neutral' by TÜV SÜD illustrating its commitment to sustainability and making the brand an icon of contemporary lifestyle.
The Yoga Tab 13 offers great entertainment features for all-day streaming of up to 12 hours3 in remarkable clarity (1080p). More power-efficient and less reflective than other LCDs, its large 13-inch 2K LTPS (Low Temperature Poly-Silicon) display offers 400 nits of brightness and 100 percent sRGB color gamut. The panel is also powered by Dolby Vision® HDR, which delivers incredible detail along with ultravivid picture quality. Enjoy spectacular audio with quad JBL® speakers including the two built into its innovative soundbar; Lenovo Premium Audio tuning and Dolby Atmos® combine for a more immersive audio experience. Plus, a bottom audio chamber helps achieve up to 450Hz bass performance for a strong audio effect you can feel. Streaming Netflix shows4 never sounded so good!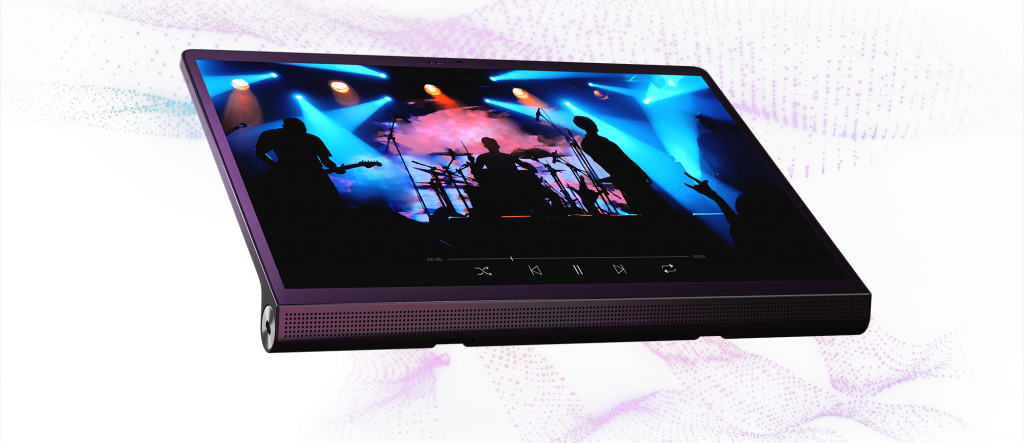 This tablet doesn't just run entertainment apps, it can also augment work. Say you want to see more content at once using double screens – you can use it as a super portable secondary display while connected to your laptop via its included micro-HDMI to USB cable.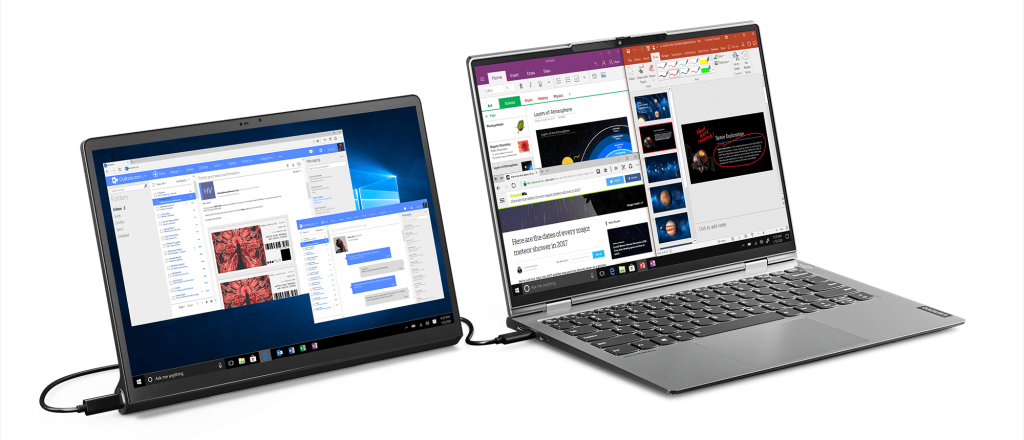 This tablet comes certified for fast Wi-Fi 6,5 and is supported by the performance efficiency of an octa-core processor, the Qualcomm® Snapdragon™ 870 Mobile Platform which delivers powerful graphics and 8GB LPDDR5 of memory – making it more than capable of downloading and running high performance gaming titles in high-resolution, high speed, and low-latency for commanding gameplay that rocks, even from the backyard.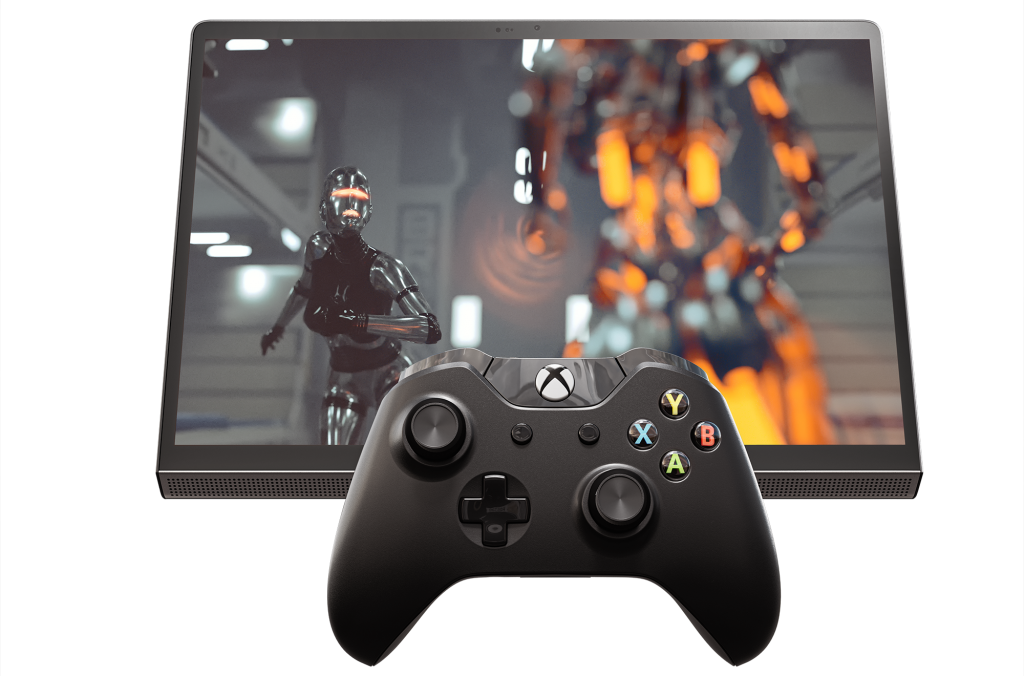 Included in Lenovo's latest Android tablets is the debut of Entertainment Space from Google6, a new home for the entertainment goodness from all your free and paid services that you can't live without. And for the ultimate smart home hub experience, ask Google Assistant4 to play your favorite tunes with just your voice via the tablet's dual mics.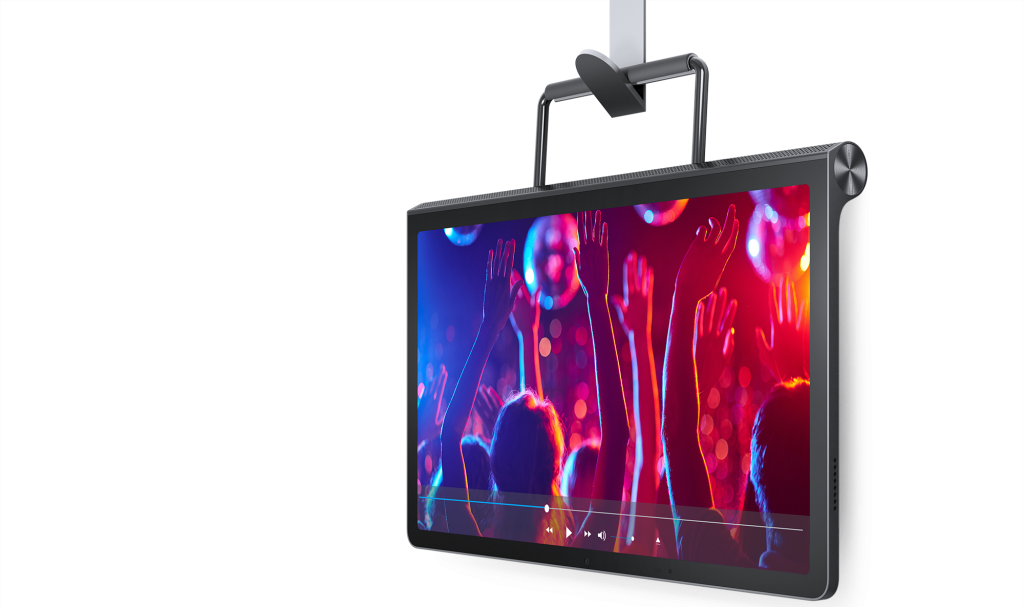 Time certainly flies when kicking back with the family, that's why we also created the new, more accessible Yoga Tab 11 that can be shared by the whole family. Go with the flow as you move room to room enjoying everyone's favorite content on a family-friendly tablet that's certified by TÜV Rheinland® for greater eye protection to help reduce harmful blue light. Simply select the tablet's Eye Care Mode to automatically adjust white balance and color tone for optimal vision comfort.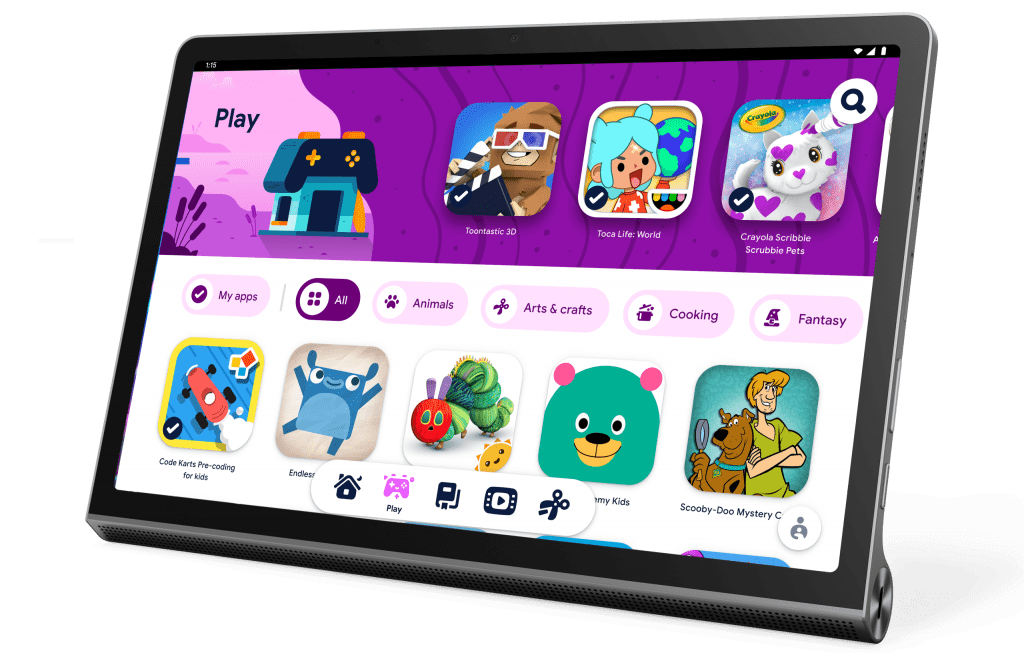 Ideal for home entertainment and learning from home with pen support, the Yoga Tab 11 has an optional LTE variant and comes loaded with many of the same entertainment and light productivity features as its sibling above. It's built on the fast and powerful MediaTek Helio™ G90T octa-core processor with UFS-based memory chip for superior video watching, plus lightning-fast for games, apps and browsing so you accomplish more in less time online. Check out Google Kids Space7, a kids mode that helps children discover, create and grow with a library of quality content (and Family Link parental controls). Channel your inner artist when doodling with the optional Lenovo Precision Pen 2 in tilt mode.2 With an 11-inch 2K IPS TDDI (Touch Display Driver Integration) display and Dolby Vision ultravivid picture quality, this sleek tablet is offered in a soft-touch, high tenacity Storm Grey fabric for extra durability and heat resistance. Its stainless steel kickstand can be adjusted to enable hang mode.
More Tablets to Delight the Senses – Lenovo Tab P11 Plus, Lenovo Tab M7 (3rd Gen) and Lenovo Tab M8 (3rd Gen)
For sleek looks and super-charged experiences, go for the new dual-tone Lenovo Tab P11 Plus that joins its product siblings in market. Its first-class 11-inch (2000 x 1200) display is complemented by true quad-speaker stereo sound with Dolby Atmos available in landscape and portrait mode as well as over headphones.

Powered by an octa-core CPU using the latest ARM technologies, this tablet excels at providing elevated browsing and gaming experiences with MediaTek's flagship G90T chipset and up to 6GB of memory. With up to a remarkable 12 hours3 of streaming for powering through whole seasons of shows, you're bound to stay entertained both day and night. Upgrade your experience with the optional Lenovo Keyboard Pack for added productivity.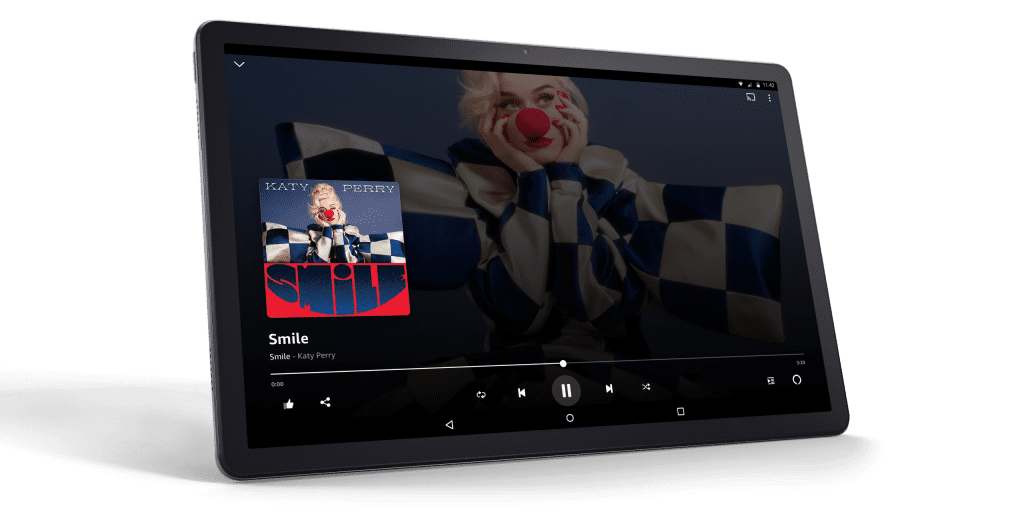 And say hello to our newest family tablets. Lenovo is releasing the third generation of its revitalized mainstream Android slates, the new Lenovo Tab M7, and the larger Lenovo Tab M8 with an additional model designed to optimize Google Assistant's ambient mode4 via the Smart Charging Station available on select models8. With an all-metal build for clean lines and peak mobility, and offered in multiple memory variants – these competitively-priced devices are ideal for controlling your smart home from your couch.9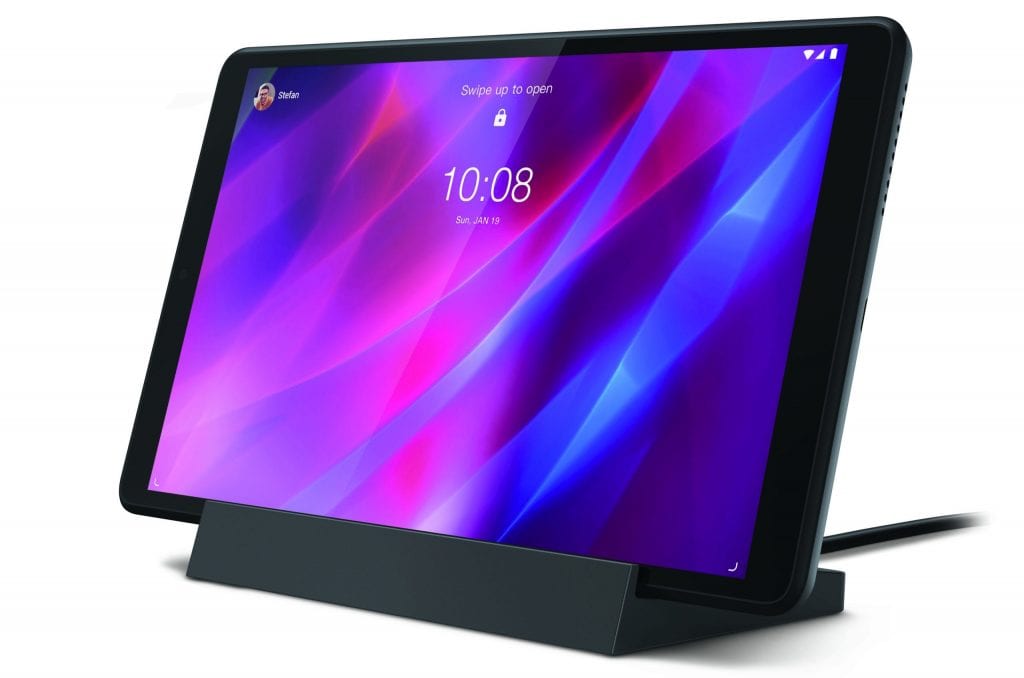 Previously only offered to PC users, Lenovo's advanced customer support service Premium Care will now be offered on select Android tablets, starting with these five.10 By adding Premium Care to these devices, users can enjoy an elevated support experience via phone, chat or email from expert technicians who provide real-time solutions on their first contact, and faster ship-to-depot repairs when needed.
Time Is On Your Side (Table) – Lenovo Smart Clock 2
Start your day on the right foot. The new Lenovo Smart Clock 2 takes nightstands by storm (sans prying camera for visual privacy) and offers other optimized extras, such as, an optional wireless phone charger that snaps into place while docked11 to provide a soft ambient nightlight on the clock's base.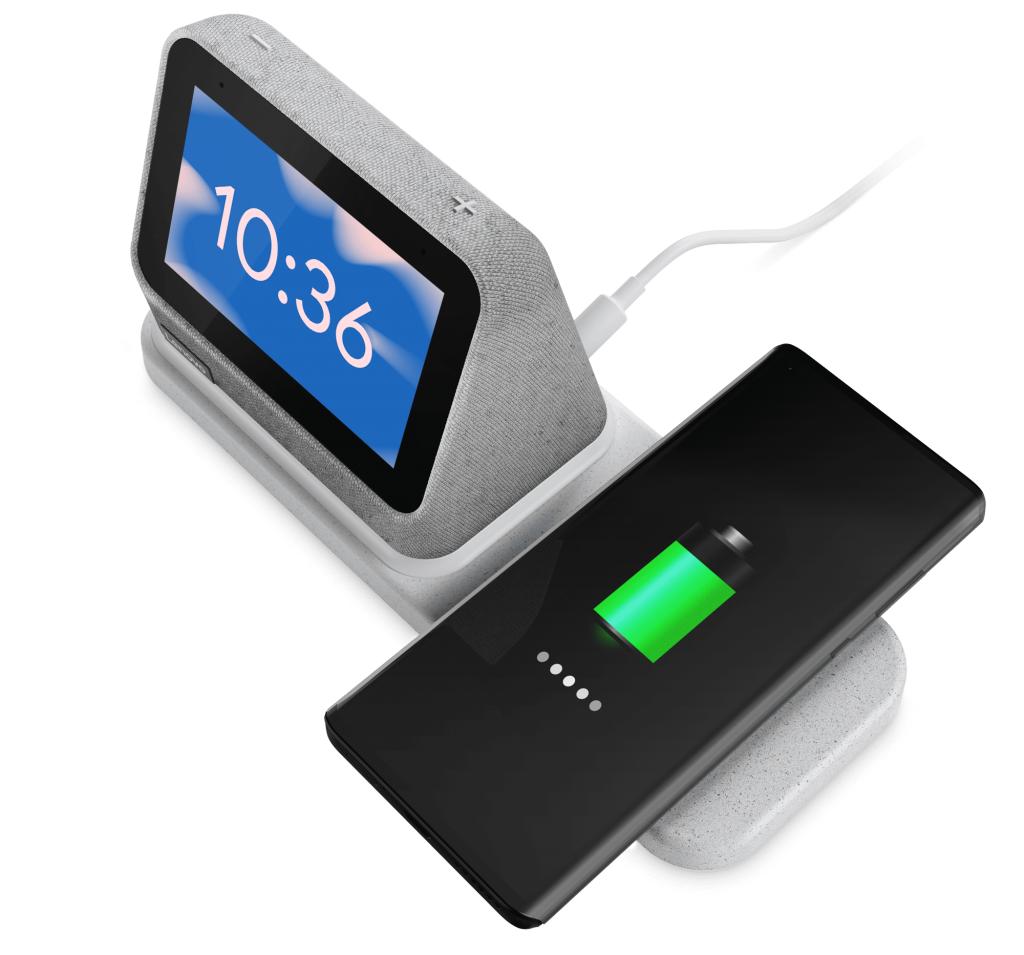 Built for the bedroom, or wherever you need a clock that does it all, the Lenovo Smart Clock 2's updated design, seamless tubing, and compact footprint blends in with nearly any home décor. Its fabric soft-touch, organic-looking exterior is offered in three fashionable yet neutral hues: Shadow Black, Heather Grey and Abyss Blue.12 The Lenovo Smart Clock 2 with wireless charging dock helps get rid of unnecessary clutter and cords by being your night light, stereo radio, charging pad, and bedside assistant all-in-one. Clear out distractions from beeping phones and email pings that could be zapping your energy away when you wind down at night.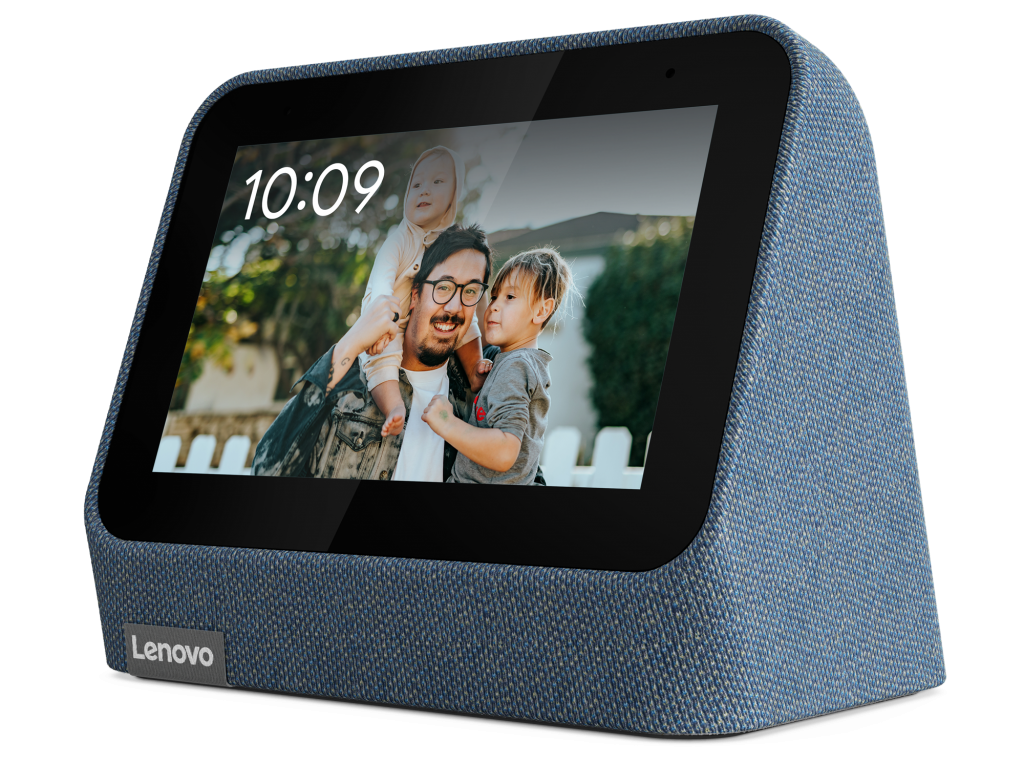 Get time back to manage your smart home9 while glancing through Google Photos on the clock's 4-inch color touchscreen, as you fill your bedroom with soothing music and calming sounds and reflect on the day. Make way for better dreams by choosing one of the updated clock's darker design interfaces and its new 'screen off' option; pick your ideal smart alarm setting as part of a great morning. You can also see when your next meeting starts, listen for the traffic report for your commute, catch an artist's name on your playlist with a quick glimpse, or ask the Google Assistant13 for the weather forecast — oh hey, look, your day just got brighter.
Visit the Lenovo StoryHub newsroom for images, full specs and Lenovo's MWC homepage for more information.
Product Videos:
Lenovo Yoga Tab 13
Lenovo Yoga Tab 11
Lenovo Tab P11 Plus
EMEA Pricing and Availability14
The 13-inch Yoga Tab 13 tablet (called Yoga Pad Pro in China) will start at €799 including VAT and is expected to be available starting June 2021.14
The 11-inch Yoga Tab 11 tablet will start at €349 including VAT and is expected to be available starting July 2021.14 
The 11-inch Lenovo Tab P11 Plus tablet will start at €299 including VAT and is expected to be available starting July 2021.14
The 4-inch Lenovo Smart Clock 2 with Google Assistant feature and wireless charging dock will start at €89.99 including VAT and is expected to be available starting August 2021.14
The 7-inch Lenovo Tab M7 (3rd Gen) will start at €119 including VAT and is expected to be available starting June 2021.14
The 8-inch Lenovo Tab M8 (3rd Gen) is expected to be available in select markets later this year, not available in North America at this time. Pricing will vary per market.14
Lenovo Yoga Tab 13 Key Specs
Processor
Snapdragon 870 Mobile Platform, Octa-Core, up to 3.2GHz
OS
Android 11
Audio + Mics
Quad JBL Speakers, Lenovo Premium Audio Solution, Dolby Atmos, 3 Microphones, 5cc audio chamber
RAM + ROM
8GB (LPDDR5) + 128GB / 256GB
Battery (ROW)
Minimum capacity 10,000 mAh+; Up to 12 hours playback (1080p)3, 30W quick charge

 

Display
13-inch (2160 x 1350) LTPS with Dolby Vision, 60Hz refresh, 400 nits
Weight
830 g (1.83 lbs)
Color
Shadow Black
Software
Google Kids Space7, Google Entertainment Space6, Netflix4, and much more
Lenovo Yoga Tab 11 Key Specs
| | |
| --- | --- |
| Processor: Wi-Fi/LTE | Wi-Fi: MediaTek Helio G90T (MT8185) / LTE: MediaTek Helio G90T (MT8789) Octa-Core Processor |
| OS | Android 11 |
| Audio + Speakers | Quad JBL Speakers, Lenovo Premium Audio Solution with Dolby Atmos, dual mics, 5cc audio chamber |
| RAM / ROM | 8GB + 256GB LPDDR4 RAM / 4GB + 128GB ROM |
| Battery (ROW) | Minimum capacity 7,500 mAh; Up to 15 hours video playback3, 20W quick charge |
| Display | 11-inch (2000 x 1200) TDDI LCD, 60Hz refresh, 400 nits, and Dolby Vision |
| Weight | 655 g (1.44 lbs) |
| Color | Storm Grey |
| Software | Google Kids Space7, Google Entertainment Space6, Netflix4, and much more |
Lenovo Tab P11 Plus Key Specs
| | |
| --- | --- |
| Processor | MediaTek Helio G90T, Octa-Core |
| OS | Android 11 |
| Audio + Speakers | Dual Microphone Array + Smart Voice DSP, quad speakers optimized for Dolby Atmos |
| Memory (ROW) | LPDDR4 – 4GB + 64GB / 4GB + 128GB / 6GB +128GB |
| Battery | Minimum capacity 7,500 mAh; Up to 12 hours video playback3, 20W quick charge |
| Display | 11-inch IPS LCD 2K (2000 x 1200), 60Hz, NTSC 70 percent color gamut, 400 nits |
| Weight | 490 g (1.1 lbs) tablet only |
| Colors | Slate Grey, Platinum Grey, Modernist Teal12 |
| Software | Google Kids Space7, Google Entertainment Space6, Netflix4, and much more |
Lenovo Smart Clock 2 Key Specs
| | |
| --- | --- |
| Processor | MediaTek MT8167S |
| OS | Google Assistant |
| Audio | 1.5-inch 3W Front-firing Speakers |
| Mic | 1 x Far-Field Microphone Array |
| RAM + ROM | RAM 1GB + Flash 8GB |
| Display | 4-inch LCD IPS |
| Weight | Starting at 298 g (0.66lbs) not including dock |
| WLAN + Bluetooth | 802.11 b/g/n, 2.4Ghz + Bluetooth 4.2 |
| Colors | Abyss Blue, Heather Grey, Shadow Black12 |
Lenovo Tab M7 (3rd Gen) Key Specs
| | |
| --- | --- |
| Processor | Wi-Fi: MediaTek MT8166 / LTE: MediaTek MT8766 (with 2.0GHz clock speed) |
| Audio | 1 speaker x 1 mic + Dolby Audio™ |
| Memory | 2GB LPDDR4 + 32GB EMCP |
| Battery | Up to 10 hours video playback3 |
| Display | 7-inch IPS (1024 X 600) TDDI LCD screen, up to 350 nits |
| Color | Iron Grey |
| Camera | Rear and Front: 2MP fixed-focus |
| Software | Comes with Google Kids Space7 and Google Entertainment Space6 |
Lenovo Tab M8 (3rd Gen) Key Specs
Processor
MediaTek Helio P22T (4 x 2.3GHz + 4 x 1.8GHz)
Speakers + Audio
Model with the Smart Charging Station: dual mics, Dolby Atmos + dual front-facing speakers

Model without: one mic, Dolby Atmos + front-facing speaker

Display
8-inch IPS HD (1280 x 800) TDDI LCD screen, 350 nits of brightness
Nano SIM Card
For LTE model only
Camera
Rear 5MP auto-focus; Front 2MP fixed-focus
Colors
Tablet only: Iron Grey and Platinum; Tablet with Smart Charging Station: Iron Grey
Software
Comes with Google Kids Space7 and Google Entertainment Space6
1 Source: GLOBAL WEB INDEX's 18-country consumer trends survey, July 2020.
2 Optional pen is sold separately, available in select markets.
3 Battery life tested using Lenovo internal testing. All battery life claims are approximate. Actual battery performance will vary and depend on numerous factors including product configuration and usage, software, operating conditions, wireless functionality, power management settings, screen brightness and other factors. The maximum capacity of the battery will naturally decrease with time and usage.
4 Available in select markets.
5 Requires separately purchased Wi-Fi router and plan that may vary by location. Additional terms, conditions and/or charges apply. Wi-Fi 6 speeds are typically up to 9.6 Gbps compared to Wi-Fi 5 with up to 3.5 Gbps. Connection speeds will vary due to location, environment, network conditions and other factors. Actual available capacity is less and varies due to many factors, including formatting, partitioning and operating system, etc. which utilize part of this capacity. The available capacity may change with software updates.
6 Entertainment Space requires a Google Account.
7 Kids Space requires a Google Account for your child. Parental controls require the Family Link app on a supported Android, Chromebook, or iOS device. Books and video content not available in all regions. Video content subject to the availability of YouTube Kids app. Books content requires the Play Books app. Availability of apps, books and video content may change without notice. Google Assistant is not available in Google Kids Space.
8 Required pogo-pin design for smart charging available on select models only.
9 Compatible smart home devices are sold separately.
10 Starting July 2021 Premium Care will now be available on select tablets including the Yoga Tab 13, Yoga Tab 11, Lenovo Tab P11, Lenovo Tab M7 and Lenovo Tab M8 tablets. Geographical market availability will vary as the rollout continues through 2021.
11 Clock's functional base is optional and sold separately or bundled depending on the market. Dock wirelessly charges the Qi-compatible devices listed here: https://www.wirelesspowerconsortium.com/products#Qi-Certified%20Product%20Database
12  Color options may vary per market.
13 Far-field voice recognition technology is recommended to be used from up to 2.4 m (8 ft) away.
14 Prices may not include tax and do not include shipping or options and are subject to change without notice; additional terms and conditions apply. Reseller prices may vary. On-shelf dates and color options may vary by geography and products may only be available in selected markets. All offers subject to availability. Lenovo reserves the right to alter product offerings, features and specifications at any time without notice.
LENOVO and YOGA are trademarks of Lenovo. Qualcomm and Snapdragon are trademarks or registered trademarks of Qualcomm Incorporated. Qualcomm Snapdragon is a product of Qualcomm Technologies, Inc. and/or its subsidiaries. GOOGLE, ANDROID, and GOOGLE ASSISTANT are trademarks of Google LLC. TÜV is a registered trademark of the TÜV Rheinland Group. Tüv Süd is a registered trademark of TÜV SÜD Group. JBL is a trademark of Harman International Industries, Incorporated. Dolby, Dolby Vision, and Dolby Atmos are among the registered and unregistered trademarks of Dolby Laboratories, Inc. in the United States and/or other countries. MediaTek and MediaTek Helio are trademarks of MediaTek Incorporated. Wi-Fi is a trademark of Wi-Fi Alliance. Alcantara is the registered trademark of Alcantara S.p.A. QI is a trademark of Wireless Power Consortium. Other company, product and service names may be trademarks or service marks of others and are the property of their respective owners. ©2021, Lenovo Group Limited.