Introducing the Lenovo Smart Frame, Lenovo Smart Tab M10 FHD Plus 2nd Gen with the Google Assistant™ and Lenovo Connected Home Security.
2020 could be the year when you finally decide to upgrade your abode by adding some smart home elements. With today's smart home technologies, you can now use your voice or compatible smartphone to control and automate just about anything in the home—lights, heating or locks. Or follow visual recipes in the kitchen, monitor the nursery with a smart cam and set up hands-free video calling through devices such as the Lenovo Smart Display.
But building smarter homes need smarter planning, especially when you're facing so many choices, with thousands of brands, makes and models currently available. To that end, Lenovo is unveiling a line of innovative, category-redefining offerings that can help you upgrade your smart home in a smarter way.
A good way to start is by repurposing one of the most common smart devices in the home: the tablet. Tablets are often used on the go, but when they are sitting at home they can remain unused for more than 23 hours a day.1 Many households forget to charge their tablets, or leave them sitting around unused and abandoned when at home. But with Lenovo Smart Tabs—shareable family tablets that can do more when not used in their primary tablet function—Lenovo has changed the game. And after the launch of its Lenovo Smart Tab series last year, the new Lenovo Smart Tab M10 FHD Plus 2nd Gen with the Google Assistant is a tablet that lets you glance at information and ask your Google Assistant questions, hands-free, while your tablet's being charged.
Another new way of making your home smarter is to deck out your walls. Most of us don't think of digital displays when it comes to smart homes, but they could make a difference between your cookie-cutter residence and a smart crib that dazzles. That's why Lenovo has rolled out the all-new Lenovo Smart Frame, which lets you rediscover your favorite photos and glimpses into the past in a sparkling 21.5-inch crystal-clear clarity. While smartphone cameras have allowed us to take thousands of high-quality photos with shareable memories, we've rarely had the opportunity to share them in our home in moments when we're surrounded by friends and family. The Lenovo Smart Frame transforms these memories into the primary centerpiece of any shared space—such as guest rooms or dining areas—with the added ability of displaying stunning pieces of art.
And finally, with the rise of connected devices comes the security risk of vulnerabilities and breaches. With that in mind, Lenovo is releasing a new cloud-based solution via Lenovo Vantage called Lenovo Connected Home Security, allowing consumers to choose which of their devices connected to their home network will be monitored for security including smartphones, smart displays, smart tablets and other connected devices when their Lenovo consumer PC or Android™ tablet is also connected.
Upgrading your smart home (the smart way) isn't all that difficult. It's just a matter of knowing what your best options are. So let's dive into the details.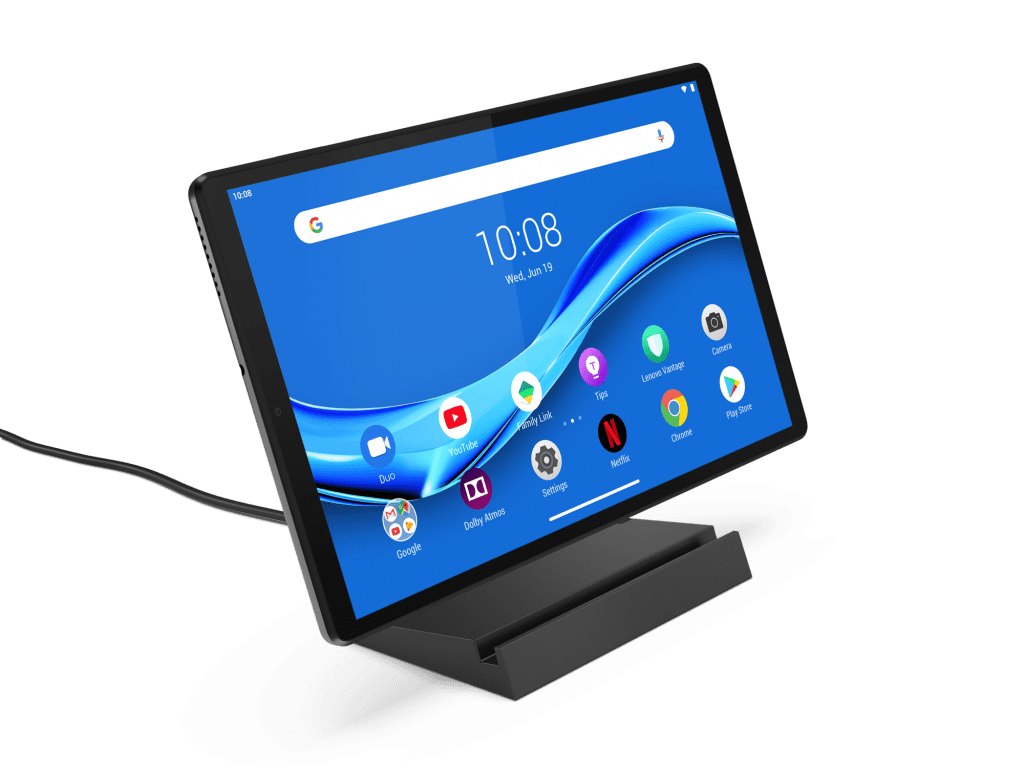 1. Lenovo Smart Tab M10 FHD Plus 2nd Gen with the Google Assistant
Following the Lenovo Smart Tab M8 with the Google Assistant released last year, the new Lenovo Smart Tab M10 FHD Plus 2nd Gen with the Google Assistant gives users the versatility of a fully featured Android tablet when held as well as the convenience of a hands-free Google Assistant-activated screen through its Ambient Mode experience. The 10.3-inch Full HD screen makes the tablet a solid entertainment device in its own right, with up to narrow 0.18 in (4.6mm) screen bezel, two side speakers that are powered by Dolby Atmos® to make watching shows and playing games that much more fun and immersive.
The tablet comes with a Smart Charging Station, which stands up your tablet while keeping it charged and turns your tablet into a smart speaker with a screen. Sporting mid-field voice recognition with dual mics (including dedicated digital signal processors) and a dedicated signal chip, the Lenovo Smart Tab M10 FHD Plus 2nd Gen with the Google Assistant can pick up your voice from across the room.2 Now you can watch video flash briefings, monitor camera feeds, check the weather or control your smart home with just your voice. And not in use, the screen automatically converts into a digital photo frame.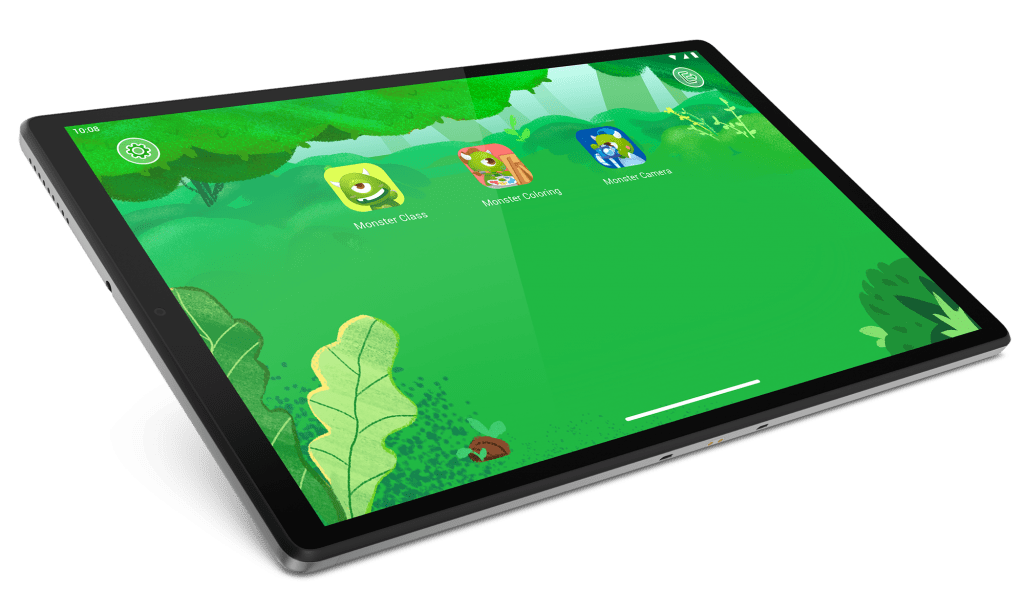 The tablet is also designed for households with multiple user accounts and face unlock that's customized for each user. Families can also access an upgraded Kid's Mode for children which features dedicated kids content as well as parental controls and specialized eye protection features. This includes a Posture Alert, which detects the posture of the user – reminding them to sit up straight with a message prompt accompanied by vibration. When the tablet is being viewed in a car or van, the Bumpy Environment Alert can detect a bumpy ride and remind the user to stop using the device.
In North America, the Lenovo Smart Tab M10 FHD Plus 2nd Gen with Google Assistant starts at $1893 and is expected to be available starting 2020.3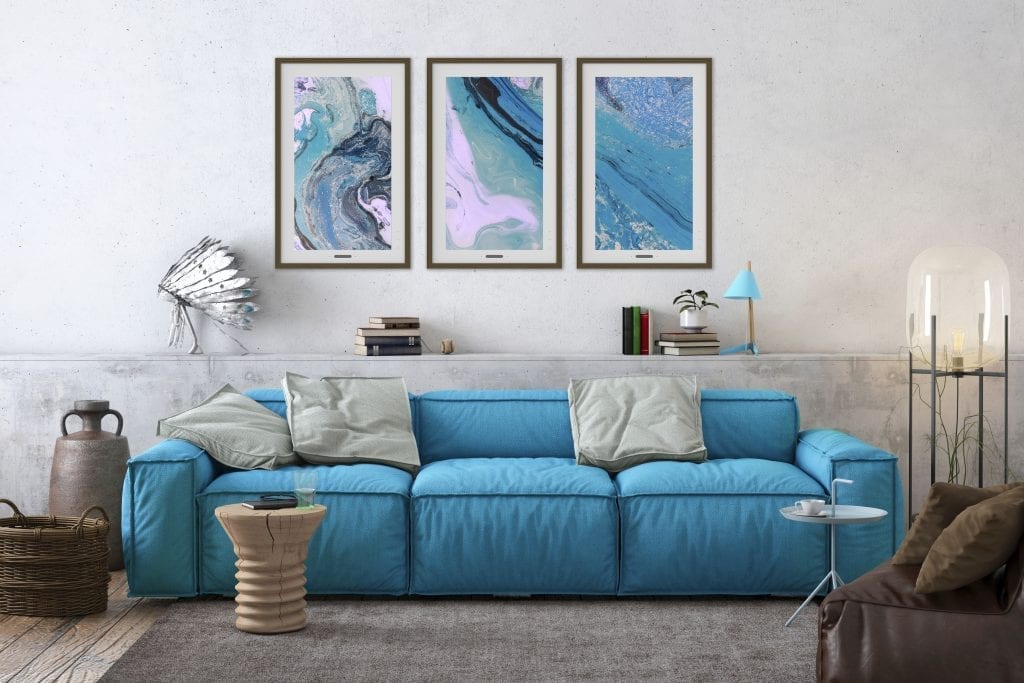 2. Rediscover Your Favorite Memories with Lenovo Smart Frame
The all-new Lenovo Smart Frame is designed to unearth your favorite moments and rediscover that perfect shot of the sunrise you took on your travels many years ago. Featuring a screen burnished with a matte screen finish and anti-glare layer, images on the Lenovo Smart Frame are made to be marveled at and viewed at any brightness setting or time of day. The color tone sensor adjusts the picture's brightness in accordance with the ambient light in the room for a more natural and aesthetic viewing experience in your living room, bedroom or study. Play, continue or pause the photo slide or video through a range of hand gestures.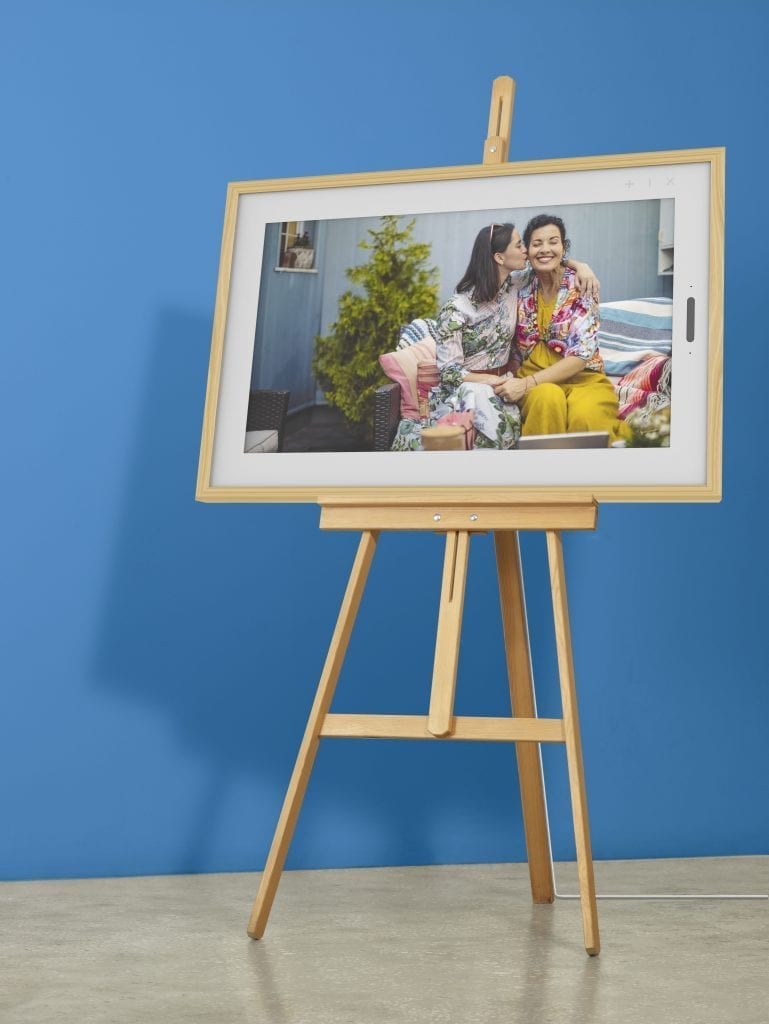 The Lenovo Smart Frame's built-in AI curates your photo album by choosing the highest-quality images from your collection and then automatically composing them into digital collages to maximize the number of images viewed at once. The Lenovo Smart Frame also comes with a free app that comes with hundreds of art pieces that can be displayed throughout your home.
Set-up is remarkably simple, with a snap-on mounting system that lets you rotate the frame 90 degrees, allowing you to display your images either vertically or horizontally, at any time. This system also keeps the Lenovo Smart Frame's power cord from unsightly tangles, while keeping your room clean and minimal. Users can also choose from a gallery of optional frame colors and materials to better suit their individual tastes and interior designs.
In North America, the Lenovo Smart Frame (21.5-inch) starts at $399 and is expected to be available starting August 2020.3
3. Better protect your Smart Home with Lenovo Connected Home Security
And with the number of smart homes rising, the risk of hackers attempting to tunnel into your home's network has only grown. Once malicious hackers break into your system, they can potentially access your personal information, spy on your household or turn off your cameras. These risks can potentially lead to a number of negative outcomes such as burglary or identity theft. Lenovo's Connected Home Security is designed to better protect your smart home from such unwanted intrusions.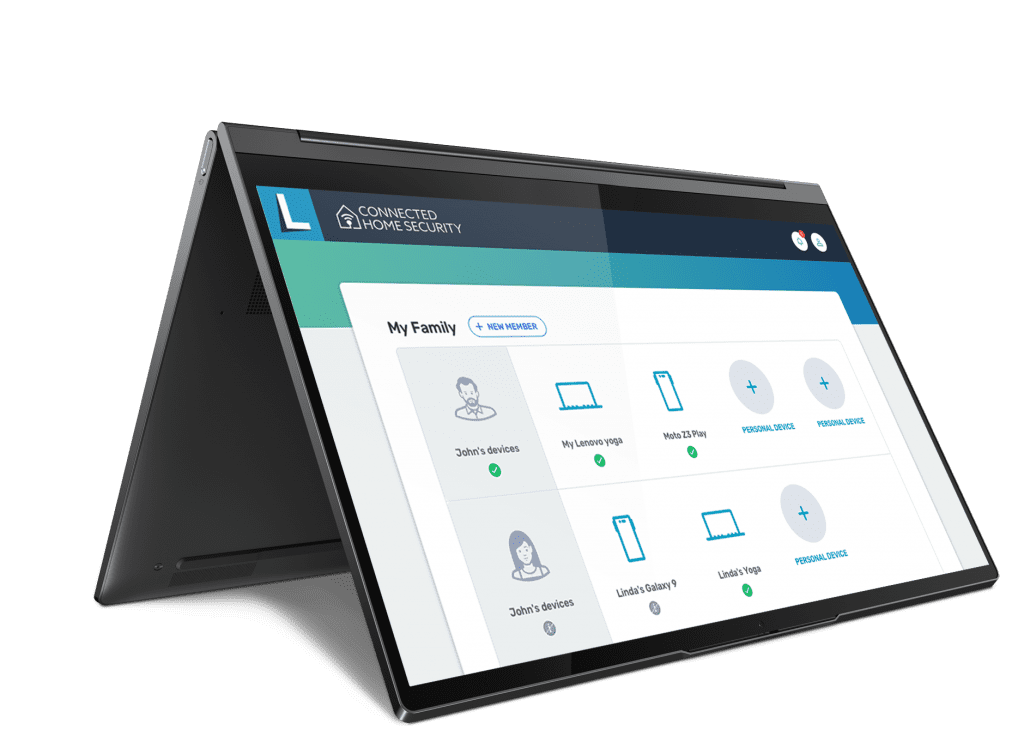 Lenovo has made Connected Home Security exclusively available to users through its Lenovo Vantage software update (3.1.1) and is designed to reduce the risk of unauthorized access to connected devices. The system monitors your home networks for malicious security behavior and alerts you if an unknown user has logged into your network. Lenovo Connected Home Security alerts free and paid users in almost real-time to potential security vulnerabilities, such as online hacking and phishing attacks and offers Lenovo Vantage users instructions on how to help stay protected.
Powered by security partner Coronet, Lenovo Connected Home Security is free for Lenovo PC users4 who have Lenovo Vantage to choose which compatible devices connected on their home network to monitor, including Lenovo smart devices such as Lenovo Smart Tab, Lenovo Smart Clock, Lenovo Smart Display, and the Lenovo Smart Home Essentials. You can also choose to make an Android tablet the master hub of Connected Home Security, instead of a computer.4
Starting January 2020, Lenovo Connected Home Security will be available for a 30-day free trial in the U.S. via the consumer version of Lenovo Vantage and for owners of Lenovo-branded PCs running Windows10, such as Yoga™, IdeaCentre™, and IdeaPad™ PCs.5
After a free 30-day trial, users wanting to also monitor non-Lenovo devices on their home WiFi network, plus devices connected to any family-related network (e.g. your parents' house), can pay $29.99 per year per family for a full-license3 via the online Lenovo Vantage Store.
Visit the Lenovo CES 2020 press kit for photos and full specs.
---
1 Mary Meeker's 2014 Internet Trends Report, Kleiner Perkins: "US consumers spend an average of 43 minutes a day on their tablets, typically in the late evenings."
2 Far-field voice recognition technology on the Lenovo Smart Tab M10 FHD Plus 2nd Gen with the Google Assistant is recommended to be used from up to 9.8 feet (3 meters) away.
3 Prices may not include tax and do not include shipping or options and are subject to change without notice; additional terms and conditions apply. Reseller prices may vary. On-shelf dates and color options may vary by geography and products may only be available in selected markets. All offers subject to availability. Lenovo reserves the right to alter product offerings, features and specifications at any time without notice.
4 Available at setup, Lenovo Vantage is a dashboard of software tools offered free on all consumer PCs running Windows 10, including Yoga, IdeaCentre, and IdeaPad. To use your Android tablet as the master hub for Connected Home Security requires downloading a free app of the same name from the Android Store/Google Play Store.
5 A Lenovo consumer laptop (or tablet) that's connected and active on the same network (to serve as the connection manager) is required.
LENOVO, YOGA, IDEAPAD and IDEACENTRE are trademarks of Lenovo. ANDROID and GOOGLE ASSISTANT are trademarks of Google LLC. Windows is a trademark of Microsoft Corp. DOLBY ATMOS is a registered trademark of Dolby Laboratories, Inc. Other company, product and service names may be trademarks or service marks of others and are the property of their respective owners. ©2020, Lenovo Group Limited.