Not everybody's experience during the holidays is the same. For many of us it's all about food, family and decorating our homes in seasonal ornaments. However, for some of us we struggle to find our place this time of year. In perhaps the least millennial fashion possible, it has been years since I've lived with my parents and they've since moved over 1000 miles away to the great state of Texas.
An unfortunate consequence is that we rarely get the opportunity to visit each other. It's usually some mixture of time, money, and schedules that get in the way. To further complicate things, my mother recently underwent a shoulder surgery that sadly prevents her from traveling (or hosting) this season. Although our ability to see each other this year is again limited, it's not impossible when you live "smarter" – more on that later.
Fortunately, I have a very close relationship with my girlfriend's family (you may have noticed if you read my previous blog on the Lenovo Smart Clock), and let's just say no one brings the yuletide joy like they do. I've adopted many yearly traditions such as ornament exchanges, game-nights, and eagerly anticipating our yearly re-watch of Jim Carrey's live-action Grinch movie (Baby Yoda has nothing on Baby Grinch, btw).
Not to be left out, I do play my part as well. Considering I work for a technology company my yearly contribution is to update their extended family on what's new in tech and which products are actually worth their time (likely inspiring a few stocking stuffers). Also, when you consider one of the biggest traditions this time of year is literally hanging up and turning on lights, there is literally no better opportunity to show off how smart technology can make an impact.
Just to be clear, the first smart device I ever bought was a smart plug for my Christmas Tree. I couldn't get over the idea of shouting some holiday themed phrase like "Hey Google, 'Tis the season!" and suddenly the tree is lit, and Bing Crosby/David Bowie are serenading me with my favorite holiday tunes. That's why this year I wanted to do the same for my girlfriend's family. The Lenovo Smart Clock was only the beginning.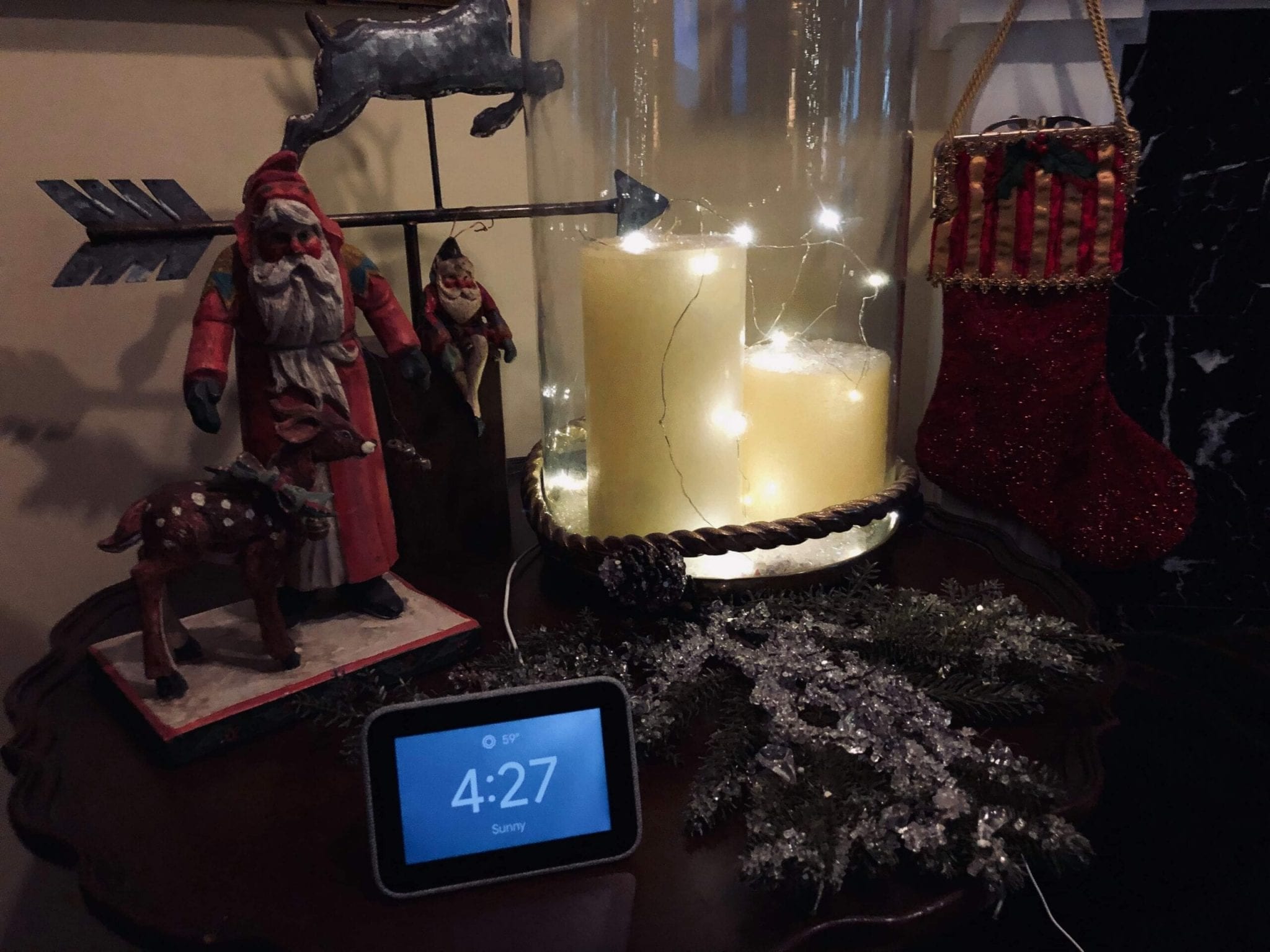 I'd like to think I was channeling Macaulay Culkin in my efforts to brighten up their holidays; automating the holiday cheer with a smart plug here and a smart bulb there. I had already introduced them to the routines and other automations earlier in the year so I knew they'd be interested in experimenting a little more. Let's be real, I can't imagine winning more "boyfriend points" than the moment her mother turned on the tree with the sound of her voice, it was a Christmas miracle if I'd ever seen one.
One of the things I enjoy the most about setting up a smart home is the almost endless configurations at my disposal. There's always some new toy to play with; or a software update that enables new methods to set everything up. This year's toy was a real treat. I was given the opportunity to test out Lenovo's new Yoga Smart Tab. I've been a huge fan of the Yoga line of tablets since they first came out, so I was genuinely excited to see what the new one had to offer – especially now that it is decked out with the Google Assistant.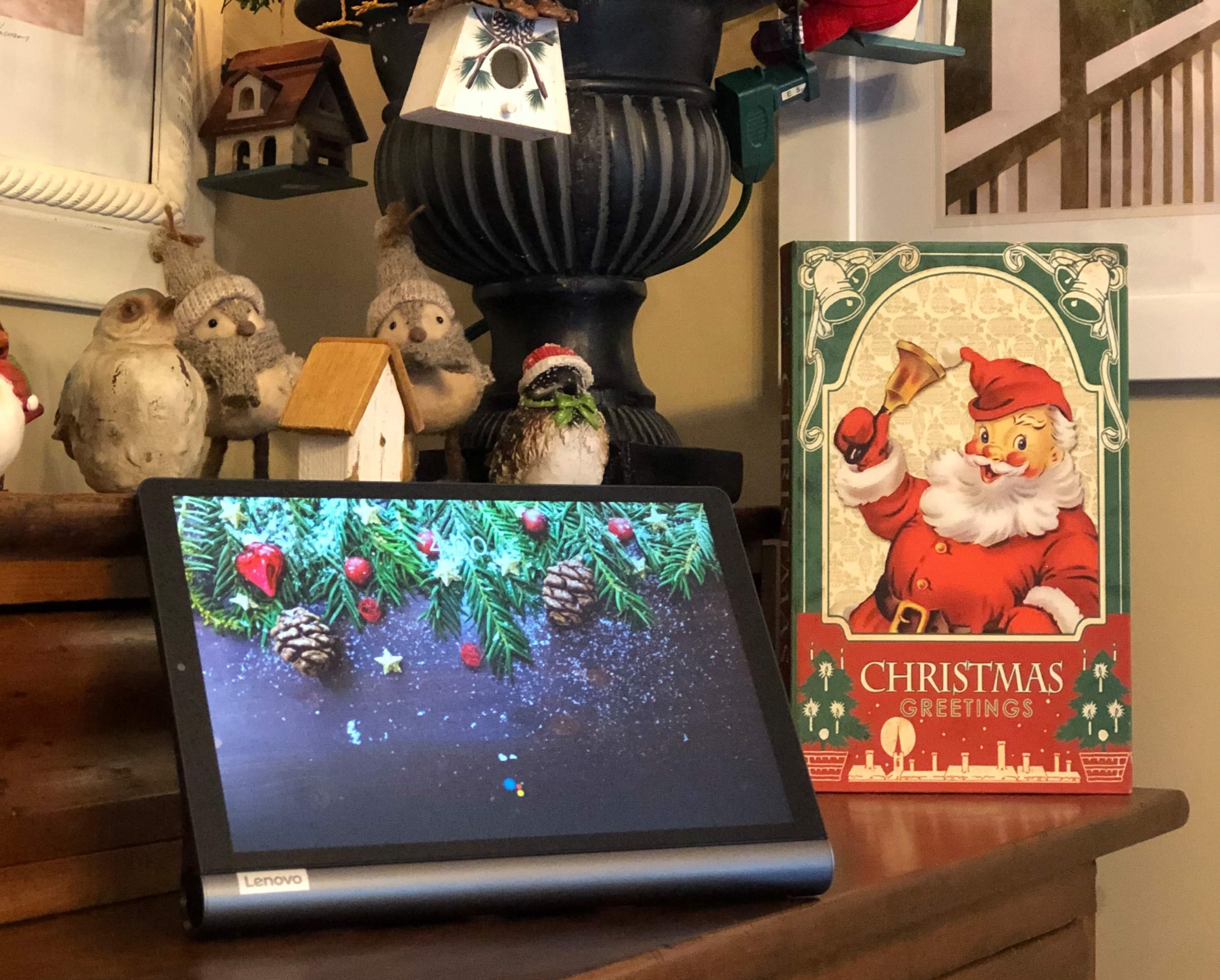 It's exciting when form factor and functionality truly complement each other, and the Yoga Smart Tab with the Google Assistant's "Ambient Mode" is a clear example of this. When partnered with the built-in kickstand, there's hardly a better use case for this feature.
After pressing the release button on the Yoga kickstand when the device is idle, the Google Assistant's Ambient Mode can transform your tablet into a hands-free smart home hub . The combination of the three digital mic arrays and 360-degree far-field voice recognition make a very convincing package and that's without addressing the fact that it's also a fully functional Android tablet that feels nice and premium in the hands (decent battery too).
To be honest, I can't remember the last time I've been this excited about a tablet, but that wasn't it. This little guy had one more trick up his sleeve.
Even though some of the features I've mentioned are not necessarily "new" – sometimes all it takes to stand out from the crowd is a solid design and a clever collection of precisely what's needed.
There's no clearer example of "having exactly what I needed", than when I realized I was one Google Duo video call away from spending at least a small portion of the holidays with those I missed most. It might sound cheesy, but it was touching to be able to share even a little bit of the festivities with my parents.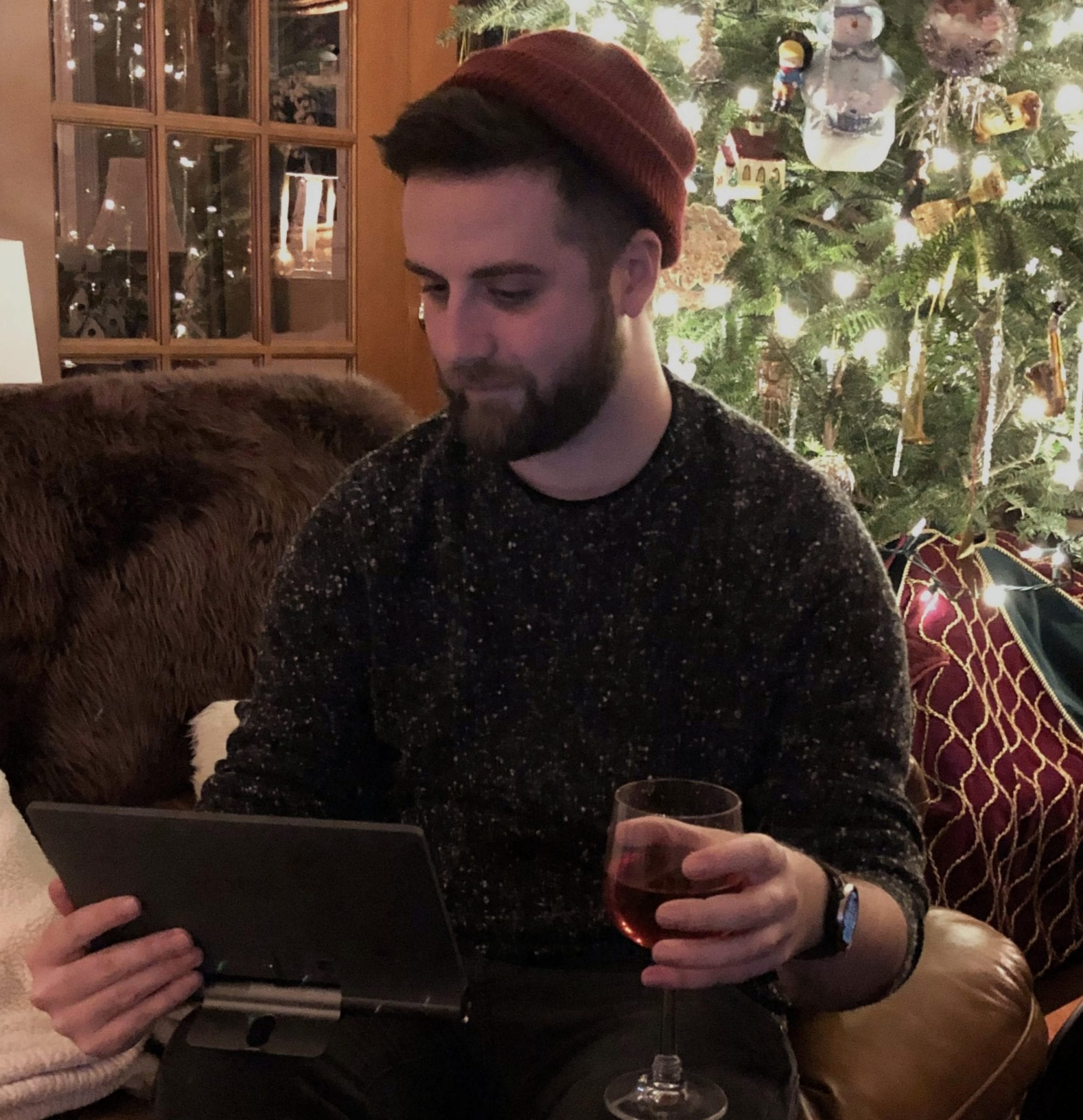 It was honestly surreal when I was able to walk to the other room and share that experience with everyone else. Our families hadn't seen each other in years and yet, for a brief moment in time, it felt like we were all together once again, at the most wonderful time of year. There's really no better gift than that.
More about Bryan
I'm Bryan Custer and I work as Lenovo's Global Social Media Community Manager. I get to show our fans on social that Lenovo means it when we say "customers first", and to ensure we retain a sense of humanity and authenticity while doing so. Sometimes it's a reply with a funny GIF, and other times it's digging in and solving issues for our fans in need. There's a ton of incredibly interesting people out there using our products and supporting our brand; I get the amazing opportunity to make friends with them, and to show them the support they truly deserve.