Today at CES® 2020, Lenovo unveiled full details of its revolutionary foldable PC teased in May 2019. ThinkPad X1 Fold is the first fully functional PC with a folding OLED display. Designed to offer unprecedented productivity, it will offer a ground-breaking new form factor that will reimagine mobile computing. As it morphs through multiple modes, from a small footprint device into a fully flat 13.3-inch display, X1 Fold will deliver laptop efficiency with smartphone portability. Built from a combination of lightweight alloys and carbon fiber and covered in a luxurious leather folio cover, the X1 Fold will offer the durability and reliability users expect from any ThinkPad. Co-engineered with Intel, the Always Connected PC is powered by Intel® Core™ Processors with Intel® Hybrid Technology and will initially be available with Windows 10 in mid-2020. Lenovo is planning on offering ThinkPad X1 Fold with Windows 10X at a later date for an enhanced foldable user experience. Furthermore, optional 5G connectivity will enable new ways of working wherever, whenever and however you want.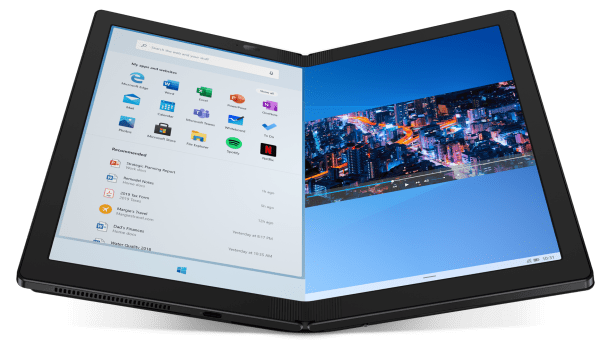 Foldable Use Cases
The book paradigm is millennia old. Instantly familiar and transportable, the similarities to a foldable PC are immediately obvious. User Experience research suggests that users who frequently switch between phone, tablet and laptop are looking for something with different capabilities and benefits. ThinkPad X1 Fold is a pioneering, new type of lightweight device that can successfully bridge core strengths of each and is without compromise on performance or screen size, yet compact enough to slip into the smallest of bags. We have developed, specifically for Windows 10, clever mode-switching software to adapt to multiple use cases in new environments.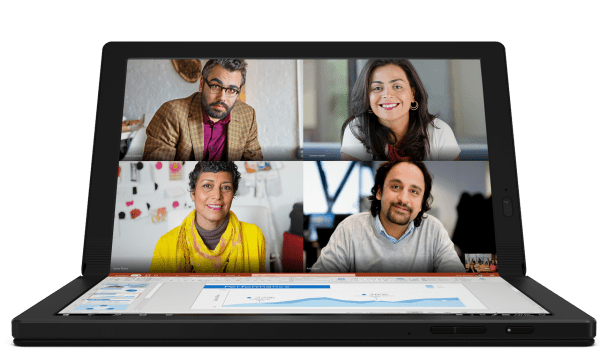 Unfolded, the X1 Fold is ideal for touch heavy content consumption with 13.3-inches of OLED display real estate and weighing less than 2.2 pounds (1kg). In landscape mode with the integrated kickstand in the leather folio case, users can review and annotate the latest presentation or use the Bluetooth Mini Fold Keyboard. When folded closed, the keyboard is stored and wirelessly charged inside the system and secured with magnets. When taking a break, watch the latest episode of your favorite series on the bright OLED display with a Dolby Audio experience. In portrait orientation, users can take notes or draw out concepts using the Active Pen or scroll through and sign a legal document. Fold the screen out completely flat and use as a tablet or bend it slightly to read a few chapters on your next flight like a book.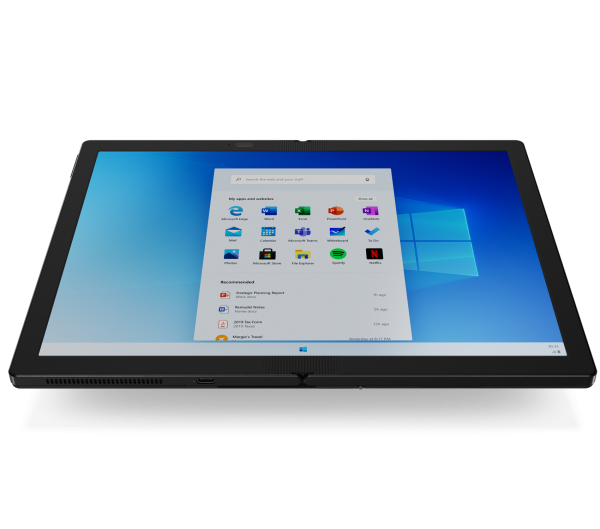 In a more familiar laptop orientation, users can leverage two independent displays to optimize efficiency during certain multitasking activities. Participate in a video call on the upper screen while reviewing and editing a presentation on the lower screen. Compare documents, one above the other or take notes on one screen while watching a lecture on the other. These use cases can of course be done in portrait or landscape mode, whichever suits the user best.
Finally, X1 Fold is perfectly suited in an office environment. Connect a full-size keyboard and mouse and a second display via USB Type-C and quickly place the device in the optional ThinkPad X1 Fold Stand in portrait or landscape mode. Users will enjoy the performance benefits of a complete desk solution.
Reliability and Durability  
More than four years in development, we investigated four primary designs for X1 Fold and selected the 4×3 ratio with the 13.3-inch display in order to accomplish the best experience and highest level of productivity.
Our ThinkPad development team has worked tirelessly with Intel engineering to overcome the hinge's mechanical and electrical engineering challenges. And through our partnership with LG Display, we are setting new standards towards perfecting foldable screen technology. The efforts have resulted in several innovative developments:
After working through six different hinge designs and more than twenty different variations, we created a unique multi-link torque hinge mechanism to manage stresses during fold actions.
The hinge mechanism, combined with lightweight alloys including a carbon fiber reinforced frame plate, optimizes the viewing experience when unfolded flat.
The pOLED display used in X1 Fold has undergone extensive durability testing to make sure it meets our usability criteria in terms of tapping, tracing and dropping.
Built to endure the same testing as other ThinkPad laptops, the X1 Fold continues to endure extensive screen folding cycles, stress tests and pen usage tests to meet our stringent quality criteria.
"Creating the world's first foldable PC is a major engineering challenge, but Lenovo is more than up to the task," said Christian Teismann, President, Commercial PC and Smart Device Business, Lenovo. "Our legendary ThinkPad heritage has given us the foundation for progressive design over the years to now build an engineering masterpiece with X1 Fold, a new category of device that comes along once in a decade."
"Our longstanding partnership with Lenovo continues to push the boundaries of PC experiences and design," said Gregory Bryant, Intel Executive Vice President and General Manager of the Client Computing Group. "The collaboration across our teams has been incredible, and the deep co-engineering work we've done at the platform level has clearly yielded beautiful results with this unique, foldable-screen PC."
Pricing and Availability1
ThinkPad X1 Fold with Windows 10 is expected to be available mid-2020 with prices expected to start at $2499. The Windows 10X version is expected to be available at a later date.
ThinkPad X1 Fold Stand is expected to be available in 2nd half 2020. Pricing will be revealed closer to launch date.
Visit http://www.lenovo.com/think/ for more information and the Lenovo CES 2020 press kit for photos and full specs.
---
1 Prices do not include tax, shipping or options and are subject to change without notice; additional terms and conditions apply. Reseller prices may vary. On-shelf dates may vary by geography and products may only be available in select markets. All offers subject to availability. Lenovo reserves the right to alter product offerings, features and specifications at any time without notice.
LENOVO and THINKPAD are trademarks of Lenovo. Intel and Intel Core are trademarks of Intel Corporation or its subsidiaries in the U.S. and/or other countries. DOLBY AUDIO is a registered trademark of Dolby Laboratories, Inc. WINDOWS 10 and WINDOWS 10X are trademarks of Microsoft Corporation. All other trademarks are the property of their respective owners.  ©2019, Lenovo Group Limited.