Lenovo has a long history with SAP, and recently both companies extended their partnership into a new, rising area for intelligent transformation: retail.
As Andre Bechtold, SVP of SAP and Head of Solution & Innovation Experience, recently shared on LinkedIn: "Today it gives me great pleasure to share that Lenovo and SAP will be showcasing their partnership, highlighting the power of verticalization in the Central Showcase at Sapphire 2023. Very much looking forward to sharing this with the rest of the world."
Following the National Retail Federation (NRF) show in New York in January, Lenovo was invited as the exclusive retail partner for SAP Sapphire globally in May 2023. Lenovo and SAP kicked off the global partnership and showcased the "Lenovo + SAP" combo solution in the SAP Sapphire Central Showcase area, which garnered attention as the hottest, most-visited area at the event.
As One Lenovo Retail, from Digital Signage to Electronic Self Label, from attendee recognition to personalized order checkout, and from store layout to store backend edge compute, Lenovo hardware integrated seamlessly with SAP software. Customers were treated to a smooth shopping experience in the booth area by using Lenovo Self-Service Kiosk of Lenovo Point-of-Sale Solution to check out their favorite ice cream. Simulated promotion info was available through electronic shelf labels, and the store's operation manager collected end-point data, processing it through Lenovo infrastructure driven by SAP Software, including SAP S/4HANA® Retail. The concept test of "Lenovo + SAP" in retail through Sapphire global events received overwhelmingly positive reaction. More significantly, over the two-day Orlando event, 10,538 personalized orders transacted on Lenovo Self-Service Kiosks, without a single error.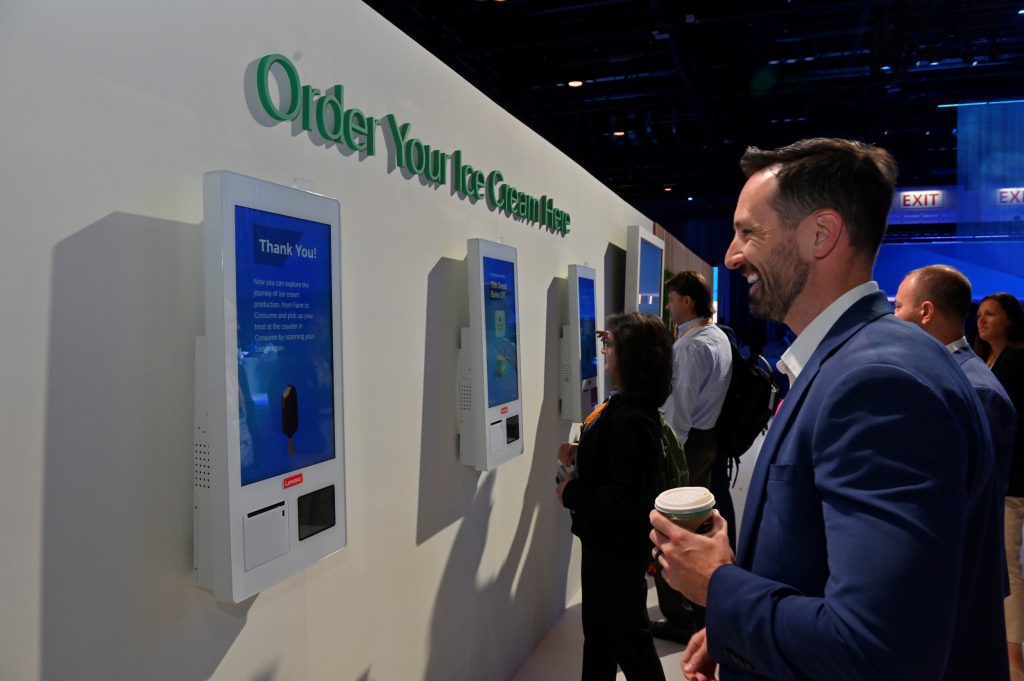 Gerhard Oswald, member of the supervisory board at SAP, shared after the event: "The verticalization of industries is a very exciting space and one that I follow with great interest. It was excellent to see Lenovo partnering with SAP so prominently in all three #sapsapphire locations."
Lenovo's retail focus represented the latest effort of its Solutions and Services-led transformation. At NRF earlier this year, Lenovo outlined its vision for the future based on an end-to-end Retail Solutions portfolio spanning hardware, software, and services to enhance the shopping experience. The offerings include:
Store Operations and IT Support: By putting aside low-value tasks and focusing instead on maximizing return on IT investment, retailers can deploy mobile and static digital Point of Sale (POS) solutions, electronic labels, and digital displays that empower associates, improve the efficiency of day-to-day operations, and provide more payment flexibility to customers.
Store Infrastructure: Cloud costs are one of the biggest reasons why businesses hesitate to adopt new digital technology. Lenovo's edge-based infrastructure minimizes cloud costs while offering secure access via high-quality hardware devices.
Retail Analytics: Deriving insights from customer and employee touchpoints (including inventory scanning, behavior analytics, and loss prevention) allows businesses to optimize costs, identify new retail opportunities, and improve customer experiences inside the store and online.
Services: The Lenovo TruScale solutions portfolio allows retail businesses to scale operations up and down and deploy new cloud-based software with a push of a button. Retailers also have the option to tap hardware and software solutions that offer the highest level of security and reliability so there is no unplanned downtime involving their business systems.
Sustainability: In light of increasing energy costs and environmentally-focused consumers, Lenovo offers retailers the ability to deploy, operate, and recycle assets more effectively and efficiently.
At NRF, Lenovo also announced our Scan-n-Go Self-Service Kiosk, as well as new AI, infrastructure, and digital storefront solutions.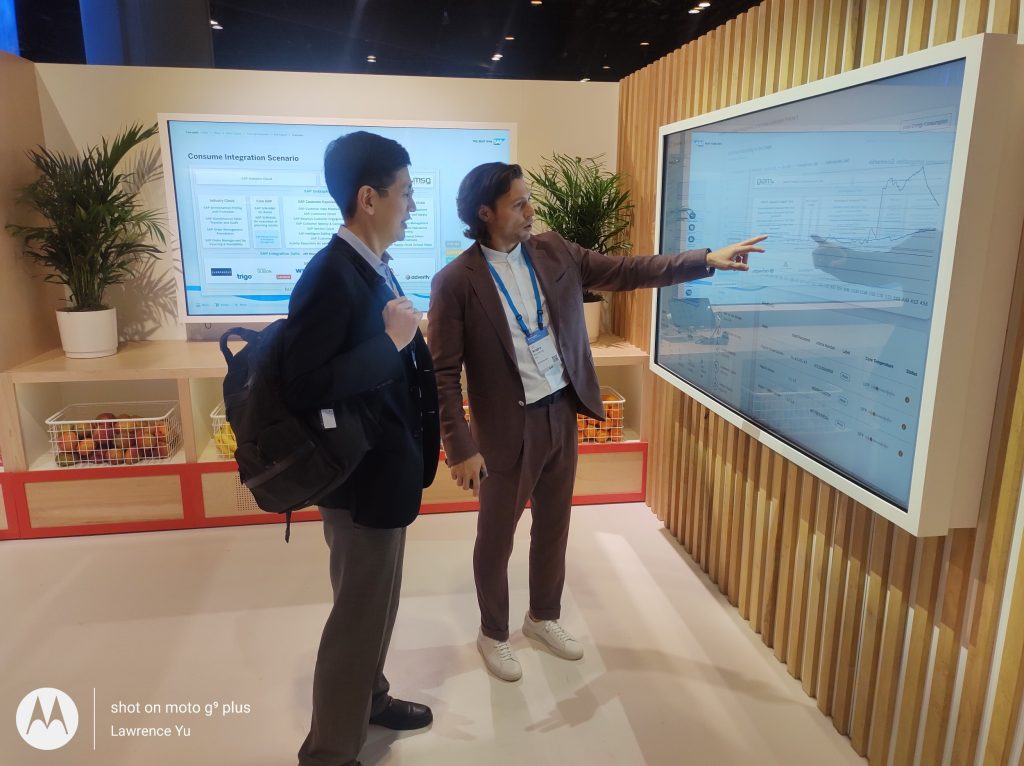 SAP's retail focus portfolio includes SAP S/4HANA Retail for merchandise management, where businesses can optimize their current retail business and grow new business models that provide customers more options and possibilities than ever before. SAP's other retail offering is SAP's industry cloud solutions. Also, SAP Intelligent Returns Management improves customer retention and brand connection with a fluid returns experience for consumers while increasing the productivity of store associates and reducing process costs.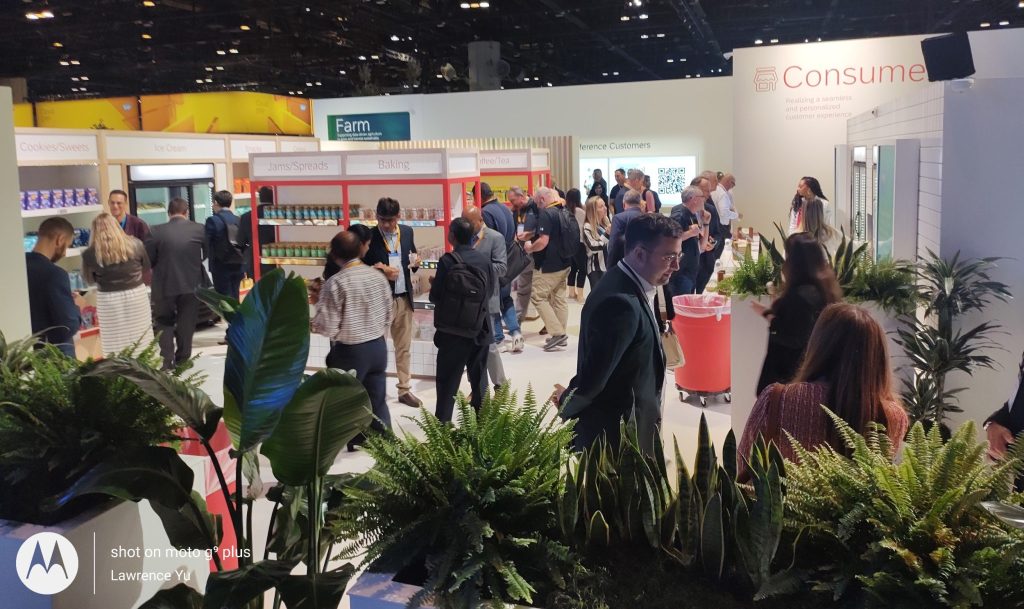 Recently, the Boston Consulting Group (BCG) reported, "The right partnerships can be tremendous accelerators in verticalization for software vendors." SAP and Lenovo share an ambitious vision for retail digitalization, leveraging complementary expertise in software, hardware, and end-to-end solutions.
Explore Lenovo's retail solutions and  SAP solutions.