Salva Espín is one of the world's leading cartoonists, best known for his work with Marvel comics. Now he has teamed up with Lenovo to launch a series of limited-edition stickers which capture the dual personalities of gamers.
Lenovo Legion aims to empower gamers with the flexibility to choose the right machine for both their gaming performance and their personality. For this reason, Second Skin explored the difference between gamers' online and offline personas.
All gamers live dual lives, and, through Salva's artistic wizardry, Second Skin brings to life their alter ego. We sat down with the Spanish artist to seek some insight into the matrix that is the digital world, discussing everything from Marvel dinner party shenanigans to the inspirational approach of the Second Skin campaign.
Q: It's your dream dinner party and you get to invite five characters from the history of comic books. Who is coming and why?
A: Superheroes and food? That's easy. I'd like to have some good pizzas with The Ninja Turtles. These four guys know where to find the best pizzas (especially in New York). Another good choice would be Deadpool, he loves chimichangas, so he also knows where to find the best restaurants. He wouldn't say no to a good pizza either.
Other interesting characters to see how they would behave at a dinner party would be Robocop (who eats something like baby food), Son Goku (who eats a lot) and Wolverine, (who doesn't need a knife or fork).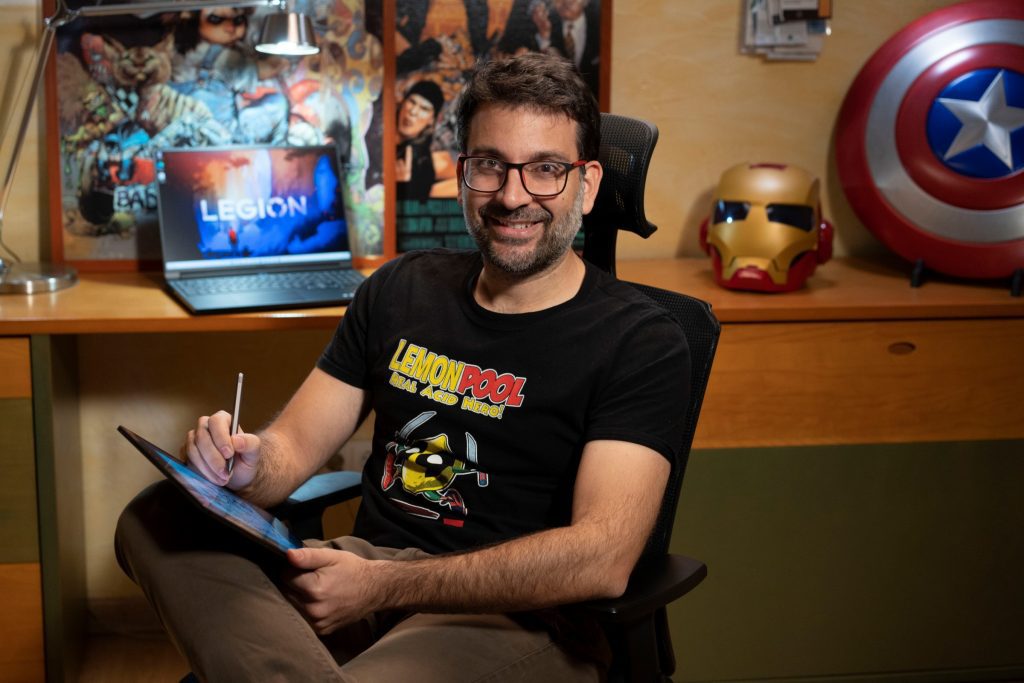 Q: What has most inspired you with the Lenovo Second-Skin campaign?
A: I've been able to create these unique designs based on my experience as a videogame lover and digital illustrator. Another important point is that I have been working on this project with the same technology that I was promoting, my Lenovo Legion Slim 7 has helped me to create the duality concept behind this project.
Q: Second-Skin is about the dual-personality of gamers, how would you describe your gaming personality? Is it very different from your real-life persona?
A: Good question. Well, in games where I've been able to take my own decisions, I am always taking the same choices as in real life. And when the game only lets me choose between very limited options, I usually choose as a first option what I would have done, even if the game character has nothing to do with me. When I continue playing the same title several times, I can make decisions based on how I understand the character according to the creators of the game.
I think that this is one of the most interesting things that video games offer!
Q: Are there any vintage comics you wish you could have contributed to?
A: The Incredible Hulk #180. It's the first appearance of the Wolverine character. I would have liked to be able to do my part and make a cooler mask design than the one originally designed, which is a bit tacky and, with so many lines, it even becomes difficult to draw.