With human experience being unique from person to person, designing a holistic, inclusive experience for an audience of 57,000 is no small order. Director of global diversity and inclusion (D&I), Seth Smiley-Humphries is tasked with doing just that by building strategy and delivering on initiatives that earn Lenovo a best-in-class company status on the global stage.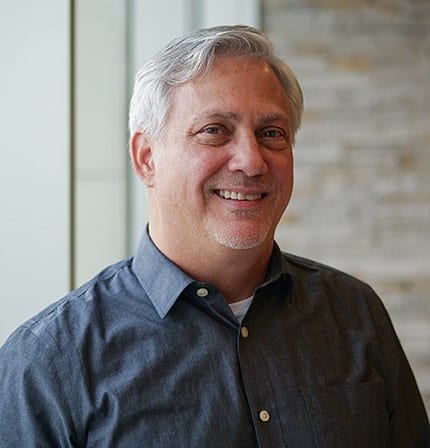 In its second annual Diversity and Inclusion Report, Lenovo shares updates on their progress and new data that highlights what the D&I program has been up to since its inaugural report in 2018.
Sharing Lenovo's diversity and inclusion story through its annual D&I Report is one of the best ways for companies like Lenovo to differentiate themselves in the marketplace for prospective talent. Lenovo's culture has long been rooted in diversity through its 'East meets West' history, shaping the definition of diversity within the organization in a way that is distinctive of other companies.
"We incorporate the individuality of the West, where we talk about valuing our differences," Humphries explains. "But we also honor our similarities, so we focus on that harmonization you see in mostly the Eastern cultures. It leads to something very different about Lenovo in how we approach D&I."
The integration of global cultures allows Lenovo to utilize unique perspectives and resources for innovation. With 20 nationalities represented among the company's top 100 leaders, Lenovo stands out as a leading organization that values what the diversity of the world has to offer.
"Roughly 97 percent of our Lenovo business managers are native residents to the markets that they work in," Humphries highlights. "What you tend to see with a lot of global companies is that they're very U.S.-centric, or singularly-based in one country, and then export their business culture out into the world they occupy. At Lenovo, we meet each country where they're at by having native residents managing within their own markets and we're leveraging the best of what's going on in that country."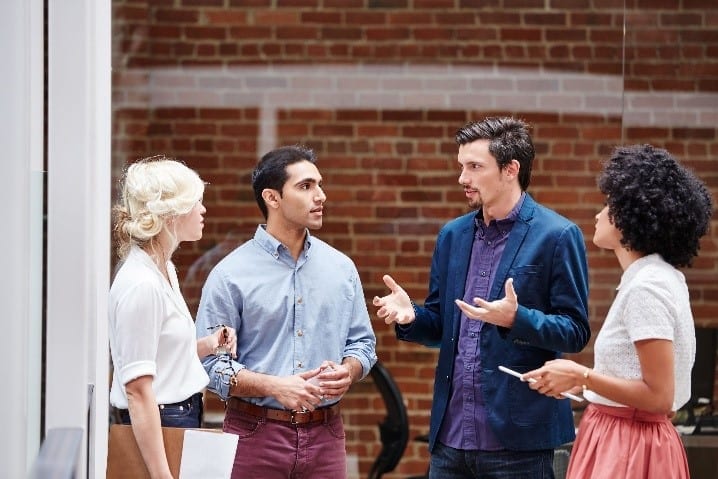 The primary focus of Lenovo's annual Diversity and Inclusion Report is for the numbers to help paint a picture of the strength of Lenovo's programs and promote accountability of its leaders through transparency. After establishing Lenovo's diversity and inclusion story with its inaugural report in 2018, Lenovo refined its approach for continued reporting in 2019.
"With the first one, we threw everything in it," Humphries recalls. "We talked about strategy, global programs around the world, and really just a full record of what we're doing. After introducing that in-depth look into who we are, we're focusing on keeping the report very metrics-driven and focused on what's new year over year."
Notably, the 2019 report provides a new layer to the landscape of the Lenovo workforce, with added statistics on diversity across technical and non-technical roles and data on hiring and attrition, lending new insights into the employee lifecycle.
The 2019 edition supplies a status check on Lenovo's progress toward two key goals for 2020: 20 percent female executives globally, and 28 percent traditionally under-represented race and ethnicities in the executive ranks in the U.S.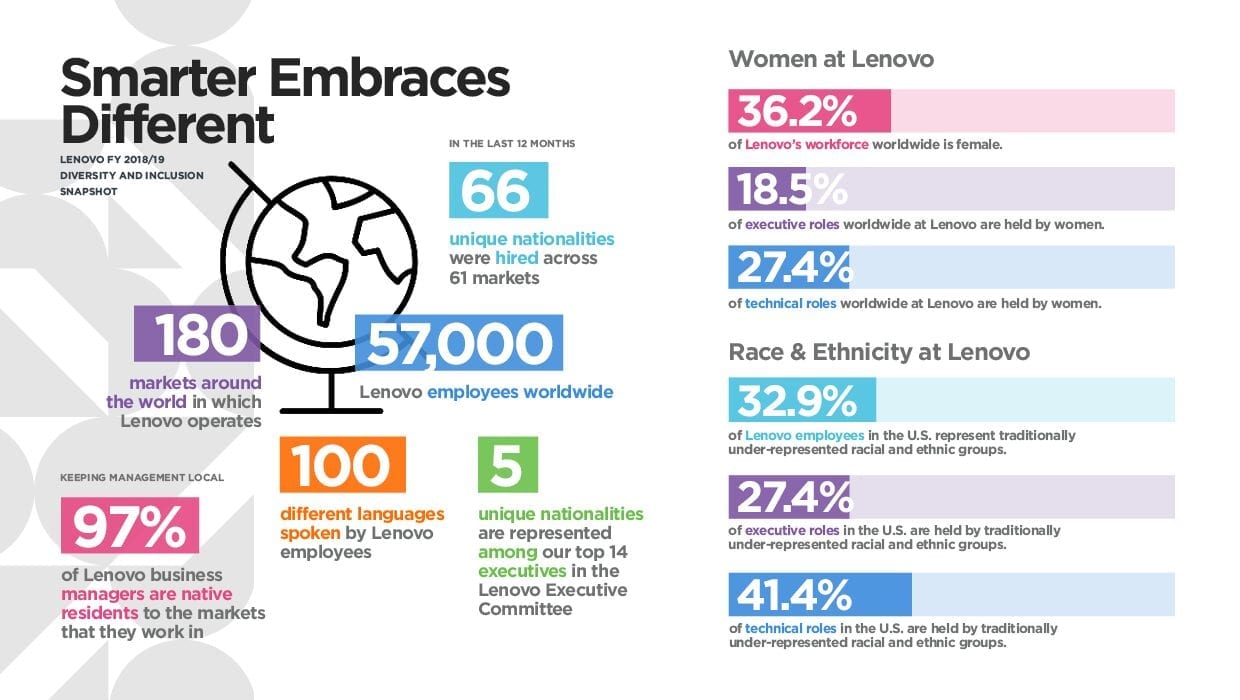 Female executive representation is slightly down year over year from 18.8 percent to 18.5 percent, but traditionally under-represented racial and ethnic employees in executive roles have experienced nearly a full percentage point of growth from 26.5 percent to 27.4 percent.
"There's a growth opportunity," Humphries states. "But with both of these we're confident we're going to make the goal and we're really focused on ensuring it happens."
Among the latest programmatic efforts, Lenovo's employee resource groups have enjoyed new growth and continued expansion of its existing programs.
"We launched Lenovo Employees of Asian Descent (LEAD) and a group for young, early-career professionals with Rising Employees at Lenovo (REAL), and currently there's a focus group working to create a group for employees with disabilities that includes caretakers, allies, and advocates for the disabled community," Humphries reports. "We're also seeing growth across our European countries from Bratislava-based group 'Diversitas', and expansion of groups into Latin America, specifically with our PRIDE group, which is our LGBTQ resource."
With 2019's report fresh off the presses, Humphries and his team, led by Chief Diversity Officer Yolanda Conyers, already have their sights set on new growth for the program's initiatives for 2020.
"As Lenovo scales beyond its products and further-develops its services, we're really focused on 'Smarter Technology for All', and we're seeing we can have an impact in the disability community," Humphries says.
In addition to conducting internal disability audits to identify and address gaps in employment, Lenovo recently announced a partnership with deafblind advocate and Harvard Law graduate, Haben Girma as the company's first accessibility and inclusion advisor.
"We need to make sure that our house is in order around employment of people with disabilities," Humphries says. "Bringing Haben on board, I think it's going to lead to great stuff."
———————————————
Read the 2019 Lenovo Diversity and Inclusion Report, here.