The fight for equality spans the world, from the summit of Kilimanjaro to the shores of the Dead Sea. That's not just a dramatic turn of phrase; those extremes hosted the highest and lowest football games ever played, both in service of a mission to increase opportunity, equality, and respect for women.
Equal Playing Field (EPF) is an ambitious non-profit dedicated to bringing women around the world onto the pitch. Tackling hurdles ranging from cultural bias to a lack of living wages, EPF hosts headline-grabbing events and local training camps to empower women and build communities.
We talked with EPF founder Laura Youngson, the activist and entrepreneur who first imagined a soccer game played in thin, chilling air higher than Everest Base Camp. We discussed the EPF vision, the challenge of playing in remote extremes, and the road ahead.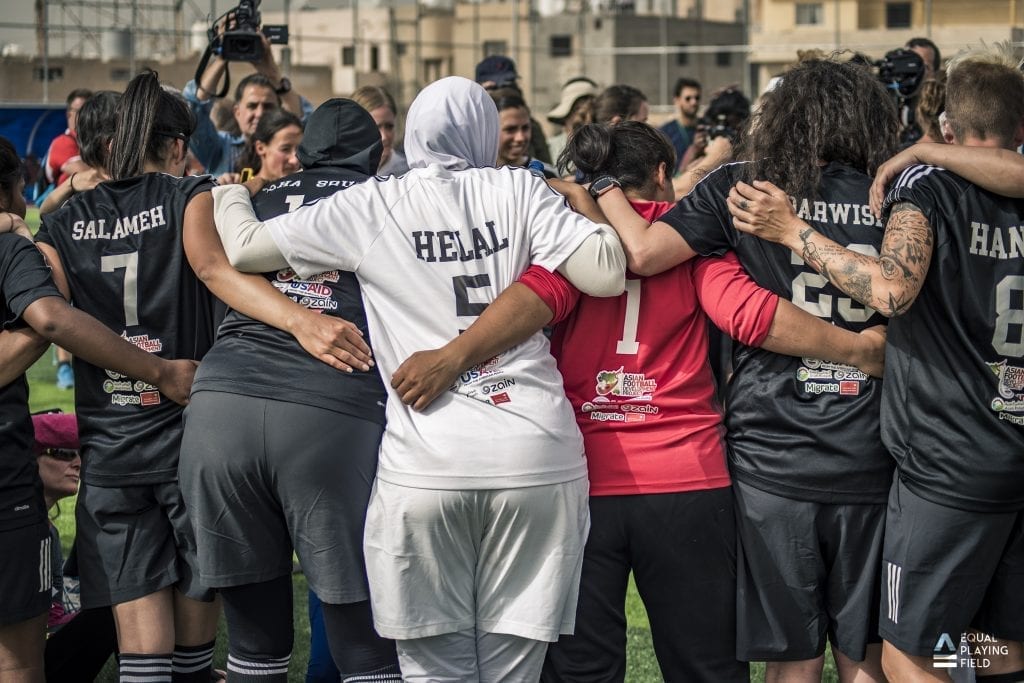 Let's wind back the clock and look at that first breakout EPF event on Mt. Kilimanjaro. In June of 2017, you traveled with a team of 30 women from six continents and set a Guinness World Record. How did that come about?
I'm very into visualizing things—I have these awesome, crazy dreams. I locked onto the idea of creating a world record and then really focused on reaching kickoff in that Kilimanjaro game, the moment the whistle blows. I thought, if we can just make it there, we're good. That first game was like a magnet—people standing up and joining the cause. Everyone coming out to say, "Yes! You're saying the things I wanted to say!"
We really trained for it, but the guides on the mountain were a bit skeptical. We held this practice match at 4,200 meters [~13,700 feet] and that was a good proving ground. The guides saw us play and knew we could pull it off.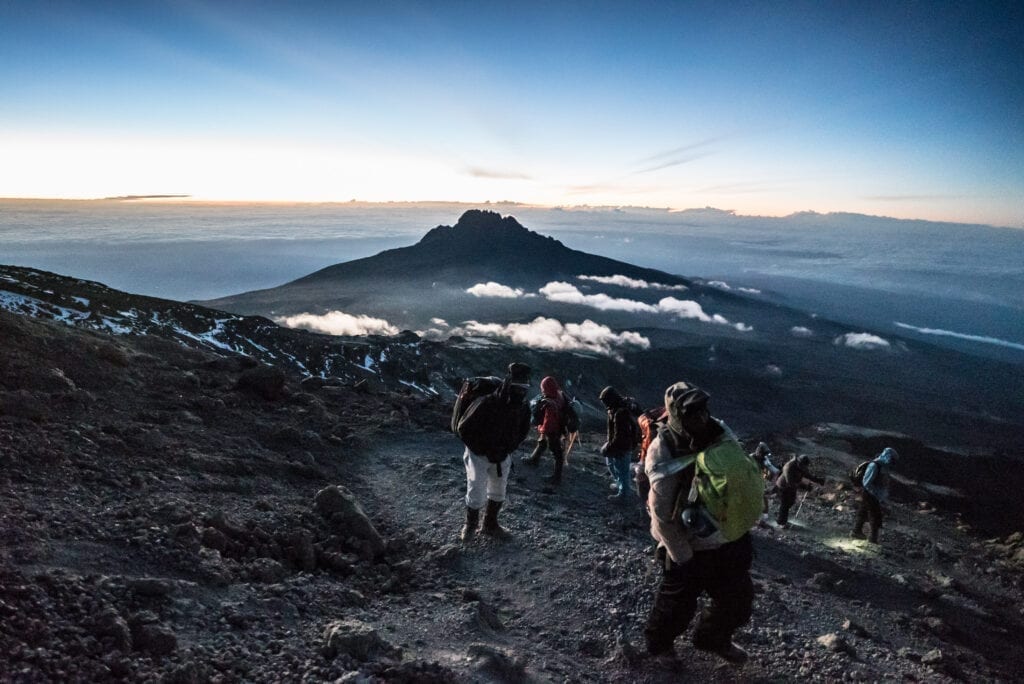 Then you climbed to nearly 19,000 feet, just below the summit of the mountain, for the actual match.
Right, we're on this mountain—on top of the world—and it's freezing and there's this intense altitude element. One of the funniest memories came from the rules we had to follow.  On the trip was a doctor from NASA who specialized in altitude sickness, and he had us pace ourselves at the beginning to see if we would be alright. We had a scheduled stop after 10 minutes of kicking the ball around to see how everyone was doing. Before that the game was going really slowly, then once we'd checked in, it was no holds barred and a really competitive game of football.
And this record-breaking game was just the springboard, right?
This was life-changing for me, definitely, but one of the biggest things was seeing these women find a voice for themselves. Players wanted to quit multiple times, but we all pushed through. Almost everyone who played at Kilimanjaro has taken a step forward in their career or done something they wouldn't have done otherwise.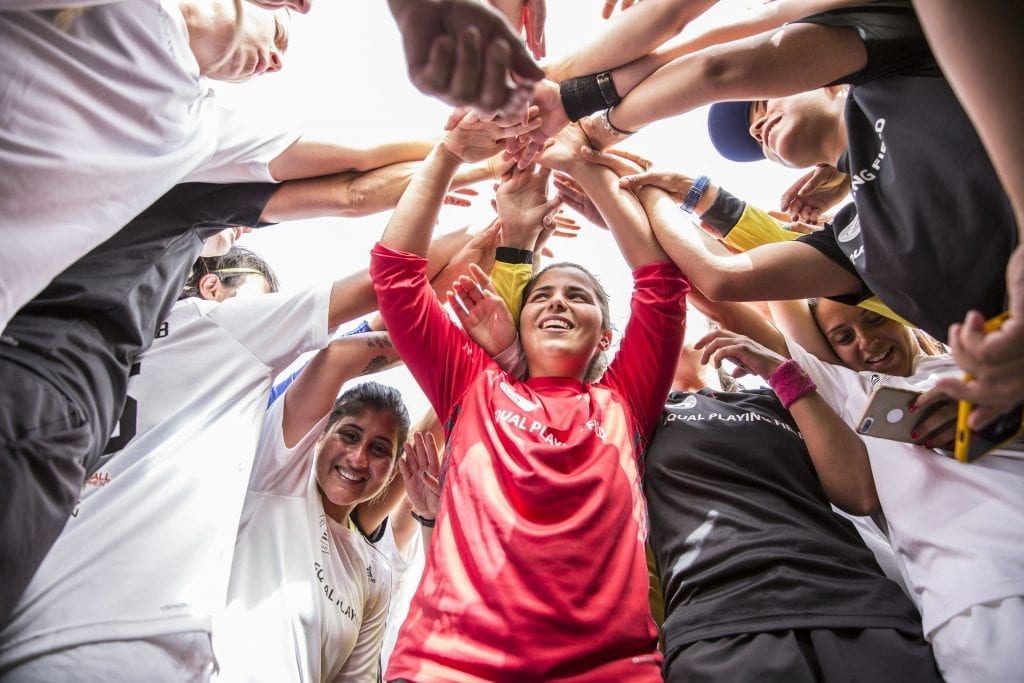 What changed for you, personally?
Since then, I've launched my own company making women's football boots, and I wouldn't have taken that risk without experiencing that match. More than that, my perspective has changed. I find some people can feel like an individual cannot make a difference and that leads to apathy about big social issues —huge, wicked problems like climate change—where the scale can seem impossible. But movements launch and people do inspire change. Working with EPF has made me much more of an activist and optimist.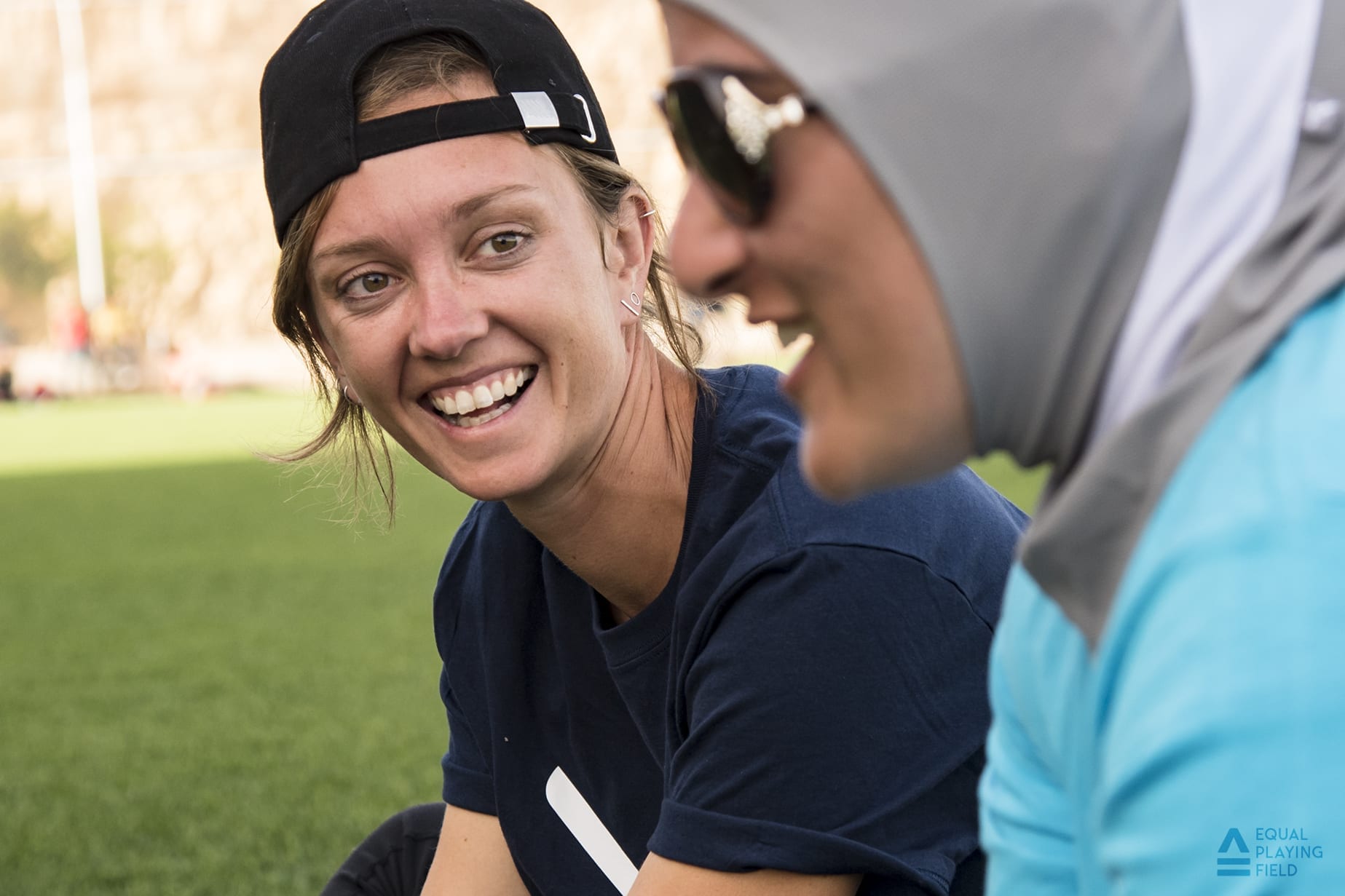 What about EPF? If that was the coming out party for the movement, what's changed?
We started with this nebulous frustration. A feeling that this is wrong, the state of women in sports, and we need to change this. It started with just an awareness that the status quo needed to be different, but now we're more targeted. There should be more funding going to women's teams so players don't have to juggle multiple jobs. Can you imagine trying to be a professional athlete while working as an emergency responder?
So we look at how the money moves. If it's based on the television rights, then let's address that directly. When outreach happens, why do people give kits made for men that doesn't fit girls, instead of building training facilities? How can we invest in real infrastructure? We can connect the dots between grassroots movements and FIFA.
I imagine part of the challenge is building an audience, so companies become interested in sponsoring or advertising at games.
Yeah, in media there's an intangible thing where women don't get enough respect. If you can't see it or read about, how are you going to become inspired? We also have a strange history around women's football, especially in the UK. In 1920, a women's match drew an audience of 50,000, but then the sport was banned until 1971. Entire generations missed the chance to even imagine playing at an elite level.
Do you think we have a problem now with a lack of high-profile role models in women's football? Players becoming global celebrities who inspire girls to play?
I think women—at least the ones we're working with—are far less bothered by icons, or lack thereof. There doesn't need to a wildly successful player on the international stage. Women are often more influenced by their peers—having local role models who play and compete and love what they do. That immediate, close influence is more important right now.
How do you operate on that hyper-local scale?
We host these camps and matches and we pull in players and coaches from around the world. In Jordan, we had this incredible trip with hiking, training camps, and exhibitions. We expected 100-150 girls to show up, but then found hundreds more waiting! And a lot of them were from these really conservative areas, never even having a chance to play sports. We found this barrier to break through, this idea that it was somehow shameful to play. Girls saying, "You foreigners, you can play, but not us."
But we had a coach from Jordan, Walaa, who could break through that. She was from Jordan, she knew the culture, and that helped women get out there on the pitch. And then people are playing, having fun, and some of that resistance drops, even from the older people watching.
That must be amazing, seeing that cultural weight lift, even if it's just for a moment.
Right, and it wouldn't have happened without all those pieces in place. We can get our foot in the door, but we would never have the same impact without locals working with locals. You need everyone pulling together. Diversity is our greatest strength.
Just want to state for the record that this was the second EPF world record—this time for the lowest elevation game ever played, near the Dead Sea. Let's jump ahead to this summer in Lyon, France. You're targeting another world record—not about elevation but sheer numbers.
We're organizing a game with 3,500 participants playing over the course of five days. Bringing all these people together is a huge challenge, obviously.
And we hope we can go beyond the spectacle and help unite these players through their love of the game. Then we can collect feedback about how to change the landscape for women. The game is about awareness, of course, but it will be platform for more meaningful change.
If we jump ahead five or ten years, what do you want to see EPF become?
Honestly, we want to be obsolete! That's the dream, right? We want to normalize women playing sports. If the playing field is equal, if there's no need to increase awareness and access, then we can shut down. Women will receive a living wage and be celebrated for playing. Mission accomplished! Eventually, I hope we can shift to building a network of women, playing at elite levels or driving change in completely different ways. I'd love to see us continue unifying people beyond the pitch.
What role can technology play in making that happen?
There's an empowerment component with social media. You get to share your experiences directly rather than waiting for some platform to be granted. For female athletes there's an authenticity, too, that I think really resonates with aspiring players.
It's easier to deal with trolls, too. We can rally around each other to support women facing insults and aggression. EPF can help build those communities.
It's nice to be reminded about the positive potential in social media—giving people voices and growing communities of people that might otherwise never find each other.
We also see a lot of young players learning skills through YouTube—this is the only access they have to any kind of coaching or demonstrations. It's wonderful, but there's a lack of females delivering those skills videos. So EPF helps produce that content to provide role models that are more diverse and representative. For a lot of players, that's their first interaction with the game. It should be meaningful and personal.
Sports tech can also add an elite performance element. Using augmented reality or motion tracking to improve your technique, customize training, or experience live and immersive coaching. That's also exciting when training programs or facilities aren't available. We have partners and sponsors who get excited about showcasing some sensor-filled shirt for women to track performance, but honestly, that's not the need. A lot of women just want to get a shirt that fits. That's how far we have to go.
I'm excited to see how our coaches will use some of the donated Lenovo products. Loading skills videos on tablets, for example, and sharing them with players who have limited access to technology. It could be really powerful.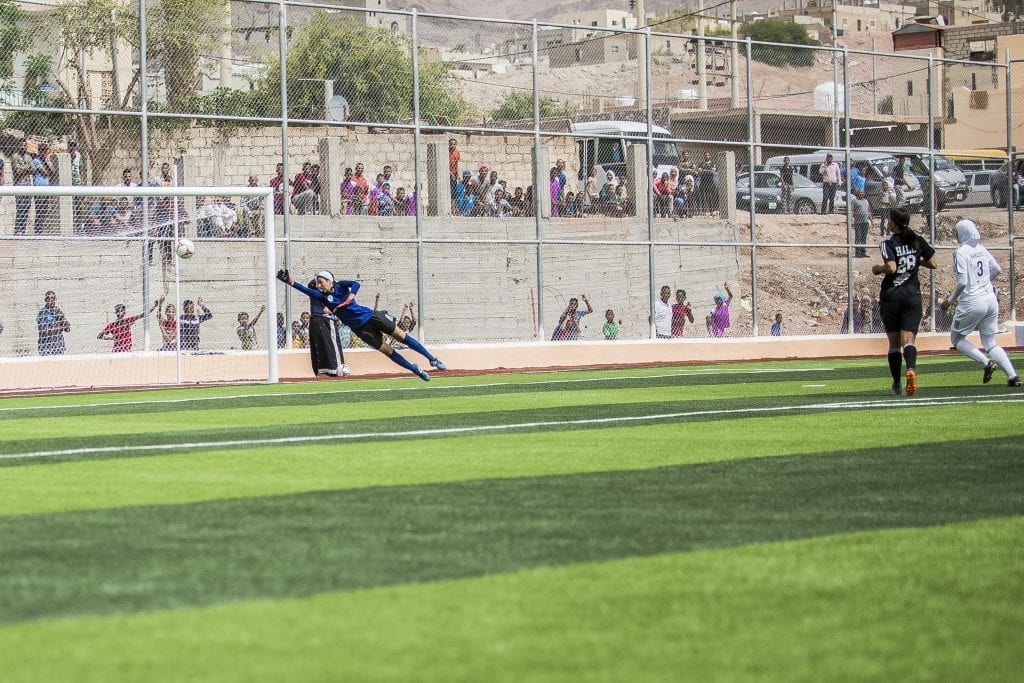 Lenovo just started to partner with EPF and we are thrilled and humbled to contribute in some small way. How should we and other global companies contribute to the cause?
Start with grassroots activities—engage with and promote incredible humans doing incredible things. In terms of elite sports, companies should sponsor more teams and players. And sponsor the unfashionable stuff! The programs or teams without a high profile. Look at a second division league, right? A little money there can make a huge difference where players are just looking for proper gear and funds to travel to games. There's always room to champion the sport and look for those innovative, off-the-wall projects. A lot of companies want to tread the same path, but the true innovation might need more bold investment.
And you know, it isn't just about football. Why not sponsor a women's team in eSports? There are plenty of chances to elevate women and give them a chance to break into an arena dominated by men.
What about those of us privileged in different ways with more opportunities and access?
For starters, listen! Talk to people who are living through adversity or structural challenges. Even little things like language fluency can make a difference. With EPF, we've found that we speak the language of FIFA and we speak directly to women working and playing in the grassroots so we join the dots and ensure that there is a diversity of representation in the game.
More broadly, if you're in a position of privilege, kick down doors. Be a ninja! Be the person that opens doors in the workplace or on the field and lets other people come through and make their own mark. Create a platform upon which other people can stand!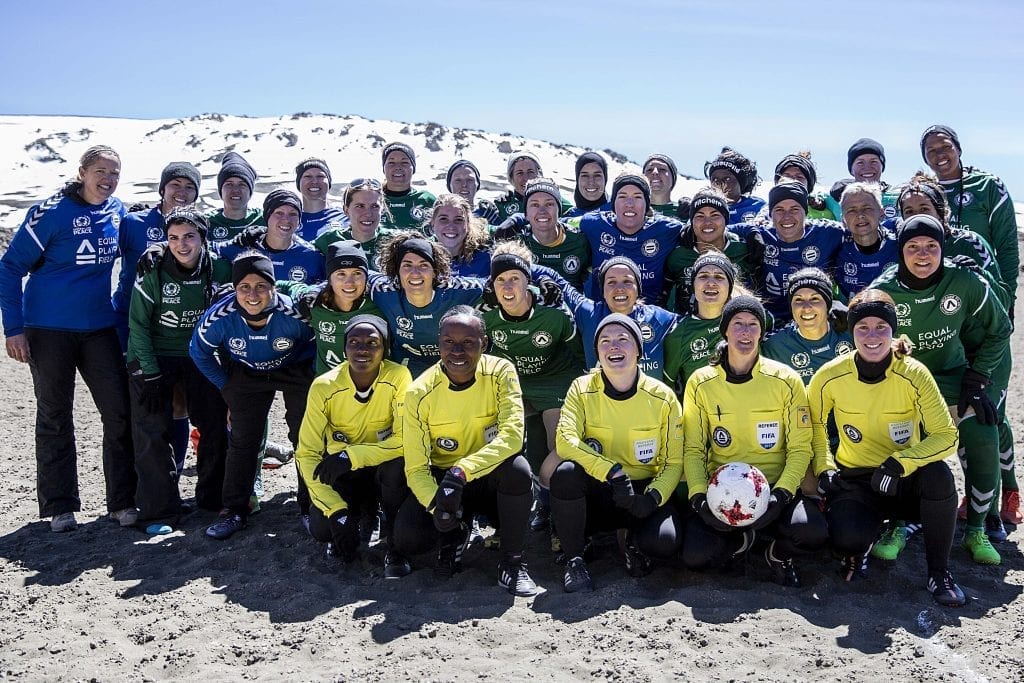 Lenovo will share Equal Playing Field stories throughout the year, focusing on players, coaches, and the power of technology to increase equality. Follow EPF on Twitter and stay tuned to StoryHub.