In recent months, individual and collaborative productivity have faced unprecedented challenges, with work from home policies being widely implemented for the foreseeable future. However, increased productivity and agility have been widely recognized for some time as one of the major benefits brought by greater flexibility in the business workplace.
Demand for technology to support work-from-anywhere has seen a significant increase, whether it is PC hardware, collaboration tools or network bandwidth. In the short term, companies and individuals strive to minimize the impact to business continuity. Longer term, everyone can benefit from greater flexibility.
Last year, IWG (International Workplace Group) conducted their annual workplace survey in which 85% of respondents confirmed that productivity has increased as a result of greater flexibility. But what is flexible working? The report suggests that 27% wish to choose a working location at least some of the time, and 21% wish to make some decisions regarding working hours. Clearly, we are entering an era of flexible working and recent events surely have only accelerated a work from anywhere trend.
Employees will benefit from an extended workspace where they can transition from one space to another without sacrificing productivity. Businesses can reap the rewards of greater agility. A more dynamic workforce and improved morale helps retain talent and there could be cost savings through reduced overheads and operating expenses; although only time will tell the true impact as companies refine flexible working policies.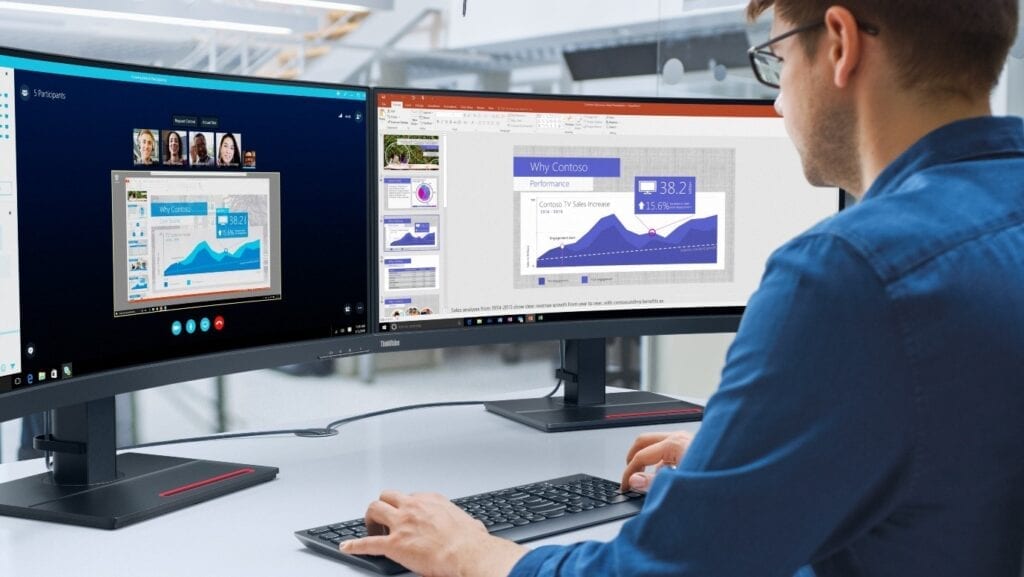 In fact, I suspect that many users will have multiple workspaces as we further embrace flexible working. Today, I want to specifically look at the visual experience of end users' workspaces, wherever they may be. We take great pride at Lenovo in using customer and end user insights to develop and enhance products to solve these challenges and bring back delight in using technology.  Here are four key areas to consider when creating an efficient, productive and pleasing workspace:
Work healthier: An ergonomic workspace is critical in ensuring a correct posture to avoid potential injury or long-term physical difficulty. Do not underestimate the importance of an ergonomic display stand that can lift, tilt and adjust to the best position; and seek out monitors that include Eye care technology to reduce eye strain from extended usage. The best posture will vary by individual user and screen size, so it's always best to seek advice. A general rule of thumb would be to position the monitor at a distance equal to 1.2 times the screen size, with eye level around the top of the screen. Eye care technology reduces eye strain from extended usage.
Maximizing viewing space: Select a screen size that meets your requirements, and your space. Our near edgeless displays' range from 14 to 43.4-inches. If you have multi-screen requirements, they are easy to setup with daisy chain support and single cable connection to your PC or laptop.
Productive clutter-free workspace: a table full of cables at best is awkward. A USB-C Hub monitor can eliminate cable clutter by allowing you to connect your keyboard, mouse, speaker, printer and so on directly to your monitor, meaning that when you connect your PC, you simple have to plug in just one cable. This can free up your workspace allowing you to be more creative and efficient and frankly just makes you feel better!
Stay Green: Energy efficient monitors contribute to reducing environmental impact. Our displays meet rigorous energy efficiency performance levels from multiple organizations including Energy Star and EPEAT. As I write this today, Lenovo has more Energy Star Most Efficient 2020 monitors than any other vendor.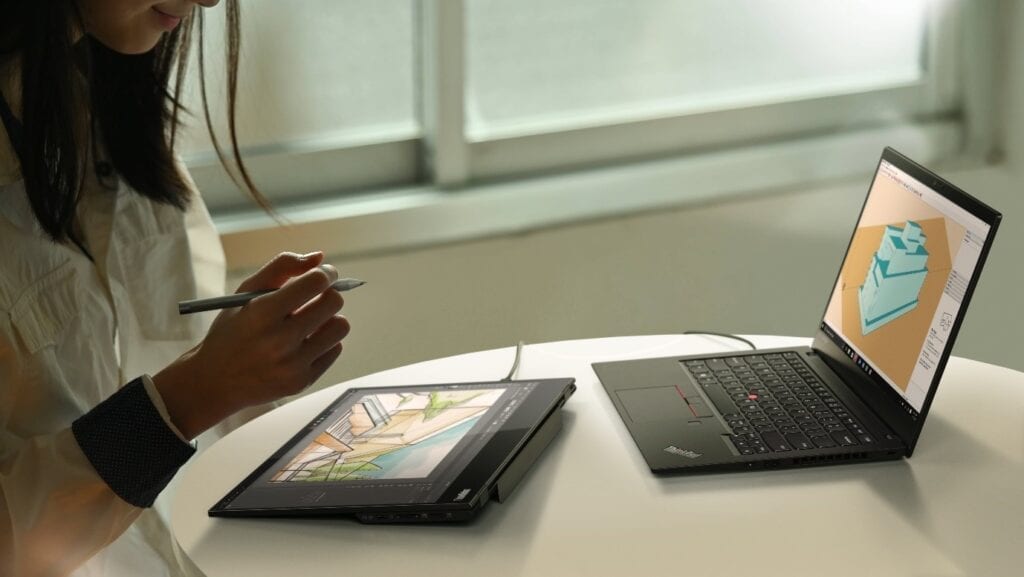 Our ThinkVision monitor series carry the legacy of Think quality and are designed to deliver innovative display solutions, with the aim to enhance both productivity and customer experience. The breadth of our offerings ensure that any customer can have the solution they need to solve today's flexible working challenges.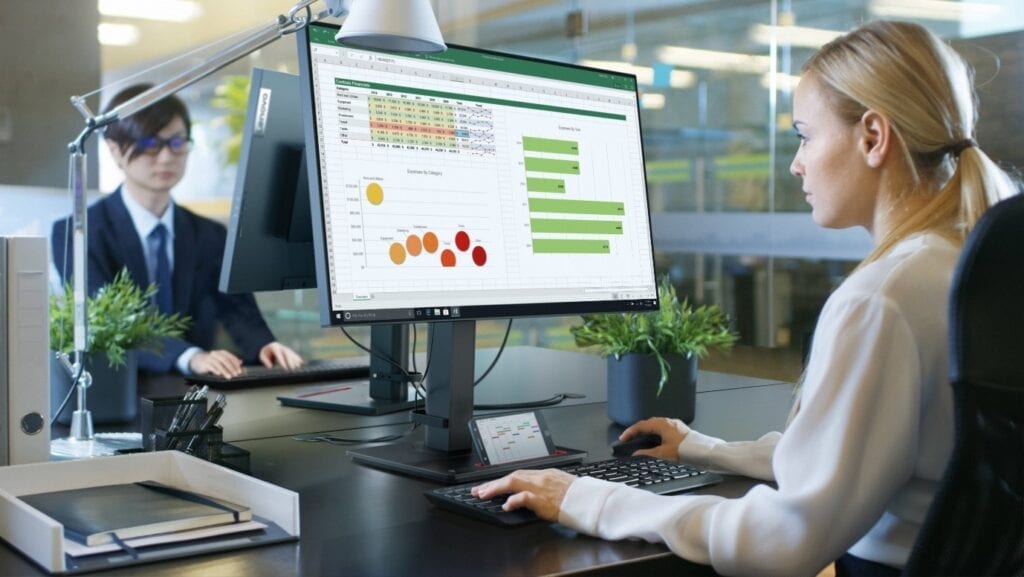 In the last three years, since I have been leading Lenovo's global visuals business, I have fully embraced a new flexible way of working from my home in Hamburg, Germany. I currently use a 1st gen ThinkVision P27h-10 connected to my ThinkPad X1 Yoga, but I am upgrading to our new P27h-20 with four side near-edgeless display and enhanced USB-C connectivity.
The single-cable connection to transfer power, data, ethernet, video and audio signal makes the P27h-20 an excellent home office companion to manage my clutter-free workspace. When I travelled, the M14 mobile monitor was always first in the bag and I look forward to replacing that with the new just announced M14t which will extend the touch capability of my X1 Yoga, when I start travelling again – soon, I hope!