The world around us is changing constantly. For business today, the ability to quickly adapt and innovate is critical to keeping the pace with change and staying ahead of the competition. Solving real-world challenges requires robust infrastructure solutions that generate faster insights, allowing users to make complex decisions quickly, and with a higher level of confidence. Cutting-edge technologies that deliver data center-like computing to the edge are being implemented right now to help companies meet the moment, and the transformative effects have been substantial. In fact, edge computing has moved to the center stage as a business imperative today. Businesses are using edge computing to tackle their biggest challenges, improve customer experiences and significantly elevate social and environmental responsibility.
So, what exactly is edge computing?
The simplest definition of edge computing that I can offer is: a form of compute capability that operates outside of the cloud, or outside of the data center. There is a massive amount of data that is being generated right now at the edge. With all the sensors and all the cameras that are deployed all over the world, there is too much data being generated for it all to be brought back to the cloud or to the data center. This massive amount of data requires that the computing capability to process it all needs to be delivered to where the data is actually being created – directly at the edge site.
Edge computing comes with several challenges, which can all be traced back to leaving the secure and controllable environment of the data center. Businesses must utilize immensely capable computing equipment that can also deal with vastly different extreme temperatures, different humidity levels, and different shock and vibration environments. Being outside of the data center, the edge compute equipment itself needs to have extra security – as well as the data within it. All of this combines to form the biggest challenge of them all, which is managing all of this at scale. Due to immense amounts of data being generated all around the world, businesses can have thousands of servers deployed globally to form their edge server infrastructure. All these servers need to be deployed and managed without having to send technicians all over the world.
Addressing edge computing challenges with ThinkEdge
Today, enhanced edge automation capabilities make it easier than ever to support data-based decisions at the speed of business. The new Lenovo Open Cloud Automation (LOC-a) version 2.5 securely authenticates and activates leading ThinkEdge servers on site via a phone application, accelerating business insights with a fully operational edge infrastructure within minutes or hours.
To ensure businesses stay ahead of these myriad challenges, Lenovo's full ThinkEdge portfolio of edge server products have been designed to work effectively in the most difficult conditions imaginable. The full portfolio can handle the most extreme temperatures, as well as different shock and vibration factors. Smart filtration technologies have even been implemented, ensuring Lenovo's equipment can be used in very dusty environments. The sound produced by the ThinkEdge lineup has also been architected to be unnoticeable, so that businesses can have high performance servers situated adjacent to the users, while maintaining a very low sound level. And finally, the servers use special technologies designed to lock edge servers into place, with movement detection enabled. That way, if someone attempts to steal or tamper with the device, all the data contained inside it will be locked and protected.
However, the biggest advantage offered through ThinkEdge is the innovations inside the server itself. These innovations stem from the expertise, know-how and craftsmanship of all of Lenovo's divisions. The ThinkEdge server portfolio is truly a "One Lenovo" showcase. From our laptop division, we learned how to build edge servers to be highly compact and very ruggedized for ease of deployment and operation in challenging environments. We learned from our Motorola mobile division how to build wireless antennas that can effectively communicate with edge servers, even if there is no physical network capable of reaching the site where a specific server is situated. Finally, the Infrastructure Solutions Group combined these benefits with the highest performing servers in the market today and the strongest resiliency. The result is a high performing portfolio of edge servers, capable of empowering companies with real-time data processing at a global scale, which in turn powers smarter business decisions.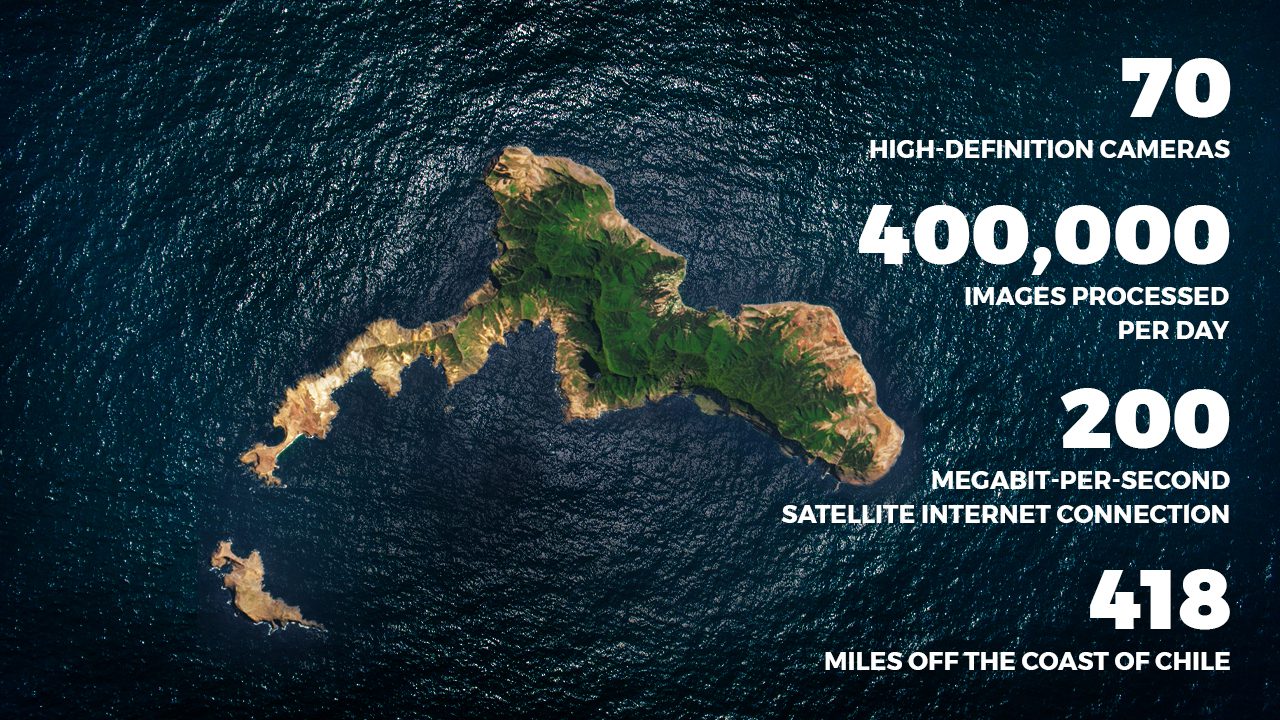 Life at the Edge
With all these transformative capabilities comes infinite real-world use cases for today's innovators. Innovators like Island Conservation, a global nonprofit organization dedicated to preserving biodiversity. This organization conducts work in some of the world's most remote locations, including Robinson Crusoe Island, more than 400 miles off the coast of Chile. Robinson Crusoe Island is home to some of the most unique species and wildlife, while also hosting more than 75 percent of the world's threatened species. Invasive species are one of the leading causes of extinction, and Island Conservation is focused on removing them from Robinson Crusoe. The most challenging element of doing so is having to remove every single invasive individual and knowing when the job is truly done.
One of the most effective current technologies is camera traps, which serve to log different species and then collect all of the information onto a hard drive, which gets shipped out to Santiago on a plane every two weeks. Prior to working with Lenovo, the total time between when an animal was detected on the cameras, and when that data actually gets back to the Island Conservation team, was about three months. This didn't provide the necessary expedience for the organization to make decisions in order to prevent extinctions on Robinson Crusoe. By implementing one of Lenovo's ThinkEdge servers to bring data center computing capabilities from the mainland to the island, the data collected from camera traps went from taking three months to be received, to a matter of weeks. Looking ahead, Island Conservation has a goal of restoring 40 different islands and their endangered species by 2030, and Lenovo's ThinkEdge technology will play a pivotal role in making this possible.
The ThinkEdge portfolio has proven itself in numerous additional use cases, including enhancing customer experiences at all 200 service stations operated by ENOC Retail, one of Dubai's largest retail companies. ENOC Retail's stations consist of not just fuel, but also full convenience stores, automotive repairs, car washes, and oil change networks. The ThinkEdge portfolio ensures ENOC Retail has the IT infrastructure and technology needed to capture a high volume of transactions across all its stations, while powering actionable data-driven insights.
Lenovo's edge computing technology is also powering Sonny's Enterprise, the largest manufacturer of computerized car washes in the world. ThinkEdge systems ensure the company's customers can achieve maximum uptime by flagging potential car crashes in a car wash tunnel before they happen.
Edge is imperative today, for business survival tomorrow
Edge computing is truly transformational, and its real-world empowerment of rapid and informed decision-making separates the innovators from the obsolete. Edge technology supports enterprises of all sizes in addressing their biggest challenges, substantially improving employee and customer experiences, and strengthens social and environmental outcomes. By computing at the edge, businesses are answering are able to flexibly power their innovation and generate faster insights to solve real-world challenges.