Along with the rise of IoT, AI, and new technologies that are changing the world, is autonomous robotic technology. You can imagine the excitement around events like ABU Robocon3 where universities and academies from all over the world come together to see if their robots have what it takes to complete a task within a set period of time.
The Kyoto University1 Mechatronics Creators robot circle (in Japan, a "circle" is a club run by students) achieved a remarkable feat by winning the 2019 Japan Student Robocon2 Tournament and successfully reaching the quarter finals of the ABU Robocon3 tournament. The circle's autonomous robot uses the ThinkPad X1 Carbon as the brain to analyze its surrounding environment using sensors.[1]
We sat down with a few members to learn more about the club, chat about their tournament journey and discuss their experience using the ThinkPad X1 Carbon.
The story behind Kyoto University Mechatronics Creators
The club formed in 1995 in order to participate in the Japan Student Robocon. However, due to a lack of club members and budget, the circle only participated three times in the tournament; in 2001, 2003, and 2005.
"Members started to take it upon themselves to participate in other robot tournaments,
and over the last few years the circle has built up a good record. Getting a hold of the machines and workspace to build robots is not easy, so these days the circle could better be described as a venue for people who like robots and are interested in circuit design, programming, and mechanical engineering," said Ryohei Morita, Kyoto University student and club member.
"We get together and enjoy these things the way we want to by pooling our money. In fact, we rarely work together, and don't really tell each other what we're doing," Morita laughs. There are around 40 members, mainly from the Faculty of Engineering but also from other faculties like the Faculty of Pharmaceutical Science.
"The circle is just a platform for anybody that's interested or enjoys making robots, and that is exactly why the circle has been able to build up the kind of autonomy it has," said Professor Fumitoshi Matsuno.
Matsuno is head of the Kyoto University Mechatronics Lab, which aims to create intelligent machine systems through a fusion of mechanics, electricity, and controls. As the circle's advisor, he helps secure funding for participating in Robocon and administrative procedures.
That'd be cool to do…
"When we all got together to watch a live stream of Robocon 2018, it suddenly made me want to participate and I offhandedly commented that we should. And before I knew it, we'd made the decision to enter even though we didn't have the budget or man-power, Morita chuckles.
Given the budget limitations, Morita and his team collected donations from former circle members, and slowly but surely, they started to build a strong, foundational team.
"We happened to have members who are skilled in both hardware and software and we were able to put together a 10-person team by the time the Robocon rules were announced in September," added Morita.
The team's entry in Robocon started on a whim when Morita said "That'd be cool to do."  Even though they experienced some ups and downs, they were able to hunker down to make a full-fledged robot. They participated in the 2019 Robocon that was themed "the Great Urtuu", which is based on a horse relay messenger system borrowed from Mongolian culture.
In the competition, teams must use two robots in place of horses, and compete to see who can carry a checkpoint pass called a Gerege to the goal line quickest in a relay format while avoiding a range of obstacles. Along the way, they must also throw a dice-like object called a Shagai, and they cannot proceed unless the required result is obtained.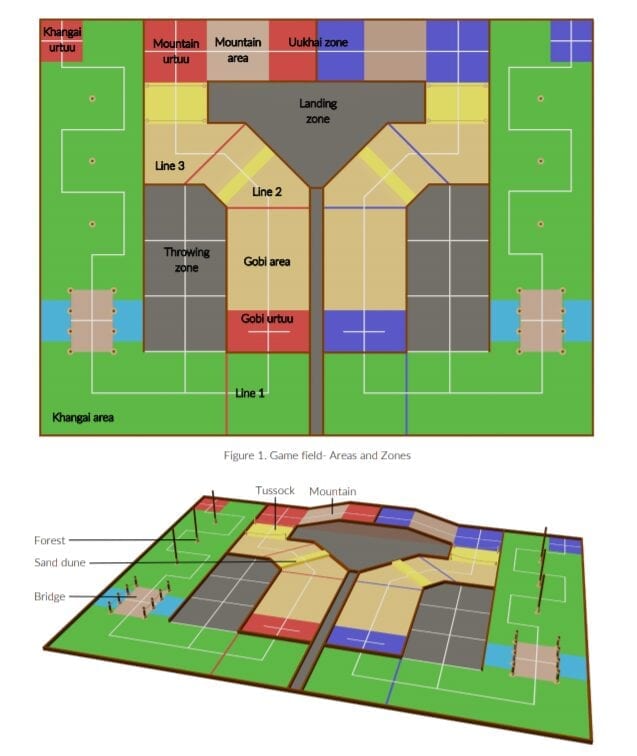 The brain of the robot
"Our robot emits infrared signals in all directions and detects the reflection so that it can calculate the location and distance of obstacles and move autonomously. While there were other robots that used a similar concept, we were the only ones to use a laptop as the brain of the robot," said Kotaro Matsuoka, Kyoto University student and club member. "Other teams used ultra-compact computers such as Raspberry Pi, but with a laptop you can use the display and keyboard to immediately deal with any problems that arise."
I can't believe this…
When comparing to the other teams at Robocon, it's no secret that the Mechatronics Creators circle were the under dogs. As they passed through the qualifier rounds and progressed to the final league, they came to realize the event continued to unfold in ways that were completely different to what they initially envisioned.
"In the test runs there were teams whose results were more than 30 seconds faster than our 55 seconds, and their robots were overwhelmingly better than ours. At first, we thought we were unlucky that we were against such strong teams, but given the challenges the other teams faced, we managed to come out on top and win the whole thing," said Matsuoka.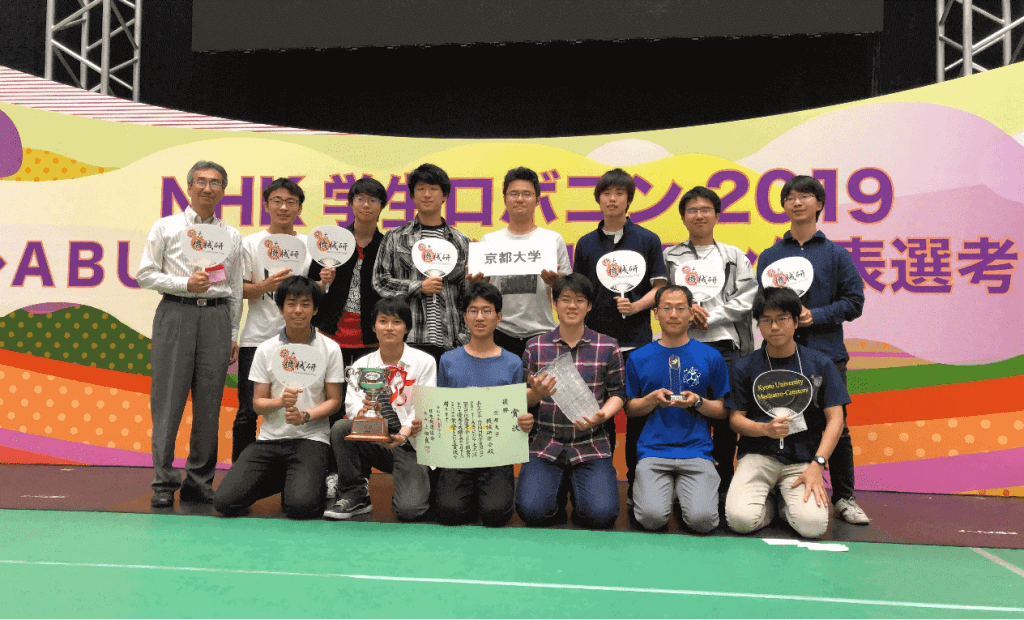 Out with the old, in with the new
Shortly after taking home the winning title of the 2019 Robocon tournament, they began preparing for ABU Robocon when they faced their biggest challenge, processing power. In order to avoid the obstacles on the course, it's essential to be able to detect the surroundings in real time which means a massive amount of computation is required to identify obstacles while moving. That's when the circle said goodbye to their old ThinkPad and hello to the ThinkPad X1 Carbon.
"As soon as we updated our PC, all of the problems on the software side of things were instantly resolved," Yuki Takezawa said with a smile.
Morita chimed in saying "In terms of hardware issues, we were only able to reduce our time by 35 seconds and while we got through the qualifiers, we lost in the first game of the final league. There were many more technologically advanced robots though, so I have no complaints about the result."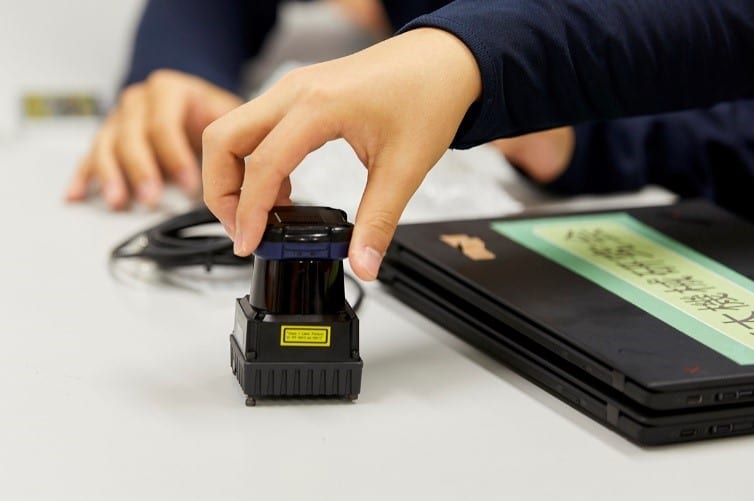 The circle ended up taking 8th place out of 17 teams and won an award for best design. "In the competition, the robots must grab and throw an object called a shagai and it seems that we received praise as we were quite original in that we were the only ones to use the same mechanism to perform both," Matsuoka said.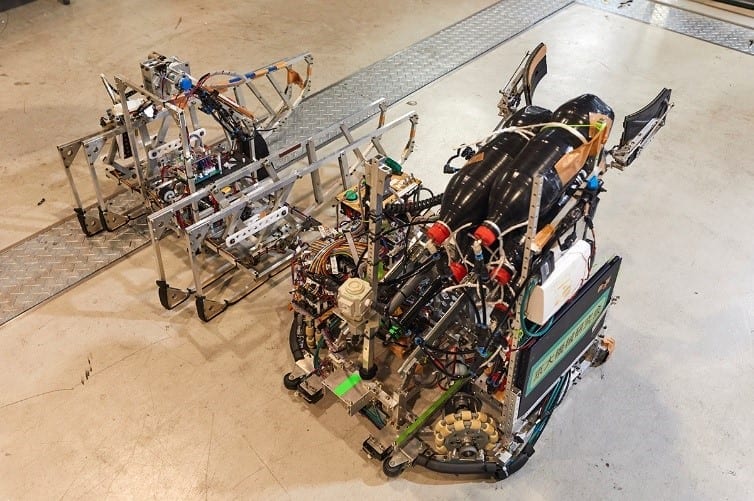 "There are many different reasons why we choose the ThinkPad X1 Carbon, but the biggest is that it is equipped with an 8th Generation Intel Core Processor – the latest processor that enables high-speed processing of large volumes of data," explained Takezawa. "After experimenting with a relatively new laptop that one of the team members was using and seeing the results, this was an essential criterion."
Matsuoka then explained how the laptop needs to withstand the vibrations that occurs when the robot is moving and the impact when it collides with obstacles, so having high durability is also one of the main reasons. In addition, the ThinkPad X1 Carbon is lightweight, has a design based on straight lines, and a good battery life, which all fit nicely with being mounted onto a robot. Furthermore, it is also equipped with a wide range of ports, and this is beneficial because you can increase the performance of a robot by connecting it to many different devices.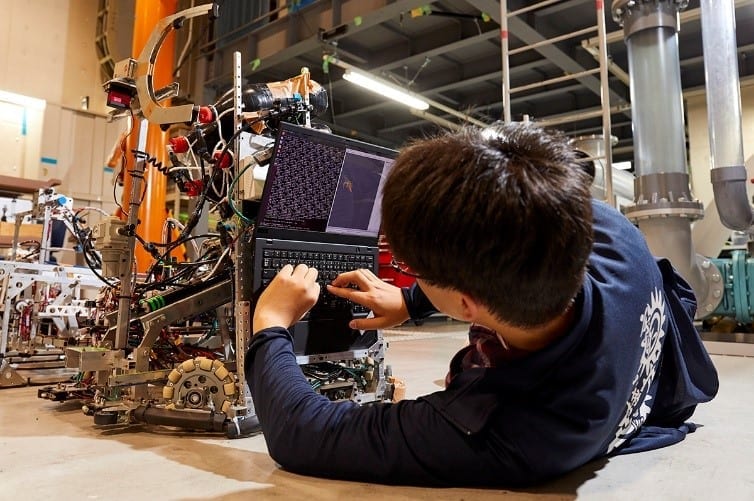 "In a single sentence, it was exactly as I'd hoped. There is plenty of spare capacity in its computing power, and there is still plenty of leeway in terms of software as well. We even had another PC standing by just in case, but ultimately there was no need for it as the ThinkPad X1 Carbon is very resilient," Matsumoto concluded.
At Lenovo, we believe Intelligent Transformation can bring about futuristic evolution when technology connects the present to the future, such as the autonomous movement that Kyoto University Mechatronics Creators robot circle created, which happened using conventional information technology as the base.
________________
1Kyoto University is one of the Top Prestigious Universities of Asia and Ranked 2nd in Japan
2 The Student Robocon was started by the NHK (The Japanese Broadcasting Corporation, basically the BBC of Japan) in 1951, which inspired the ABU Robot Contest in 2002
3ABU Robocon = Asia Pacific ABU Robot Contest. The contest aims to create friendship among young people with similar interests who will lead their countries in the 21st century, as well as help advance engineering and broadcasting technologies in the region. The event is broadcasted in many countries throughout Asia Pacific.