In honor of Pride Month, we asked some of our employees from around the world to share what pride means to them, insights on how to become a better LGBTQIA+ ally and advice for being your true, authentic self.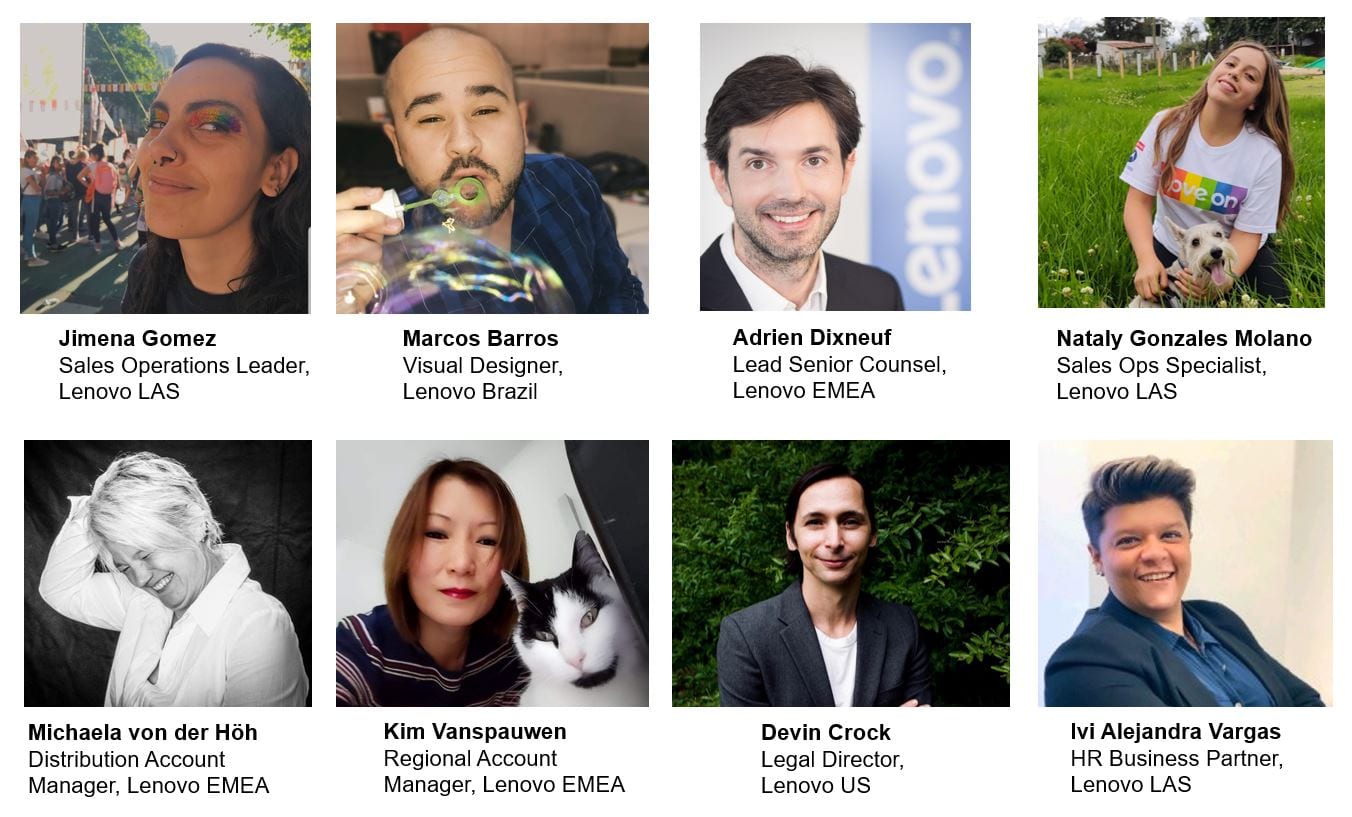 What does Pride mean to you?
Devin Crock: PRIDE to me is about celebrating all of the diversity of the LGBTQI+ community. PRIDE is also a time to reflect on the people who put their livelihoods and their lives at risk to stand up and demand equality, as well as a time to bring awareness to the disproportionate inequities that the LGBTQI+ community continues to suffer – especially for queer and trans people of color.
Adrien Dixneuf: Growing up, I had a lot of internalized homophobia, and many people around me would criticize Pride events by saying, "I have no problems with LGBTQ+ people but why do they have to parade in the streets?" For many years, I must shamefully admit that I may have said that myself during my closeted years.
But getting more into the history of the LGBTQ+ community, I finally realized that, Pride was a political expression of occupying the public space because this very public space is sometimes if not often not open to us because of safety reasons or even because of repression. And since then, I join virtually or physically as much as possible to bring the attention of the public to Pride events. And even if it has indeed become a loss-political event, it is very important for all our community to gather for the Pride month.
Ivi Alejandra Hiller Vargas: PRIDE means security, feeling safe, being myself, expressing love, being visible, helping others to understand the LGBTQI+ community, and being an example for those who are not able to speak out.
Jimena Gomez: "Pride" means being loyal to myself and not settling for less than I deserve, which is being happy! It means living my life as I want. No matter how long it took for me to realize who I really am, and no matter what I have or have not done, I am ME today – and that is enough. It also means honoring all the ones that were not able to be their selves and/or suffered for it.
How can people raise awareness about the important issues that impact the global LGBTIQ+ community?
Ivi Alejandra Hiller Vargas: Be respectful towards those near you. Show interest in understanding what they feel, live, and express. Educate yourself in what you don't know or don't understand. These little actions can cause a greater impact than trying to do greater efforts.
Devin Crock: First, educate yourselves. Do not think you know the LGBTQ+ community because you've watched some episodes of Queer Eye. Read about all the violence that is taking place against the community. Second, be critical of the stereotypes you have – be critical of policies or societal expectations of assimilation. Read books by queer authors and look at life from other perspectives. Remember that there are more similarities between all of us than differences.
Kim Vanspauwen: I recommend visiting and following your national PRIDE social media groups and provide local support to their current online activities and events.
Also… Do not be scared to reach out to people and listen to what challenges the community faces and try to move away from unconscious bias. We all get caught up sometimes in stereotype thinking, but talking to people can open up your ideas and broaden your horizon.
Nataly Gonzales Molano: I hope we all take the opportunity during this Pride month to raise awareness for the important issues that affect the LGBTIQ community and teach others that even if you do not identify as part of the community, you can still make a difference and celebrate diversity.
How have you felt empowered to be your true self at work?
Marcos  Alves de Barros: I was lucky enough to meet some awesome people at the beginning of my career at Lenovo, and over time, they have conquered a piece of my heart with their kindness, friendship, and words of support, creating an open environment so that I could feel more secure about myself in the workplace. My advice is to start with kindness and be kind to ALL people! I have also learned so much from being a part of the Brazilian Pride ERG, highly recommend joining an ERG group if your company has them.
Jimena Gomez: My colleagues have always been an amazing support system through my journey and gave me the space to be ME. My managers have been especially supportive by allowing me to dedicate part of my time to Lenovo Latin America's PRIDE employee resource group (ERG).
I think ERGs are vital in creating a more inclusive workplace. Give ERGs the space and resources to grow, to carry out events, to inform/educate employees on pressing matters. A tiny step is a step nonetheless; every single action matters.
Ivi Alejandra Hiller Vargas: Since I started at Lenovo, I have felt that I really belong to a company that is open, diverse and inclusive. I have found spaces to develop my ideas and be listened to. ERGs are great spaces to develop and implement ideas created by the community and the allies. I personally think that the things that are not seen, cannot be changed. So that's the reason why I started being part of the ERG, to help in the construction of a more inclusive company.
Devin Crock: My pronouns are they/them/theirs. My biggest obstacle has been the insidiousness of trans- and homophobia in popular culture. Stereotyping and cheap jokes at the expense of a group of people shows up very quickly in the assumptions people make when you come out. But living your authentic life is not selfish; you don't owe anyone a different version of yourself.
I've been privileged to work with an exceptional group of colleagues who supported me when I came out as trans and non-binary. A special shoutout to my coworker, Emily – who, when I came out to her, simply thanked me for trusting her with the information and asked what she could do to support me. Having a friend I could open up to during the process of coming out to a broader set of colleagues was invaluable.
Do you have any advice for others who struggle with being their full self?
Adrien Dixneuf: I would say that it is very important to have safe friends to talk to if family isn't there to listen. Try not to invent what you think is an "acceptable" story to hide the fact that you are a member of the LGBTQI+ community.
Devin Crock: You don't owe anyone a different version of yourself. I know that society makes it hard to focus on yourself guiltfree but finding yourself and living your authentic life is not selfish. Find community who will be enthusiastic for you, find community who will be excited to see you become your authentic self, and focus on what your authenticity does for your self-confidence and happiness – do NOT focus on anyone around you who tells you first and foremost how your authenticity affects them.
Michaela von der Hoeh: Being your full self will bring so much energy back to your day, and furthermore, people around you will open up once you open up. Just look for somebody either from a local ERG or somebody you can trust and talk openly.
Ivi Alejandra Vargas Build your own path and trust in yourself by reading, listening to other situations, and speak with someone who you trust. You can start with little steps, and little by little you'll see lots of changes that will help you to be more confident. I think ERGs are great spaces to develop and implement ideas created by the community and the allies.
We're proud to support our Pride employee resource groups by empowering them to have an impact in the community, and our internal organization. This year, we're funding new partnerships led by employees with external organizations like Workplace Pride in Europe and TODXS in Brazil. Support for the community both internally and externally has helped us earn a 100% score from the Human Rights Campaign Corporate Equality Index 4 years in a row. We know there's so much farther to go, and we look forward to partnering with more NGOs in the future that support the LGBTQIA+ community.