As we celebrate Earth Day this year, we're reminded of how our actions, big and small, affect the planet and each other. At Lenovo, we are dedicated to building a smarter future through our commitments to sustainable practices, decrease our impact on the environment and partner with others who are aligned with this mission.
Recently, I had the opportunity to chat with Lenovo Innovator and sustainable fashion stylist Kamrin Brown about her passion for sustainability. Read on to learn about what Earth Day means to her and how others can join our collective efforts to limit their own environmental impact.
Q: Happy Earth Day! Are there any specific ways you plan on celebrating?
A: Happy Earth Day to you as well! I actually created a sustainability bucket list filled with challenges I am pushing myself to complete by the end of the year. As part of Earth Day, I announced this bucket list on my Instagram to inspire and encourage followers to participate in any way possible.
Q: We know sustainability is a huge passion of yours – so much so that it has become a full-time job. What inspired your mission of combatting fast fashion, and why is it so important to you?
A: It's easy to get caught up in the flurry of keeping up with the latest trends and buying new all the time, only to then discard items once a new season comes along and that old trend dies. Because of this, fast fashion is a major contributor to the world's overconsumption of resources. When you create your own style in a way that combats these trends and lean into innovative thinking with your wardrobe, you're contributing to a sustainability-forward mindset and minimizing waste.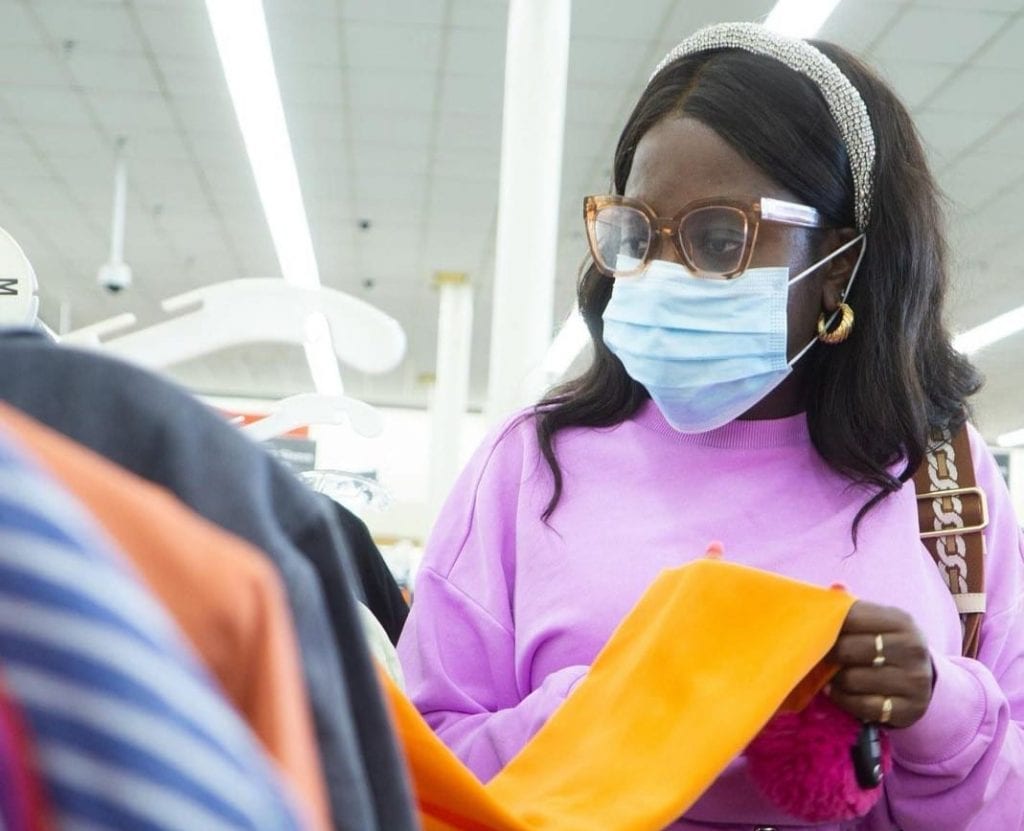 Culturally, people of color tend to be sustainable without calling it 'sustainable' because it's a means of survival. For example, my mom, grandmother and aunties would do anything to cut-down on waste – saving plastic bags and containers, as well as fixing our clothes or anything we had in general. It's been a way of life for so long that I don't exactly know when I 'fell' into it. I started thrifting with one of my aunts as a kid, but everything else comes from what I was taught growing up.
Q: While sustainable fashion is your primary focus, are there other ways you try to live a more sustainable lifestyle?
A: I try to live a minimal-waste lifestyle in my home by adopting practices that promote reusability and cut-back on personal waste. I always meal plan and only buy what I know I'll use. I save bones and food scraps to make stocks in my Instant Pot and then store them in my freezer for future use (veggie, chicken and turkey stock is my personal favorite!).
In addition, I save glass jars and containers for food storage and cocktail mixing while also avoiding single-use plastic or paper products, prioritizing reusable options. Even though we finally caved and bought a dishwasher, we are sure to only run it every few days to minimize water usage.
Q: Through your partnership with Lenovo, you've had the unique opportunity to elevate your voice and showcase your passions for sustainability to global audiences. What advice do you have for those looking to drive change using the power of their individual voice?
A: My biggest tip: everything counts. It doesn't matter how big or small the action is – anything we do as individuals is either a step toward or against positive change. We must think critically and use each moment we have wisely. Over the last year, I've learned even the simplest task, like consistently posting meaningful content to Instagram, is enough to incite change on the smallest levels – even within my immediate reach. I can only imagine what heights we can reach with bigger actions!
"Everything counts. It doesn't matter how big or small the action is – anything we do as individuals is either a step toward or against positive change." 
Q: As you continue to pursue, promote and advocate for a more sustainable lifestyle, what role do you envision technology playing in your everyday decision-making and how has it enabled you to make progress toward your mission?
A: Technology has enabled me to make amazing progress over this past year. My overall content quality and research capabilities have expanded. I've been able to push the boundaries of my creative prowess even further to create meaningful content that reaches more people. Tech has also allowed me to access multiple avenues for researching new sustainable tips, new places to thrift, and more ways to minimize food waste.

Q: How do you challenge others to join your sustainability mission? How can those who haven't been as sustainably conscious in their buying habits get started?
A: I can't emphasize enough the importance of doing small, simple tasks. Whether saving food scraps or fixing that hole in your sock, every little step we take as consumers is one in the positive direction. I challenge others to push the limits of their style expression, not just in fashion, but in home living, in their respective professions, and in their interpersonal relationships. Anything that can be done, large or small, can and should be achieved!
Kamrin's dedication to sustainable living serves as an inspiring reminder to us all that even the smallest actions matter and can lead to impactful, long-lasting change.
Follow Kamrin's #LenovoInnovators journey and learn more about her sustainable lifestyle on Instagram (@naturallykam).