At a recent Triangle Takeoff Coalition Business (TTC) Meeting at Raleigh-Durham International Airport (RDU) our Lenovo crew enjoyed meeting face-to-face with partners who are crucial to the success of our business and community. I was humbled to share my thoughts on how a thriving airport helps businesses like Lenovo, including providing a strong first impression for job candidates as well as other visitors to the greater Triangle region.
The Triangle has been a hub for technology companies for many years, largely due to the fact that we have such amazing talent here locally. It is part of the reason Lenovo established one of our two global headquarters in North Carolina back in 2005. For nearly two decades, the Triangle has been Lenovo's home. It's where our employees, live, work, play and travel.
As a global company with local roots, we know the importance of having an airport that supports and embraces business travel. We need an airport with global reach to accomplish our mission. That's why Lenovo has proudly supported the Triangle Takeoff Coalition (TTC) from its beginning in late 2020, when the TCC formed to help people "Carry On" with their lives after the height of the pandemic. Lisa Marie Ferrell, Lenovo NA Communications Officer represents Lenovo on the TTC.
Ferrell also had a speaking role in a TTC commercial that aired during the 2022 Super Bowl.
The TTC is an alliance of global, national, and regional businesses that understand the importance of RDU International Airport to our region, and how we must preserve and regain global connectivity to thrive. For Lenovo, it is imperative that our employees can travel wherever they need to go and that our customers and business partners can also easily get to us. It allows us to bring the best and brightest minds to the Triangle area to collaborate, innovate, and to make sure we are servicing the industry and our customers.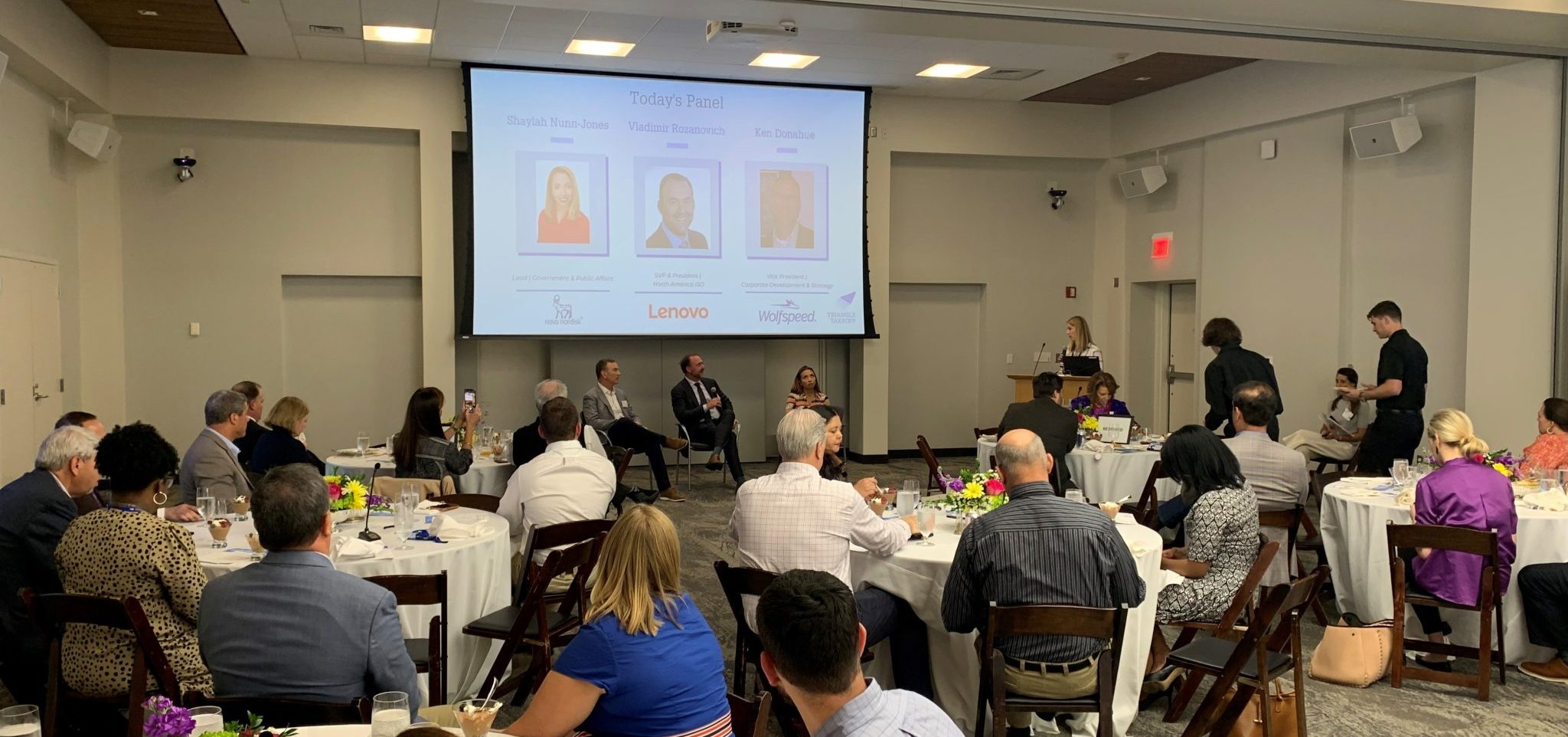 As a member of the coalition, we too recognize the value of continuous support to the airport as an economic engine for our growing region, and:
Expanding global connectivity at RDU
Maintaining the Triangle's status as a top place to live, work and visit
Providing access to peers in the business community
Raising the public profile of member companies
Demonstrating corporate and social responsibility
Lenovo continues to be a global powerhouse when it comes to IT and intelligent transformation in the technology industry. When we look at our financial results over the last year, we had over $70 billion in revenue worldwide in 180 markets employing over 75,000 people around the world. This puts us in the category of a Fortune Global 500 corporation and our ties to the Triangle region and RDU are critical to our success.
Like Lenovo, the Triangle is growing, and it needs an airport that can support that growth.
We're excited for the future of our region and for the airport.