Lenovo partnered with nonprofits to procure and deliver life-saving equipment in further COVID-19 relief efforts
When a second, harsher wave of COVID-19 swept India in March 2021, millions of cases strained healthcare providers and other frontline workers across the subcontinent. This led to a critical shortage of essential medical supplies and infrastructure. These supplies were key to supporting both individuals fighting the virus as well as India's communities battling to stop the pandemic's spread.
As India continued to take action against COVID-19, Lenovo reached out again to both the government and people of India through the Lenovo Foundation, its charitable arm.
As a first step in May, Lenovo partnered with nonprofits American India Foundation (AIF) and World Vision India, as well as disaster relief organization Americares India. Collectively, they contributed towards the successful procurement and delivery of medical equipment such as oxygen concentrators, refillable oxygen cylinders, invasive ventilators, and oximeters.
Together, the organizations reached three million individuals through hospitals in four major states – Karnataka, Maharashtra, Tamil Nadu, and West Bengal. The dissemination of concentrators required meticulous planning and collaboration to overcome international supply and logistics chain hurdles. Moreover, a complex distribution system had to be navigated to ensure the equipment reached those living in the remotest areas of India.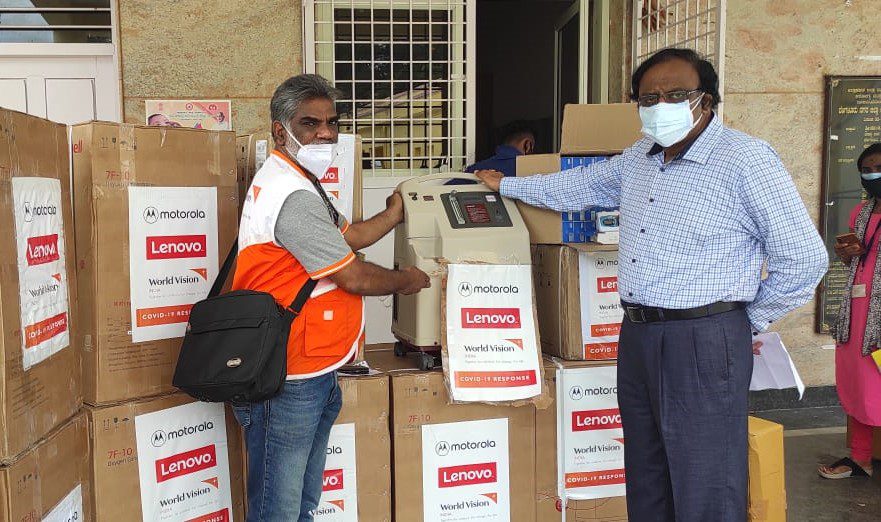 "The need of the hour was for all stakeholders to come together and work in unison to ensure every possible support was extended to the most vulnerable people affected by this pandemic," said Shailendra Katyal, managing director of Lenovo India. "We thank every person at Lenovo and our NGO partners for all they are doing to help our customers, who count on us, and the communities that we call home."
Lenovo also worked in conjunction with AIF and Goldman Sachs to fund and establish the first mobile hospital unit in Bangalore – the capital of Karnataka state – at Mother & Child Hospital. This 70-bed negative pressure "MediCAB" hospital is one of several developed by a startup incubated at the Indian Institute of Technology, Madras. Designed with a dedicated zone of Intensive Care Units (ICU) The mobile hospital can accommodate an assortment of life-support equipment and medical devices.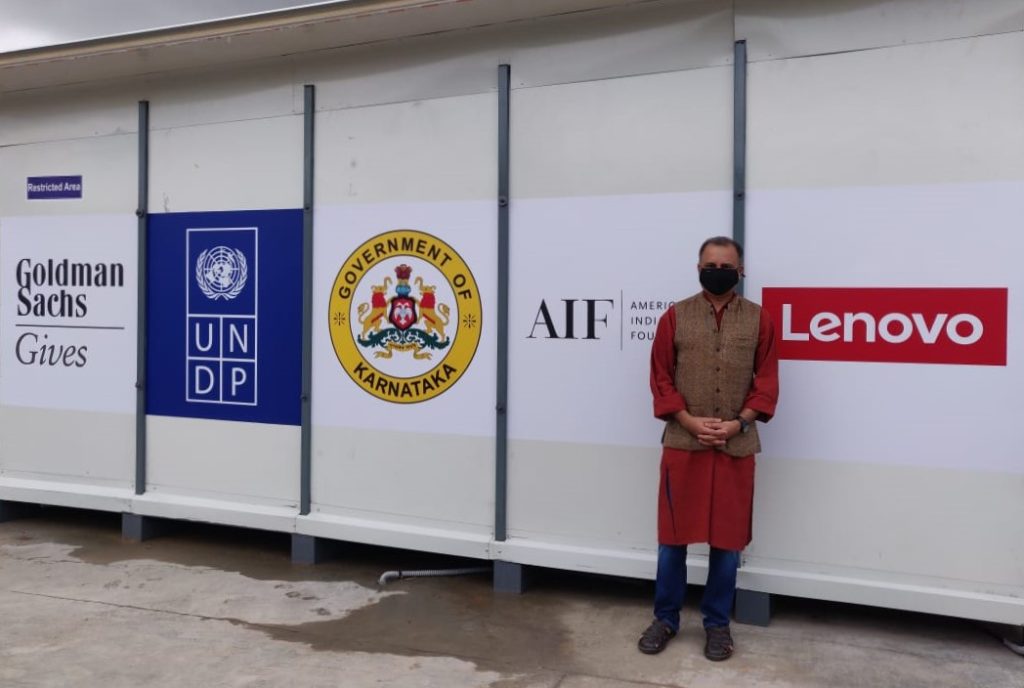 Mother & Child Hospital's newly upgraded facility offers additional triage and treatment centers, with 62 beds installed across isolation units and 8 in ICUs. These portable beds double the hospital's existing 70-bed capacity, boosting its ability to treat and care for those stricken with COVID-19. Each bed unit has been designed with 25-year durability and can be be deconstructed or repurposed to create extra space to meet community or disaster relief needs.
"We thank the Office of the Principal Scientific Adviser to the Government of India, the Government of Karnataka, Goldman Sachs, and Lenovo India for providing us with an opportunity to serve the people in critical need of help. These rapidly deployable hospitals were intended to plug a major health infrastructure gap, especially in rural areas and smaller towns," said Mathew Joseph, Country Director, AIF.
"The makeshift hospital will be very useful to the people of Doddaballapur and its surrounding areas during this pandemic and will continue to serve the people for 20 to 25 years," said Shri B.S. Yediyurappa, the then Hon'ble Chief Minister, Government of Karnataka. "The government extends its gratitude to Lenovo India, Goldman Sachs, and American Indian foundation for their CSR efforts, and UNDP for their technical support."
Lenovo remains committed to rehabilitating existing hospital infrastructure to improve critical care for families impacted by the pandemic. Alongside its partners, the Lenovo Foundation will continue to champion on-the-ground initiatives that will enhance the preparedness of battered health systems across several states.