Lenovo's employee resource groups have brought employees together to find community with their peers – both inside the office and at home.
At Lenovo, we view ourselves as a 63,000-person team. Full of entrepreneurial spirit, Lenovo employees know how to take ownership, collaborate, and drive results. Add in a global pandemic forcing many of us to work from home, though, and this company full of teammates can quickly begin to feel very distant when our primary source of connection is limited to devices.
Now more than ever, Lenovo is making every effort to ensure  employees stay and feel connected. From wellness resources to keep our people moving, to live trainings specifically geared to reinforce connection, to leveraging the latest Microsoft Teams and Office 365 tools so that we can virtually collaborate from anywhere – we are doing everything possible  to make business as usual still feels interactive during a very unusual time.
Among the many resources Lenovo has provided for employees to stay connected, our employee-founded resource groups have stepped up to bring our Lenovo family just a little bit closer. Lenovo's employee resource groups connect our people through self-identified characteristics such as gender, race, national origin, sexual orientation, and shared experiences. The groups, with multiple chapters hosted in various offices around the globe, have embraced our diverse and inclusive culture by helping each other grow professionally through networking, mentorship, and volunteerism while celebrating our diverse and inclusive culture.
Sharon Di Sensi reflects on her involvement in the North America chapter of our Women in Lenovo Leadership (WILL) employee resource group, "Leading WILL has increased my confidence in front of larger audiences, which has also supported my career growth as a Client Executive and now, a Sales Manager."
Beyond their professional objectives, these groups have also given employees a sense of community in a very large, global company. Within these groups, members have a safe space to connect with colleagues from all corners of the company, to develop confidence, and to build each other up in times of challenge. They also champion opportunities to reach beyond the group to equip the entire Lenovo workforce to be the best allies they can be.  In light of recent protests in the United States, our Black Leaders Achieving Success in Technology group assembled a quick reference guide for how to show up, listen, and act in support of Black colleagues and friends and fight racial inequality.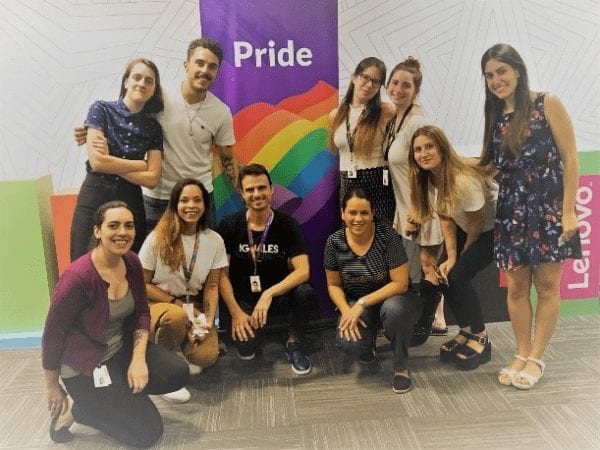 "Involvement with a Lenovo employee resource group has impacted my life in indescribable ways. There is a sense of community, partnership, family, and support within these groups," shares Rafael Fulton Fernandes, Customer Fulfillment Advocate and co-chair of Lenovo's Hispanics of Lenovo Association (HOLA) resource group. His passion for HOLA is driven by "the importance of being involved in something greater than myself, the ability to transform and change people's perspectives, the sense of helping each other all the time, everything with a "second" job that is more a passion than a duty."
Throughout the pandemic outbreak, the members of Lenovo's employee resource groups hosted various virtual meetings – in some cases, across entire regions – to have roundtable discussions, professional development meetings, or even just interactive activities with the sole intent of building community. Teo Gumusoglu, Financial Analyst and co-founder of the Rising Employees at Lenovo (RE@L) group, shares, "We've had virtual events dedicated to simply providing connection and enjoyment, not necessarily dedicated to our busy work lives. For example, we've had virtual Netflix watch parties, as well as a few virtual happy hour and trivia nights. One of the things I'm most proud of at Lenovo is the impact I've seen [RE@L] have on others!"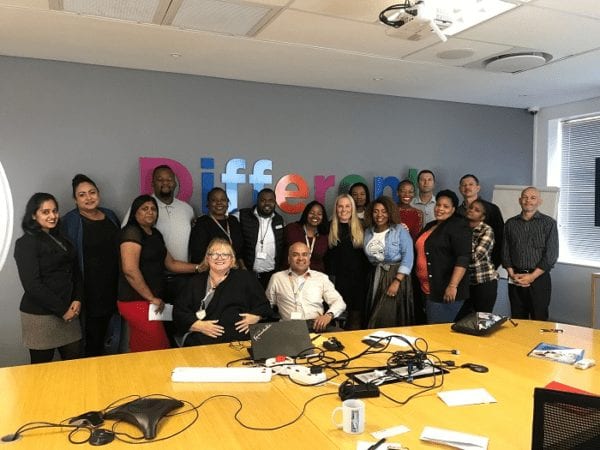 A community is best built when people of all kinds come together in unity. Lenovo embraces the value provided by each of our employees' different experiences, perspectives, and lifestyles from around the world – it's what makes us able to meet our customers where they are and innovate the best solutions.
"I think for a lot of us, there's the sense that we need permission for certain things, but many times that's just in our heads," comments Eduardo Lagreca, Director of Sales Operations and Strategy and founder of our PRIDE resource group in Latin America. "Starting now, tell yourself that permission is granted to be who you are, whatever you are! When you become visible, others will feel comfortable to also become visible and will want to join efforts and work together."
Lenovo wants to bring smarter technology for all, and smarter takes you. What makes you you makes Lenovo better.