Imagine being able to walk through someone else's imagination. What if someone could allow you to explore his or her creativity and vision in a design before it comes to life?
What sounds like fantasy is actually the reality of modern architecture and design, thanks to tools like 3D modelling. Today, a render can bridge the gap between creativity and creation, imagination and image. This software has given those in the design industry the capability to convey their vision to others – and it is just one of many tech-led breakthroughs in the industry that is revolutionising the way architects and designers work.
As the capabilities and complexities of design software continues to grow, reliable technology capable of keeping up with innovation is now more important than ever. For businesses working on large design and industry specific tools that require a great deal of processing power, finding the right hardware solution can be a challenge.
The Sky is the Limit with the Right Tools
Architecture and Interior Design studio, Walter Brooke and Associates, were challenged to deliver Adelaide's most luxurious hotel as part of the Adelaide Casino expansion by SkyCity Entertainment Group. Their aim was to design a timeless and glamorous aesthetic to ensure the guest experience would be of the highest quality, standing the test of time and attracting hotel and casino patrons in its own right.
In order to achieve this, Walter Brooke and Associates would need to tap into the latest tools at their disposal, including 3D Modelling, complex digital design software and real-time visualisation to help bring the vision to life for their customer during the design phase.
At Lenovo we transform the way people work, reshaping expectations and delivering an experience that empowers customers with smarter productivity for all. It is for this reason that Lenovo came highly recommended by external IT consultancy company Aish Solutions and became the chosen technology solution for Walter Brooke and Associates while working on the Adelaide Casino project.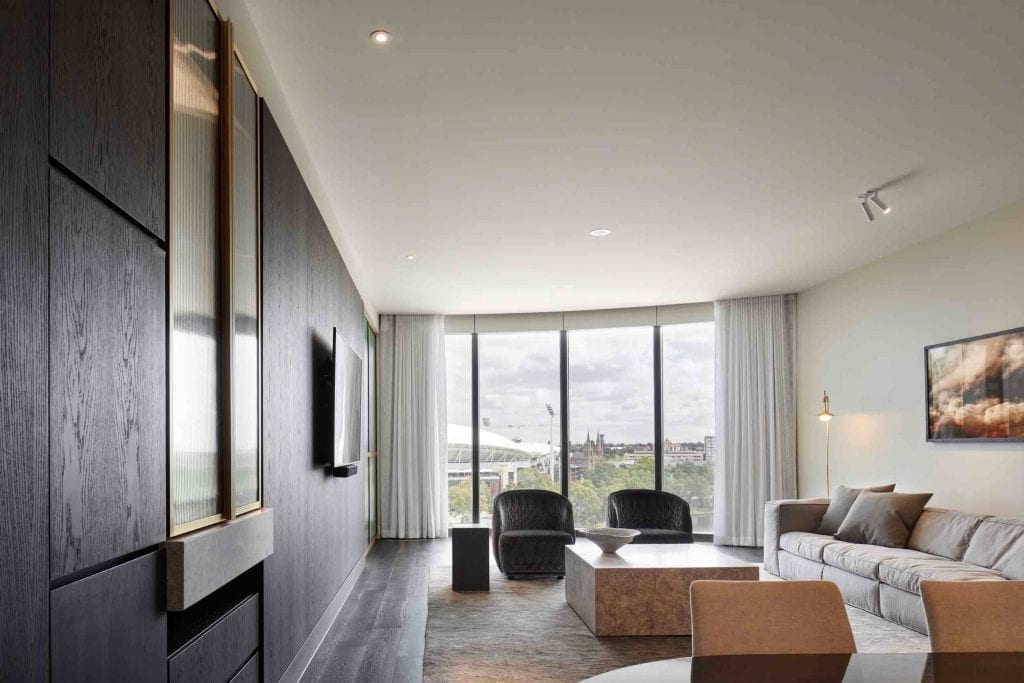 Bringing the Adelaide Casino Hotel to Life
In 2017, the Government of South Australia together with SkyCity Entertainment Group, announced plans for Adelaide Casino to undergo a $330 million dollar transformation.  Adelaide architecture firm Walter Brooke and Associates together with Hecker Guthrie were tasked with delivery of the interior design component of the hotel expansion.
The team set out to provide unique and innovative designs by tailoring concepts that would embrace quality materials and hone in on the space's true potential. Designing each space from the hotel patron's point of view was key to the philosophy behind the design.
The complex nature of the project and the geometry meant coordinating a high level of detail was vital to success. Base building architects, services engineers and structural engineers were spread across Adelaide and Melbourne were employed for the job.
To ensure efficient collaboration across borders, the Autodesk REVIT platform was selected to optimise the project and promote team collaboration. Walter Brooke and Associates used the platform's powerful tools during construction for shop drawings and modelling as well to build and review work. In taking the review process one step further, the team employed Real Time 3D Visualisation (VR) software to create renderings, videos and interactive experiences with the model to fine tune stages of development.
Through virtual reality, stakeholders were able to walk through the design, feeling what it would be like to be a patron of the soon-to-be-built hotel.
"The complex nature of the production process meant we needed to not only source the right personnel but the right tools for the job. There are many advantages to tapping into advanced technology to strengthen architectural design from streamlining day-to-day collaboration through to helping identify weaknesses in the design before construction through 3D visualisation. In consulting Aish Solutions early on we were able to identify Lenovo as the right provider that delivered on all fronts – reliability, solutions-driven and creatively advanced," said Mark Berlangieri, Director of Walter Brooke and Associates.
Acquiring the Right Technology for Seamless Production
Evolution in modern technology has fundamentally reshaped the architecture and design industry. Architectural businesses succeed in their ability to remain at the forefront of a competitive field through the use of up-to-date software and innovative technology to assist in the process.
In finding the right technology to run this cutting-edge software, Walter Brooke and Associates consulted Aish Solutions to recommend devices that offered premium performance, proven reliability, and optimised graphic capabilities making Lenovo the go-to choice. In 2019, having already had a positive experience with Lenovo's ThinkPad workhorses.  Walter Brooke and Associates looked to enhance their technology capabilities through the Lenovo ThinkStation P520 Desktop. Working with 12 Lenovo units, the workstations provided the perfect balance between lightning-quick computing and professional graphics to lead the project into success.
At Lenovo our innovations are driven by putting customers at the core of our business and design with purpose to solve our customers' challenges. With the latest Intel® Xeon® processors and NVIDIA Quadro® graphics the ThinkStation was best placed to facilitate computer-aided drafting, 3D animation software and virtual reality capabilities to boost creativity and productivity for the Adelaide Casino design.
"Business users around the world view our Think range as the industry standard for business laptops by providing premium performance with promised reliability. Our wide range means we are able to provide solutions for the most advanced technology users to the day to day corporate worker. At Lenovo, we strive to provide smarter technology for all by offering end-to-end solutions that supports businesses achieve their end goal no matter what the finish line looks like," said Hassan Baickdeli, Head of Emerging Technology and Solutions, Lenovo ANZ.
Innovative Technology Meets Innovative Design
With the prospect of travel restrictions easing in the future, the hotel is expected to attract significant numbers of interstate and international visitors to the city which is vital to economic recovery for South Australia in 2021. The soon to be iconic curved glass facade in the building's interior combines with touches of local artisans and styling in a way that is set to create an authentic Adelaide experience that will bring a new generation of luxury to the city.
In understanding that it not only takes a whole team of innovative designers but the right innovative technology to make design history, Walter Brooke and Associates together with Hecker Guthrie were able to bring to life the Government's challenge and create Adelaide's most luxurious hotel that will stand the test of time.
"Our team delivered a concept that demonstrated to the client that their expectations could be achieved through unique innovation. Lenovo PC solutions were a huge part of our journey in pioneering the desired outcome by providing best in class products that addressed our business needs. We are excited to welcome Australians back to South Australia and into the new must-stay SkyCity Adelaide Hotel – EOS," said Mark Berlangieri, Director of Walter Brooke and Associates.
Find out more about the Lenovo ThinkStation P520 with the latest Intel® Xeon® processors for higher CPU performance. Or search our full range to find the right Lenovo solution for your next project.