On a balmy summer afternoon in 2018, throngs of visitors climbed more than 250 stone steps to reach Swayambhunath, a renowned holy site in western Kathmandu. Buddhists, Hindus, and curious visitors explored the hilltop, affectionately known as the "monkey temple" after the wildlife bounding deftly through both man-made structures and the surrounding trees. On clear days, snow-capped Himalayan summits define the northern horizon.
As the daily parade of pilgrims and tourists threaded through prayer wheels and statues of the seated Buddha, a Tibetan monk crouched with a dSLR trained on a single artifact. As people passed and posed for their own photos, he patiently paused and then resumed meticulously photographing the old but vibrant monument.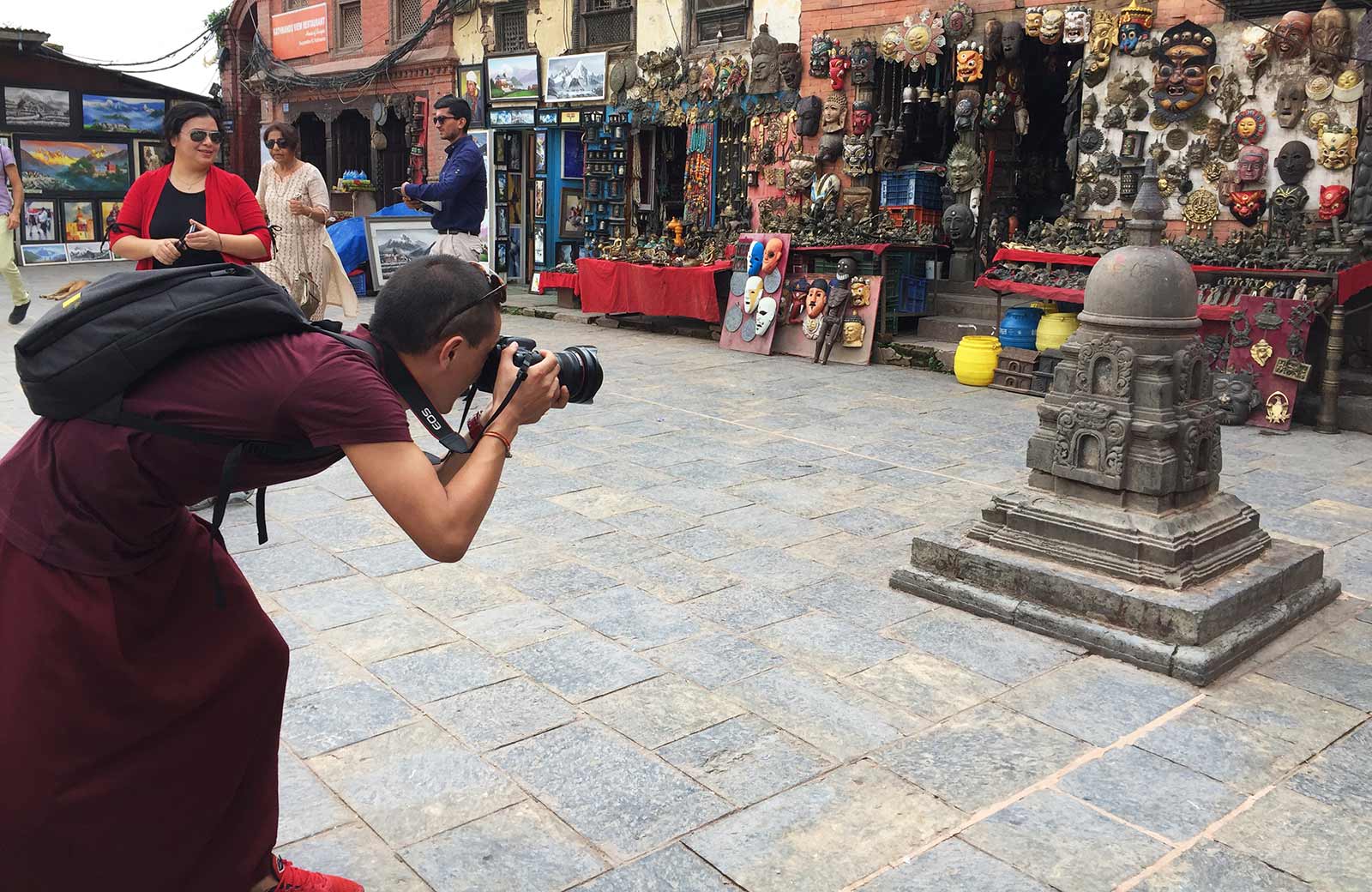 The red-robed monk was one of 16 locals practicing photogrammetry techniques in the field for the first time. These select few were learning to capture hundreds of photos and transform them into intricate digital models—a painstaking process that rendered elements of the UNESCO world heritage site in exquisite 3D.
"I want to connect people to the sacred as authentically as possible," said Lauren Leve, a professor at the University of North Carolina at Chapel Hill who has spent decades exploring and sharing the cultures of Nepal and South Asia. "We use this emerging technology to provide tools to document and open these distant holy sites—still very much a part of Nepali life and culture—to students a world away."
In the wake of the 7.8-magnitude earthquake that devastated Nepal in 2015, the call for preservation gained new urgency. If an ancient structure crumbles—as many have—how accurately can it be reconstructed from the rubble using just images and memories? The 1500-year-old stone foundations of Swayambhunath may benefit from cutting-edge technology.
Leve developed the workshop as part of the Center for Faculty Excellence (CFE)/Lenovo Instructional Innovation Grants program at UNC Chapel Hill, funded by Lenovo and designed to push the frontiers of technology in education. Leve proposed using photogrammetry and VR to bring the singular temples of Nepal to life for students at UNC. In those hallowed spaces, ancient Buddhist and Hindu ritual are alive, well, and powerfully immersive—a far cry from the lecture hall experience.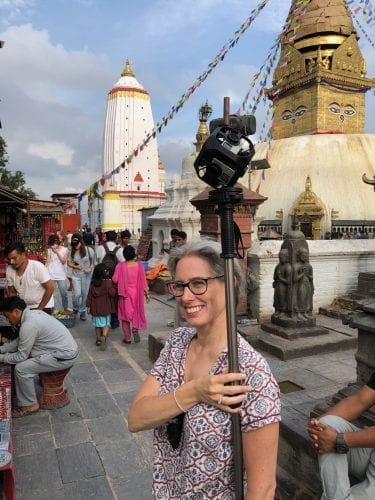 "But I don't just want to extract information to share in the West," Leve said. "Nepali people should tell their own story, through their own lenses. I want them to own these tools."
To that end, Leve built tech transfer into the grant and organized a free five-day workshop in Kathmandu to teach a diverse set of locals the basics of photogrammetry and VR modeling. UNC PhD candidate Brad Erickson, who had previous experience modeling sites in Israel and Syria, led the technical training.
"This was my first time teaching a group of people concerned with using photogrammetry for cultural heritage," Erickson said. "The makeup of the participants was easily the most diverse of any group that I have taught."
Attendees included cultural activists, engineers, conservationists, artists, journalists, a Tibetan Buddhist monk, and even a woodcarver looking for new ways to preserve and showcase traditional Nepali craftsmanship. Another, Raj Bikram Maharjan, was a former aircraft technician who now his own aerial mapping company. He was already using drones for 3D modelling and volunteering to help rebuild the 7th-century Kasthamandap temple.
"This is a must-have technology for a country full of heritage spreading across different zones prone to natural disasters and human conflicts," Maharjan said.
Like most of the other attendees, Maharjan heard about the workshop through a Facebook flyer shared throughout the community. Participants needed their own SLR camera, laptop, and a vision for how they would apply the training. Leve and colleagues evaluated a pool of about 50 applicants and prepared the program for the selected 16.
"By the time we found the space on the first day, most of the participants were all wet," Maharjan said.  Even for locals, the Kathmandu valley can be a labyrinth of busy streets, dense alleys, and poorly marked signs. The height of monsoon season adds heavy rainfall to first-time journeys by bicycle or motorbike. "Lauren took the moment to help us shake off the water by letting us share why we were all there. We were warmed up by her genuine, emotional speech."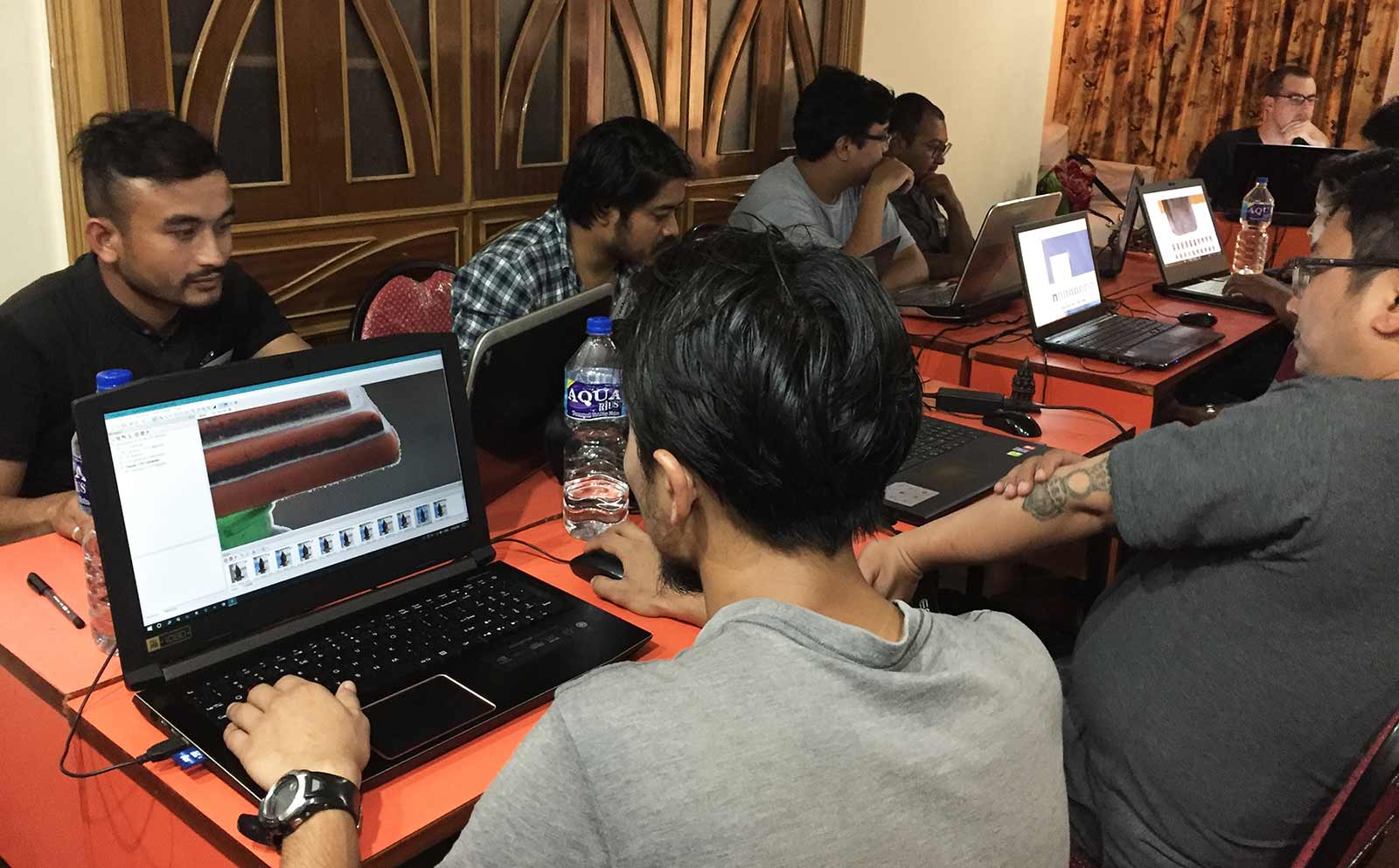 The group gathered around their computers in a small, windowless room; the air conditioning system struggled to handle the participants and their gear. They spent the first two days digging into the technical basics of image capture and 3D model creation. This included a combination of Agisoft Metashape for photogrammetry; MeshLab for refining the models; Tinkercad, SketchUp, and Blender for full 3D modeling; and Unity as the video game engine to create more complete experiences.
For the first exercise, the group photographed and then rendered objects from their own homes. The tightly packed space was loud as everyone asked questions and worked with each other to overcome technical hurdles. But then, Leve recalled, a silence fell, emphasized by the steady whir of laptop fans.
"They were so intensely focused on their work, and then one of the renders came together beautifully," she said. "The whole group locked in and marveled."
They then took those lessons to the streets, or rather to the holy heights of Swayambhunath.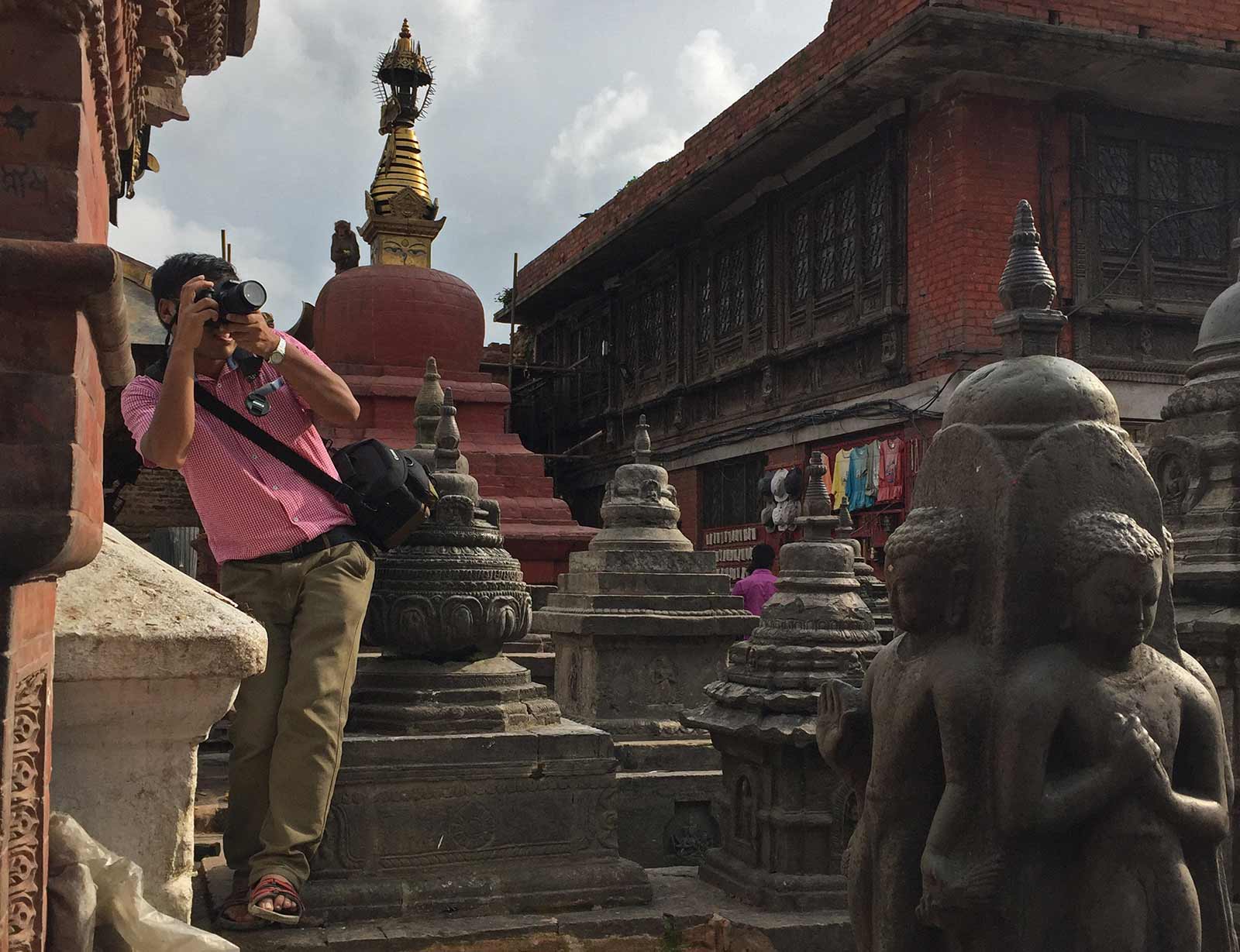 Capturing a living space
Ideally, photogrammetry conditions can be tightly controlled, with steady, even, and uninterrupted lighting. But Nepal's temples and monasteries are not preserved as museums or gated historical landmarks. Instead, they thrive as always intended: active religious sites and social hubs. People stream in and out as elaborate or simple rituals—culturally essential either way—unfold.
"Inside these spaces, butter lamps and candles flicker and throw shadows," Leve said. "You can mask them somewhat, but it never completely works. The light is beautiful, but capturing textures gets tricky."
Exteriors are often equally difficult, added Erickson. Often the gentle lighting of dawn and dusk is the ideal time to do outdoor photogrammetry, but the sites have the highest traffic of locals praying or making offerings.
Leve, Erickson, and the first-timers embraced the challenge. They spread out across Swayambhunath, traditionally a Buddhist site but also revered by Hindus, selecting signature architecture and photographing it from every angle. The crouching Buddhist monk who patiently paused for devotees and visitors mirrored Erickson's own experience.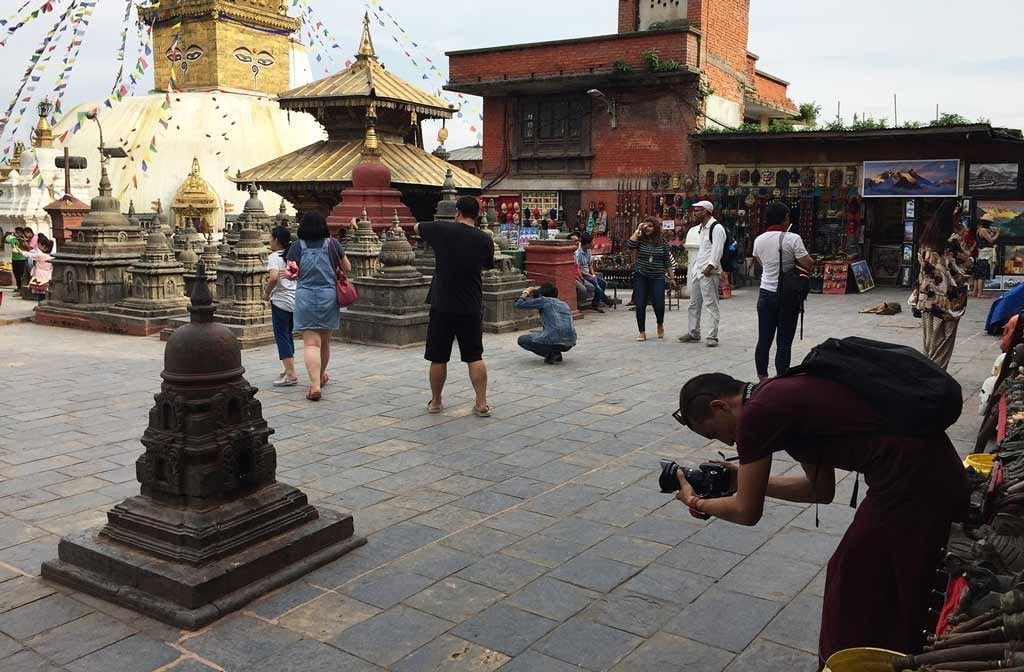 "I make sure never to interrupt the flow of people around the sites," he said. "One shrine at Swayambhunath was particularly difficult to photograph because of the number of people bringing offerings. I would wait a few minutes before seeing a small opening to snap a few photos before stepping out of the way to allow others to approach the shrine."
The group returned to their computers the next day, and Erickson helped them stitch the images together into full models.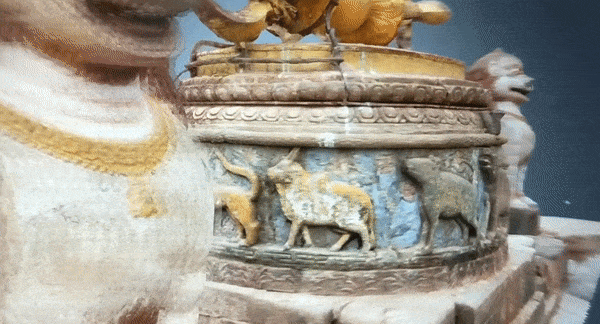 "Brad never shied away from answering our tough questions and helped us even after the workshop," Maharjan said. "We used his VR headset to see our 3D models and it was breathtaking. That's when I realized this technology can touch the lives of many people in Nepal."
The 3D models resemble the treasures and details scattered throughout videogames like Uncharted and Tomb Raider. Unlike those imagined ruins, living exclusively in games, these renders reach back across thousands of years of actual history.
The final day found the group walking through another UNESCO world heritage site, Patan Durbar Square south of Kathmandu. This, too, felt the effects of the 2015 earthquake inside and outside the complex, including heavy damage to the revered Krishna Mandir temple. One of the participants, an architect and preservationist, led them through some of the damaged inner halls of the Patan temples, where old water pipes and struts lay exposed and vulnerable for the first time in centuries. They passed by skilled workers reconstructing temple supports, noting how precise 3D models might ensure their efforts more accurately preserve history.
"This access wouldn't have been possible ordinarily, and certainly not with such a large group of people," Leve said. "On display that afternoon was our common commitments and enthusiasm about putting the techniques to immediate use. And also, maybe more than anything, that after five long days of being together, no one really wanted to break up and go home."
Sharing the sacred
These experiences, playing out in a small country sandwiched between the Himalayan heights of southern China and the jungles of northern India, may herald new modes of interacting with sacred spaces. Rather than diminishing the breathtaking impact of walking through the halls of an ancient temple, 3D experiences can bring abstract ideas of far-off lands and ancient artifacts to life for students.
Just as important, Leve said, digital preservation can encourage dialogue and ownership within Nepali communities locally and overseas. "This goes beyond conservation and into how people interact and own their culture," she said. "The models are a small part of that."
Beyond the workshop, participants took the training forward into their communities—some even integrated the modelling work into their careers.
Maharjan, for one, worked with an architectural consultancy after the workshop to create models of the Kaiser Library, once a stunning 18th-century palace and now gutted by the 2015 earthquake. Today, he joins UNESCO in the landslide zones of Nepal's remote and mountainous Mustang region to capture an ancient petroglyph linked to the Silk Road.
Future projects, spearheaded by Nepali activists, may leverage drone footage to tackling the full set of monuments at Swayambhunath or the sheer scale of Bouddhanath, where a massive central stupa stands as one of the most iconic Buddhist sites in the world. And as the devices evolve—with less expensive, more portable cameras or rapidly advancing drone technology—the immersive potential increases.
"The beauty and teaching potential of these temples and monasteries is so much more than visual," Leve said. "For me, the sounds and smells are the most transportive. Imagine bringing chanting or the scent of the butter lamps or incense burning into the virtual experience."
The workshop is just part of Leve's Innovation Grant, which will see these renderings and other brought into her classes, offering unprecedented access to the extraordinary vibrancy and beauty of Nepal's sacred sites. The potential impact is just as rich for Nepal's own people.
"This technology allows children far from the city and out of the country to experience these sites virtually," Maharjan said. "This is going to touch their hearts and minds and will remind them of our glorious past."