For many, technology is fascinating, transformative and a big enabler. The current technology exponential growth rate means we are now accomplishing in one year what took centuries in ancient history. That wave is fostering an explosion in creativity, and technologies such as AI, VR, and 5G are being used in entirely new ways to improve people's lives.
Let's think for a moment about the meaning of technology. At the root of the word, technology refers to art, craft, the sum of techniques, skills, methods, and processes used in the production of goods or services or in the accomplishment of objectives, such as scientific investigation or sending a spaceship to the moon. Technology solves problems, such as treating and curing disease or famine.
Technology can be used to protect financial data, confidential executive decisions and other proprietary information that leads to competitive advantages. It allows storing and processing huge amounts of data, such as with cloud data storage, eases access to information, enables better communication, and provides accurate and timely information.
The World Wide Web has made the world a social village, allowing access to information in remote places, knowledge sharing, as well as the implementation of better learning techniques, that facilitate access to education on large scales.
Technology facilitates communication and collaboration anywhere, allows innovation, and helps to solve difficult problems in many fields.
How Will Tech Transform Our Lives?
This shift in tech uses has revealed a number of prominent trends to predict how tech will transform our lives, including:
Businesses will continue to roll out the next phase of 5G, to enable better employee productivity, machine efficiency and an increase in profitability at a rate 100 times faster than 4G.
Artificial Intelligence (AI) will transform the way we live and work. AI will go more mainstream. AI will be an enabler working behind the scenes to provide solutions that improve lives, workplace processes and services.
Sensors and connectivity are embedded into nearly everything we use.
Consumers will continue to demand their right to privacy.
Foldable devices will reshape portability and productivity.
Cybersecurity will remain a major priority.
Patient experiences will transform through connected and virtual healthcare, allowing for more convenient and accessible medical attention, regardless of the patient's geography.
Education will immerse deeper into Augmented Reality (AR)/Virtual Reality (VR) helping education come to life and creating more engaging lessons for students.
Consumer appetite for cloud gaming will explode with the desire to play games on-demand from virtually anywhere.
It has also been very interesting to see how some companies are now thinking beyond profits and focusing more on creating a positive impact on people.
It's about innovating with purpose and solving the real human problems and challenges of today and in the future. It is about bringing humanity into technology. And for industry leader Lenovo, it is also about shaping computer intelligence to create a better world.
I recently experienced an astonishing display of innovation from Lenovo – from the reimagined Motorola razr to the first-ever foldable PC – there was a lot to get excited about.
While the innovations were impressive, Lenovo's vision to create Smarter Technology for All was what impressed me most. Whilst technology companies can make products that break down barriers and empower people from all backgrounds, when smarter technology is not for all, the ramifications are real – and Lenovo recognizes this.
A few observations…
50 percent of the world's population are now online, but less than 50 percent of those connected trust technology to improve their lives. – World Economic Forum
A sizable majority of online adults (70 percent) continue to believe the internet has been a good thing for society. Yet the share of online adults saying this has declined by 6 percentage points since early 2014. – Pew Research Center
Only 45 percent of people believe that the positive impact of the evolving digital economy outweigh the negative. – Dentsu Aegis
"Technology is neither good nor bad, but it is powerful. It's up to the people who develop and use it to determine what effect it has on the world. It's our job to encourage innovators to use their power in ways that improve the world." – Melinda Gates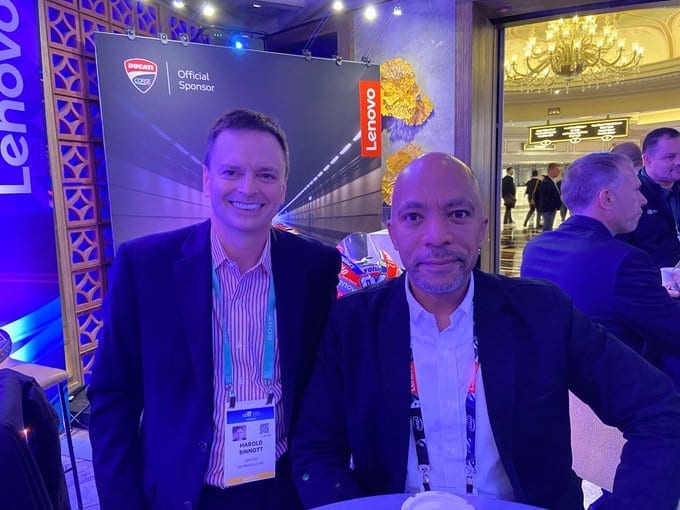 My Lenovo experience wasn't only about showcasing cutting-edge products, it was also about sharing a set of common values, with a core belief that smarter technology can solve problems, create opportunities and enable the world's intelligent transformation. It is about developing technologies to make individual lives better, move industries forward, and open-up new opportunities.
My Lenovo experience wasn't only about showcasing cutting-edge products, it was also about sharing a set of common values, with a core belief that smarter technology can solve problems, create opportunities and enable the world's intelligent transformation.
In Lenovo's own words, "the future of technology is not about speeds and feeds, it's about the magic that happens in the lives and communities of the people that use our devices".
Follow Harold Sinnott on Twitter, LinkedIn, Instagram, Pinterest, and YouTube.