Lenovo has been building products and solutions for higher education for a long time, developing relationships with colleges and universities to help with the digital transformation of the entire institution, from teaching and learning to administration and security.
We see Virtual Reality (VR) as a transformative technology that can inspire students and empower faculty to take their teaching to the next level. VR has also been shown to lead to better outcomes such as greater engagement of students, increased focus on learning material, and better retention of information.
Immersive technologies like VR and Augmented Reality (AR) have a bright future in higher education. The academic world is seeing powerful examples in every discipline, every major, and every profession. Whether you are working in the humanities, social sciences, arts, physical sciences, health sciences, or professional schools, VR can make a real difference in attaining mastery of the material.
Dr. Becky Lane, Associate Director of Learning and Innovative Technologies at Ithaca College, has been running an initiative called Ithaca College Immersive to incorporate teaching and learning with immersive technologies at the college. One of the pilot projects she is running is with Dr. Christine Havens-Hafer, an Assistant Professor in the Department of Education. In the Spring of 2021, Dr. Havens-Hafer faced a challenge. Her group of student teachers needed to teach in front of their peers, but because of campus restrictions on assembling students during the pandemic, it made more sense and was more equitable to teach the class online. The challenge presented an opportunity to use immersive technology for teaching and learning.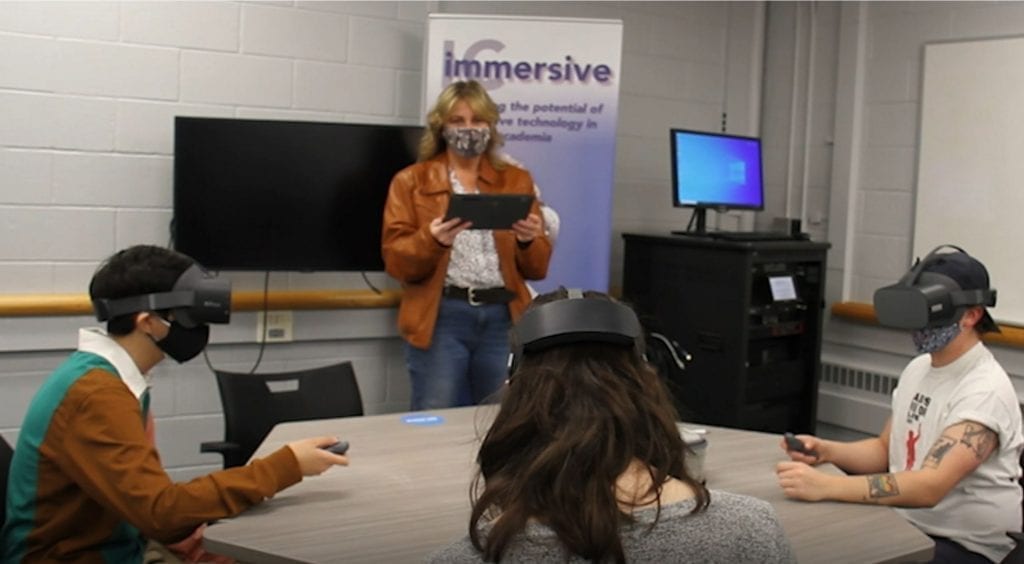 Lenovo partnered with Ithaca College's Teacher Education program to implement its VR Classroom solution to train students how to teach with VR. Headsets were mailed to the student teachers and they met online in a virtual classroom to prepare and deliver lessons. The results were impressive.
Students used Veative's VR modules to create STEM lessons they could deliver in K-12 classrooms. For example, teachers prepared a lesson to teach elementary students about photosynthesis. They also used Mozilla Hubs, a free online multi-person VR chat program, to create immersive spaces for teaching in VR. In one example, teachers used a 360-degree video of a small-town courthouse for additional context and experiences to help teach the classic American novel To Kill a Mockingbird. Students also used Uptale, a platform for creating immersive learning content, to create interactive experiences including quizzes and robust learning analytics.
"The goal is to figure out ways we can make VR technology more user friendly for not only our future teachers, but for the students they'll be teaching. We're also focusing attention on differentiating instruction that meets the needs of all learners, whether that's at a higher-ed level or K-12," said Dr. Havens-Hafer. "I believe immersive technology allows for different learning styles to be met because you have kinesthetic, visual and auditory learners in a classroom and VR brings all those fields together into one."
"One of the important takeaways from this pilot program was to have an open mind about where people are and where they want to go with the technology," Lane said. "You need to give people the space to explore VR technology and don't make assumptions about people's level of comfort with it. There's an assumption that the younger generation is very tech savvy, but that's not always the case. Especially for students in nontechnical fields. The other assumption is believing that VR technology can only be used in a certain way. One of the most interesting things we've seen is how students applied VR learning in ways we hadn't thought of."
Lenovo understands that to get the most out of immersive learning, the technology needs to work whether the class is in the same room, across the state, or around the world. We designed our VR Classroom solution with these things in mind. IT staff need an efficient way to manage a fleet of headsets so that they aren't having to touch every headset every time it needs an update. VR Classroom includes the ThinkReality AR/VR software platform to solve that problem. Instructors also need a simple way to keep VR experiences in sync for their classes, so that everyone is doing the same thing at the same time. Lenovo offers LanSchool Air classroom management platform to meet that need.
If you are interested to learn more about VR Classroom and the student teachers' experience at Ithaca College, please watch the video below.