Latin America hosts some of the biggest and fastest growing technology hubs in the world. The growth of startup communities across Latin America—benefitting from investment in tech infrastructure—has increased demand for tech talent, including software developers and engineers. To support the need for top talent, the non-profit organization Laboratoria launched in Lima, Peru in 2014 with the mission of not just strengthening the local tech pipeline, but ensuring its diversity.
Laboratoria (one of Lenovo's 35 Year Grant winners) transforms the lives of Latin American women and their families by providing opportunities to succeed in a technology career through computer programming, web development, and socio-emotional skills. Not only does Laboratoria support their students through Laboratoria for Women, but they also help businesses upskill their talent through Laboratoria for Business. Supported by the donation of Lenovo products and employee volunteers, Laboratoria is becoming a prominent professional development program for women in Latin America.
Lenovo began its partnership with Laboratoria Peru in 2015 and has since expanded to Chile and Mexico. In 2019, Lenovo employees helped implement a mentorship program for Laboratoria Chile. Two months prior to graduating, each student was matched with a Lenovo employee as their mentor, and they assisted them in the job placement process including: Curriculum Vitae (CV) writing, mock interviews, and professional development skills.
"Lenovo's mentoring program was one of the most valuable opportunities I have had in my life," said Andrea Gonzalez, Laboratoria Chile graduate and mentorship participant. "Lenovo employees were committed to sharing the necessary knowledge that would be required for me to put into practice when my new career begins—how to present myself in this world and effectively use my skills. Even though the mentorship program ended, I know that [Lenovo employees] are available to help in every difficultly that arises."
Lenovo's mentoring program was one of the most valuable opportunities I have had in my life
Many of the mentor and mentee relationships with Lenovo employees continue to grow after the women graduate from Laboratoria's bootcamp.
Laboratoria for Women's job placement program consists of an intensive, project-based, 6-month bootcamp for about 60 students studying web development and user experience (UX) Design. The bootcamp is geared toward women who have not been offered a job in their field of study or don't have access to professional growth and financial independence, regardless of their access to education. However, any woman can apply, and no previous computer programming experience is required.
Upon graduation from the bootcamp, the students are fluent in HTML, CSS, and JavaScript programming languages. With the graduating titles of "Front-end developer" or "UX Designer," Laboratoria's Talent Fests (career fairs) assist graduates in the job placement process.
Lenovo is proud to sponsor Laboratoria career fairs and recruit Laboratoria graduates alongside other corporations and businesses. Students who acquire a job using the skills they learned at Laboratoria will pay for the program in installments after their first six months of employment. For the rest of the students, training at Laboratoria is free.
"It is a great honor to be able to participate in [Lenovo's mentorship] program and help the Laboratoria women," said Ignacio Carmach, Lenovo Chile Brand Manager, a Laboratoria Chile mentor. "The [amount] of effort they put into learning something new, something that often has nothing to do with the career they studied, and the opportunity to learn something that could change their lives is really inspiring. I want to see [the women] succeed."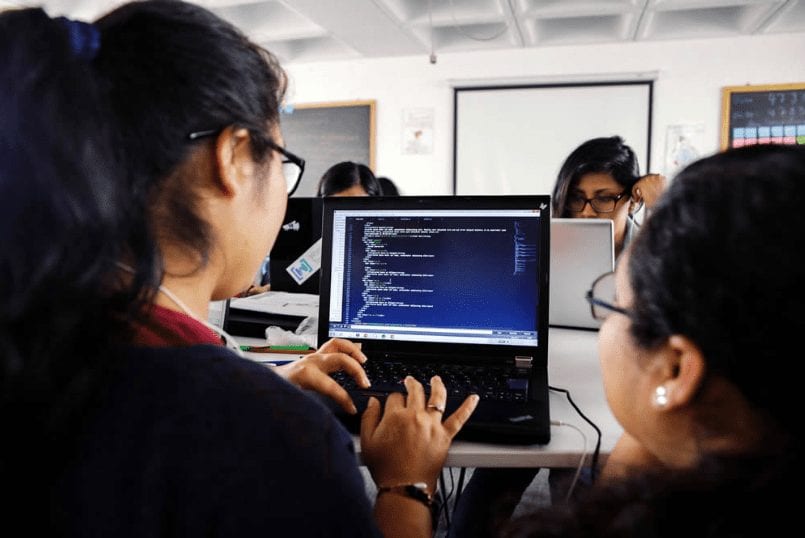 In addition to Laboratoria for Women, Laboratoria also helps companies looking for diverse talent through Laboratoria for Business, consisting of corporate training and acceleration programs to enhance the company's culture of learning. Laboratoria for Business not only connects companies with bootcamp graduates, but helps to unleash the existing workforces' full potential through increased tech literacy and innovation.
Currently, Laboratoria's job placement program and corporate training programs have expanded from Lima, Peru to Santiago, Chile; São Paulo, Brazil; Mexico City, Mexico; Guadalajara, Mexico; and Bogota, Columbia. Due to coronavirus, all Laboratoria programs have transitioned into remote format but still provide high quality programming and help the women develop life skills to use in a changing work environment.
Laboratoria graduates' 82% job placement allows them to almost triple their income (on average), improve their lives, and have a positive impact on their families and communities (Laboratoria, 2019).
This year, Lenovo plans to provide personal computers and mentorship to all of Laboratoria's Latin America locations.  Lenovo is also developing professional workshops to be implemented as a part of the bootcamp, led by professionals in the field. Students will choose the topics, and a few could include: Internet of Things (IoT), Artificial Intelligence (AI), or a panel of Lenovo's female employees discussing their journey and how they are succeeding in technology.
Lenovo's investment in Laboratoria has helped enhance the women's experience in the bootcamp – professionally and socially.  Lenovo continues to fulfill its mission of providing Smarter Technology for All by helping to create a diverse and inclusive technology industry.