The 83-year-old Mr. Chen, like many others, lives with a variety of age-related diseases. But Chen, whose full name is hidden for privacy, didn't want to deal with the hassles of a hospital visit—from registration to waiting rooms to discharge paperwork. Now, with Lenovo's smart medical service in Longnan Hospital of Heilongjiang, a 1,200-bed hospital located in the most northeastern part of China, patients like him can have a radically different experience. As Mr. Chen told us, "Now, with only a mobile phone, a medical card, and one click, we can seek medical care conveniently."
This smart medical service is the product of the intelligent information system developed by Daqing Longnan Hospital and Lenovo Smart Medical. Guided by the concept of "internet+ smart medical," this system solves typical operating and service issues, including the time lost between  registration, waiting, and checking-out—and, crucially, the actual time spent on medical treatment. This new model, recognized as the most successful smart medical care model in Northeast China by NPC (National Health Commission of the People's Republic of China), provides patients with a more organized and more personal medical experience, from seeking treatment to managing health.
"Smart medical" is a growing field in China, attracting the attention of multiple technology companies. According to an IDC report in 2018, the market scale of China's medical IT industry will reach 43 billion yuan by 2020, with an annual compound growth rate of 11.1 percent. The spring of smart medical is coming in China, and Lenovo is leading with solutions like Lenovo Smart Medical—a cloud-based solution subsidiary of Lenovo Capital and Incubator Group (LCIG) with independent operations and R&D centers in Beijing, Shanghai, and Tianjin. The company uses the latest cloud computing development system to help in conducting core business activities in hospitals with less hassle and greater efficiency.
"By collecting and analyzing information, smart medical can make the medical practice more efficient," said Mr. Luo Bin, Chief Operating Officer of Lenovo Smart Medical. "Today, the hospital's smart medical system has already reduced outpatient waiting time from two hours to less than ten minutes. By letting data running efficiently in the system, smart medial notifies patients of the accurate time and location for the medical treatment, so no more times is wasted waiting."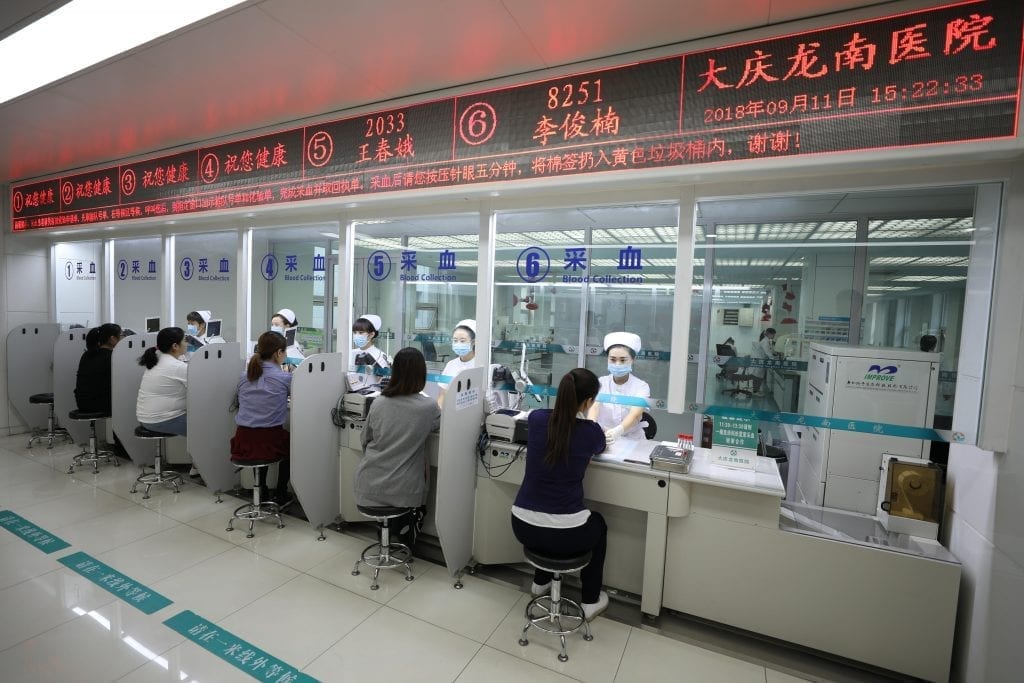 Lenovo Smart Healthcare provides a one-stop IT operations service for hospitals, including intelligent consultation, intelligent network system design, as well as development, implementation, operation, and maintenance of application systems. Lenovo Smart Healthcare integrates software, hardware, and service for Longnan Hospital and offers personalized solutions through financial leasing and other service models. The cloud platform and related supporting applications help the hospital provide patient services including appointment registration, online diagnosis, remote consultation, personal case inquiry, and chronic disease management.
As a growing hospital, Longnan's original infrastructure needed an information systems and efficiency upgrade. Lenovo Smart Healthcare software addresses this by supporting online recharge and online payment, establishing a medical database, and creating auxiliary functions, such as self-diagnosis tools. To address regional medical care, the solution supports two-way referral, remote medical consultation, and family doctor service, in addition to the mobile outpatient function. Lenovo Smart Medical also provides customized services for inpatients, such as giving them the ability to inquiry online about their hospitalization, and access E-healthy profiles, surgery scheduling, and itemized bills.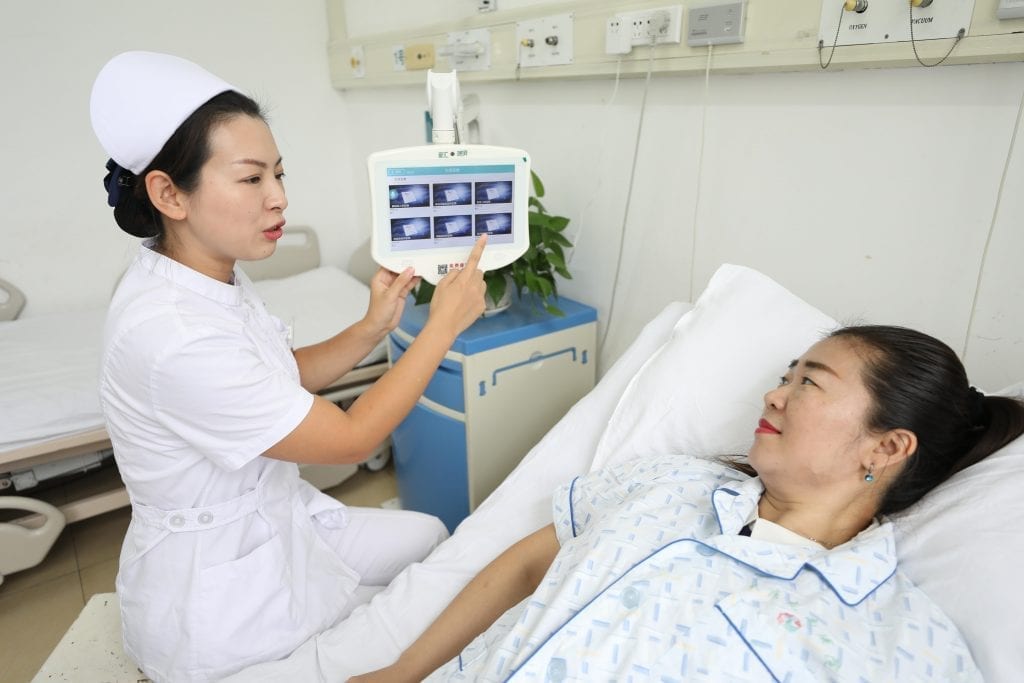 Mr. Wang Wei, director of Information Technology in the Medical Department at Longnan Hospital told us they're even using new media like WeChat to inform patients of their appointment time to avoid the heavy traffic and congestion of travel. They also share what to know before arriving, where to go, and what to expect.
In China, due to insufficient financing and disproportionately low prices on medical services, hospital directors and physicians have been encouraged to overprescribe drugs and tests to make profits. But in Longnan Hopital,  Wang added that "because the process of diagnosis and treatment is transparent, patients do not need to worry that doctors' prescriptions are irrational." The hospital reported to Lenovo that the smart medical platform has caught and reduced inaccurate prescriptions.
Furthermore, Lenovo Smart Medical is helping the hospital create a training team helping to recruit and teach university graduates from local universities. By involving young talent in the project development process, Lenovo is ensuring that new doctors understand how to use the system when they start seeing patients.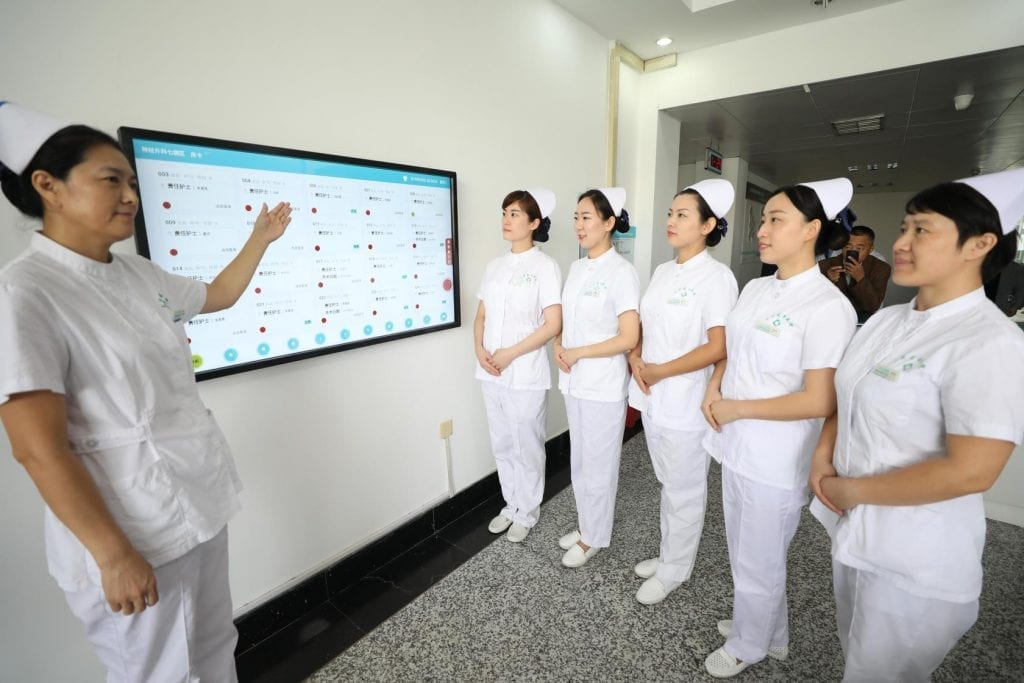 In 2019, Ping An Group took stock in Lenovo Smart Medical. Ping An Group is the world's leading integrated financial services group. Its technology unit, Ping An Technology, focuses on the research and development of technological solutions, such as artificial intelligence, block chain, and cloud computing, and how to apply these solutions to business cases. Together, Lenovo and Ping An will leverage the power of finance and technology in medicine, using cutting-edge technologies such as AI and big data to restructure the business and operations process in hospitals in China, upgrading the level of disease diagnosis and treatment, and empowering intelligence transformation of medical care.