September 1, 2022 – Today, Lenovo announced the next-generation ThinkPad™ X1 Fold that redefines the foldable PC category that Lenovo created in 2020. The new ThinkPad X1 Fold is designed to offer full PC performance with a larger screen area, while maintaining the ultra-portability that the original ground-breaking device offered. As the world's lightest 16-inch commercial laptop device1, this next generation delivers a versatile, powerful and portable device – with a sleeker and thinner design that can be comfortably used as a primary PC. Improving on a category-defining PC is not easy, but Lenovo's done just that. Through a combination of customer feedback and end user insights, the innovative design features a 22% larger 16-inch folding OLED display, 25% thinner chassis, and thinner bezels all around to produce a premium, streamlined look and feel that extends to the aluminum frame and a back cover made from 100% recycled woven performance fabric.
When building a next-gen device, there's the advantage of learning from a solid base of customer experience and a groundswell of user input. This insight has served Lenovo well in defining four primary areas where the experience must be flawless: performance, keyboard, display and design.
Next-generation foldable experience
Powered by Intel vPro®, an Intel® Evo™ Design with up to 12th Gen Intel Core™ i7 processors, and Intel Iris Xe Graphics, the next-gen ThinkPad X1 Fold delivers superlative performance in a foldable form factor. Add SSD storage up to 1TB2 and memory options up to 32GB LPDDR5 mean Windows 11 Home or Pro will run brilliantly regardless of the preferred mode of use.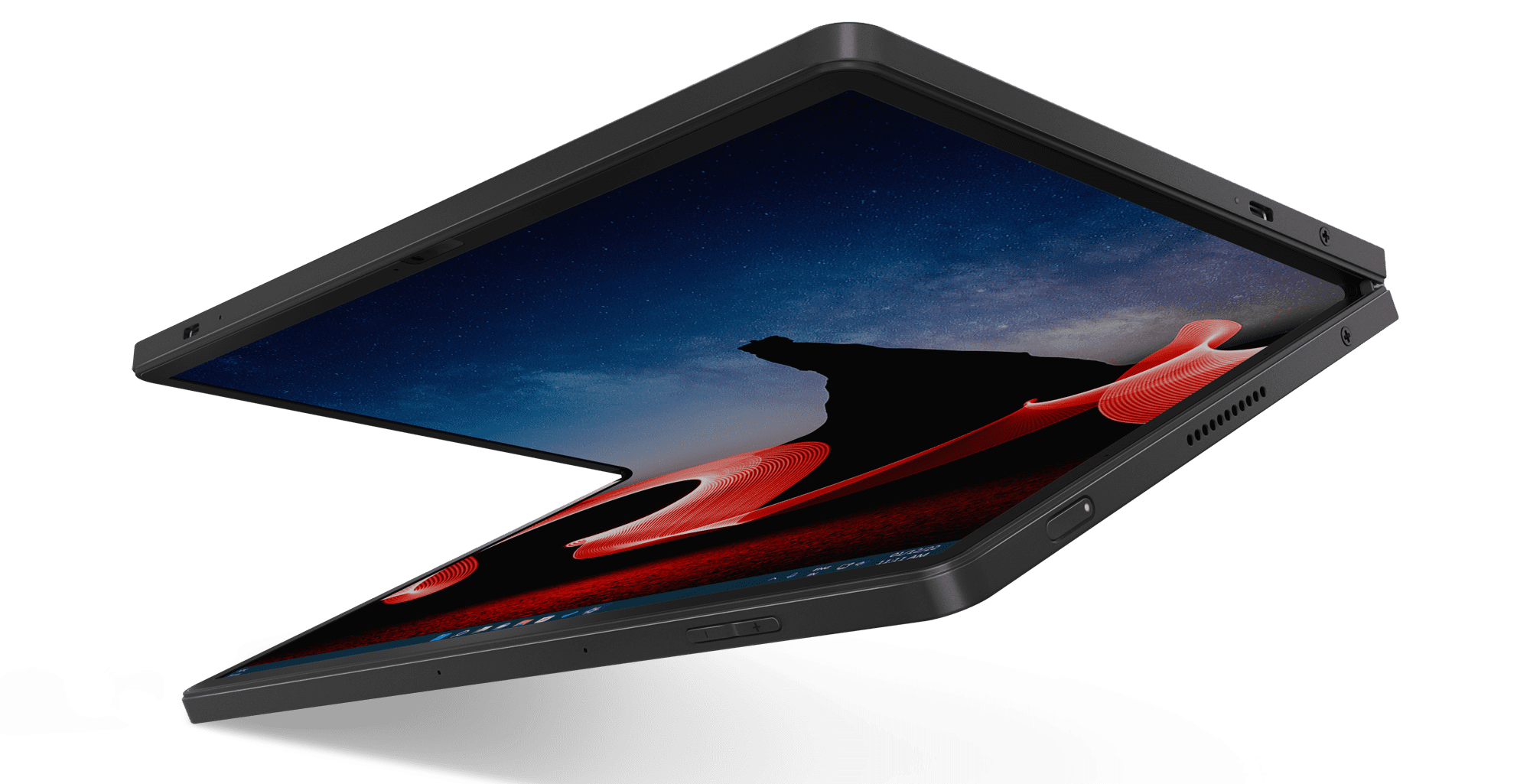 A positive and familiar typing experience on a device designed to be a primary PC is vital.  The next-gen ThinkPad X1 Fold offers an optional full-size backlit ThinkPad keyboard, with TrackPoint and large haptic touchpad, which works attached or detached from the PC depending on the mode. The keyboard can magnetically attach to the lower half of the display for a classic laptop mode giving a full performance, 12-inch laptop experience.
More screen real estate means more productivity, and hybrid working styles have only further highlighted a greater need for screen space. The new ThinkPad X1 Fold delivers more space in spades, and the display adapts to however users wish to use it. The ultra-bright folding OLED panel is 16.3 inches with a 4:3 aspect ratio offering maximum space in a lightweight package, with the versatility to be oriented in portrait or landscape modes, and of course folded. It can be configured with optional magnetic-attach pen utilizing Wacom protocol. Impressively, the new ThinkPad X1 Fold can stream shows, movies and sports up to 600nits HDR brightness and in Dolby Vision® where supported.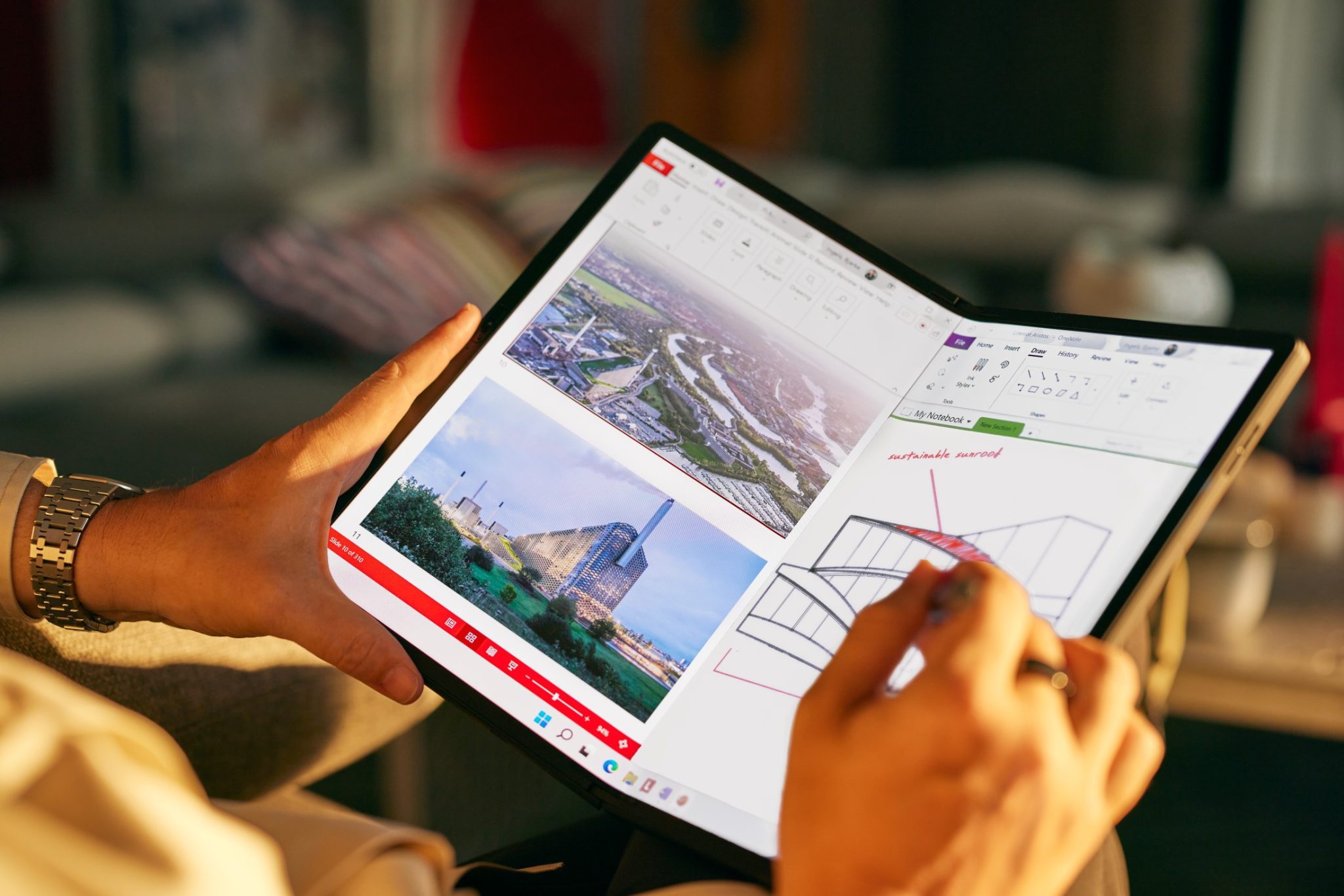 The look and feel of devices are becoming increasingly important as users seek designs that express more personality and generate a more emotional connection to technology that is so often the backbone of daily lives. Designing a foldable PC with narrower bezels, a larger display and get thinner overall without compromising durability, is not without engineering challenges. The new ThinkPad X1 Fold exhibits narrow bezels no more than 10mm and measures just 8.6mm thin unfolded with an astonishing folded thinness of just 17.4mm. Like all ThinkPad laptops, the ThinkPad X1 Fold has been through Lenovo's stringent testing methods in addition to MIL-STD-810H standards to maximize durability and reassurance. Even the 100% recycled woven performance fabric cover underwent a multitude of durability and reliability testing.
Maximum versatility with minimum fuss
Lenovo continues to innovate more usage modes and this is where foldable PC technology comes into its own. The next-gen ThinkPad X1 Fold truly does shape the future by providing the screen real estate and viewing experience of a 16-inch laptop in half the footprint of clamshell laptop alternatives. It conveniently folds down to the size of a sub-13-inch laptop for lightweight and compact carry and storage. Such an innovative design brings exceptional versatility to transform to the users' needs and deliver one of the most compelling computing experiences ever made. Productivity, collaboration, content consumption, reading, writing, editing, and so on are all a breeze in whichever mode one feels most comfortable with. The modes managed by an intuitive Mode Switcher interface are:
Classic clamshell, or laptop mode, provides a 12-inch main display with either an onscreen keyboard in the lower half, or the optional full-size ThinkPad Bluetooth TrackPoint keyboard. This mode is ideal for full productivity in restricted spaces such as planes, trains, and cars.
Landscape mode, or all-in-one mode, delivers a remarkable transformation. Arrived at destination, users can unfold the device into landscape format with the stand and connect the keyboard – either attached or detached from the stand – to create a phenomenal 16-inch laptop that inspires efficient multi-tasking or delivering impressive presentations.
Portrait mode is a new feature that excited users in early testing. Rotate into portrait mode with the stand for a huge 16-inch screen – proving highly effective for reading and editing long documents, simultaneous social feeds, websites, and more.
Book mode needs no introduction in foldable technology, but it remains equally remarkable reading the latest bestseller on a partly folded 16-inch display. It is also a very productive mode for proofreading articles or browsing digital publications.
Finally, tablet mode can be used in either portrait or landscape mode that allows easy creativity, colleague or family interaction with the help of the magnetic pen and content consumption on the Dolby Vision enabled display.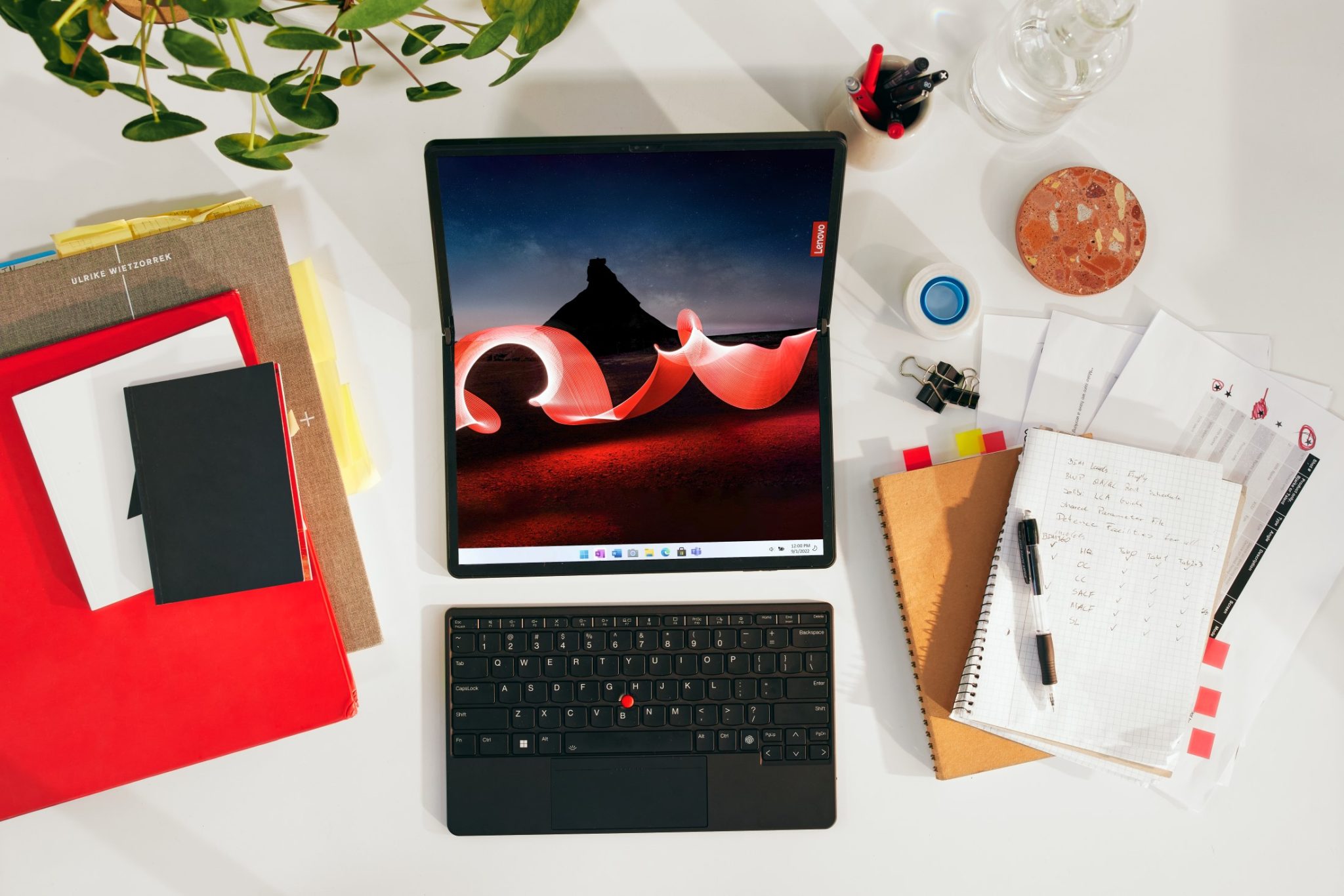 Engineered to shape the future
Lenovo designers and engineers worked tirelessly on the next-gen ThinkPad X1 Fold delivering a device that once again transforms the foldable category. The larger display required a redesign for both the hinge and the panel itself, and the resulting bell-shaped system hinge allows the foldable OLED panel to be folded flat in both open and closed scenarios resulting in a thinner system. Over two hundred parts move synchronously within the hinge design to maximize display consistency and durability. A new display interface was developed, which folds the non-active area enhancing durability and enabling thinner bezels. The hybrid shutter frame was also redesigned with the multiple benefits of thinness, more room for antennas, and simplifying field servicing. Lenovo engineers also developed a set of patent-pending folding graphite sheets to dissipate heat across the system to deliver an exceptionally powerful fan-less design.
Ground-breaking design and engineering need to be complemented by an outstanding user experience. The previously mentioned keyboard includes the recently introduced clickable TrackPoint Communications Quick Menu App, which offers rapid access to camera and microphone functions, but it's the thinking behind multi-mode use that steps into its own. Three USB Type C ports, including two Intel® Thunderbolt™ 4 ports, are available so that at least two are always accessible in any mode. The same principle applies to the speakers and microphones with three Dolby Atmos® speakers installed where two are always active preserving stereo sound. There are twin dual microphone arrays, one of which is active depending on the mode in use, with Dolby Voice® optimizing microphone and speaker performance leveraging spatial audio technology for exceptional conferencing experiences.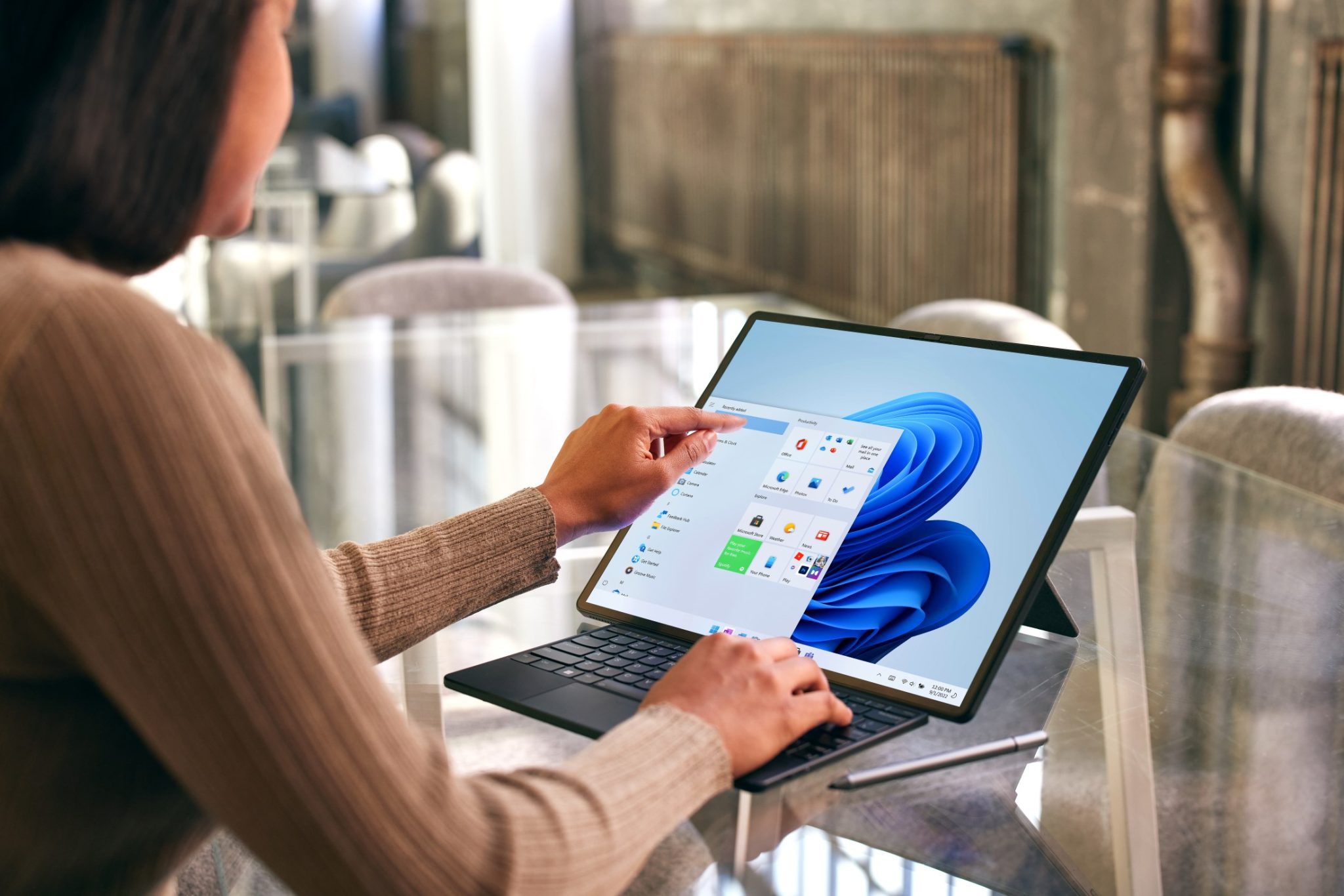 To take further advantage of the new ThinkPad X1 Fold's unique form factor, Lenovo is the first to launch an enhanced version of the Intel® Visual Sensing Controller (Intel® VSC), an AI powered chip that ensures a seamless experience no matter how the user is using the device3. Whether the device is portrait, landscape or in laptop mode, Intel's VSC automatically manages the camera utilizing the increased 75-degree horizontal field of view leveraging Windows 11 automatic framing. The smart sensing makes the new ThinkPad X1 Fold incredibly perceptive and responsive. The "wake-on-approach" feature automatically recognizes the user (and only the designated user) to wake the system instantly and be ready to use when the user approaches and when combined with Windows Hello – offers the simplicity of zero-touch login. For added security, the "onlooker detection" notifies the user of anyone's prying eyes to keep their information private and the "walk-away-lock" knows when the user leaves and locks their system to prevent unwelcome access. Intel's VSC also uses smart sensing to optimize display settings by reducing refresh rates based on content type and using smart dimming to minimize power when the user is not actively engaging with the display. These capabilities combine to make the next-gen ThinkPad X1 Fold more natural and easier to interact with. The Intel VSC helps enable users to have a secure, responsive, immersive, and power efficient PC without compromising on performance, quality or battery life by using smart sensing solutions to intelligently manage power consumption and deliver great user experiences.
Customer insight and foundational engineering have combined to create one of the most innovative and compelling computing experiences. Every technological breakthrough and usability feature have been implemented with the ultimate user experience in mind. Committed to the long-term future of personal computing, Lenovo has delivered on its promise with foldable technology. Shaping that future begins today with the next-gen ThinkPad X1 Fold.
Quotes
"Creating the world's first foldable PC was a major technological challenge. Improving on that is a real achievement. We want the next-gen ThinkPad X1 Fold to be the benchmark for premium productivity, creativity and enjoyment," said Jerry Paradise, Vice President of Commercial Product Center, Intelligent Devices Group, Lenovo. "Our strong foundations in design, engineering, and exceptional partnerships with Intel, Microsoft, and countless others have helped us build a versatile engineering masterpiece. The new ThinkPad X1 Fold redefines a category we created."
"Intel prides itself in delivering built-for-business customer value with our innovative partnership with Lenovo. Our close collaboration with Lenovo on the next-Gen ThinkPad X1 Fold, the first foldable display PC with the hardware-based security from Intel vPro platform is a true first-class standout. Businesses need the security, remote manageability and collaborative, multi-option creativity modes that this new solution provides," said Stephanie Hallford, Intel Vice President of the Client Computing Group and General Manager of Business Client Platforms.
"The innovation that Lenovo continues to drive with foldable PCs provides incredible experiences for Windows 11 customers," said Paul Donovan, Microsoft vice president of Lenovo partnership. "The new ThinkPad X1 Fold with smaller bezels, incredibly thin chassis and 100% recycled woven performance fabric cover is sure to delight customers who care about performance and sustainability."
Visit the Lenovo StoryHub Tech Life press kit for images and full specs and Lenovo's Tech Life virtual showcase for more details.
U.S. Pricing and Availability4
Next-Gen ThinkPad X1 Fold with Windows 11 is expected to be available from Q4 starting at $2,499.4
Key Specs:
ThinkPad X1 Fold
Performance
Processors
Up to Intel vPro with 12th Gen Intel® Core™ U9 i5 and i7 Processors
OS
Up to Windows 11 Pro
Memory
Up to 32GB LPDDR5
Storage
Up to 1TB PCIe Gen 4 SSD
Graphics
Intel® Iris® Xe Graphics
Displays
16.3-inch (2024×2560) foldable OLED 600nit HDR/400nit SDR, DCI-P3 100%, Dolby Vision, On-cell Touch with Pen support
16.3-inch when open / 12-inch when folded
Audio
Dolby Atmos 3-speaker system (2 speakers work at any one time)
Dolby Voice enabled – 4x microphones (2x mics work at any one time)
Camera
5MP RGB+IR with Intel VSC option
Battery
48Whr (optional additional 16 Whr based on configuration)
65W AC Rapid Charge
Security
Chip
TPM 2.0
Physical
Touch Fingerprint Reader (on keyboard)
Windows Hello face login
Connectivity
Ports
2 x Intel Thunderbolt 4
1 x USB-C 3.2 Gen 2
Nano-SIM card tray
Wireless
Wi-Fi 6E 802.11 AX (2×2)
Optional 5G Sub 6 (LTE supported)
Bluetooth® 5.2
Design
Dimensions
(W x D x H)
Unfolded: 276.1 x 345.7 x 8.6mm (10.87in x 13.6in x 0.34in)
Folded: 176.4 x 276.2 x 17.4mm (6.9in x 10.87 x 0.68in)
Weight
System: 1.28kg / 2.82 lbs
System with Keyboard and stand: 1.9kg / 4.19lbs
Sustainability
Recycled PET Woven Performance fabric cover
97% PCC recycled plastic used in speaker enclosure
97% PCC recycled plastic used in the 48 Whr and 16 Whr battery
At least 90% PCC recycled plastic used in standard 65-watt adaptor
Low-temperature solder
90% recycled and/or sustainable packaging
About Lenovo
Lenovo (HKSE: 992) (ADR: LNVGY) is a US$70 billion revenue global technology powerhouse, ranked #171 in the Fortune Global 500, employing 75,000 people around the world, and serving millions of customers every day in 180 markets. Focused on a bold vision to deliver smarter technology for all, Lenovo has built on its success as the world's leading PC player by expanding into new growth areas of infrastructure, mobile, solutions and services. This transformation together with Lenovo's world-changing innovation is building a more inclusive, trustworthy, and sustainable digital society for everyone, everywhere. To find out more visit https://www.lenovo.com,and read about the latest news via our StoryHub.
1 Based on Lenovo internal research conducted in August 2022 of major PC vendors 16-inch laptops featuring Intel vPro technology
2 Actual available capacity is less and varies due to many factors, including formatting, partitioning and operating system, etc. which utilize part of this capacity. The available capacity may change with software updates.
3 Requires RGB-IR camera with Intel VSC option
4 Prices do not include tax, shipping or options and are subject to change without notice; additional terms and conditions apply. Reseller prices may vary. On-shelf dates may vary by geography and products may only be available in select markets. All offers subject to availability. Lenovo reserves the right to alter product offerings, features and specifications at any time without notice.
LENOVO and THINKPAD are trademarks of Lenovo. Intel, Intel Core, Intel Iris, Intel Visual Sensing Controller, Intel Thunderbolt are trademarks of Intel Corporation or its subsidiaries in the U.S. and/or other countries. DOLBY ATMOS, DOLBY VISION and DOLBY VOICE are registered trademarks of Dolby Laboratories, Inc. All other trademarks are the property of their respective owners.  ©2022, Lenovo Group Limited.