September 1, 2023 – Lenovo™ is unveiling the Lenovo Legion™ Go, the company's first Windows gaming handheld device, to give gamers more freedom to game however—and wherever—they want. The Lenovo Legion Go is designed for gamers who will settle for nothing less than top-tier specs and visuals on their handheld device. Along with the micro-OLED-equipped new Lenovo Legion Glasses and new Lenovo Legion E510 7.1 RGB Gaming In-Ear Headphones, the debut of the Lenovo Legion Go is a marked expansion of the Lenovo Legion ecosystem of gaming devices, monitors, accessories, software, and services that empower gamers to immerse themselves in their games.
The new Lenovo Legion Go brings Windows PC gaming power to a handheld mobile form factor, powered by AMD Ryzen™ Z1 Series processors that bring games to life on its 8.8-inch Lenovo PureSight Gaming Display.
For gamers who want to take their Lenovo Legion Go portable gaming experience to the next level, the new Lenovo Legion Glasses leverage micro-OLED technology to provide a large screen viewing experience that fits in the pocket.
For a truly immersive gaming experience, the new Lenovo Legion E510 7.1 RGB Gaming In-Ear Headphones offer hi-res 7.1 surround sound audio with a multifunction inline controller.
"We are so proud that Lenovo Legion has become a go-to brand for gamers around the world, through the success and popularity of our laptops, tower PCs, monitors, and accessories. As we scan the gaming landscape, we see that gamers are a versatile and varied group, and Lenovo Legion likewise endeavors to provide gamers with solutions that suit them," said Jun Ouyang, Lenovo's vice president and general manager of the Consumer Business Segment, Intelligent Devices Group "With this in mind, we began designing the Lenovo Legion Go over two years ago in order to empower gamers around the world to game their way. With the introduction of the Lenovo Legion Go, we are excited to expand our Lenovo Legion gaming ecosystem with a device that allows gamers to—literally—game on the go."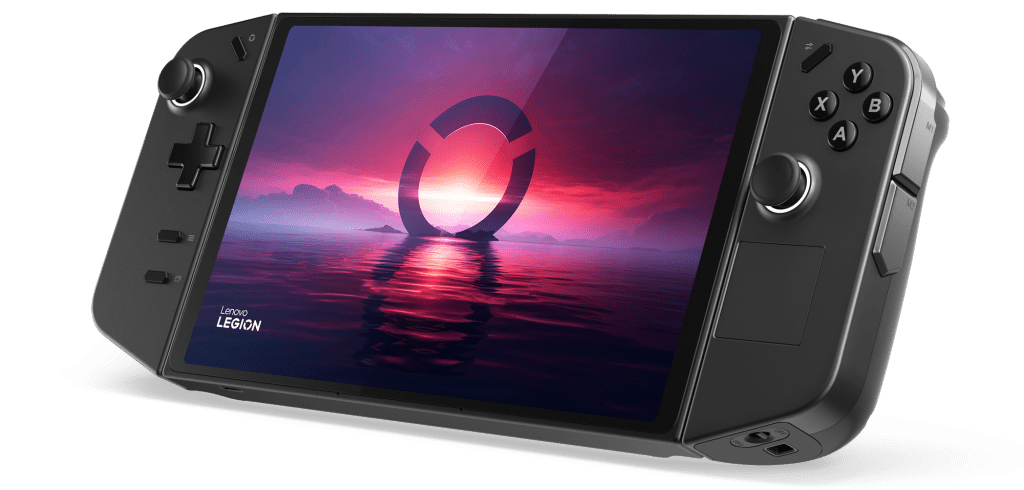 The Lenovo Legion Go: PC Gaming Power in the Palm of the Hand
Known for delivering technical innovation that brings flexibility and freedom of choice to its gaming fans worldwide, Lenovo is adding Legion Go as the latest entry to its gaming ecosystem of PCs, accessories, software, and services – empowering users to game their way. Featuring up to an AMD Ryzen Z1 Extreme processor with AMD RNDA™ Graphics and smart power management technology, the Lenovo Legion Go runs Windows 11 and delivers a potent combo of console-rivalling graphics performance that bring games to life on its massive 8.8-inch QHD+ 16:10 Lenovo PureSight gaming display, giving gamers more immersive screen real estate. Capable of up to 500nits brightness and sporting a 97% DCI-P3 color gamut, the display is also adjustable to playstyle and situation, supporting resolutions from 1600p to 800p as well as 144Hz and 60Hz refresh rates. The 10-point touch screen enables natural and intuitive control, be it scrolling, tapping, or swiping. The Legion Go features up to 16GB LPDDR5X (7500Mhz) RAM with power management flexibility that delivers optimal gaming performance and faster loading times depending on the scenario, as well as an up to 1TB PCIe Gen4 SSD and micro-SD slot supporting up to 2TB of extra storage.1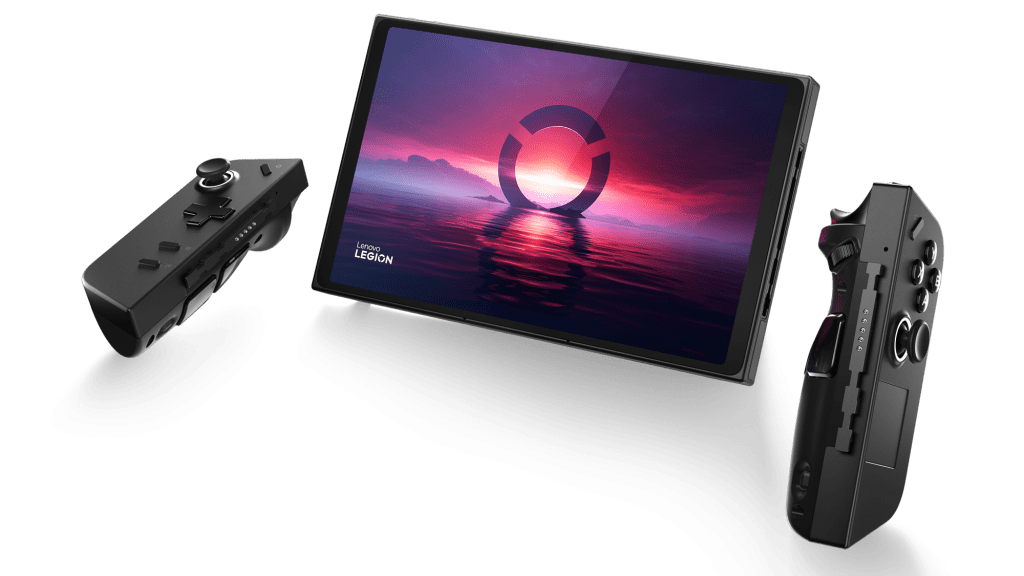 All this gaming power itself needs some serious power to run, and the Lenovo Legion Go has volumes. With a 49.2Wh capacity battery, gaming sessions can go longer without needing to recharge. The Lenovo Legion Go also has support for Super Rapid Charge2, allowing the battery to recharge up to 70% in just half an hour. When gaming while plugged in, The Lenovo Legion Go includes a power bypass mode that protects the battery from extra degradation while also eliminating heat normally produced while charging. Lenovo Legion's Coldfront thermal technology is of course present in the Lenovo Legion Go, featuring a liquid crystal polymer 79-blade fan that keeps the device cool at less than 25dB of fan noise in Quiet Mode when silence is paramount, while still allowing the device to reach a full 25W of TGP in Custom Mode when every bit of power is needed to win while preventing thermal throttling during extended gaming sessions.
The Lenovo Legion Go's controllers feature hall effect joysticks that mean no joystick drift and minimal dead zones that maximize responsiveness and accuracy during grueling gaming sessions. Other inputs include an integrated trackpad, a large D-pad, an angled mouse wheel, and a total of 10 mappable shoulder buttons, triggers, and grip buttons. RGB lighting is present on the power button adorned with the iconic Lenovo Legion 'O' that switches colors to indicate the user-selectable fan mode, and customizable RGB rings around the joysticks add another layer of flair while also acting as a notification system for controller pairing. Even better, the Lenovo Legion Go's Legion TrueStrike controllers are detachable to allow for more flexibility in playstyles, as well as enabling FPS mode for impromptu FPS gaming sessions. FPS mode allows the user to detach the controllers from the Lenovo Legion Go body and use the kickstand at the back to prop it up on a surface. The right detached controller is placed into an included controller base that attaches via magnet, and the optical eye at the bottom of the controller allows for more precise aiming and control necessary during competitive FPS games, akin to using a mouse.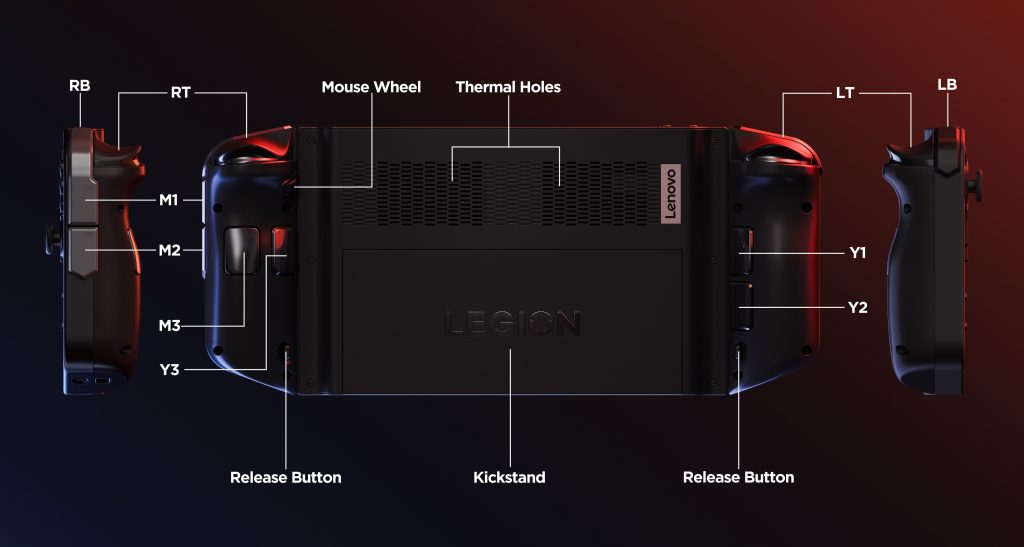 The Lenovo Legion Go features dual USB Type-C® ports for convenient connectivity, allowing users to dock and charge the device while simultaneously connecting accessories, thanks to plug-and-play features supporting DisplayPort 1.4 and Power Delivery 3.0 support. Connectivity extends to Wi-Fi 6E3 as well as Bluetooth® 5.2 support.
Yet the nexus of what connects the Lenovo Legion Go's many amazing features together is the all-new Legion Space. Specifically designed for the Lenovo Legion Go, Legion Space allows users to quickly access all their game platforms and stores, view all locally installed games, and even purchase games through the Legion Game Store in collaboration with Xbox Game Pass Ultimate4,5, with a complimentary 3-month membership4,5 that gives access to hundreds of high-quality games bundled with each Lenovo Legion Go, as well as the Gamesplanet store, which offers deep discounts on select games for users with a Lenovo ID6. All supported game launchers can be grouped together in Legion Space so gamers can get right into the action. Legion Space also allows users to quickly adjust settings such as resolution, refresh rate, brightness, and more on the fly.
Lenovo Legion Glasses: Big Screen Gaming Anywhere
For gamers on the go, or on the couch, the Lenovo Legion Glasses offer a smarter, private, big screen solution for gaming and content consumption, whether it's on the Lenovo Legion Go or any other compatible device, including most Windows, Android™7, macOS®8 devices with full-function USB-C. Legion Glasses are an advanced wearable virtual monitor with micro-OLED display technology that delivers high color and contrast range FHD resolution for each eye with a 60Hz refresh rate, emulating the experience and functionality of a large screen that appears behind lenses only the user can see, and delivers high-fidelity audio via built-in speakers.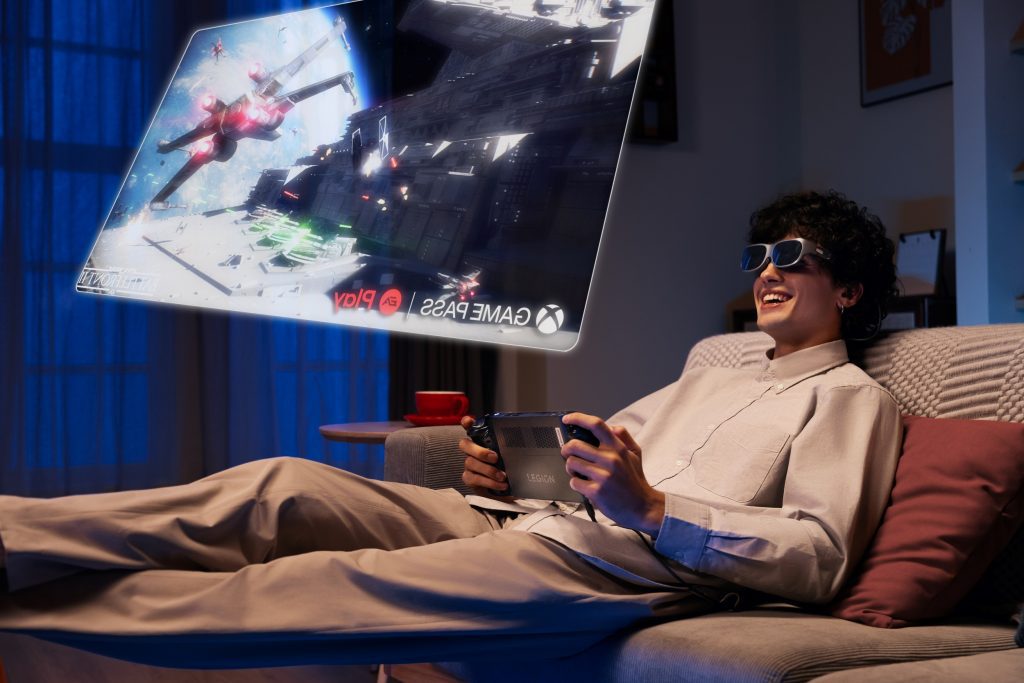 Smaller screens can mean gamers sacrifice display quality, comfort, and privacy when on the go. Lenovo Legion Glasses enables a portable, private, large screen viewing experience for Legion Go gamers by offering a plug and pay, wearable, high-quality display designed for extended wear and use.
Lenovo Legion E510 7.1 RGB Gaming In-Ear Headphones: Private Surround Sound Gaming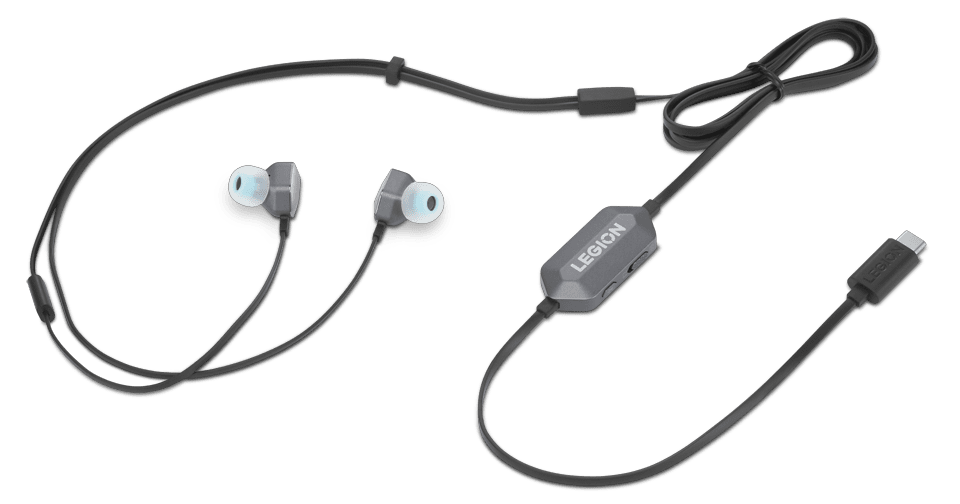 Another perfect complement to gamers on-the-go are the new Lenovo Legion E510 7.1 RGB Gaming In-Ear Headphones. With driverless 7.1 surround sound, virtually every team command of enemy approach can be heard in space, triangulated, and acted upon. The 10mm armature drivers pound out tight, punchy bass, as well as balanced mids and highs free from distortion. And when the gaming gets intense, the multifunction inline controller allows for quick adjustments, while the accented RGB strip on the controller adds a touch of class to the earbuds and the USB-C connector ensures seamless connection with a multitude of devices.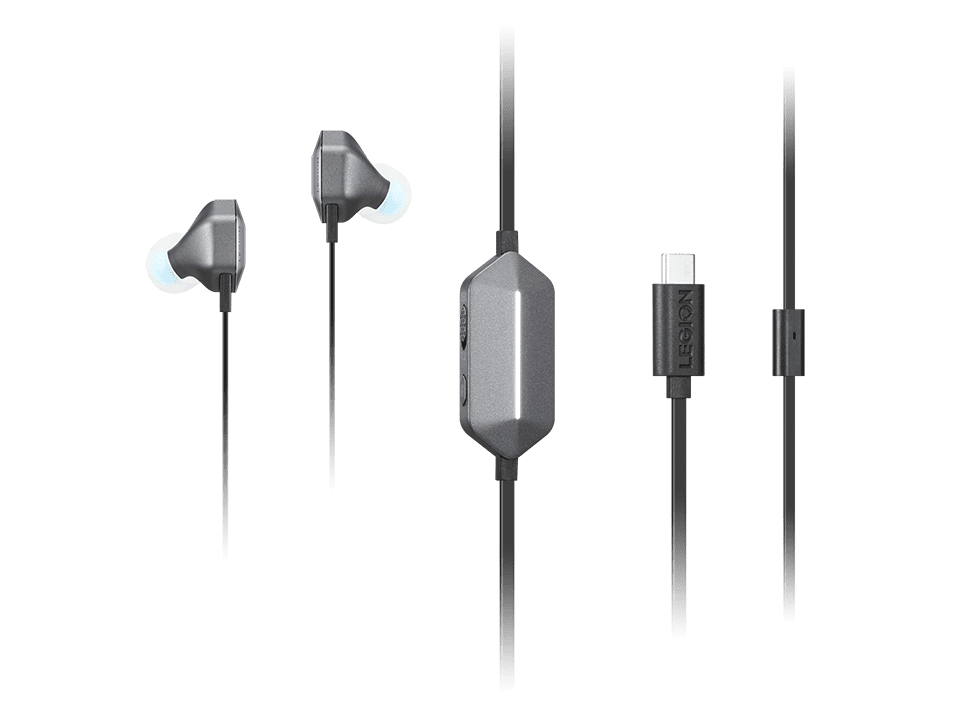 Elements of the ever-expanding Lenovo Legion ecosystem: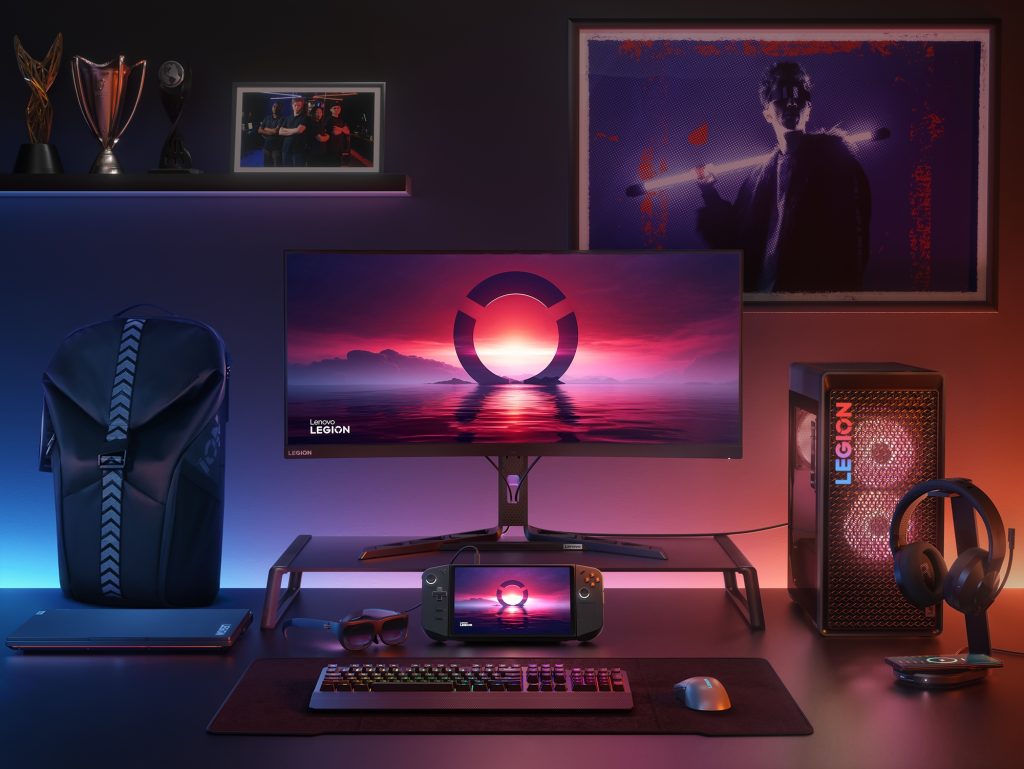 EMEA Pricing and Availability7
The Lenovo Legion Go is expected to be available starting November 2023 starting at €799 EUR (incl. VAT).7
The Lenovo Legion Glasses are expected to be available in October 2023 starting at €499 EUR (incl. VAT).7
The Lenovo Legion E510 7.1 RGB Gaming In-Ear Headphones are expected to be available in October 2023 starting at €49.99 EUR (incl. VAT).7
Lenovo Legion Go

Dimensions (L x W x H)
Base Module:
(mm): 210mm x 131mm x 20mm
(inches): 8.27″ x 5.15″ x 0.79"Base Module w/ Controllers Attached:
(mm): 299mm x 131mm x 41mm
(inches): 11.8" x 5.15" x 1.61"
Weight
Controllers Detached:
640g (1.41lbs)Controllers Attached:
854g (1.88lbs)
Color
Shadow Black
Display8
8.8" QHD+ (2560 x 1600) IPS; 16:10 10-point Touch (144Hz / 97% DCI-P3 / 500nits / 83%AAR
Touchpad
Multi-finger
Processor8
Up to AMD Ryzen Z1 Extreme with AMD RDNA Graphics
Memory
16GB 7500Mhz LPDDR5X on board
Storage1,8
256GB / 512GB / 1TB PCIe 4.0 NVMe M.2 22428
Operating System
Windows 11 Home
Battery
2-cell 49.2WHr
Super Rapid Charge2
Controller battery capacity: 900mah2
Power Adapter
USB Type-C, 65W AC adapter
Output: 20V DC, 3.25A, 65W
Input: 100~240V AC 50/60 universal
Ports
Top
– 3.5mm audio combo jack
– 1 x USB Type-C (USB 4.0, DisplayPort™ 1.4, Power Delivery 3.0)
– 1 x microSD card reader 
Bottom
– 1x USB Type-C (USB 4.0, DisplayPort 1.4, Power Delivery 3.0)
Control and Input
Gamepad Controls

Legion L/R
ABXY buttons
D-pad
L & R hall effect joysticks
L & R bumpers
L & R analog triggers
Legion L & R buttons
View button (L)
Menu button (L)
Trackpad (R)
6 x assignable grip buttons
1 x mouse wheel (R)
1x mouse sensor (R)
2 x controllers release buttons

Haptics: HD haptics
Gyro: 6-Axis IMU

Audio
2 x 2W Speakers
Dual-array near-field microphone
Connectivity
2 x 2 Wi-Fi 6E (802.11 ax)3
Starting from Bluetooth® 5.2
Software
Legion Space
Xbox Game Pass Ultimate – Complimentary 3-month membership4,5

Lenovo Legion Glasses

Display
Micro OLED
Resolution
1920 x 1080 per eye
Audio
High-fidelity built-in speakers
Device Compatibility
Requires full-functionality USB-C with DP Alt mode
Cable Length
1.2m (3.93ft)
In-Box Accessories
2 x Adjustable Nose Pads
Carrying Case
Prescription Lens Frame
Anti-slip Adapter
Cleaning Cloth
Lenovo Legion E510 7.1 RGB Gaming In-Ear Headphones

Audio
Speaker Size
10mm Dynamic & Balanced Armature Receiver
Sensitivity
94 ± 3 dBSPL at 1kHz
Frequency Range
20 Hz – 40 kHz
Microphone
1 Omnidirectional Analog Silicon Mic
Mic Sensitivity
-38 ± 1 dBV/Pa at 1 kHz
Mic Frequency Range
50 Hz – 10 Khz
Connectivity
Interface
USB-C
Cable Length
150cm
Design
Packed Dimensions
24.6mm x 19.7mm x 21.8mm
0.97 in x 0.78 in x 0.86 in
Weight
26g (0.06lbs)
Warranty
1 Year
About Lenovo
Lenovo (HKSE: 992) (ADR: LNVGY) is a US$62 billion revenue global technology powerhouse, ranked #217 in the Fortune Global 500, employing 77,000 people around the world, and serving millions of customers every day in 180 markets. Focused on a bold vision to deliver smarter technology for all, Lenovo has built on its success as the world's largest PC company by further expanding into growth areas that fuel the advancement of 'New IT' technologies (client, edge, cloud, network, and intelligence) including server, storage, mobile, software, solutions, and services. This transformation together with Lenovo's world-changing innovation is building a more inclusive, trustworthy, and smarter future for everyone, everywhere. To find out more visit https://www.lenovo.com, and read about the latest news via our StoryHub.
LENOVO and LENOVO LEGION are trademarks of Lenovo. AMD, Ryzen and Radeon are trademarks of Advanced Micro Devices. Inc. USB Type-C® and USB-C® are registered trademarks of USB Implementers Forum. TÜV is a registered trademark of the TÜV Rheinland Group. Wi-Fi is a trademark of Wi-Fi Alliance. The Bluetooth® word mark and logos are registered trademarks owned by Bluetooth SIG, Inc. and any use of such marks by Lenovo is under license. Android is a trademark of Google, LLC. macOS is a trademark of Apple Inc., registered in the U.S. and other countries and regions. microSD is a trademark of SD-3C, LLC.  All other trademarks are the property of their respective owners. ©2023 Lenovo Group Limited
1Actual available capacity is less and varies due to many factors, including formatting, partitioning and operating system, etc. which utilize part of this capacity. The available capacity may change with software updates. MicroSD card sold separately.
2Super Rapid Charge: 10min charge 0~30% capacity, 30min charge 0~70% capacity, 80min charge 0~100% capacity in MS/S3/S4/S5 mode. Must use charger included with device; battery must be substantially depleted; charging rate slows as charging progresses. All battery life claims are approximate and based on two methods of testing including MobileMark® 2018 battery life benchmark (with 200nits brightness and default volume level) and continuous 1080p video playback on the latest update of Windows 11 and up (with 150nits brightness and default volume level). Actual battery life will vary and depends on many factors such as product configuration and usage, software use, wireless functionality, power management settings, and screen brightness. The maximum capacity of the battery will decrease with time and use.
3Requires separately purchased Wi-Fi router and plan that may vary by location. Additional terms, conditions and/or charges apply.  Connection speeds will vary due to location, environment, network conditions and other factors.
4Credit card required. Unless you cancel, you will be charged the then current regular membership rate when the promotional period ends. Terms and exclusions apply. After term, active membership required to play games and online multiplayer. Game catalog varies over time, region, and by device. DLC sold separately; if a game is removed from catalog or your membership ends, you will need to purchase the game separately to use your DLC. If you're already an Xbox Live Gold and/or Game Pass for Console/PC member, any days remaining in your membership(s) will be converted to Ultimate using a conversion ratio. Future code redemptions also subject to conversion ratio. All conversions to Ultimate are final. Details and system requirements at www.xbox.com/gamepass. Offer valid in all Xbox Game Pass markets excluding Russia. Digital Direct: Your digital content will be delivered directly to your device during set up; no codes required. See xbox.com/subscriptionterms.
5Current Xbox Game Pass subscribers will receive an additional three months added to their subscription.
6Game availability dependent on and distribution policies of publishers. Some territories may be excluded. Refer to the game page for availability by market.
7Prices may not include tax and do not include shipping or options and are subject to change without notice; additional terms and conditions apply. Reseller prices may vary. On-shelf dates and color options may vary by geography and products may only be available in selected markets. All offers subject to availability. Lenovo reserves the right to alter product offerings, features, and specifications at any time without notice.
8Features may vary by geography and may only be available in selected markets. All offers subject to availability. Lenovo reserves the right to alter product offerings, features and specifications at any time without notice.