New ThinkVision™ monitors and ThinkCentre™ desktop solutions augment vision and collaboration experience
LAS VEGAS – January 5, 2022 – Lenovo™ ThinkPad X1 continues to deliver uncompromised user experiences with premium laptops driven by a relentless focus on the customer experience. At the pinnacle of our ThinkPad portfolio, the latest X1 Carbon 10th Gen, X1 Yoga 7th Gen and X1 Nano 2nd Gen further push the boundaries of timeless ThinkPad design and purposeful engineering. They are optimized for hybrid workers and professionals who seek higher levels of performance, better camera and audio capabilities for more immersive collaboration, and a more secure laptop to protect them from the daily demands of hybrid working.
A newly designed communications bar that houses a superior camera and 360-degree far field quad-array microphones is complimented by OLED display options and Dolby powered solutions, including Dolby Voice® with its latest noise cancelling technology, for exemplary audio-visual and collaboration experiences. Powered by the very latest Intel vPro® with 12th Gen Intel® Core™ processors and Windows 11, the new ThinkPad X1's feature robust ThinkShield™ security that is complimented by new Computer Vision (CV) technology. CV presents big improvements in user presence detection by offering smarter privacy, a simpler login convenience, and better energy management.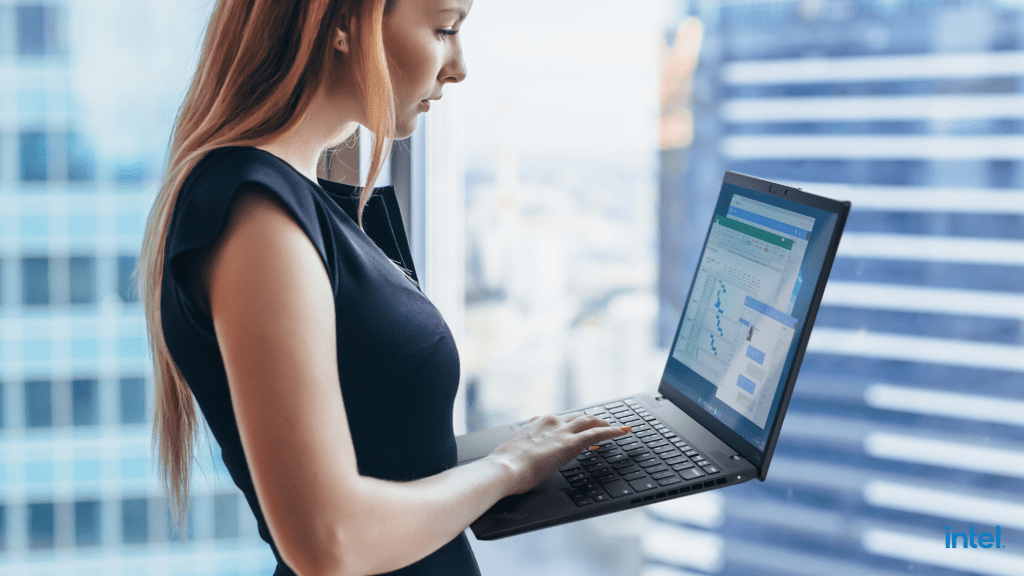 Furthermore, our innovations extend to a bold new ThinkCentre M90a Pro Gen 3 All-in-One (AIO) with advanced individual and group collaboration features, and a redesigned Tiny-in-One (TIO) called TIO Flex that reimagines the modular AIO business desktop that we introduced to the world back in 20141. We are also unveiling new ThinkVision P series 27-inch monitors that extend user workspaces and deliver value-add features for efficiency and productivity in home or office environments. They can include an optional ThinkVision Voice-over-IP (VOIP) Modular Stack with webcam and speaker for a seamless video collaboration solution.
"Probably" the Best Business Laptops just got Better
We are very excited about our latest laptops, and as we enter the 30th year2 of relentless pursuits for perfection, we are very fortunate that ThinkPad has become an industry icon. We relish the opportunities that technology will bring over the next 30 years as we strive to delight existing fans and hope to discover new ones.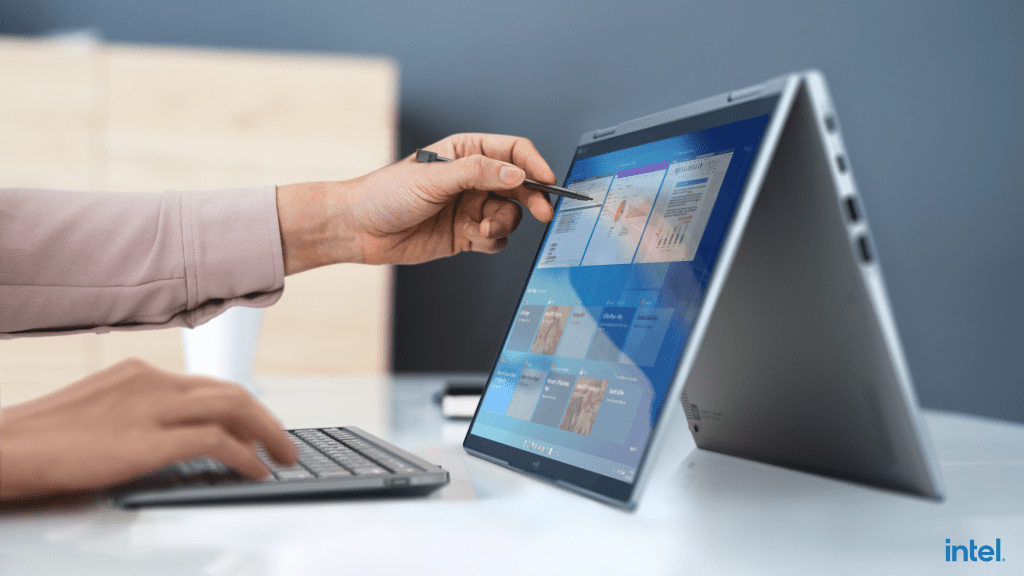 ThinkPad X1 Carbon has reached a milestone 10th Gen and continues to offer everything a modern professional would need; ThinkPad X1 Yoga 7th Gen with its machined premium aluminum design is stylish and powerful. All models now support 12th Gen Intel Core P-series processors that offer a significant leap in performance, including our flagship and still our lightest ThinkPad ever, the less than 1kg ThinkPad X1 Nano 2nd Gen.
A key design feature is the new communications bar that integrates improved FHD webcam options, Privacy Shutter and 360-degree far field quad-array microphones. The bar design allows a camera with a larger sensor than what is usually found on laptops. The 1.4µm sensor increases image quality especially in low light conditions.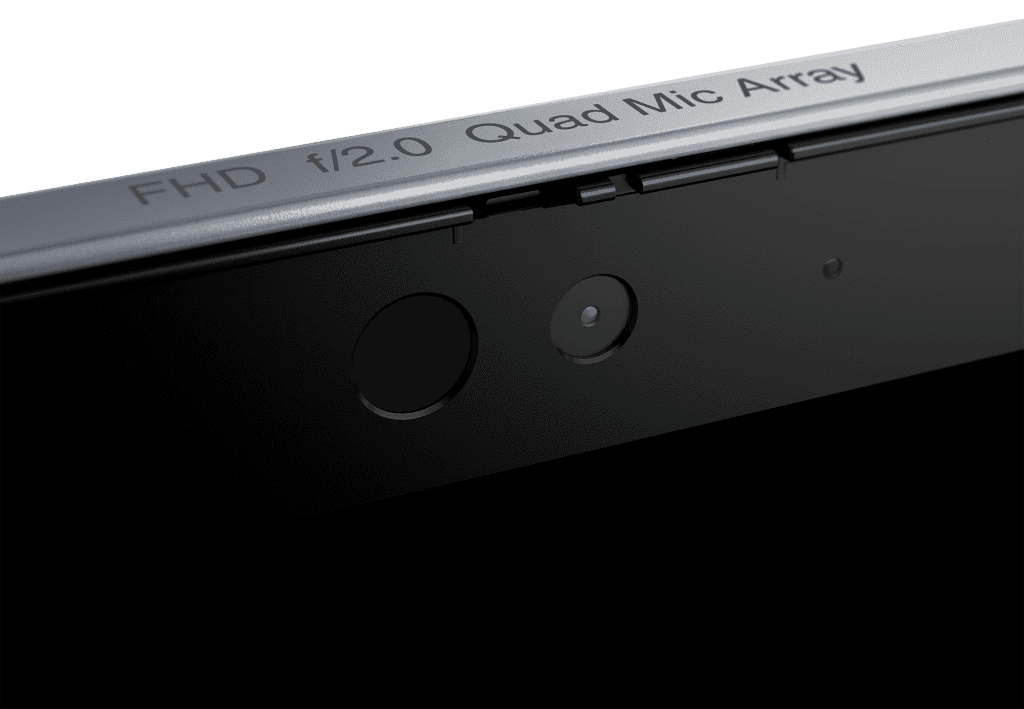 The new Computer Vision technology available in select models of the latest ThinkPad X1's uses a Neural Processing Unit (NPU) that generates metadata from the integrated camera based on known recognition and AI algorithm modeling3. The technology offers smarter Human Presence Detection that recognizes humans and their intention to use the PC, as opposed to a passing colleague in the office or a cat at home, and therefore will only wake up and unlock for them, adding an additional layer of convenience. It even works when the user is wearing a protective face mask4. To save power, Computer Vision can also turn off or dim the display when the user looks away, improving energy efficiency and adding an extra layer of privacy while working in public places.
Further enhancements address the critical needs of a hybrid workforce in the areas of performance, user experience, connectivity, and security. Highlights include:
Performance:

Latest Intel 12th Gen Core with Intel vPro options including U15 and P28 processors
Windows 11 Pro offers next generation operating system experience
Faster LPDDR5 memory and PCIe Gen 4 storage options reduce system latency
New air-intake keyboard design on X1 Carbon and X1 Yoga improves thermal performance5

User Experience:

Vivid displays including new 2.8k OLED options for X1 Carbon and 4K OLED options for X1 Yoga plus Eyesafe certified low blue light panels
New 1.4µm sensor FHD camera with optional Computer Vision technology
Dolby suite creates a multimedia powerhouse including Dolby Atmos® Speaker System, Dolby Vision® on supported displays and Dolby Voice with AI noise cancellation now also available on X1 Nano for crystal clear audio conferencing

Connectivity and Security:

Wi-Fi 6E6 is now available for better bandwidth on crowded networks and when Wi-Fi is not available, users can opt for Cat16 4G LTE or 5G sub-6 WWAN connections7
ThinkShield Firmware Resiliency 2.0 further enhances security by extending protection, detection, and recovery of additional components
Computer Vision improves user presence detection, simplifies login, and enhances privacy
ThinkPad X1's are ready to support Tile's full suite of finding features, so users can locate their PC up to 14 days, even when it's shut down8
"Our X1 portfolio is the apex of our ThinkPad design and engineering know-how. Delivering continuous innovation over the past 30 years to delight our loyal fan-base requires dedication and focus, and great partners like Intel," said Jerry Paradise, vice president, Global Commercial Product Portfolio, Lenovo PC and Smart Devices. "We are very proud of our relentless commitment to bring the most advanced, highest-performing ultraportable laptops into the hands of our customers."
"We are extremely proud to have been an integral part of the birth of ThinkPad, and helped revolutionize the personal computing landscape. Co-engineered with Intel, the Lenovo ThinkPad X1 Nano, X1 Carbon and X1 Yoga designs will meet the requirements of an Intel Evo™ laptop through Intel's hardware specifications and key experience targets for responsiveness, instant wake, battery life, fast charge and intelligent collaboration", said Josh Newman, VP and General Manager of Mobile Innovation, Intel.
Future of Desktop is Flexible and Adaptable
At first glance, the new ThinkCentre M90a Pro Gen 3 is a regular update to our premium AIO business desktop. However, the new M90a introduces new features that elevate the product into an intelligent productive and collaborative PC. Powered by 12th Gen Intel Core processors up to i9 on Intel's Q670 platform with vPro technology, it features a 23.8-inch QHD display, up to 64GB DDR5 and plenty of storage options and IO ports. Unusually for an AIO, it also includes HMDI 2.0 and DisplayPort outputs allowing the connection of a second display and a full-function stand including 90-degree pivot capability. It's the integration of conferencing and security technologies however that set it apart: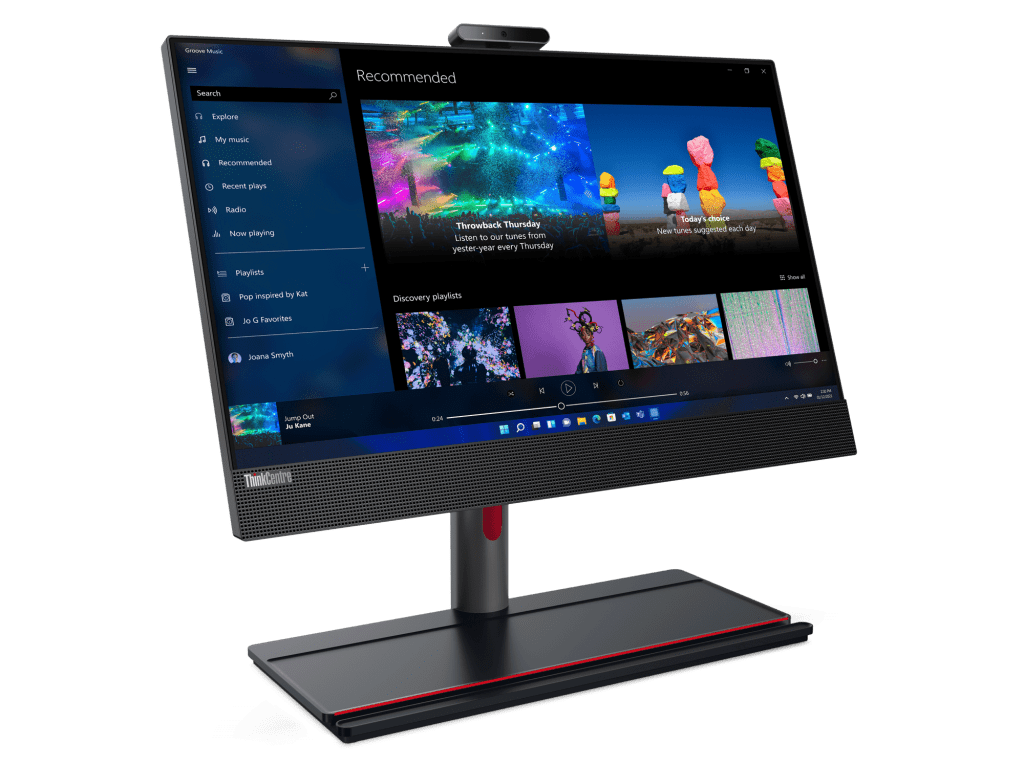 As standard, the M90a Pro Gen 3 features a tiltable camera with dual-array microphones and two 3-watt speakers for individual video conferencing
An optional conference call base brings collaboration to life. Quad-array microphones with 360-degree far field pickup using AI noise suppression technology and four Harman developed speakers transform the M90a into a group conferencing PC. The Microsoft Teams optimized device with integrated USB Type-C cable could also be connected to a compatible laptop converting any space into adhoc meeting rooms
M90a Pro Gen 3 also has optional Human Presence Detection enabled by Intel® Context Sensing Technology so the system will wake on a user's approach and automatically lock when they walk away
Neural noise cancellation via Intel® GNA to diminish background noises when collaborating
M90a Pro Gen 3 built for business on the 12th Gen Intel vPro platform with the performance and modern features users want along with security, manageability, and stability IT can trust
In many ways, Lenovo reinvigorated the desktop industry in 2014 with the introduction of the first-generation modular Tiny-in-One PC2. With the introduction of the new TIO Flex, we have focused on a complete customer value proposition that reduces complexity for office and remote workers. Providing high flexibility with support for the last four generations of Tiny desktops and new monitor options up to 27-inch, Flex offers simple upgrade paths with separate refresh possibility of both desktop and display. Modularity comes in three parts:
TIO Flex Stand, a single solution for all compatible Tiny desktops and ThinkVision displays
Optional ThinkCentre Tiny desktop. The TIO Flex Stand supports Tiny Gen 4 through Gen 8
Optional ThinkVision T series monitors with 22-inch, 24-inch and 27-inch displays9 with or without VoIP capability
In addition, an optional VESA standard 100×100 mounting bracket will be available to support other monitors
TIO Flex is easy to deploy, easy to service and now offers a flexible and intuitive upgrade path that future-proofs investment.
ThinkVision Solutions for Hybrid Working
The traditional office space is being redefined and the move to hybrid working is gathering pace. Users are looking for consistent technology that enables flexibility between office and home. ThinkVision is listening to customers and the new generation of P-series professional monitors have been designed with modular flexibility, digital wellness and sustainability in mind.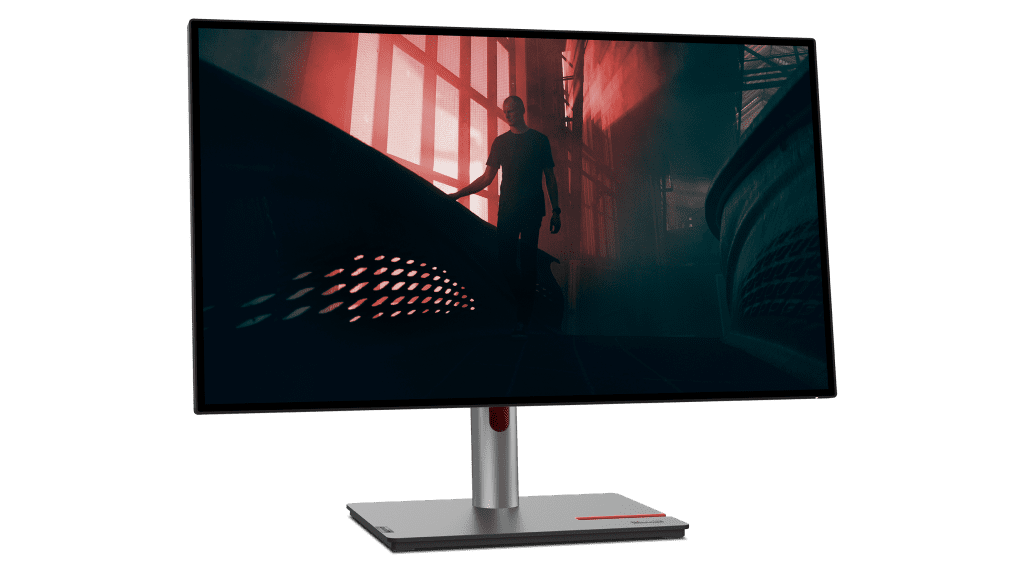 ThinkVision P27h-30 and P27q-30 are 4-side near edgeless bezel design, 27-inch QHD displays offering vivid color performance with calibrated color accuracy. Highlights include:
95% DCI-P3, 99% sRGB, BT.709 colors, and HDR10 support.
Ergonomically the monitors are identical with fully adjustable stands and natural low blue light technology eases eye strain during those long working sessions.
ThinkVision P27 series include sustainable paper packaging with pulp cushion.
Connectivity is provided through multiple ports and the user experience is simplified with ThinkColour software for smart and easier monitor control.
The P27h-30 and P27q-30 differ in their target functionality, with the former being designed for a flexible working environment that requires rapid connection of laptop with a one-cable docking solution. Offering up to 100W power charging, ethernet, USB hub and multi-display capability, the plug-and-work (or play) P27h-30 is ideal for a home office and hot-desk environment and adds KVM10 switch capability for power-users to easily flip between PC inputs.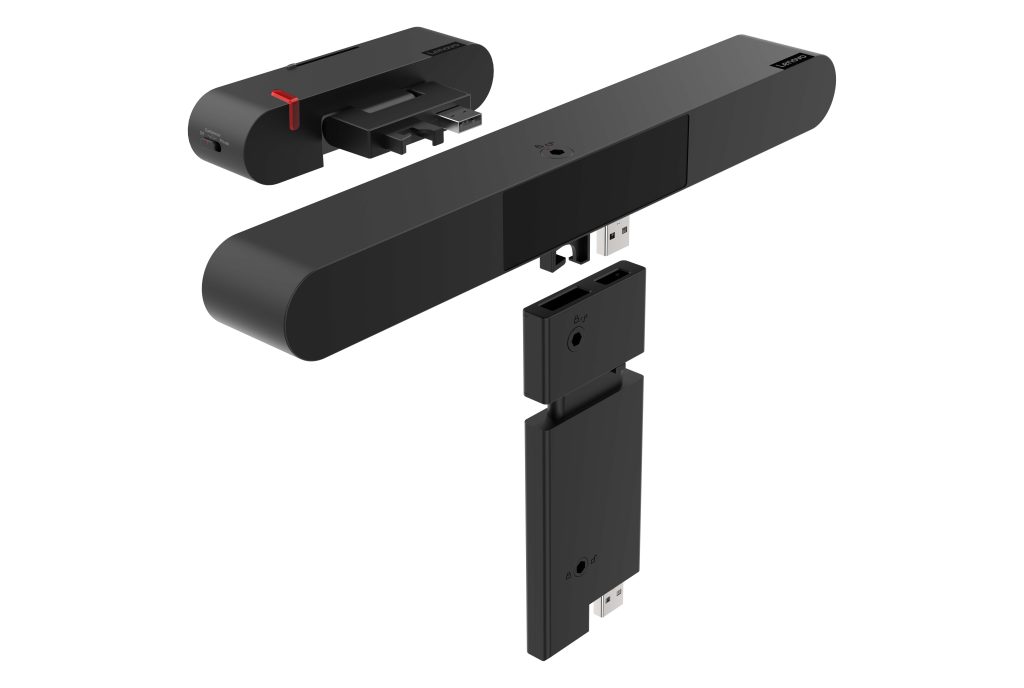 Both P-30 series monitors share a common video collaboration option. The ThinkVision VoIP Modular Stack provides a unique cableless conferencing solution featuring the new MC60 Monitor Webcam, MS30 Monitor Soundbar and a clever USB stand that plugs directly into a USB port on top of the P-30 series. One stack fulfils three scenarios depending on user needs:
Modular Soundbar (MS30) with the USB stand for audio conferencing provides clear sound with dual 2-watt speakers and a security lock for physical protection
Modular Webcam (MC60) with the USB stand provides a clear FHD video image including autofocus function and dual-array microphones with beamforming technology for noise cancellation. The MC60 can select a different field of view with 65-, 78- or 90-degree wide angle, and includes a privacy shutter.
MC60 Webcam and MS30 Soundbar together with USB stand provides a cableless audio/video conferencing solution for home or office spaces.
Availability and Pricing11:
ThinkPad X1 Carbon Gen 10 will be available from March 2022, with an expected starting price of $1639.
ThinkPad X1 Yoga Gen 7 will be available from March 2022, with an expected starting price of $1749.
ThinkPad X1 Nano Gen 2 will be available from April 2022, with an expected starting price of $1659.
ThinkVision P27q-30 and P27h-30 will be available from July 2022, with an expected starting price of $499 and $599 respectively.
ThinkVision VOIP Modular Stack solution will be available from June 2022, with an expected starting price for Soundbar of $39 and Webcam of $129.
ThinkCentre M90a Gen 3 Pro will be available from May 2022, with an expected starting price of $1,299
TIO Flex will be available from June 2022, with an expected starting price for the stand only of $49.99
About Lenovo
Lenovo (HKSE: 992) (ADR: LNVGY) is a US$60 billion revenue Fortune Global 500 company serving customers in 180 markets around the world. Focused on a bold vision to deliver smarter technology for all, we are developing world-changing technologies that power (through devices and infrastructure) and empower (through solutions and software) millions of customers every day and together create a more inclusive, trustworthy and sustainable digital society for everyone, everywhere. To find out more visit https://www.lenovo.com and read about the latest news via our StoryHub.
1 Lenovo announced the first Tiny-in-One form factor modular desktop on September 4th, 2014
2 The first ThinkPad brand device was the ThinkPad 700, a tablet PC introduced in April 1992. The first ThinkPad laptop, the 700C was introduced on October 5th, 1992
3 The NPU does not store any images
4 The system will recognize a user wearing a facemask, but the mask will need to be removed for convenient login facial recognition
5 Air-intake keyboard does not compromise spill resistance
6 Requires separately purchased Wi-Fi router and plan that may vary by location. Additional terms, conditions and/or charges apply.  Connection speeds will vary due to location, environment, network conditions and other factors
7 Requires 4G or 5G network service and separately purchased cellular data plan that may vary by location. Additional terms, conditions and/or charges apply. Connection speeds will vary due to location, environment, network conditions and other factors
8 To make your Lenovo ThinkPad X1 findable, simply download and install the Tile Windows app on your PC, activate your PC as a Tile and download the Tile app on your Android™ or iOS® phone to find your laptop
9 Compatible ThinkVision T series monitors will be announcing soon
10 Keyboard, Video, Mouse
11 Prices may not include tax, shipping or options and are subject to change without notice; additional terms and conditions apply. Reseller prices may vary. On-shelf dates may vary by geography and products may only be available in select markets. All offers subject to availability. Lenovo reserves the right to alter product offerings, features and specifications at any time without notice
LENOVO, THINKPAD, THINKCENTRE, THINKVISION and THINKSHIELD are trademarks of Lenovo. Intel, Intel vPro and Intel Core are trademarks of Intel Corporation or its subsidiaries in the U.S. and/or other countries.  DOLBY VISION, DOLBY ATMOS and DOLBY VOICE are registered trademarks of Dolby Laboratories, Inc. TÜV is a registered trademark of the TÜV Rheinland Group. Wi-Fi is a trademark of Wi-Fi Alliance. All other trademarks are the property of their respective owners. ©2021, Lenovo Group Limited.
X1 Carbon 10th Gen
X1 Yoga 7th Gen
X1 Nano 2nd Gen
Performance
Processors
Latest Intel 12th Gen Core with Intel vPro options including U15 and P28 processors
Latest Intel 12th Gen Core with Intel vPro options including P28 processors
OS
Up to Windows 11 Pro
Memory
Up to 32GB LPDDR5
Storage
Up to 2TB Gen 4 Performance PCIe NVMe SSD
Up to 1TB Gen 4 PCIe NVMe SSD
Graphics Options
Intel® Iris® Xe Graphics
Display
14-inch Narrow Bezel, up to WQUXGA, 500nit, Touch AOFT option, and 2.8K OLED option
14-inch Narrow Bezel, up to WQUXGA 4K OLED, 500nit, AOFT Touch option
13-inch Narrow Bezel, up to 2K, 450nit, AOFT Touch option
Audio
Dolby Atmos Speaker System with Dolby Voice and quad-array 360-degree Microphones
Camera
Up to FHD+IR MIPI Computer Vision camera with shutter
Battery
57 Whr
49.6 Whr
Security
Chip
dTPM 2.0
Physical
Match-on-Chip Power-on Fingerprint Reader (X1 Carbon & X1 Yoga)

Fingerprint Reader (X1 Nano)

Camera Shutter

Kensington™ lock slot (X1 Carbon & X1 Yoga)

Tile App Ready

MIL-STD 810H

Connectivity
Ports
2 x Thunderbolt 4
2 x USB-A 3.2
1 x HDMI 2.0b
1 x 3.5mm audio jack
Wireless
WLAN Wi-Fi 6E 802.11 AX (2×2)
Bluetooth® 5.2
5G sub-6 (CAT20), 4G LTE (CAT16), 4G LTE (CAT4) for PRC (X1 Carbon & X1 Nano)

eSIM and Nano SIM

Design
Dimensions

(W x D x H)

315.6 x 222.5 x 14.95mm

12.42 x 8.76 x 0.59in

314.4 x 222.3 x 15.53mm

12.38 x 8.75 x 0.61in

From 293.2 x 208 x 14.47mm
11.5 x 8.19 x 0.58in
Weight
1.12kg

2.48lbs

1.38kg

3.00lbs

970g
2.13lbs