Today is Giving Tuesday, a day of global generosity unleashing the power of people and organizations to transform their communities and the world. In the spirit of giving back, Davor Cindric, Vice President of WW Strategic Alliances, and Gina Vespi, Marketing and Event Specialist of WW Strategic Alliances, continue to use their passion for cancer research and awareness to support American Cancer Society's (ACS) fight for a world without cancer. Davor and Gina have worked with Lenovo Foundation to sponsor two previous fundraising events, including a 2020 November fitness challenge and 2021 Making Strides Against Breast Cancer (MSABC) walk, and plan to host a Gamers Against Breast Cancer event in April 2022.
Davor describes his passion for cancer research and advocacy as starting with his first job after college, where he built machines for experimental cancer treatments in Duke Hospital's radiation oncology department. As part of his research, he frequently interacted with patients in the late stages of cancer and saw the devastation that cancer caused. At the same time, he was encouraged by the potential of technology and medicine to build a better future and put an end to the disease.
After grad school, Davor took this passion for technology and navigated to the IT industry, and for the past twelve years, he's worked at Lenovo. Throughout his time at the company, Davor describes the impression of the hospital and cancer patients as "never really leaving" him. He has always felt that he wanted to do more. So, when Gina Vespi suggested the Alliances team get involved with ACS during COVID lockdown in November 2020, he quickly agreed.
Gina thought that partnering with ACS would be a great way to bring the team together during a challenging year, but her passion for the cause ran much deeper. Gina's mom and aunt have both been impacted by cancer, her aunt celebrating six years cancer-free while her mom continues the fight.
"Fortunately, she has the best oncologists, and her prognosis is good – she is a fighter and a thriver!" says Gina. Experiencing the impact of cancer on survivors and their families firsthand, Gina knew that ACS was the right cause to rally her team behind.
She shared with the Alliances team some of the amazing work that ACS does in the local community – including carpooling patients to chemotherapy and providing family and patient support – and immediately, everyone team member was on board. They decided to host a virtual fitness challenge during the month of November, culminating in a Lenovo/ACS Turkey Burn Peloton Ride on Giving Tuesday for a final, live fitness challenge. The event was a huge success. On November 30, 2020, Lenovo employees, partners, family, and friends from around the world joined the 45-minute virtual bike ride and raised nearly $10,000 for American Cancer Society – Making Strides Against Breast Cancer (ACS – MSABC).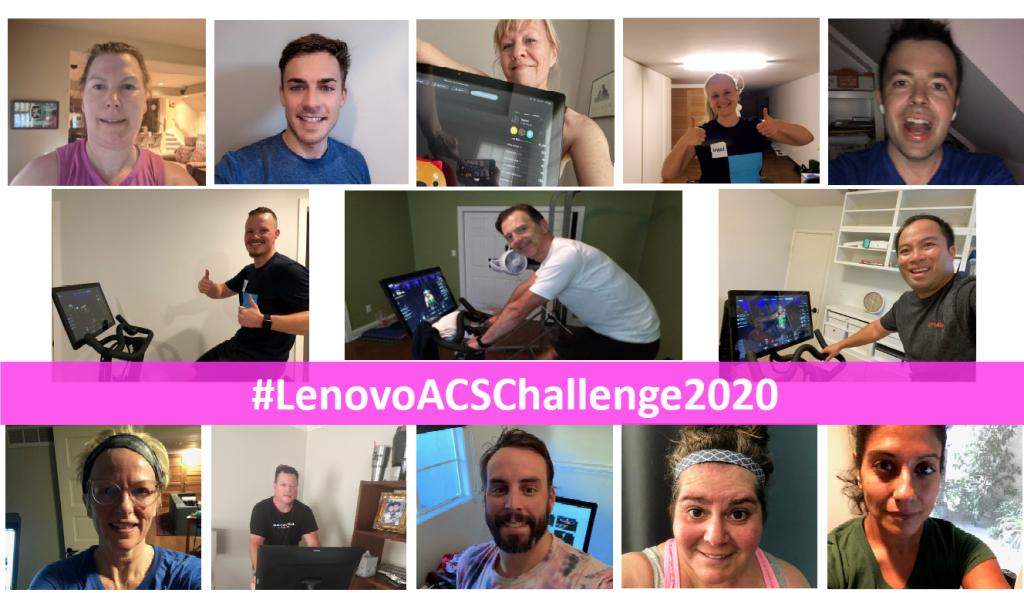 Soon after the event, Davor and Gina were asked to join the Executive Leadership Boards of American Cancer Society of the Southeast region and Making Strides Against Breast Cancer respectively. Through their membership, both have been able to not only grow Lenovo's partnership with ACS, but also advocate for cancer patients.
"My favorite part about being on the board is being surrounded by people who are passionate about fighting the battle against cancer together, many of whom are breast cancer survivors themselves," says Gina.
With her close ties to ACS – MSABC, Gina also played a large role coordinating and engaging employees in last month's Making Strides Against Breast Cancer of the Triangle Walk event. Employees from across Lenovo joined together to walk a 1.5-mile route and fundraised nearly $3,500 for the organization. Donations for this fundraising campaign are still being accepted through December 31, and you can donate through the Alliances – Team Lenovo page on the ACS website.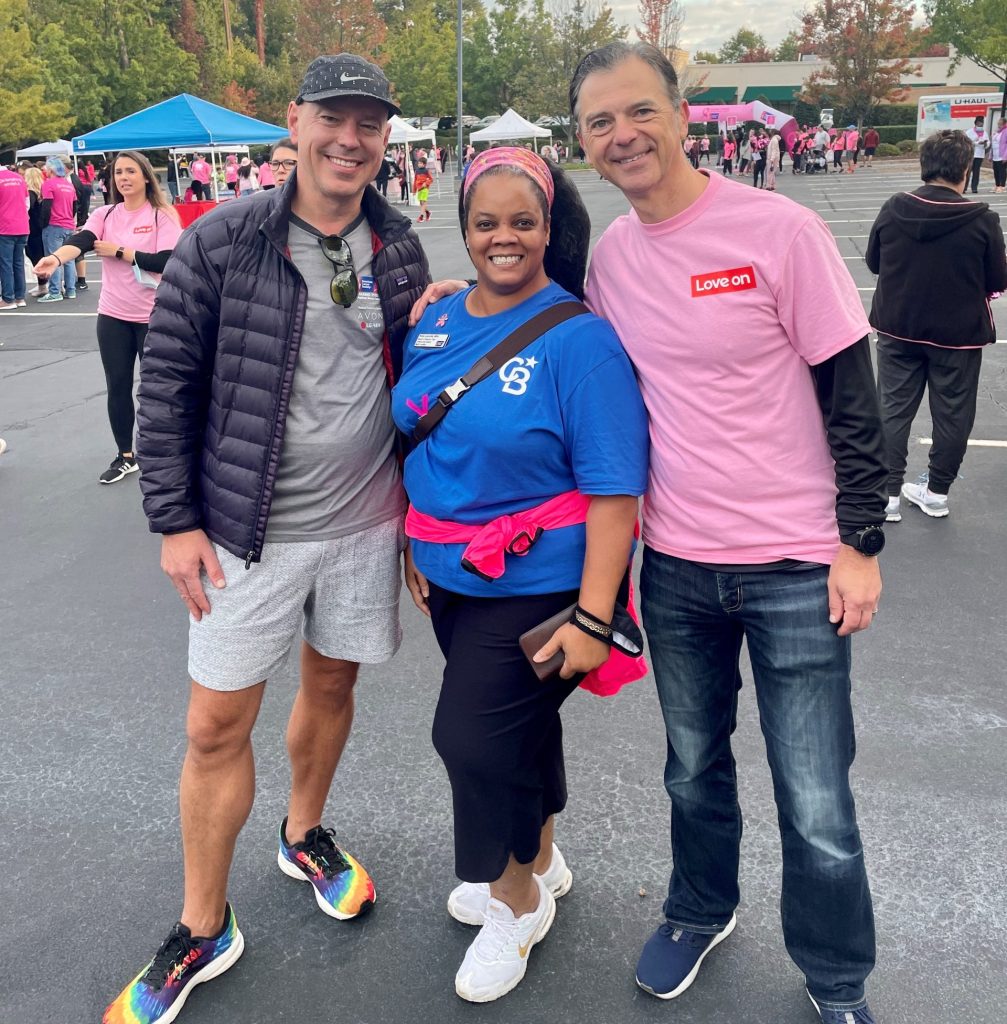 To boost participation in the event, Davor and Gina also engaged Lenovo partners, including Intel who sponsored a virtual photo booth.
Davor explains that engaging partners in joining the fight against cancer is one of the best parts about his role. As VP of WW Alliances, Davor maintains relationships with Lenovo's key strategic partners. Whenever he can, he leverages these relationships to spread awareness about ACS's mission.
"You can't be ashamed to approach people and ask them to join the fight," says Davor. "It usually comes up when people ask me, 'Hey, what did you do this weekend?' I say, 'Well, I was in a fundraising event or talking to a colleague in ACS. In 99% of cases, people want to know how they can help and get involved.'"
Gina also leverages relationships she's built as a Marketing and Event Specialist to spread the word about ACS. She explains "Being part of Alliances, we have strong ties with our partners. Once partners hear and see the impact of ACS, they are excited to join the cause." Gina finds fulfillment knowing that her role at Lenovo allows her to help partners join the fight for a world without cancer.  "Kindness, compassion, and doing things for others is what makes my heart happy and full," says Gina. And her unique role at Lenovo allows her to do just that – encourage others to give back to a cause close to her heart.
Looking ahead, Davor and Gina are excited that Lenovo employees want to keep giving. With great employee turnout at past fundraising events, they have high hopes for the Gamers Against Cancer event in April 2022, where top gamers in the country will compete to raise money for ACS.
"It is so great to see the passion of Lenovo employees," says Davor. "That's what makes me proud to be part of Lenovo – when we organize events and our employees show up to donate their time, energy, and means."
While a global company, Lenovo acts locally to make a difference in communities. As they gather Lenovo employees, partners, family, and friends to join the fight against cancer, Davor and Gina show that there is immense power in acting locally, an important reminder on this Giving Tuesday.